I used to have an analysis paralysis when trying to find which a lounge that is worth visiting at Bangkok Suvarnabhumi Airport.
There are too many Miracle Lounges there, I thought Miracle was the best lounge. I visited one in late 2010s and didn't like it. Finally, I found a decent lounge at Bangkok that accepts Priority Pass. Enter: Oman Air First & Business Class Lounge.
At first glance, the lounge is quite small. It's too small for a Business / First Class Lounge. However, if you can look past the size, the lounge is actually quite decent. Here's my first impression of Oman Air Lounge in Bangkok.
Lounge Access
Oman Air Lounge Bangkok can be accessed by:
Oman Air passengers on First Class and Business Class
Oman Air passengers holding Gold and Silver Sindbad cards
Holders of Priority Pass, LoungeKey and Dragon Pass
For me, I use my Priority Pass to access the lounge.
Want to get free lounge access? Read: Which Singapore Credit Cards Have Free Lounge Access
Opening Hours
Oman Air Lounge at Bangkok is open 24 hours daily.
How to get there
Oman Air Lounge is located at Concourse E. It is an airside lounge, that means you need to go through immigration first before you can enter the lounge.
Since Bangkok Suvarnabhumi Airport Terminal is quite huge, do plan your time carefully so that you won't miss your flight.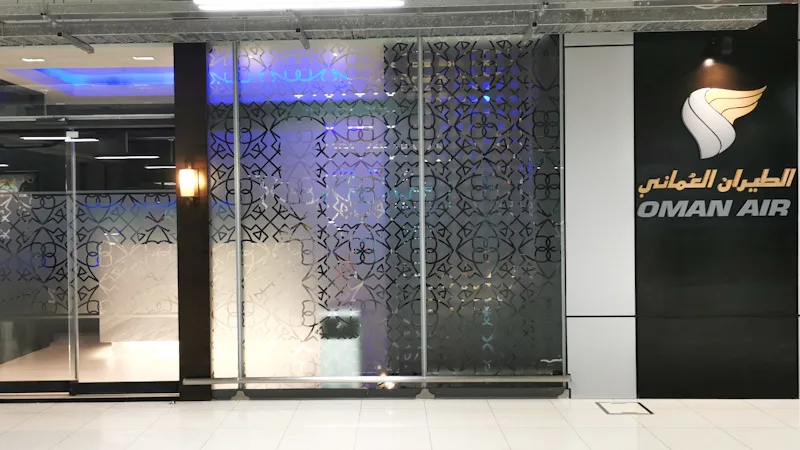 Seating
Within less than 1 minute in the lounge, you can easily glance through every sections in the lounge.
Basically, behind the reception counter is the main area where you can find buffet and lounge chairs.
Towards the back, there is a row of tall chairs by the high table. Here, there are 2 desktop workstations.
Near the toilet, there is a dining table with chairs. However, I'm not able to get a photo of this table because it was occupied. during my visit.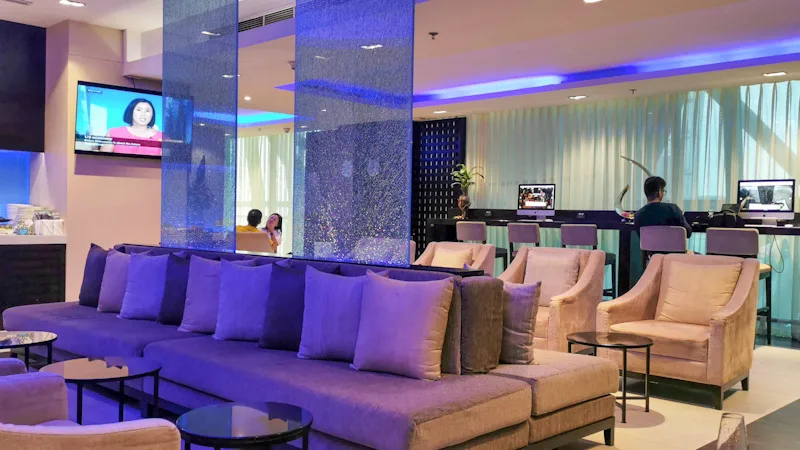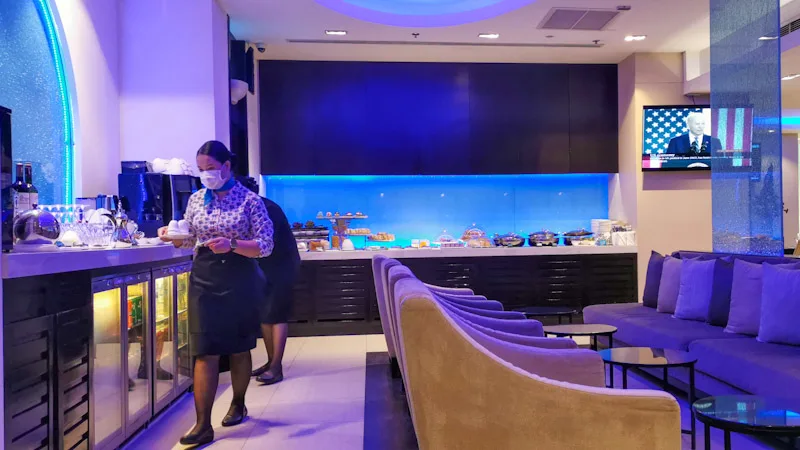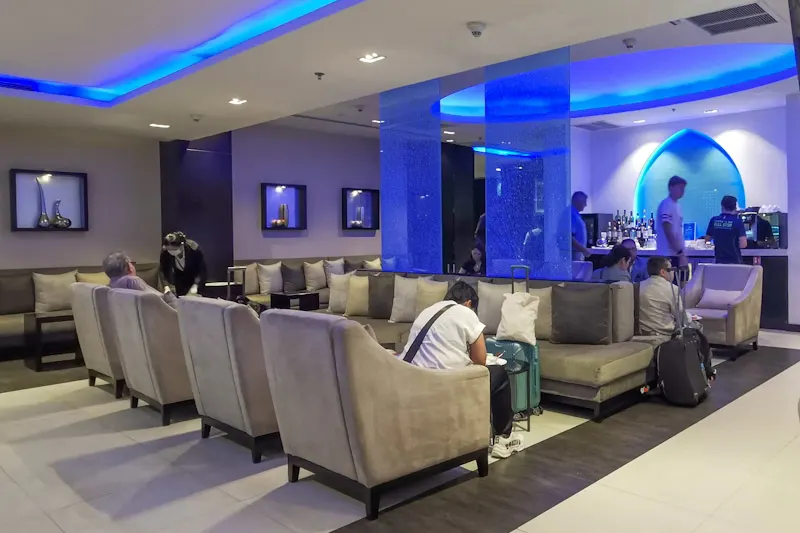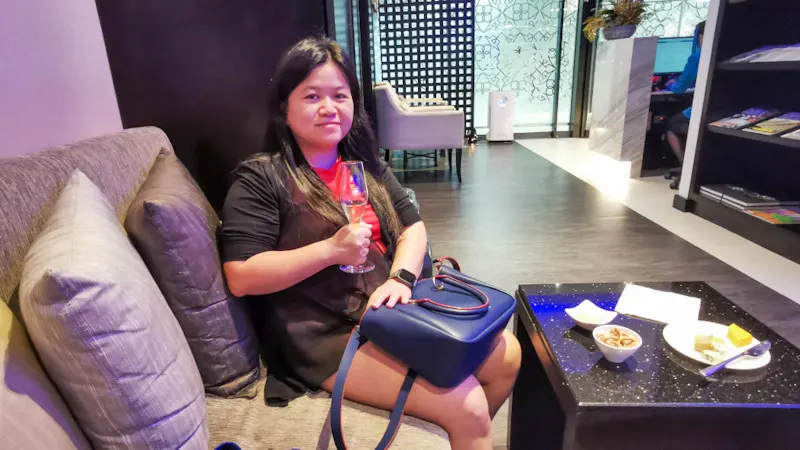 Food
With such a small space, you would assume that Oman Air Lounge has a limited amount of food at the buffet. Well, it turned out that they are a true expert in space maximization!
Seriously, no space was spared from being occupied at the buffet counter! And all of the food is Halal.
We visited in the morning during breakfast hours, and here's how the buffet spread looks like.
Inside the buffet tray, there were chicken congee, chicken sausage, bacon frittata and vegetable ratatouille. All of these were pre-packed with cling-wrap, so it's warm and not hot.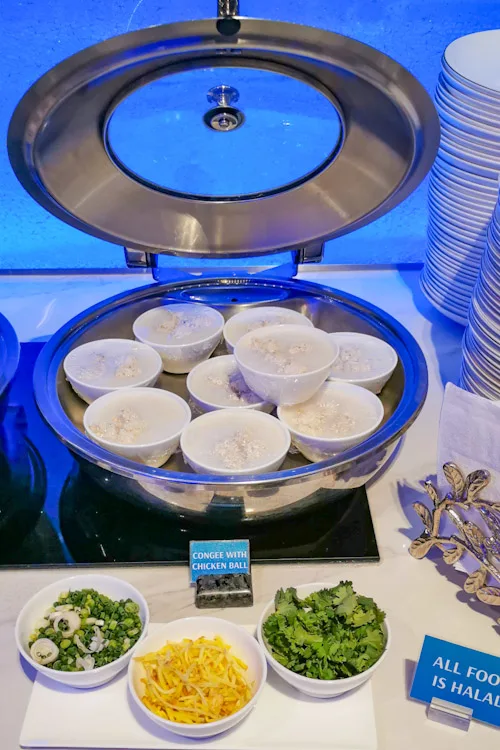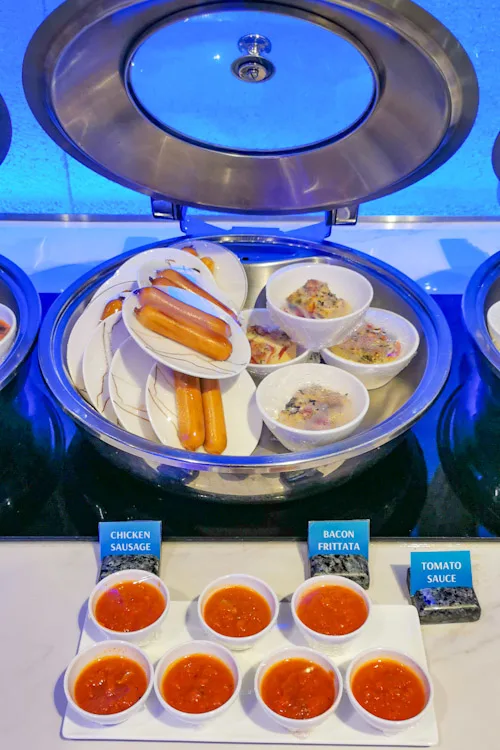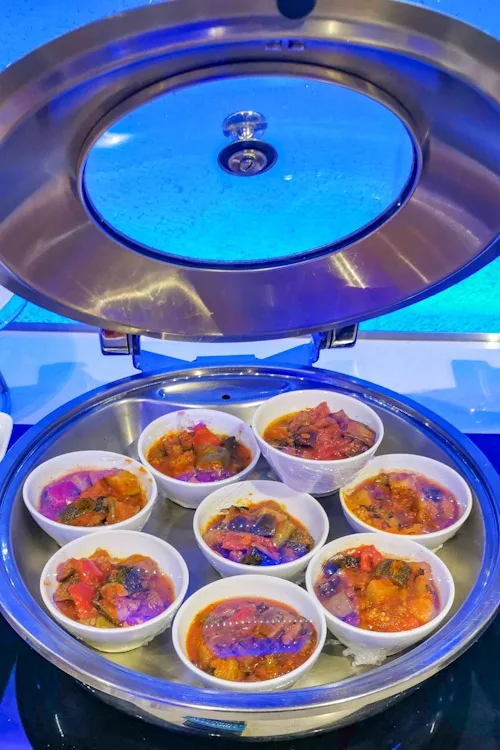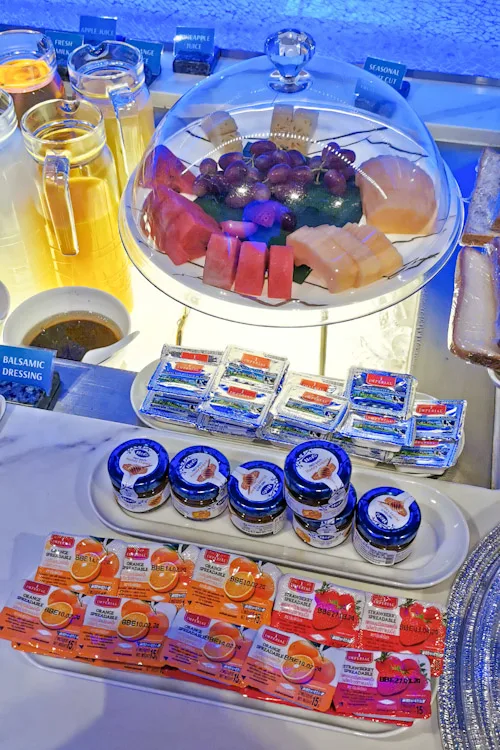 At the fruit section, cut fruits such as watermelon, pineapple, honeydew and grapes, as well as fruit juices.
In the pastry section, there were bread, pastries, croquettes as well as butter, honey and jams.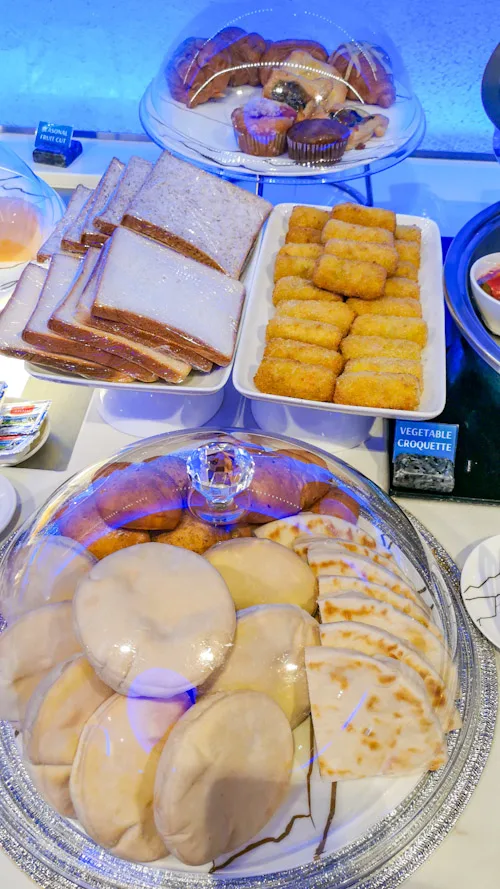 The salad section is quite minimalist with a few selection of greens. Next to salad, there were cheese and yoghurt.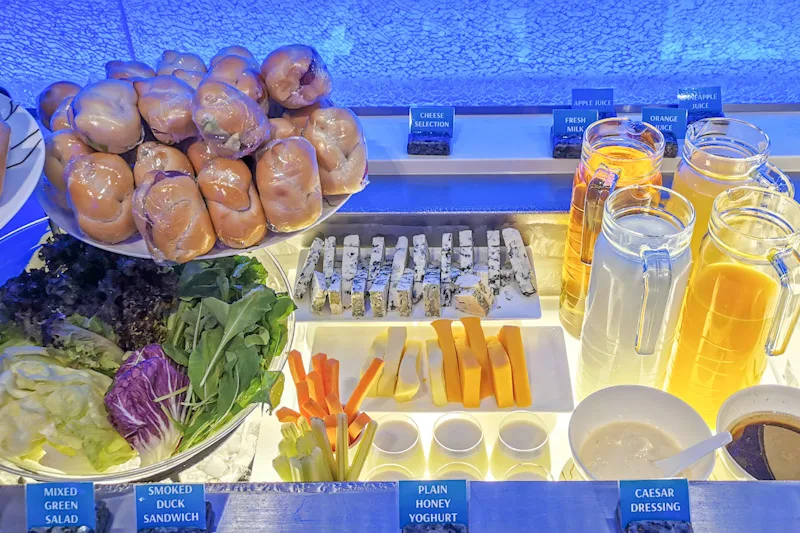 There is even a tiny dessert section with cakes and cupcakes, as well as cereals.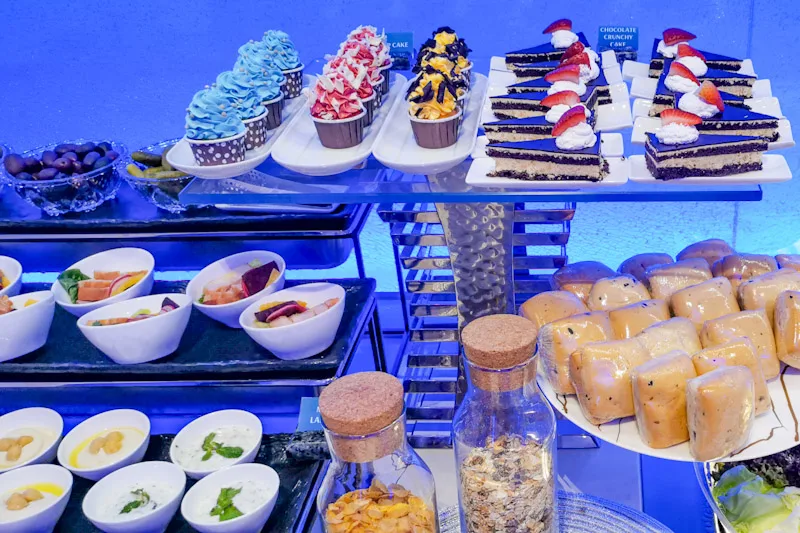 Next, at the cold canape section, there were duck breast & chicken salad, and hummus & chick pea.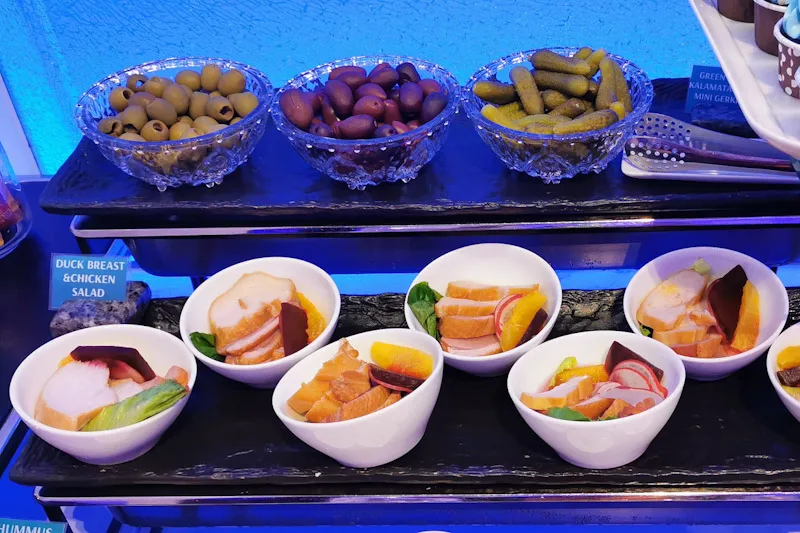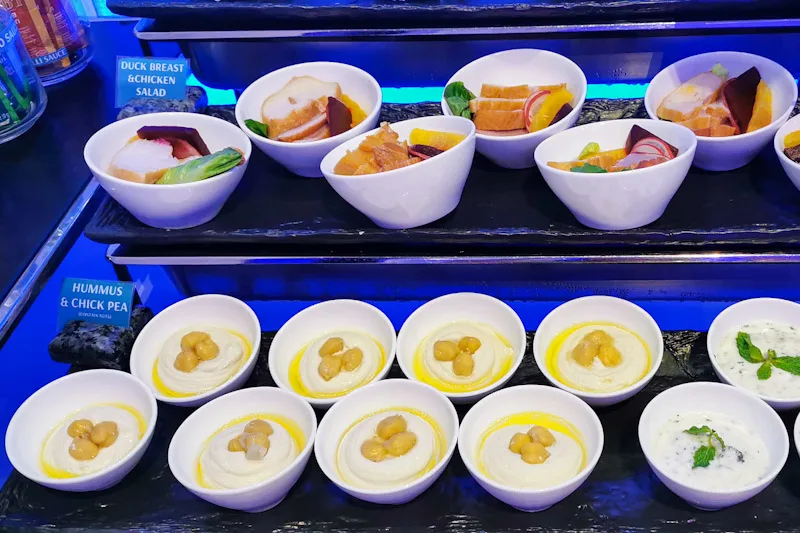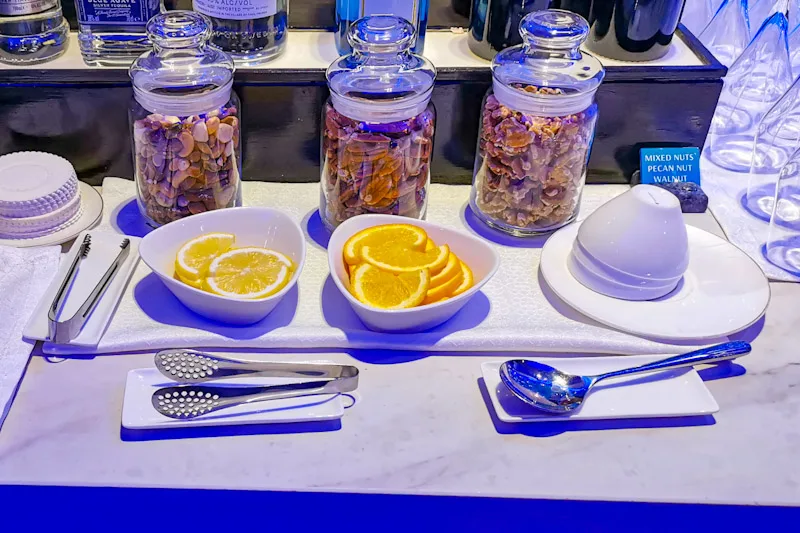 To be honest, I'm very impressed with the food selection at Oman Air Lounge. The variety and quality is so much better than Miracle lounge's. I just hope they can provide hot food instead of pre-packed warm food.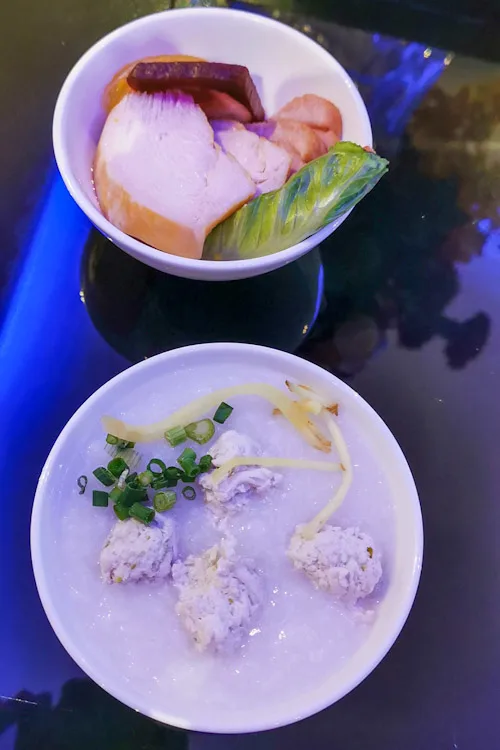 Drink
The drink selection is no less fantastic than the food selection. At the hot drink section, there were not only your typical coffee machine, but also a steel kettle of Arabic coffee! How fancy!
The tea section was not that fancy though, they offered Dilmah teas. There were also dates as well as Arabic Sweets! I love that they offer Arabic delicacies at the lounge!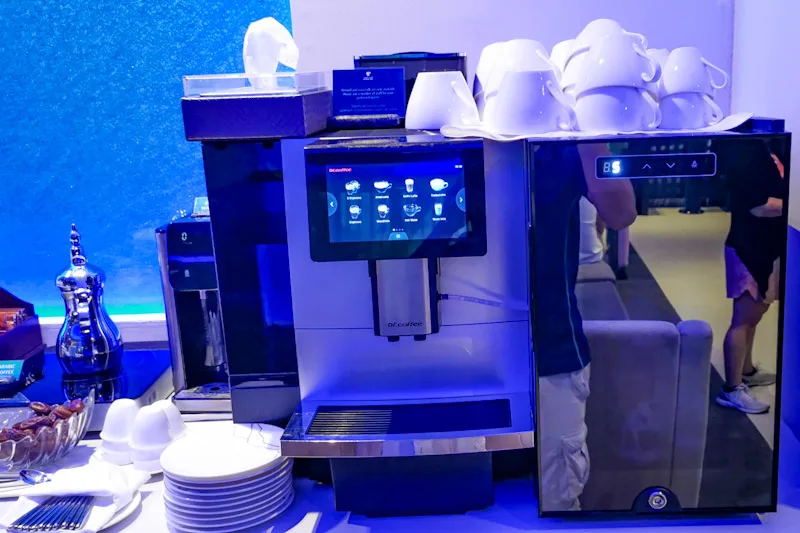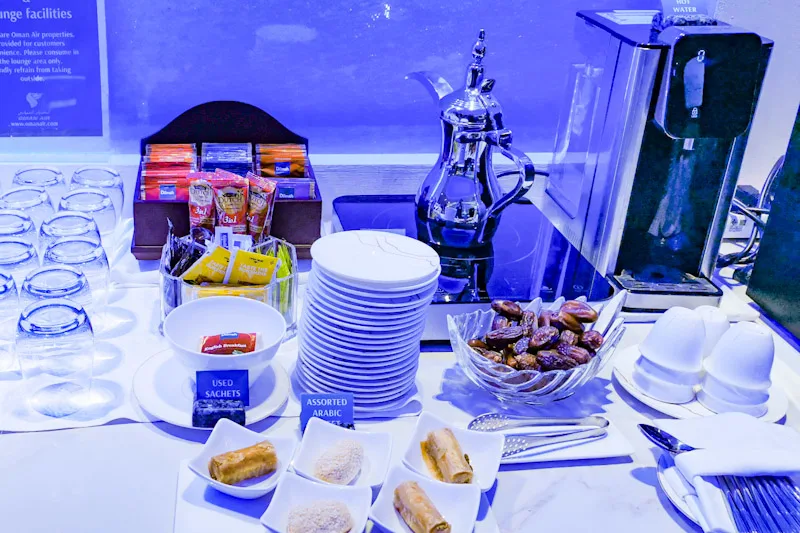 At the cold drink section, inside the fridge, there were mineral water, soda water, soft drinks and canned beers (Heineken, Singha and Chang).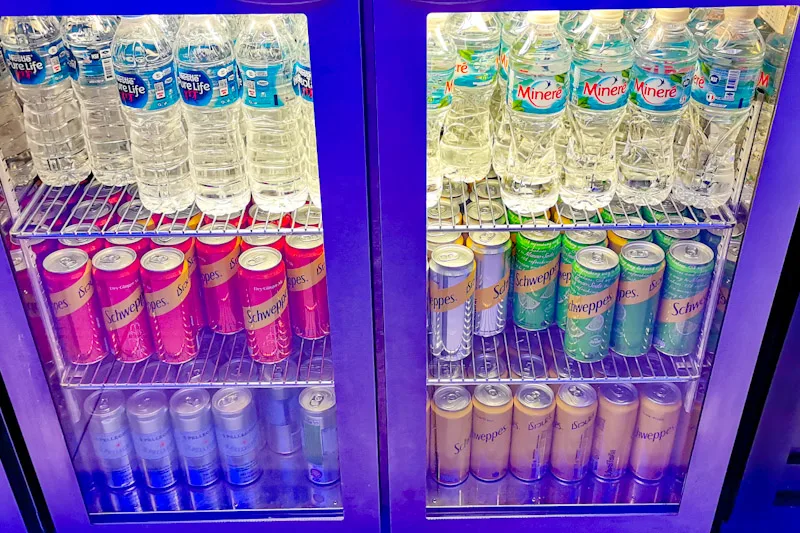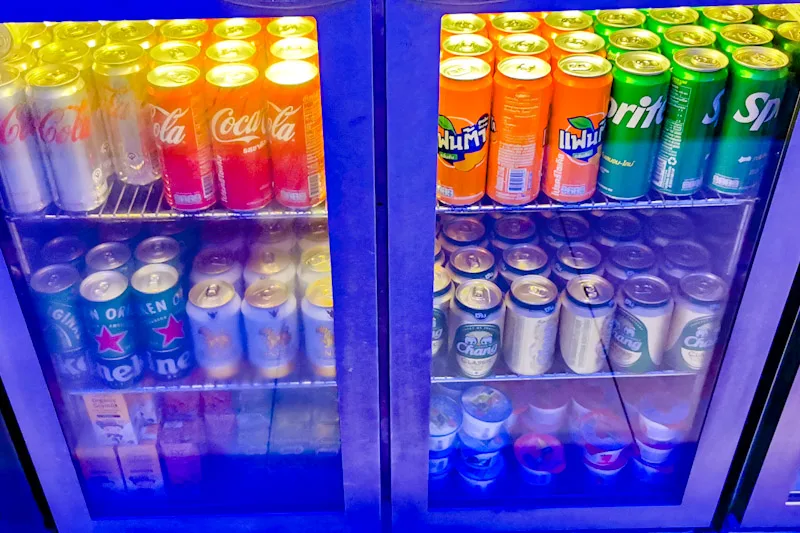 At the liquor section, visitors are pampered with a huge selection of alcoholic drinks.
On the counter, there were:
Bacardi Rum
Smirnoff Vodka
Jose Cuervo Tequila
Absolut Vodka
Bombay Sapphire Gin
Chartron la Fleur Bordeaux Wine
Chateau Los Boldos Wine
Chivas Regal Whisky
Johnnie Walker Black Label
Johnnie Walker Gold Label
Jack Daniel's Whiskey
Tia Maria
Canadian Club Whisky
Hennessy VS
Martini Rosso
Martini Dry
Glenfiddich 12 Years Single Malt
Gordon's Gin
Campari
Bailey
Phew, what a long list! But it's not over yet. There's still more!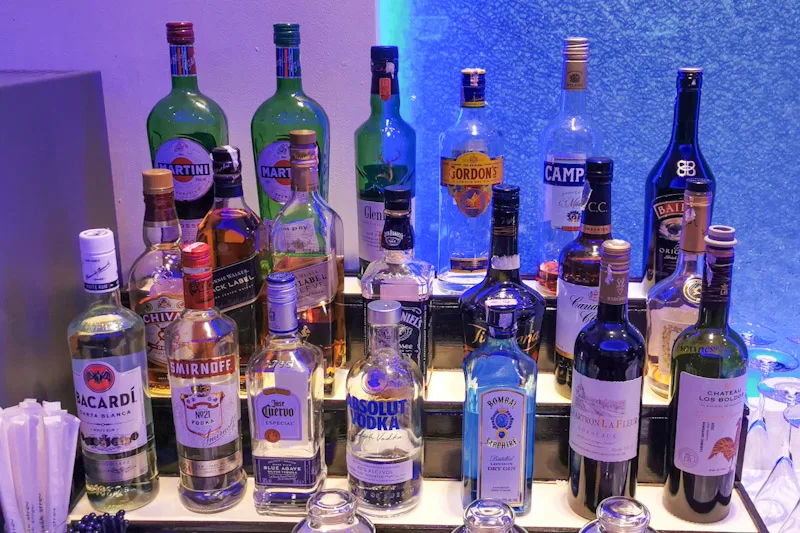 Inside the chiller, there were Follador El Brolo, Champagne Lombard, Chartron La Fleur, Grand Vin, Follador Laelia, and Rose di Nere.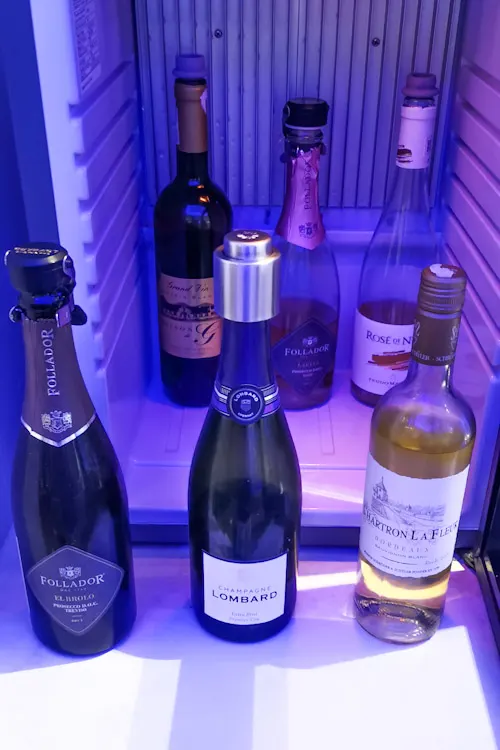 Shower Room & Toilet
The toilet is pretty compact. Each toilet has only 2 cubicles. However, the toilet is being cleaned almost after every use, so it's sparkling clean!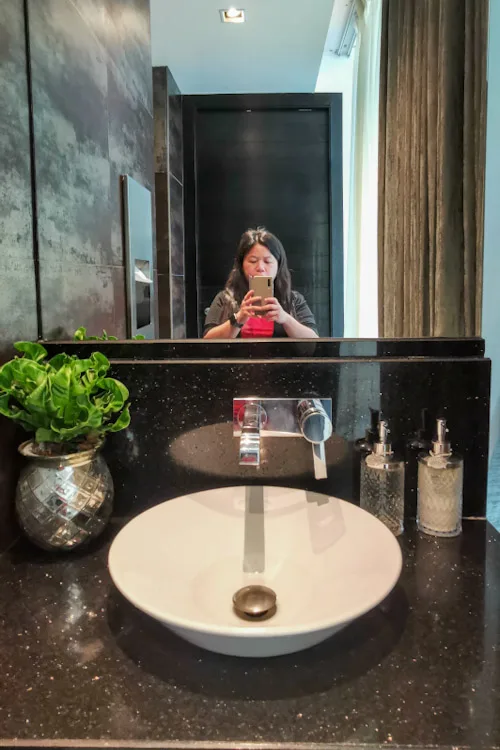 There is only 1 shower room. Similar to toilet, the shower is also cleaned after every use. Inside the shower, there are not many amenities.
On the bench, there are towels and soaps, shampoo, etc. At the wooden shelf, there's a hair dryer and tissue paper. Comb, soap bar, shaving kit, shower cap and toothbrush are available upon request.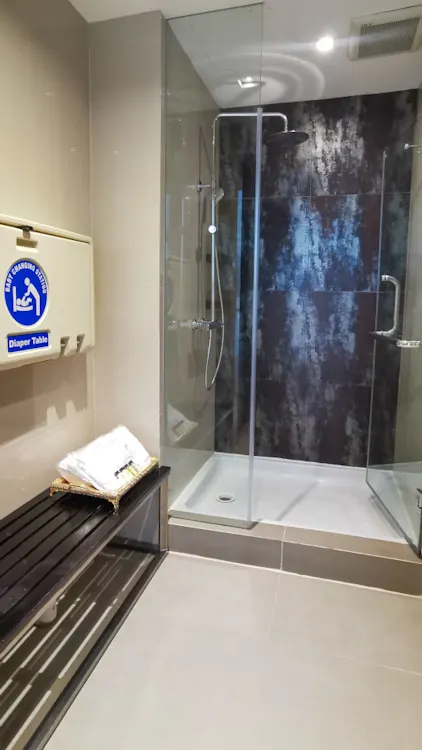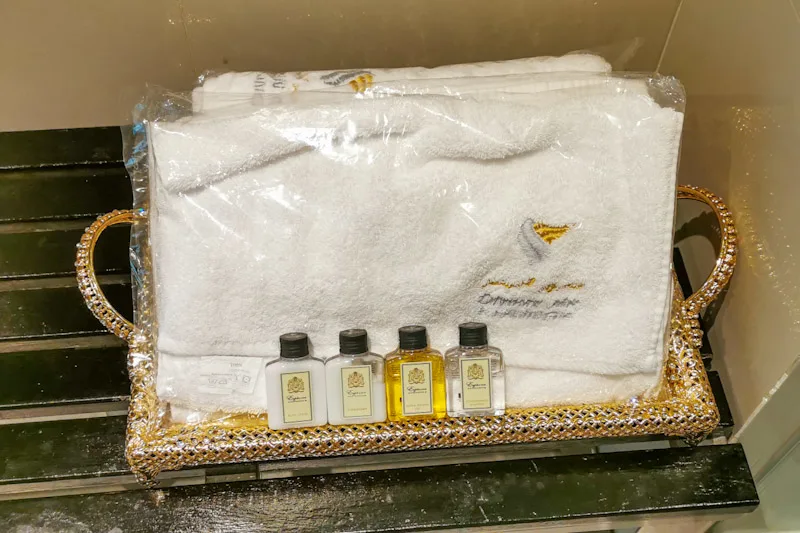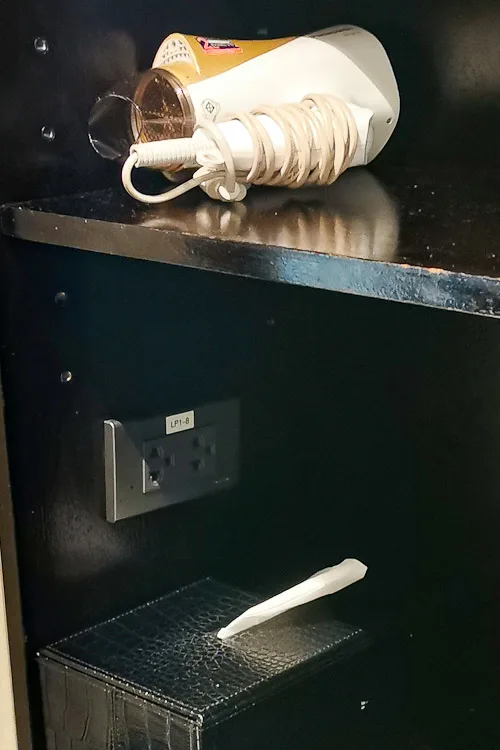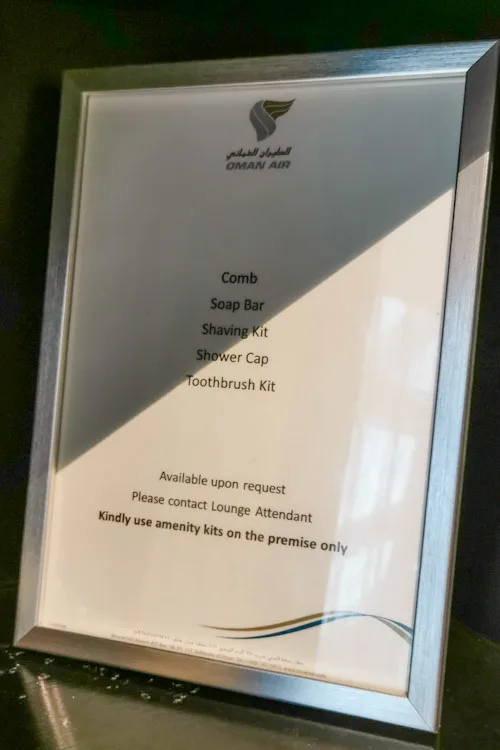 Other
Just outside toilet, there is a TV showing flight information. We found this really helpful to help us plan our time, because our gate was quite far from the lounge.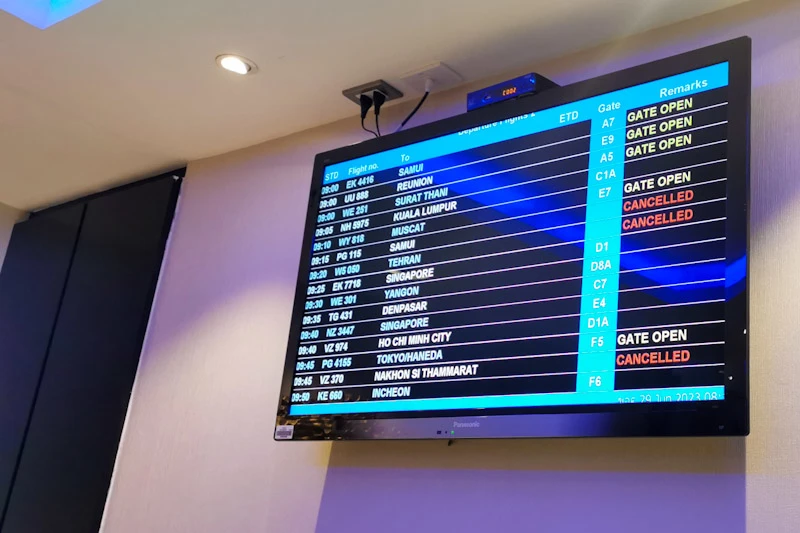 There were also newspapers and magazines.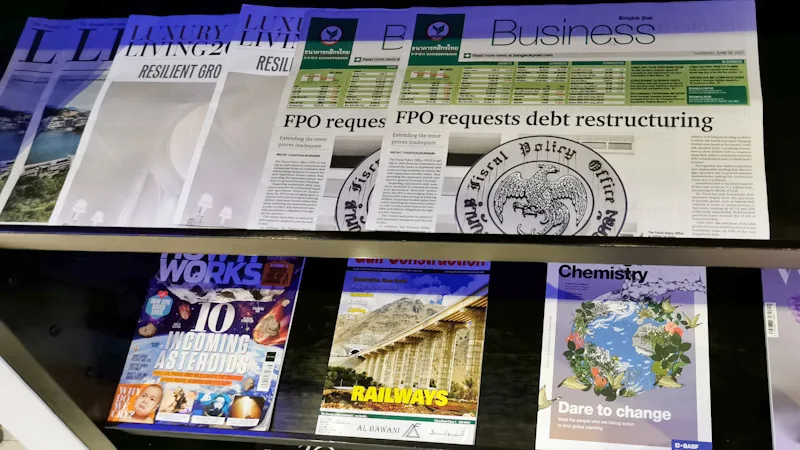 If you need to print something, there is also a printer.
Final Thoughts
Oman Air First & Business Class Lounge is a very decent lounge in Bangkok Survarnabhumi Airport that accepts Priority Pass. Despite being a small lounge, the food and drink selection are impressive.
The service and cleanliness is top notch. The buffet counter is constantly being topped up and cleaned. The shower and toilet are cleaned very frequently.
Oman Air Lounge in Bangkok is certainly one of the few lounges I wouldn't hesitate to return to.
If you like my work, you can buy me a coffee! Your support will help me to keep going!