Located at Siloso Beach, Scentopia offers one-of-a-kind sensory adventure that perfectly complements your nature adventure on Sentosa Island.
At Scentopia, visitors have the opportunity to craft a personalized signature fragrance that reflects their unique personality.
We have visited Scentopia in the past to make our own perfume and we loved the experience so much.
This year, we are so excited to return to Scentopia for a special occasion, and that is to celebrate our friends' birthday.
Scentopia has changed a lot since our last visit, the interior space has been completely revamped. The exterior looks different too. Previously an empty courtyard, the front courtyard now has colorful butterfly benches.
In this post, I will share the journey of crafting our own bespoke perfumes, so that you can decide for yourself whether it is something that you want to do for your birthday or your loved ones'.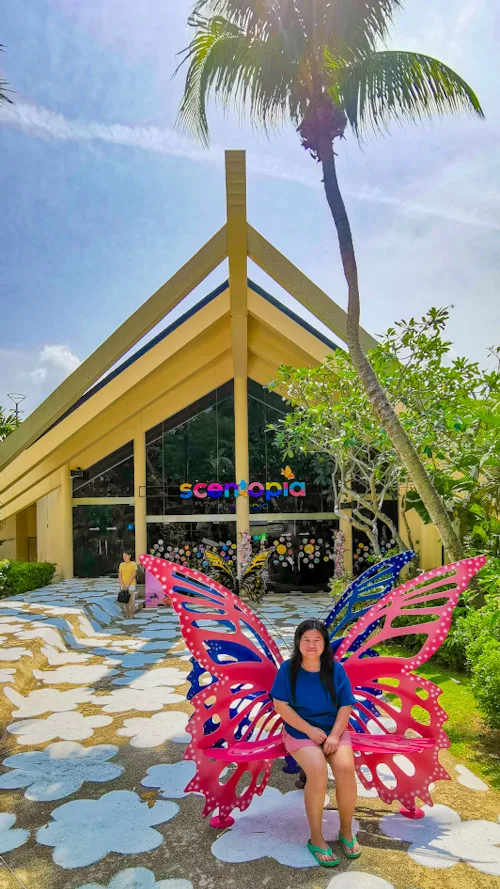 Have any questions about traveling in Singapore? Join All About Singapore Travel FB group, I'll be there to answer your questions!
Opening Hours
Scentopia is open daily from 11am to 7pm (last booking at 6pm).
How to get to Scentopia
The address of Scentopia is 36 Siloso Beach Walk, Singapore 099007 (location on map)
By car: Head to Beach Station or Siloso Point. There are parking lots available at these two places. Then, walk to Scentopia (7 to 10 mins) or take the beach tram to Scentopia.
By Sentosa Express (monorail): From Harbourfront Station, go to VivoCity Level 3 and take Sentosa Express. Alight at the final stop which is Beach Station. Then, then walk to Scentopia (7 to 10 mins) or take beach tram towards Siloso and alight 2 stops later at "Siloso Beach Resort".
👉 Read my detailed guide on getting around Sentosa (map included).
By cable car: Take Mount Faber Line cable car from either Mount Faber or Harbourfront, and alight at Sentosa Station. Walk to Imbiah Lookout Station and take the Sentosa Line towards Siloso Point. Alight at Siloso Point. Walk to Scentopia (7 to 10 mins) or take beach tram and alight 2 stops later at "Siloso Beach Resort".
👉 Read my detailed guide on Singapore Cable Car.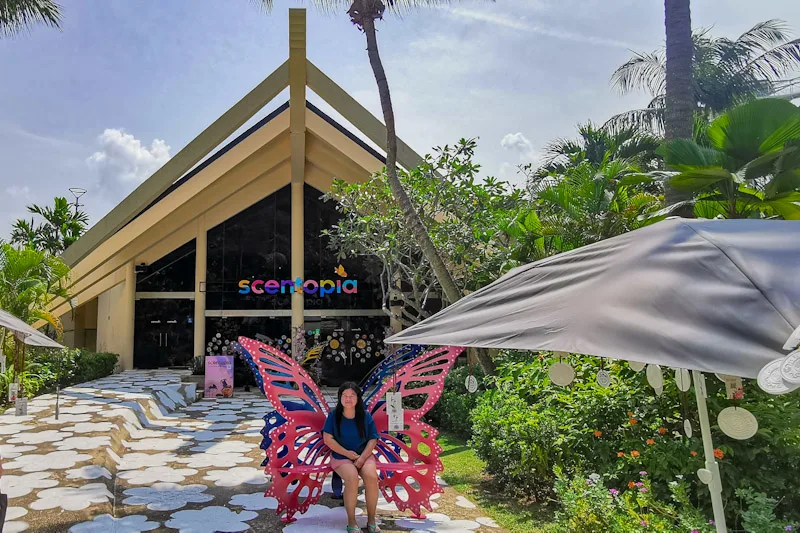 Perfume Making Experience for Birthday Celebration
Our perfume making workshop for birthday celebration takes place at the event space. Here, two long tables and numerous chairs are set within the floral-painted walls.
This event space can hold up to 60 pax, making it a great place to accommodate both big groups (like corporate team bonding) and small groups (like birthday celebration and bridal shower).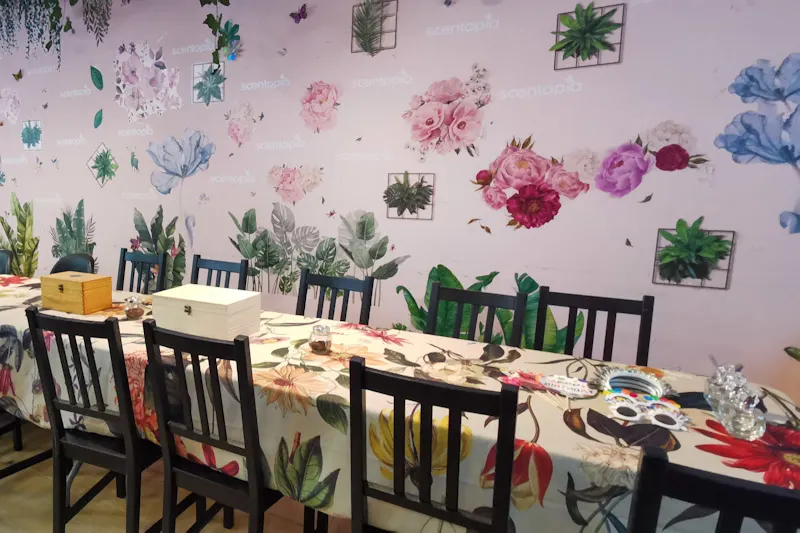 Our guide has prepared cute birthday props including party spectacles, hairbands and signages!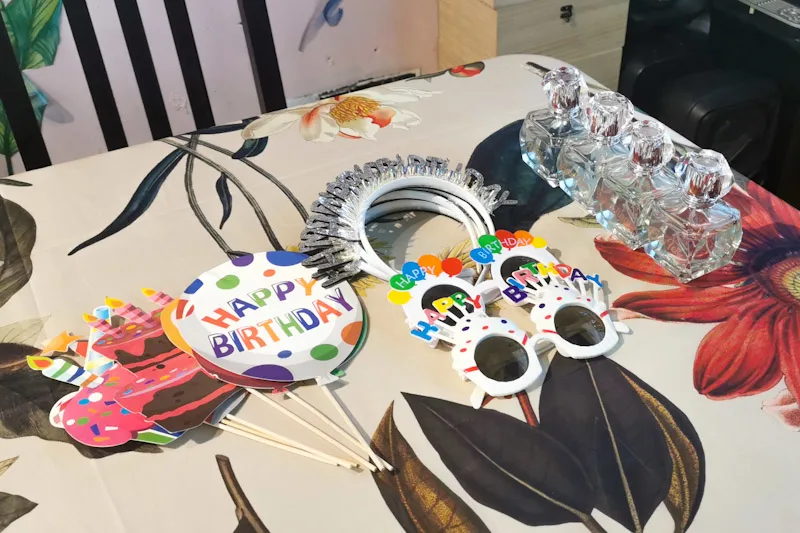 On top of that, our guide has also prepared our base perfume customised with our names! If you look closely, the cap has a motif of Singapore's landmarks. This is in line with Scentopia's goal of bringing Singapore's unique floral heritage to the locals as well as travelers.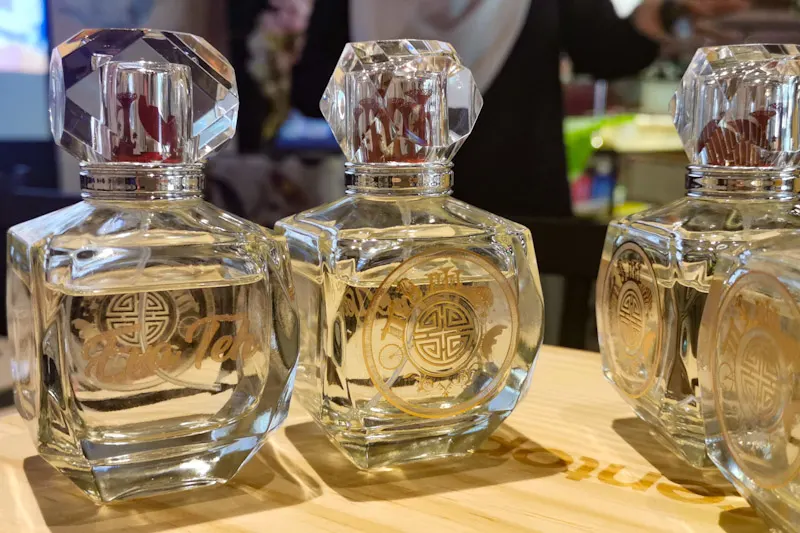 Understanding Sense and Smell
Our perfume-making workshop started with presentation from our guide. Through this session, we learned so much about so many things.
From the science of senses, types, compositions and structures of perfumes, fragrance classifications, to the personalities associated with each fragrance.
There were many quizzes along the way to test our knowledge. Suffice to say, we failed at many of the quizzes lol.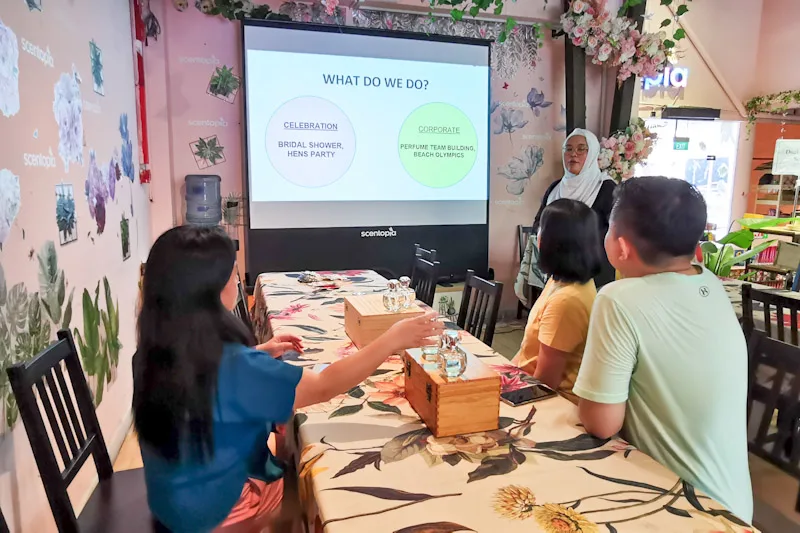 Taking the Personality Tests
In general, there are 5 fragrance categories: Citrus, Fresh, Floral, Woody and Oriental. To find out which category we belong to, we had to do a personality test where we had to fill out a questionnaire with 20 questions.
While the rest in my group easily identified themselves with 1 or 2 major categories, I had a big conundrum. My test result showed that I belong to not one, not two, but THREE categories, namely: Fresh, Woody and Oriental. Does it mean I'm highly adaptable?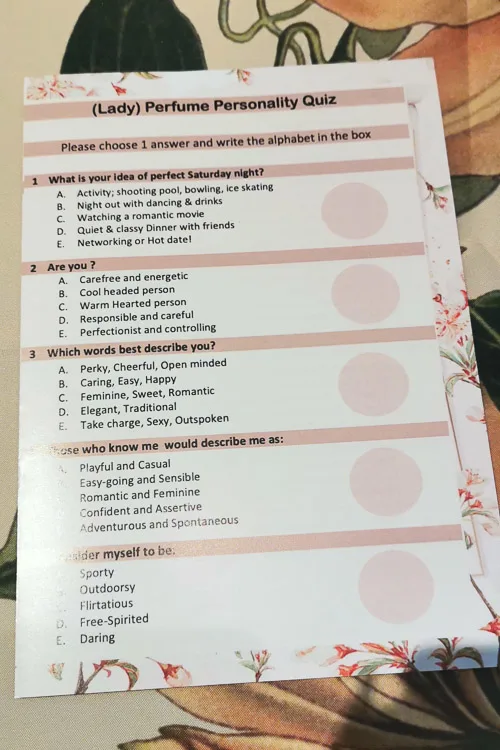 Selecting our Unique Scents
After understanding the concept of perfume and figuring out our own personalities, it's time to roll up our sleeves and get down to the real work.
In front of us, there were 2 boxes filled with fragrance concentrates. One for female and one for male. Inside each box, there are scents from all 5 fragrance categories.
The fragrances in Scentopia are plant-based and made of organic ingredients.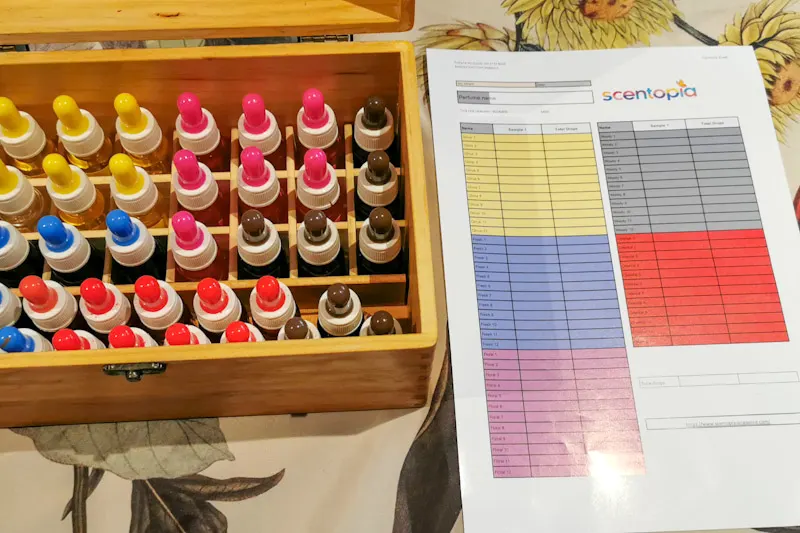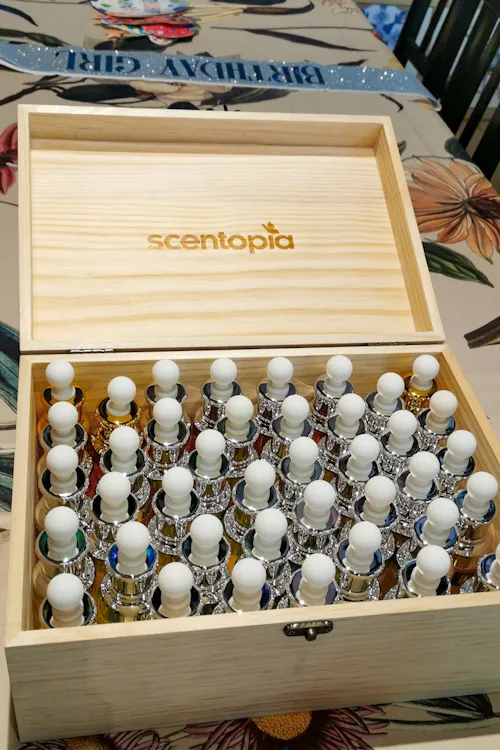 To kickstart our scent selection process, we had to smell each and every fragrance in the box. Upon finding the smells that we like, we simply marked the scent number on a piece of paper.
This process needs to be done systematically so that we don't smell the same scent repeatedly. Coffee beans were provided for us to neutralize our sense of smell.
Surprisingly, my choice of scents is a little different from my personality test. Instead of 3-category tie, there's a very clear dominant category in my choice of scents, and that is Woody. Meanwhile, my second dominant category is Floral.
Last year, my choice of scents was a tie between Citrus and Floral. Our guide said it's normal to have different fragrance preference over various stages of our lives.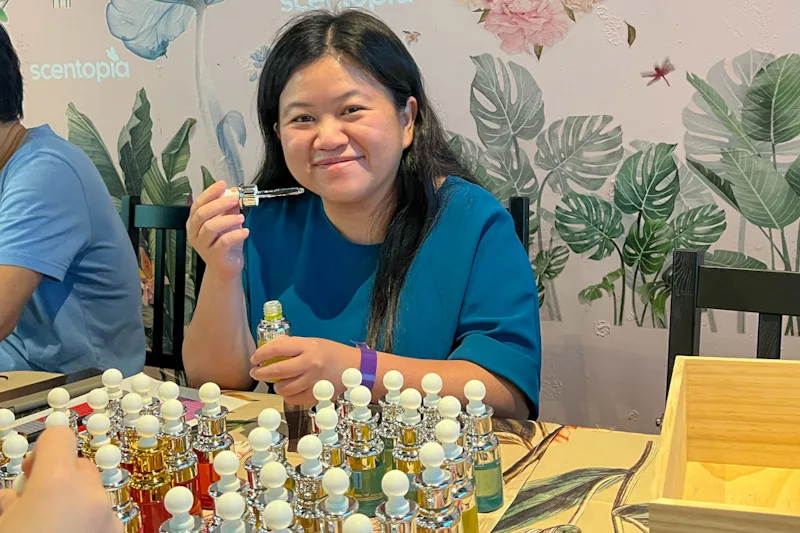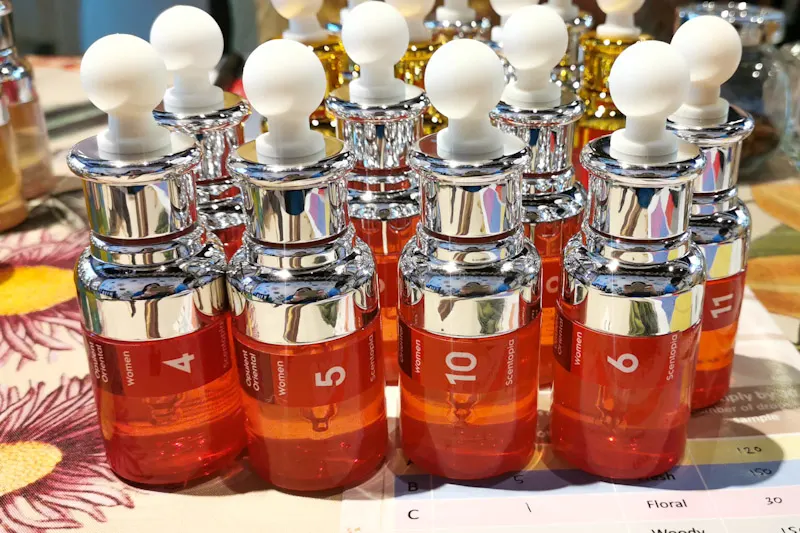 Making Our Own Perfumes
Now that we've done our selection, it's time to do the mixing. We used the formula given by our guide to determine the precise quantity (aka number of drops) of each scent to incorporate into our blend.
Then, using the pipette, we drew the fragrance concentrate, and released them into our perfume bottles while carefully counting the number of drops.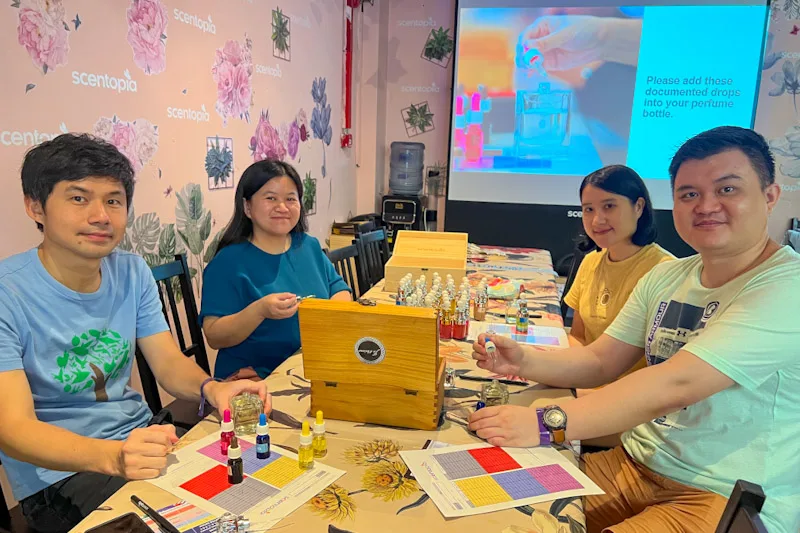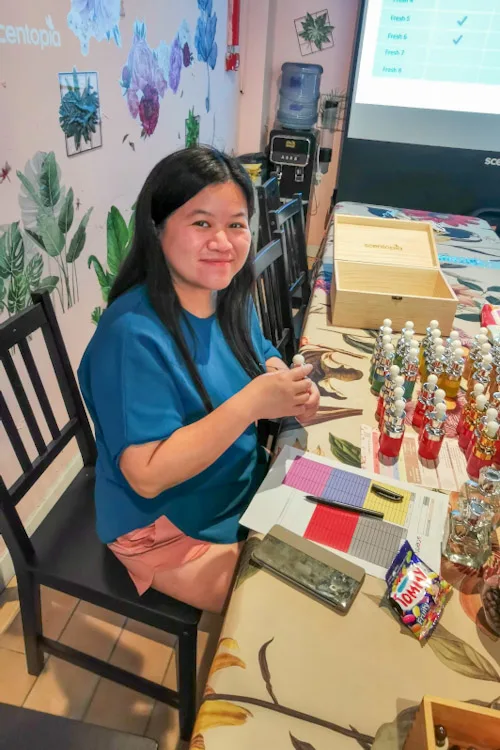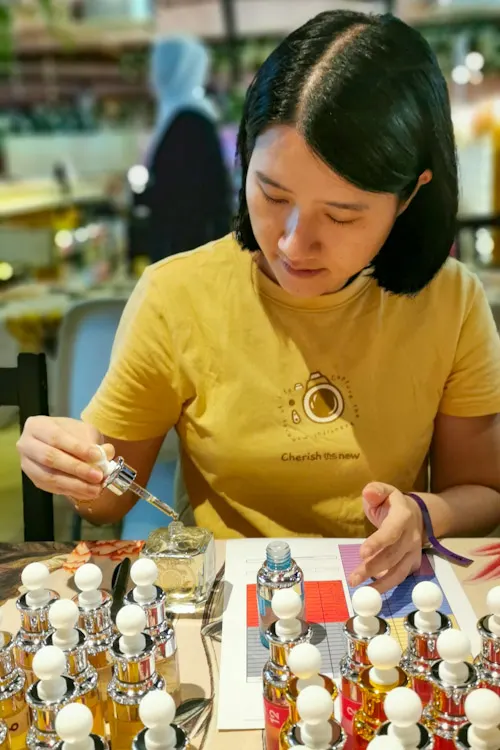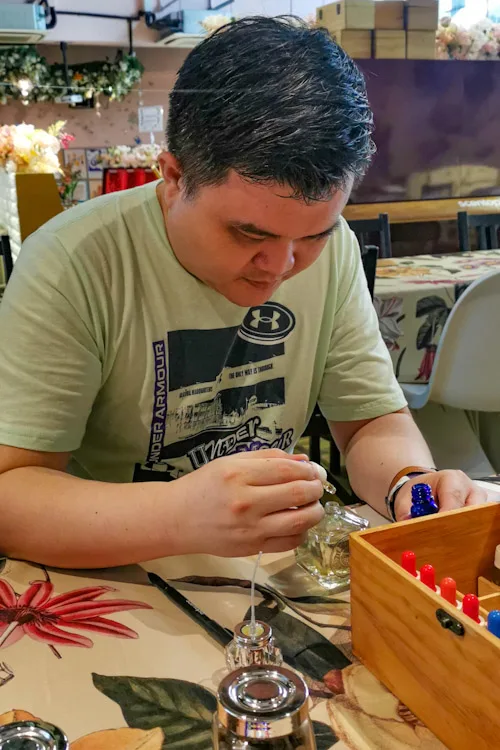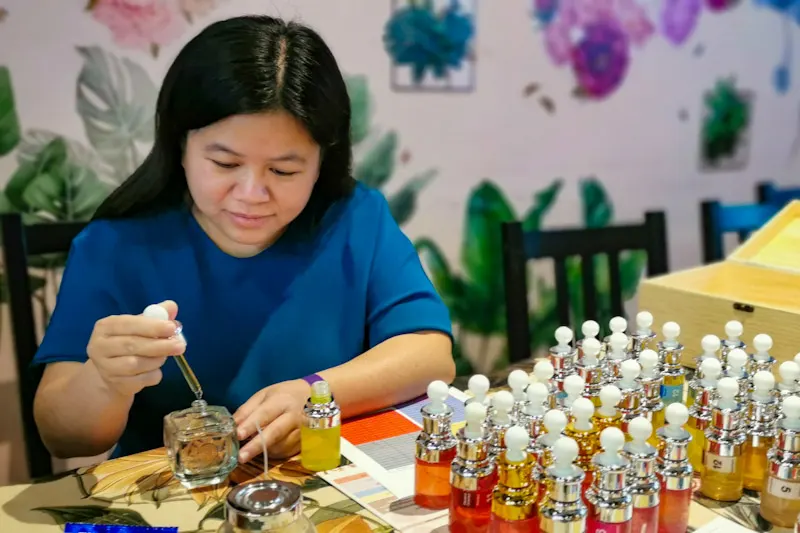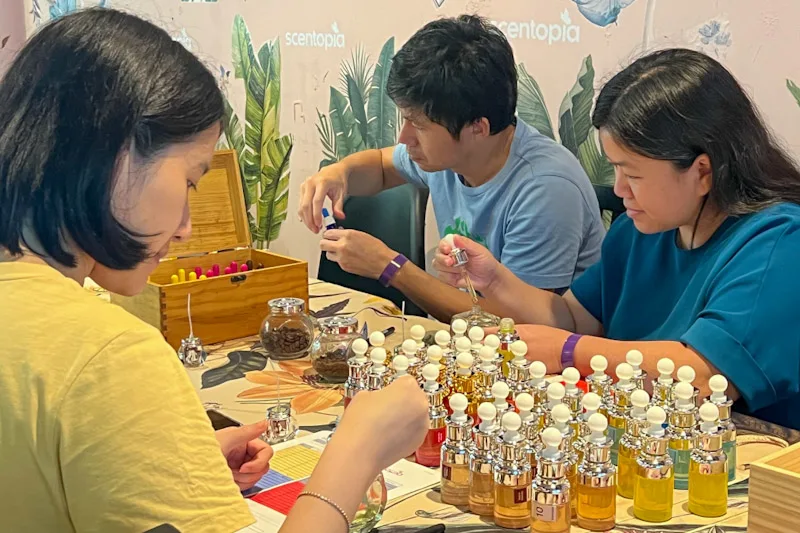 After mixing all the scents into our perfume bottle, we gave it a thorough mix and smelled it. If we were not satisfied with the result, we could add more scents to tweak the smell.
After a lot of concentrating, counting, and smelling, finally our perfume is done! All of us are extremely satisfied with our final perfume!
We packed our perfume bottles, together with our personality test results, in these little cute hand bags from Scentopia.
We ended the workshop by taking compulsory group photos to commemorate the event.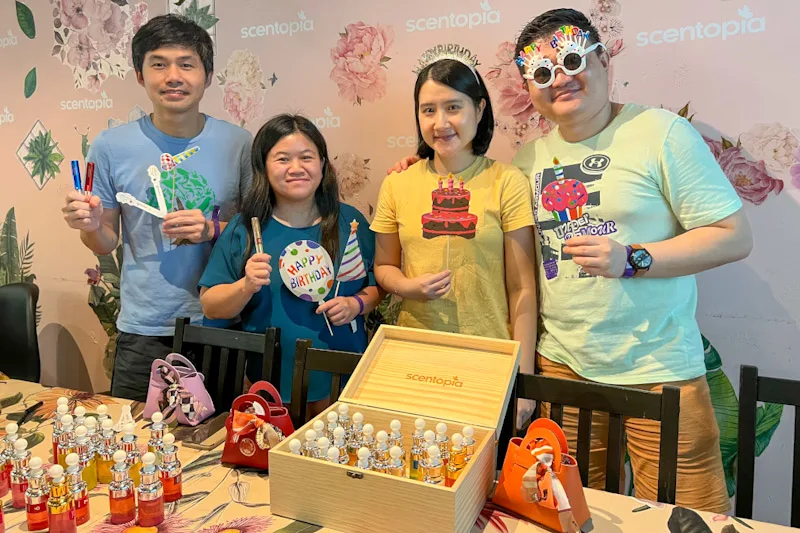 Lastly, our guide gave us the link to learn about the ingredients of our perfume, as well as to download meditation guide based on each aroma. For people who are looking to enhance well-being through meditation, these aroma-based guided meditations are a good place to start.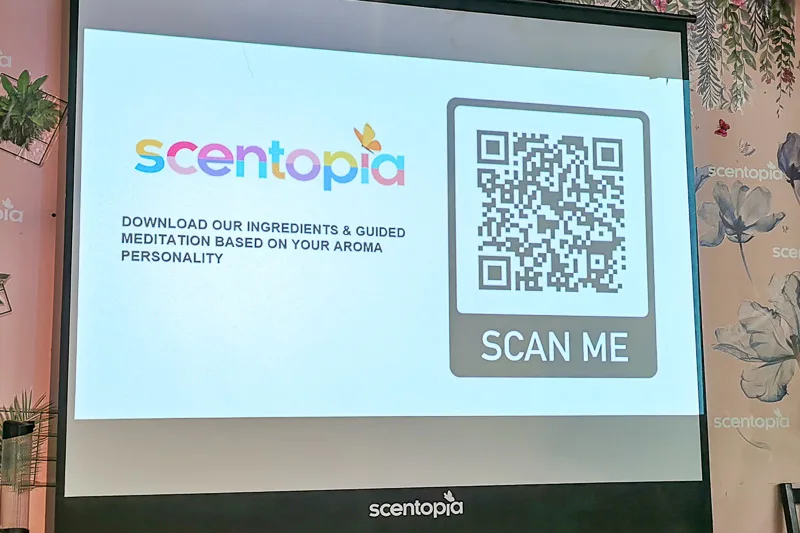 Exploring the Retail Space
After the workshop, our guide gave us a tour around the retail space.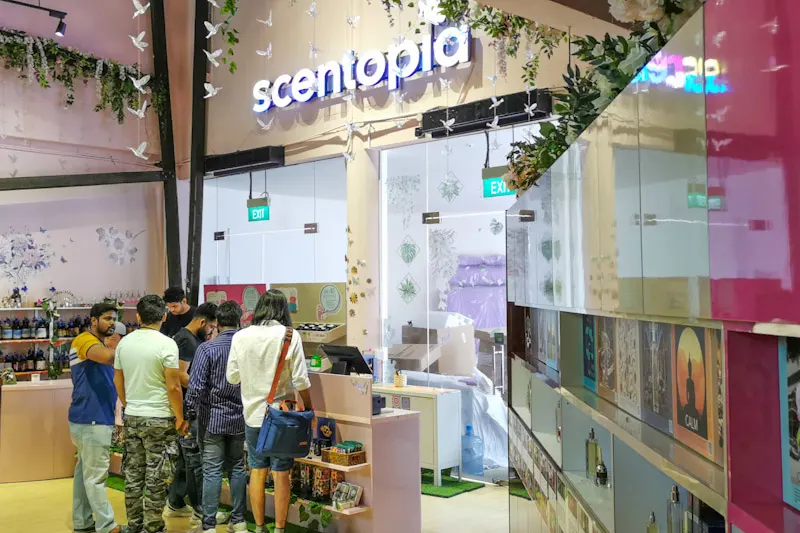 At the retail space, there are various pre-mixed perfumes on sale. Some of the popular ones are Singapore Memories Girl, Singapore Memories Aranda and Singapore Memories Vanda.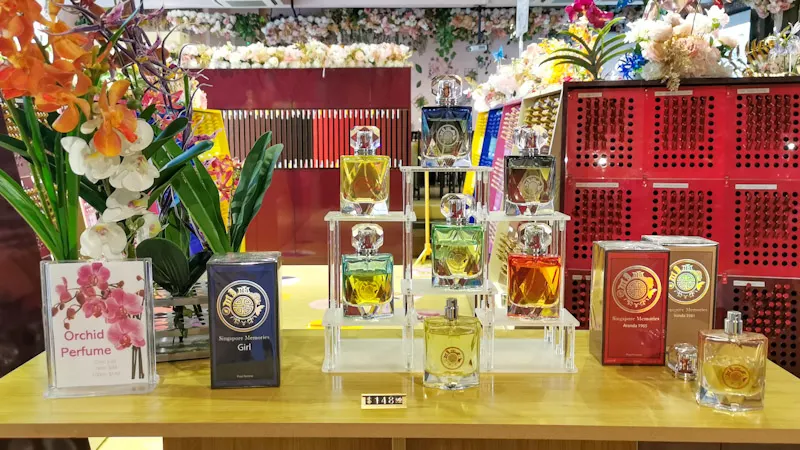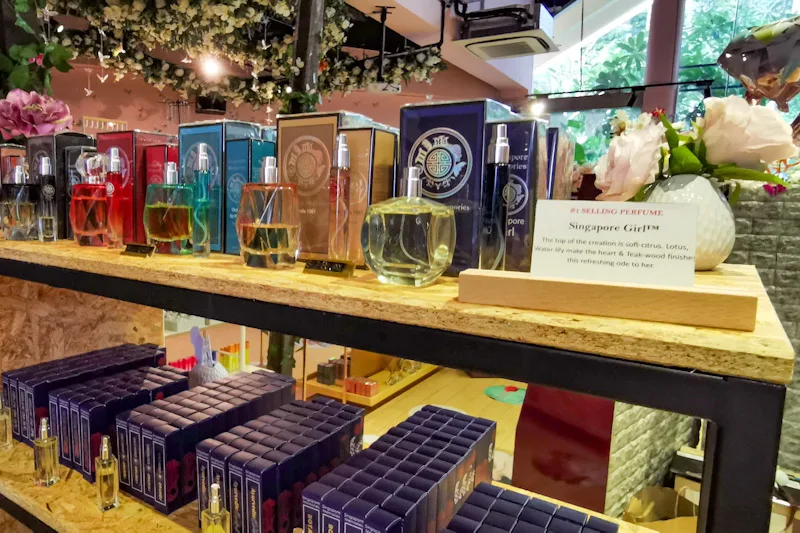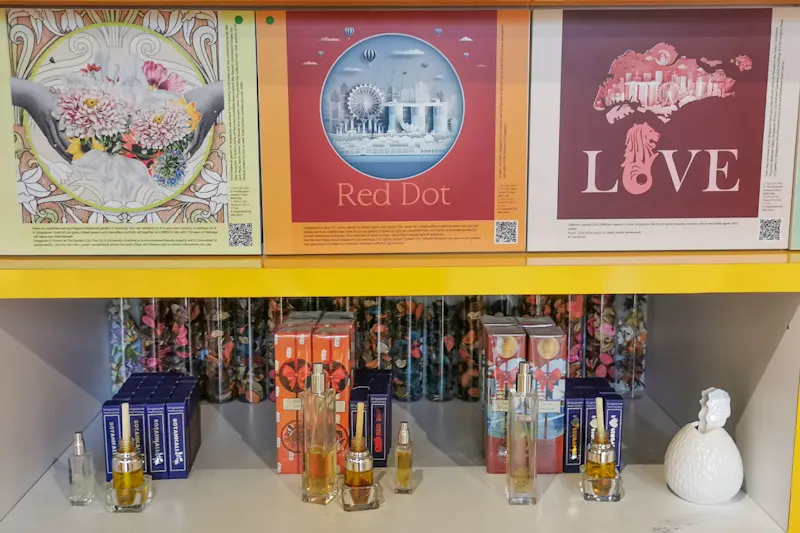 Beside pre-mixed perfumes, there are also single scent perfumes on sale.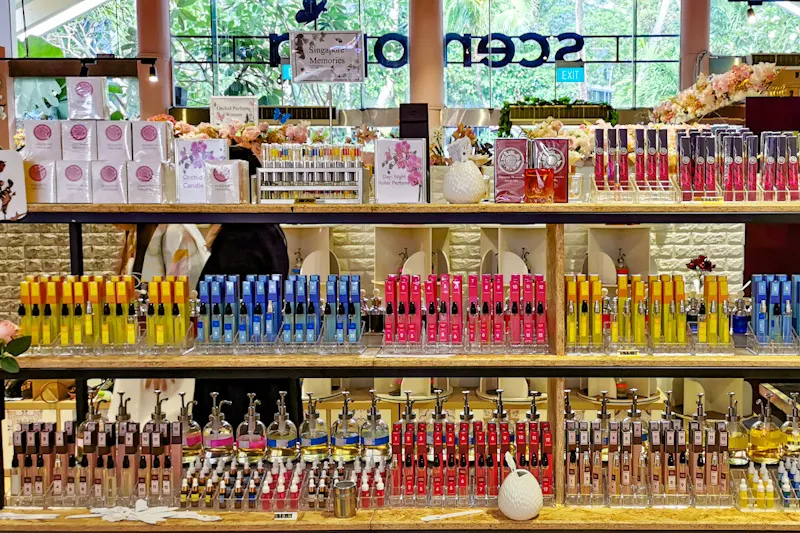 We walked past the DIY section which reminded me of our previous perfume-making last year. That time, we had to smell the scent from various scent wands and made our own trial mix, before the staff helped us to do the final mix.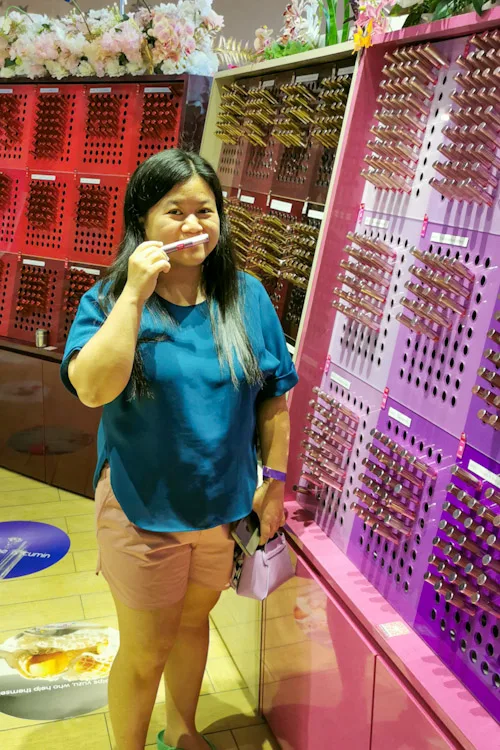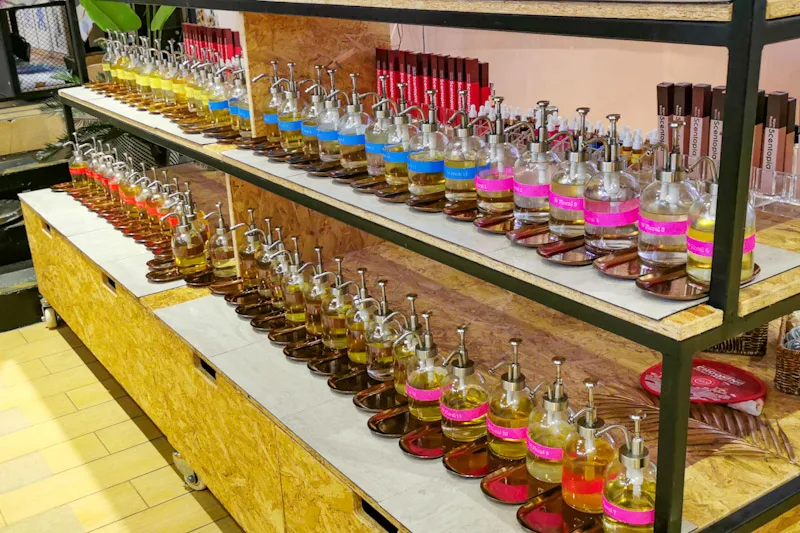 At the end of the retail section, there is a row of information panel. Here, we can learn about the ingredients of the scents that we used in our perfume-making workshop. Each panel has a scent code which corresponds to each fragrance in the Scentopia collection.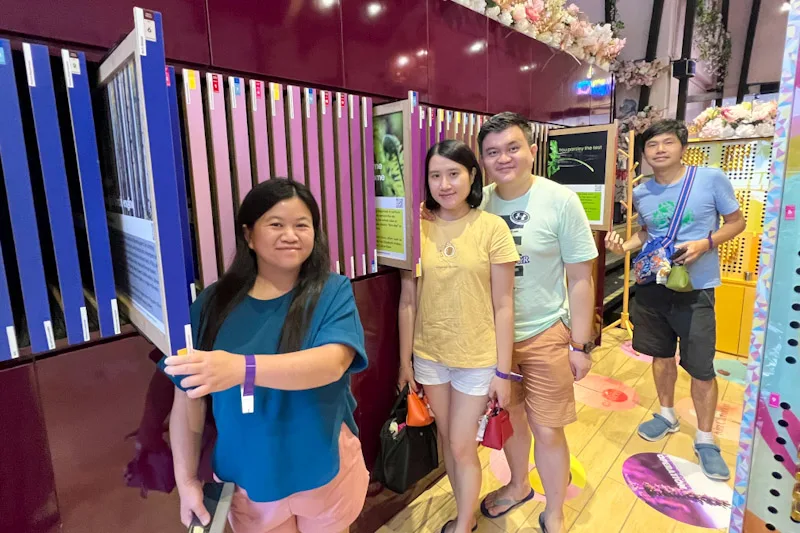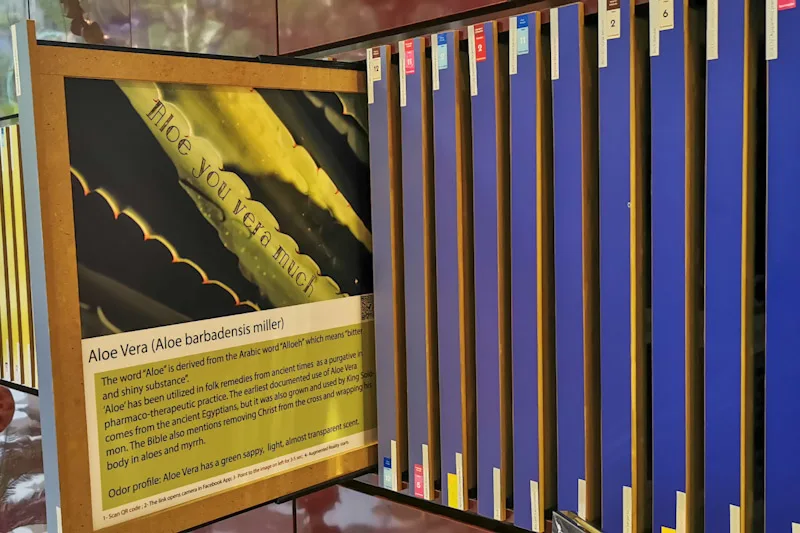 Closing Thoughts
If you are looking to break away from the norm of celebrating birthdays with dinner and cakes, I feel that perfume-making at Scentopia is a wonderful experience to celebrate this special occasion because you get to craft your very own signature fragrances that can't be found in the mass market.
My friends, whose birthdays we were celebrating, said that the entire experience is a really fun, relaxing and interactive experience. The whole setup is nicely done, the perfume bottles and mini bags are extremely cute.
Our guide has been super friendly, super helpful and super knowledgeable. She also took the initiative to help us take so many photos and videos which we would cherish for a long time.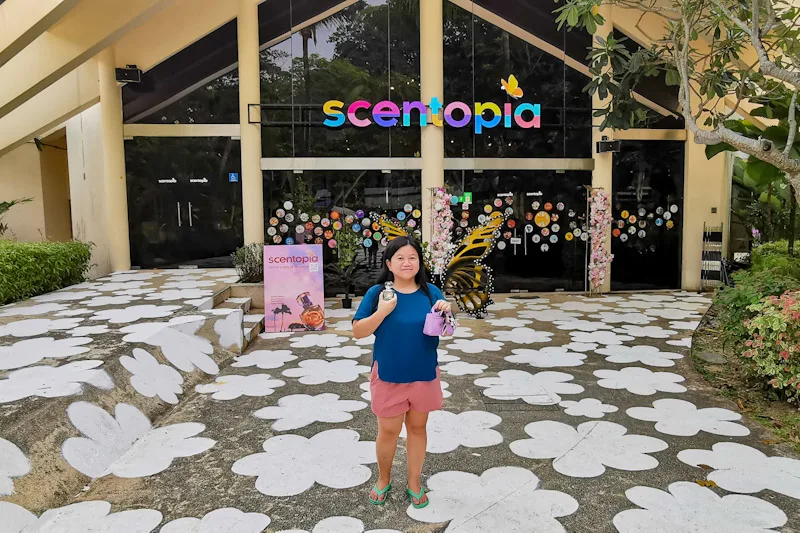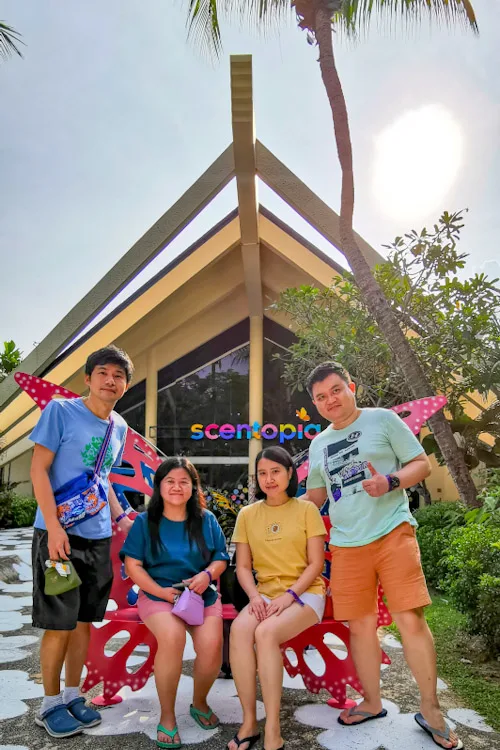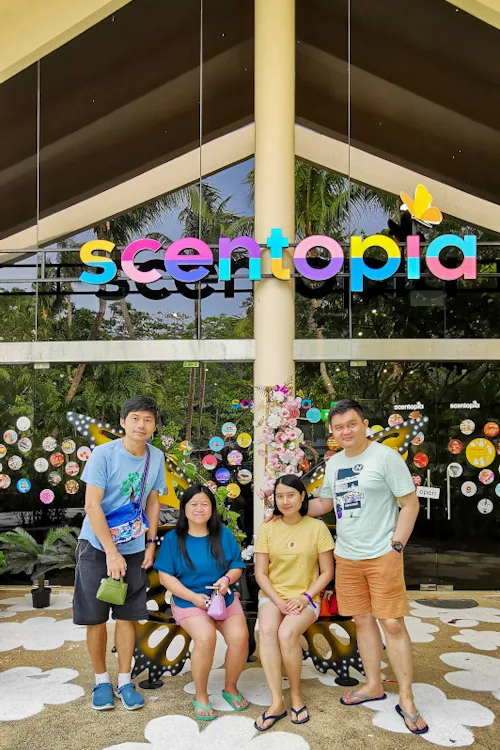 Lastly, I would like to thank Ms Prachi, the founder of Scentopia, who has kindly invited me and my friends to celebrate birthdays by making perfume at Scentopia.
If you like my work, you can buy me a coffee! Your support will help me to keep going!