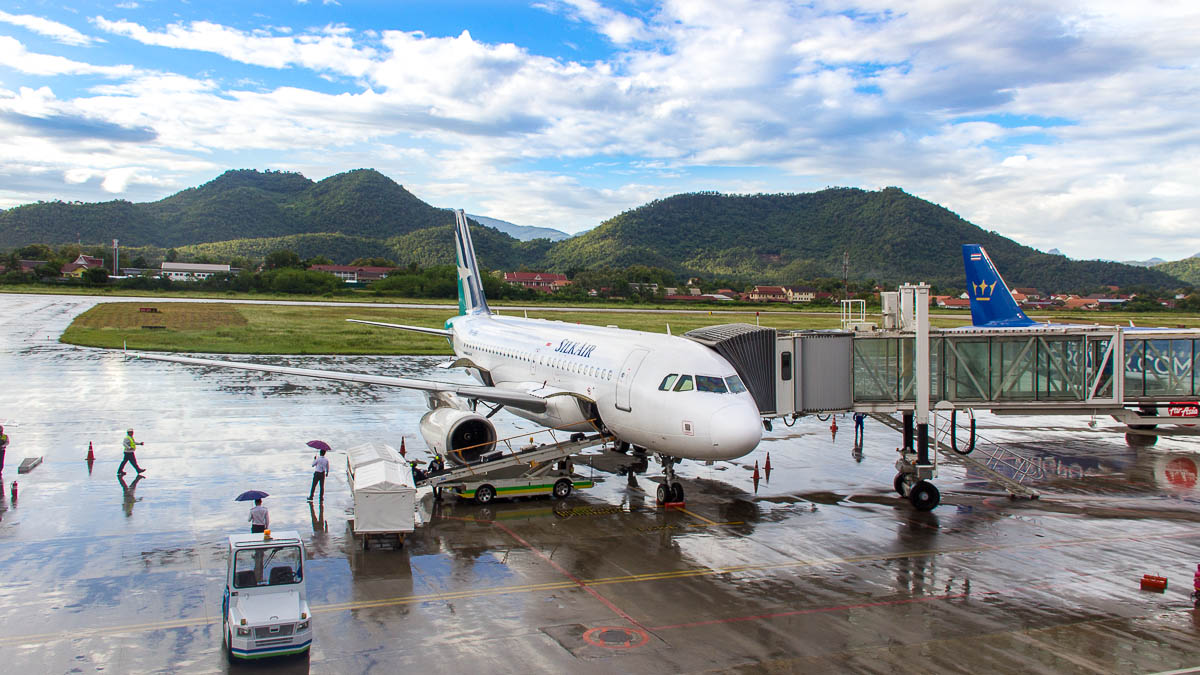 In April 2017, SilkAir announced cheap flights to many destinations, and the prices start from SGD 99 onwards. I went to the roadshow and was disappointed because they had closed the admission to the roadshow due to overwhelming response. The staff said we could also book from their travel agent partners. A bulb was lighted!
The next day, after work, hubby and I went to one of the travel agent's branches to book a ticket. We decided there and then, that we wanted to visit Luang Prabang. We queued for more than 1 hour. And that wait was so worth it! We would do it again, anytime!
If the same promotion happens again, I will buy tickets to at least 2 destinations! And I promise I will inform you about that promotion, but you need to follow my Facebook page so that my announcement can reach you 🙂
Finally, the day has come for us to board Airbus 319, on flight MI 788 from Singapore to Luang Prabang. Our experience with SilkAir on that flight was so remarkable, that we declare we love flying with SilkAir.
Here are the reasons why.
1. Super Cheap Price During Promotion
I said it before, and I'm gonna say it again. I paid SGD 99 for a return trip from Singapore to Luang Prabang! Isn't that crazy? Even budget airlines can't win against SilkAir here. I'm really hoping SilkAir would do this kind of promotion again. Fingers crossed!
2. 30kg Baggage Allowance for Economy Class
If that isn't generous, I really don't know what is. My hubby and I are budget travellers, so we are used to packing light. 30kg is more than enough for 2 of us, but we had 60kg. We were so pampered.
3. Early Check-In – 48 Hours Before Departure (Even with Baggage)
When you fly with SilkAir, you can check in 2 DAYS before your departure! Did I hear correctly? Yes, you did. Some of you may think that early check-in is a waste of time, but really, it's a cool opportunity to explore one of the world's best airport: Changi Airport. We made use of this opportunity to check out SATS Premier Lounge, as well as what Changi has to offer.
4. Pillow and Blanket
As soon as we sat down on our seats, the steward walked around offering blankets sealed in a transparent plastic bag, as well as pillows. Yay, flight comfort is taken care of.
5. Newspaper and Magazine
I love that we're given The Straits Times. And I love Silkwinds Magazine. I had a good time reading on a plane.
6. Welcome Drink, Nuts and Wet Towel
I just knew that there's a welcome drink on a plane. I got myself an orange juice, and hubby got a beer! We also got a pack of mixed nuts and a wet towel each.
7. Delicious Meals
We had 2 choices of meals: fish or chicken. Naturally, we chose 1 fish and 1 chicken. It turned out that the curry chicken was awesome. We couldn't resist requesting for another serving. Yup, you can request for another serving if you're still hungry.
8. Booze!
Oh, this is our weak point. I had a white wine, hubby had a red wine. They were wonderful.
9. Ice Cream
After the meal, we were served dessert in the form of chocolate coated vanilla ice cream. The words "Heavenly Bites" weren't printed on the packaging for nothing. It was the best chocolate coated vanilla ice cream I've ever tasted on a plane. Nothing came close.
10. In-Flight Entertainment via SilkAir Studio App
The SilkAir Studio entertains passengers with movies, short clips, TV series and music. I connected to their wifi and tried to play movies and short clips but wasn't successful. Hence, I listened to my idol Britney Spear's new songs to sleep. PS: If you're iOS user, download the app before boarding the plane. Android users, you can download the app only when you're on the plane. Don't forget to bring your headphones!
Transit at Vientiane
Our flight from Singapore to Luang Prabang had a stopover at Vientiane. We had to bring our cabin baggage down, scan them, wait for a while at Vientiane airport, then board the flight again and sit on our previous seats. Then, we were served drinks before the plane land in Luang Prabang shortly after. Even though my nap was interrupted by this transit, it wasn't a big issue and we'd gladly do it again if we can snatch the same cheap flight again.
Flight from Luang Prabang Back to Singapore
The flight from Luang Prabang back to Singapore was a direct flight. We expected the same level of awesomeness, only to be disappointed with a mediocre service. On the return flight, the fried mee siam was horrible, there wasn't another option of meal, dessert was fruits (not the heavenly ice cream, sob!), mixed nuts were served at the end of the flight, no straits times were distributed, cabin crews were not attentive in collecting trash. Sigh! I hope SilkAir allows its passengers to give ratings and feedbacks so the airline could improve its quality for all flights.
Overall Remarks
Overall, we had a great time flying with SilkAir. We would definitely fly with SilkAir again.