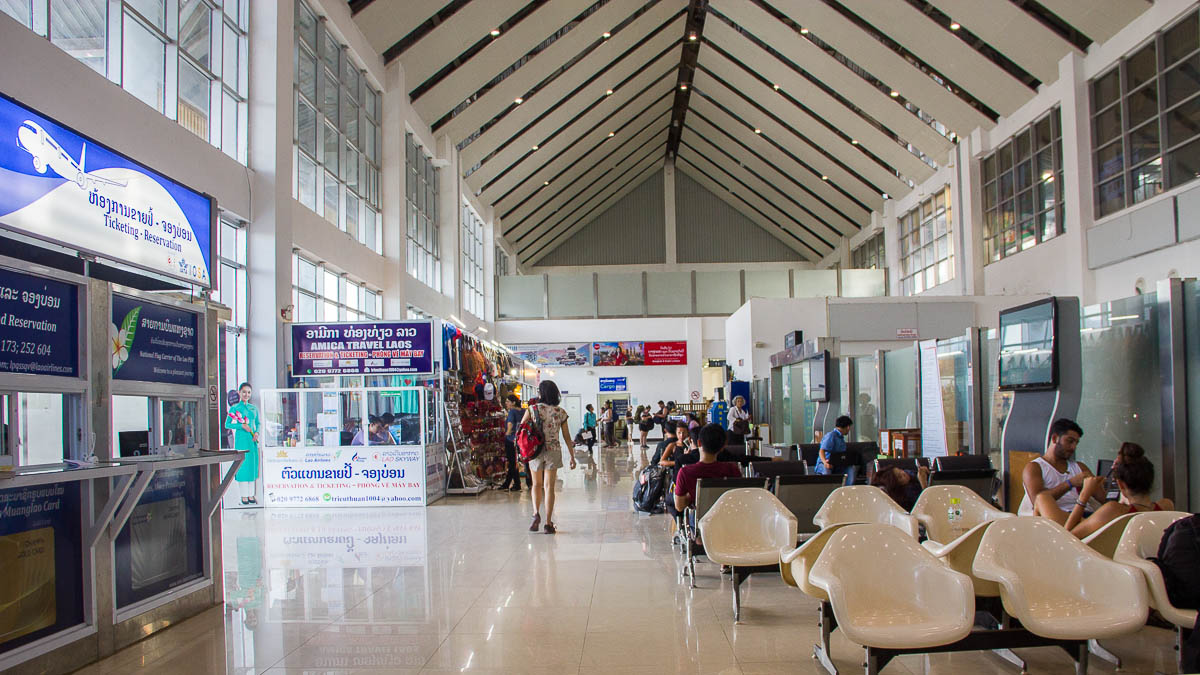 "Oh, no, we're doomed!" This is precisely what crossed my mind when I realised how bad the SGD/LAK exchange rate at Luang Prabang International Airport is. You don't want to make the same mistake as me. Let me show you what you need to know before arriving at Luang Prabang.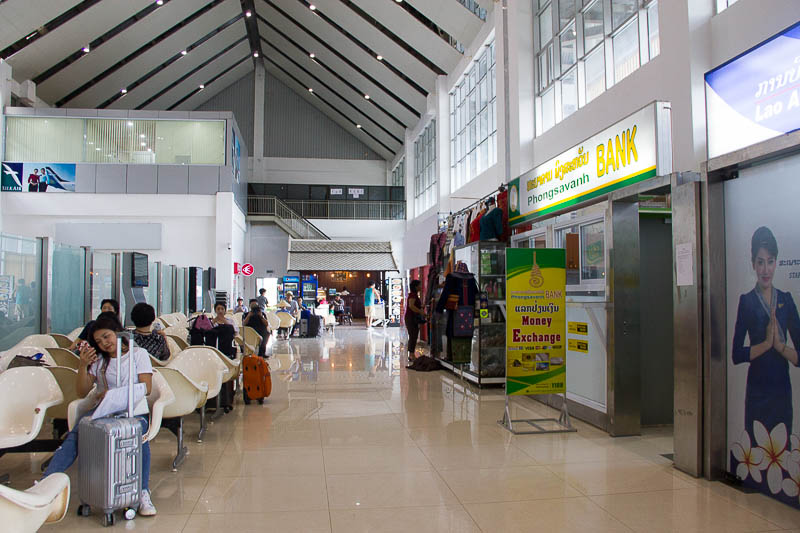 1. Visa Requirement
Before flying, check whether you need a visa to enter Laos. If you don't, great! If you do, check whether you can get Visa on arrival (VOA), where and how you can get the VOA.
2. Buying SIM Cards
After you got your passport stamped, before you exit the arrival gate, you will see a row of telecommunication provider booths selling SIM Card with or without data, such as Laotel, Unitel, Beeline.
During our visit in October 2017, Beeline offered 3GB 7-day data sim card for USD 4. Meanwhile, Laotel offered 5GB 3-day data sim card for USD 3, and 1.5GB 7-day data for USD 3.
We didn't buy from them because we had neither USD nor local currency at that moment. It's okay not to buy SIM card from the airport because you can get slightly cheaper SIM card at the town. We bought Laotel SIM card from its office at opposite Morning Market; we paid 20,000 kip for a SIM card with 1.5GB data and 7 days validity.
3. Changing Money
Laotian Kip (LAK), Lao's currency, is not available in Singapore, the country where I'm living in. So, I had 2 options: either bring SGD or USD to Laos and change money there. Logically, I want to change money only once to minimise exchange rate loss, thus, I bring SGD to Laos. And what I found later left me speechless. If I go to Laos again, I will bring USD instead of SGD.
The official exchange rate according to Google is 1 SGD to 6,100 LAK. However, at the airport, the exchange rate is 1 SGD to 5,500 LAK. That's a huge difference of 10%! Unwilling to lose so much, we decided to change 50 SGD first, and try to find a better rate at the town. PS: The SGD/LAK rate at the town is not better than airport's rate.
Generally, if you hold Asian currencies, you'll get better exchange rate at the airport. For Western countries' currencies, the rates are slightly better at the town, not much difference though. Below are the exchange rates at airport and town in October 2017. To check bank's latest exchange rate, see BCEL's exchange rate.
The money changers in Luang Prabang accept these 13 foreign currencies: USD, CAD, EUR, GBP, CHF, AUD, JPY, KRW, CNY, VND, THB, SGD, MYR. If you don't hold any of these currencies, or if you hate the terrible exchange rate at Luang Prabang's money changers like me, read point #4 below.
4. Withdrawing Money
We decided to withdraw money from ATM instead of changing our SGD to LAK at money changers. We used BCEL ATM because they charge only 20,000 kip. We withdrew 1,500,000 kip. After service charges and commission fees, our final exchange rate is 1 SGD to 5707 kip, which is slightly better than money changer's rate!
You can find many ATMs at the airport as well as the town. Here are the ATMs at the airport.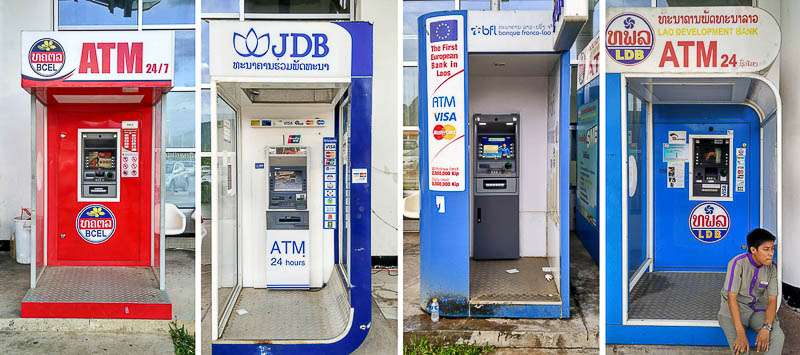 5. Transportation to Town
The main transportation from the airport to town is a taxi. It costs 50,000 kip/3 persons.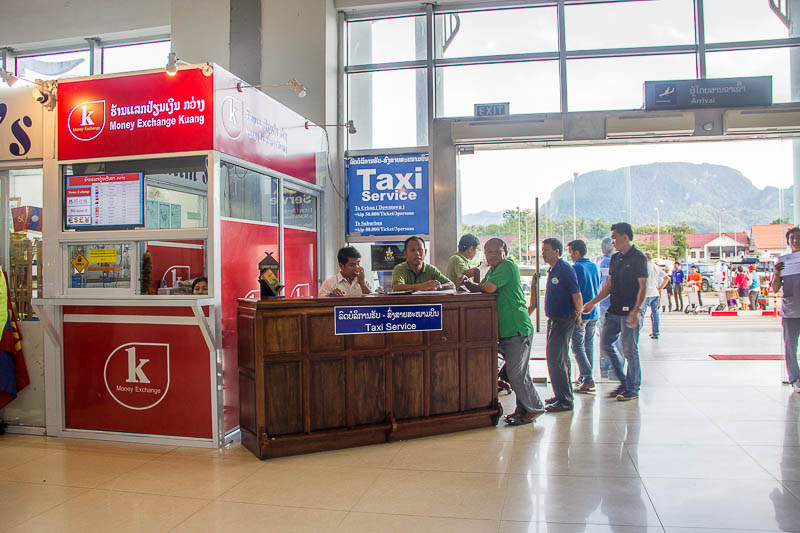 Tuk-tuk is not allowed to pick passengers from the airport. If you want to get a tuk-tuk, you need to walk out of the airport. We tried to find tuk-tuk, and we were lucky to find one as we exited the airport building. We paid 40,000 for a one-way journey to our guesthouse which is located near Morning Market.
6. Food
There is a small café at the airport in case you need food.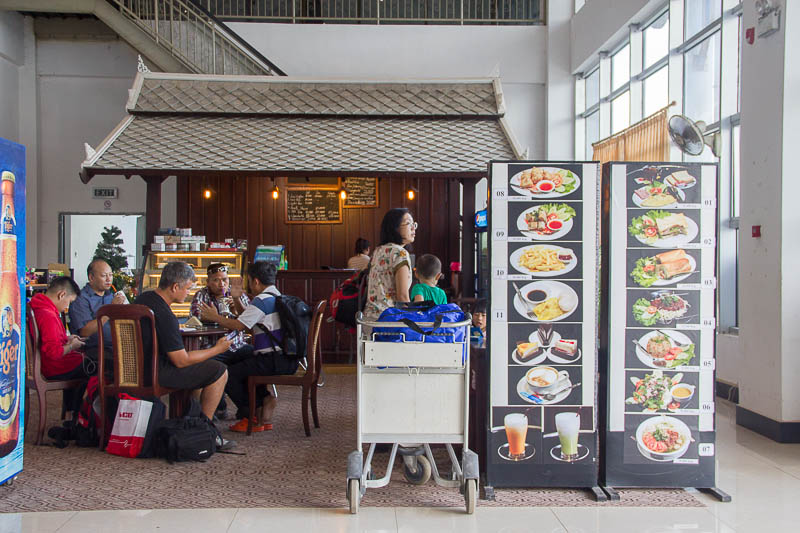 7. Shopping
There are shops for you to buy souvenirs, but personally, I'd buy souvenirs at Night Market at the town.
8. Wrapping Service
For departing passengers, there's a wrapping service before check-in. The price ranges between 15,000 and 40,000 kip.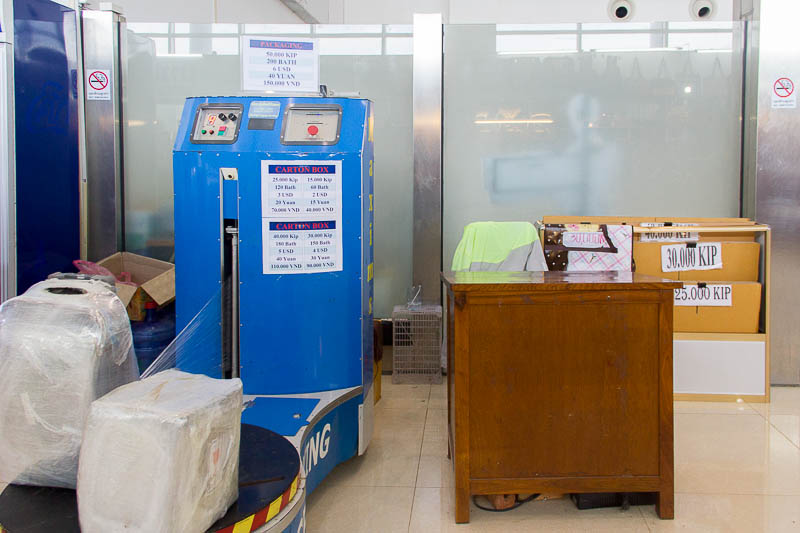 I hope this post has been helpful to you! Please note that the information on this post is written based on my visit to Luang Prabang in October 2017. Over the years, a few things may change. If you have any tips, do let me know in the comments or contact me.