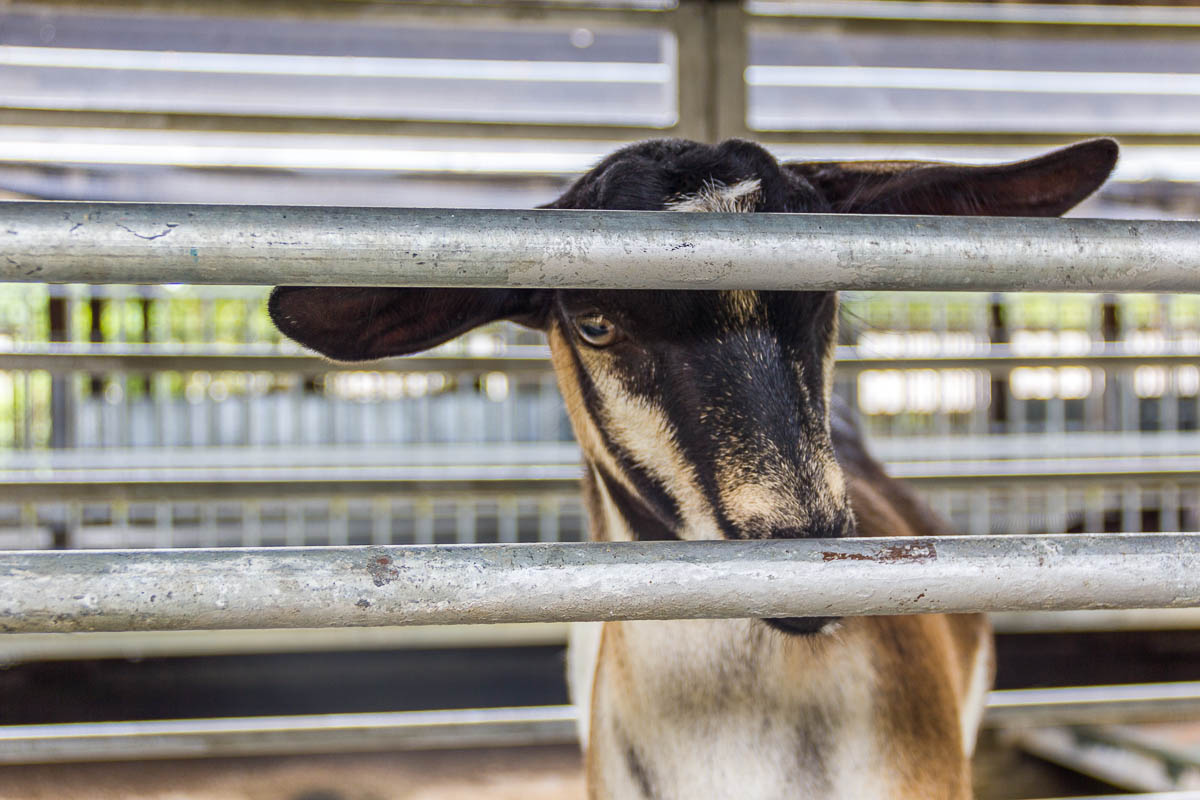 I was born and raised in a city. I ended up moving to an even bigger city in my late teens. So, anything related to farm excites me! I first visited Hay Dairies in my university time, around 10 years ago. I don't remember much about it. I decided, now is the time to revisit this goat farm. This time, I'm going with my boyfriend, and it's his first time visiting Hay Dairies.
What can you expect to do in Hay Dairies? Well, basically I've listed them all in the title above! Now, let's dive into the details, shall we?
Watch Goats Milking
Honestly, this is our main goal. It's such an interesting experience to witness milking process. They use a mechanical pump to suck the milk, then channel the milk through pipes to a huge collection tank. The goat milk from collection tank will be pasteurized before packaging it into bottles for sale.
If you'd like to witness goats milking process too, take note that milking is only done in the morning, approximately from 9.30am to 10.30am. Also, take note that they are closed on Tuesdays.
On the same day of our visit, there was a tour group of school children. The farm has a rule that states if your group is less than 20 people, booking is not required. However if your group is more than 20 people, it is considered as a large group and entrance fee will be chargeable with an educational tour package included. So, once the children filled up the milking viewing platform, the emcee explained about the goat, the farm, and the milk to the children. I joined the crowd because I want to learn too. But later I found that the information is available on their website as well. If you are keen to learn about the goat, farm and milk, do read the whole content on their website, which is pretty easy to do in less than 30 minutes.
Drink Goat Milk
When in a goat farm, drink goat milk. We bought 2 small bottles of goat milk, each 200 ml, in original and chocolate flavor. Our verdict: it tastes similar to cow milk, and we prefer the original flavor.
Other than on the farm itself, the goat milk is also sold in selected stores, as well as on Hay Dairies website. For direct purchase from the farm, the price is $2.50 for 200 ml and $8 for 800 ml. You need to consume the milk within 1 hour. If you want to bring home, you can purchase cooler box to store the milk, or simply buy more to be entitled to a free cooler box, more details here. There is expiry date stated on the bottle, just make sure you keep them in the chiller (temperature of 4°C and below) and avoid placing them on the fridge's door.
Feed and Pet the Goats
Do you see how cute those goats are? I was so excited to get up close with the goats. There is a sheltered walkway to the petting area. On the left, it is a row of elevated cage where the goats are kept. They are fed with corn and hay twice a day. The drinking water for goat is supplied through a nipple-like outlet, attached to the water pipe fixed horizontally at midheight, at the front of the cage. The reason why the cage is elevated is because it prevents the goats from being in contact with harmful pests and parasites.
On the right, it is another row of elevated cage where visitors get to feed and pet the goats. You can buy hay from the farm to feed the goats.
Watch the video I made that summarizes my experience in Hay Dairies Goat Farm.
[youtube https://www.youtube.com/watch?v=cKETLfTZhWs&w=560&h=315]
Information and Tips
The farm is open from 9:00am to 4:00pm from Wednesday to Monday. They are closed every Tuesday unless it is a Public Holiday.
Admission is free.
If your group is more than 20 people, you need to register in advance and pay for tour fee (a bottle of 200 ml milk is provided for each person).
There is no meal sold here, only goat milk and snacks, so make sure you eat your breakfast before visiting.
There are plenty of tables and benches for visitors to sit down.
Public toilet is available.
How to Go There
If you take public transport like I do, there are 2 buses that you can consider. My first choice is Kranji Countryside Shuttle Bus. To catch goat milking process in the morning, I have only 1 choice of timing to take the shuttle bus, it is 9.30am shuttle bus from Kranji MRT. The price is $3 for adult (return ticket price).
Hay Dairies is pretty far from other farms, so I suggest that you catch 11.35 am shuttle bus from Hay Dairies to another farm, otherwise you need to wait til 12.25 pm for the next shuttle trip from Hay Dairies. Take note that driver lunch time is 11.40-12.20. According to the timetable, the next stop after Hay Dairies should be Jurong Frog Farm, and the driver is supposed to take rest there; but it was Monday when we visited, Jurong Frog Farm and Bollywood Veggies are closed on Mondays. So we asked him where he is going to during his rest time, he said D'Kranji Farm Resort, so we hopped on the bus at 11.35am. We then had our lunch at D'Kranji Farm Resort. I'll talk more about our lunch later in the article.
Here's my takeaway from taking the shuttle bus: the timings depend on many other aspects, allow for 5-10 minutes plus or minus. Sometimes, the bus comes later than the stated timing, but sometimes, the bus comes and leaves earlier than the timing! How frustrating is that? At one time, we arrived at the bus drop off point 2 minutes before the stated timing, but the bus has left! So, my advice is: wait for the bus early, because being early is better than late.
The second bus that you can take to Hay Dairies Goat Farm is SMRT bus 975 from Bukit Panjang Station or Opposite Phoenix Stn or Opposite Choa Chu Kang Stn; then alight at Opposite Lim Chu Kang Lane 4 bus stop. After that, carefully cross the road (the vehicles are traveling at such high speed on this road) and follow the sign to Hay Dairies Goat Farm. It is a long bus ride, so you need to consider whether it's worth your time. It is also a great choice if you want to back to the city but you don't want to wait until the driver finishes his rest time, assuming you visit the farm in the morning like I do.
Other Things You Can Do Nearby
If you hold a ticket to Kranji Countryside Shuttle Bus, you can go to other farms on the list: Sungei Buloh Wetland Reserve, Gardenasia, D'Kranji Farm Resort, Kranji Marshes, Bollywood Veggies and Jurong Frog Farm. Unfortunately, Hay Dairies is not within walking distance to other farms, so you have to take shuttle bus (if you don't drive).
For us, after our visit to Hay Dairies, we hopped on the shuttle bus to D'Kranji Farm Resort and had lunch at De' Beer Seafood. Due to our tight budget, we chose the cheapest meal, hor fun. It was $6.80 before tax, or $8 after 10% service charge and 7% tax. Thereafter, we took shuttle bus again to Sungei Buloh. Stay tuned to my Sungei Buloh Wetland Reserve coverage in my upcoming post!