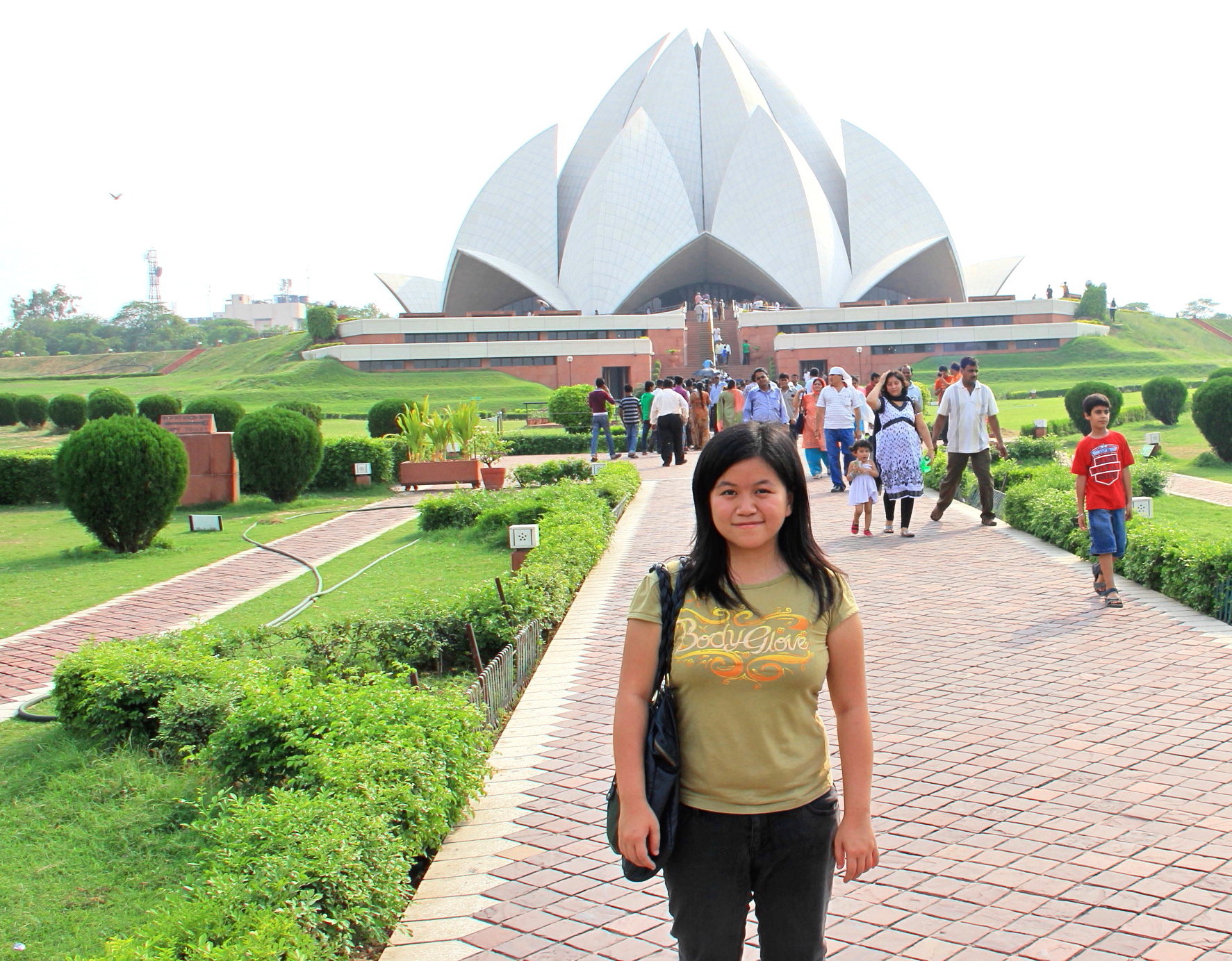 After our chaotic leg in Varanasi, we made our way back to Delhi again for one last time. From the airport, we weighed the pros and cons of taking prepaid cab and meter cab, and eventually decided to take meter cab.
We ended up paying Rs 760 taxi fare, plus Rs 80 parking fee, which I thought was expensive. I would suggest visitors to take prepaid cab instead. In Majnu ka Tilla, we checked-in into hotel, ate and hung around Majnu ka Tilla for the rest of the day.
On the next day, which is Elena's last day in Delhi, we went to Rama Krishna Asharam Marg for last minute souvenirs shopping. We had lunch at Connaught Place before going back to our hotel. At night, after our dinner, Elena did her final packing and bid farewell to me. Tenzin sent her to airport.
The next morning, I woke up and felt lost. I didn't have any plan for the day and I was all alone in Delhi.
I had a slow breakfast by myself. Then, I worked up the courage to call Rabsel's nephew. The good news was, he was available to meet me and bring me around Delhi! I was so glad and relieved. Rabsel's nephew, Gyaltsen, came to my hotel after lunch.
Our first stop was Red Fort. We took auto-rickshaw from hotel to Red Fort for Rs 60. At first glance, Red Fort is very similar to Agra Fort. It was a very hot summer day, we finished exploring Red Fort in 2 hours.
Moving on, we went to second destination, Bahai Lotus Temple. We took rickshaw to Chandni Chowk metro, then took metro to Nehru place metro station and walked to the temple. On the way there, we realized that Kalkaji metro station is nearer to the temple compared to Nehru place.
I love the design of Bahai Lotus Temple. The temple is surrounded by 9 pools. It is a house of worship, and photography is not allowed inside. I was caught photographing inside the temple, and was asked to delete the photos that I took, sigh! After spending 2 hours in lotus temple, we went back and called it a day.
On the second day that Gyaltsen accompanied me, his friend, Chel, also joined. I was so glad to have 2 guides. We went to Qutub Minar and Akshardham.
First, we took metro to Qutub Minar station, followed by taking shuttle bus to Qutub Minar itself (we paid Rs 10 for the bus). Qutub Minar, or Qutb Minar, is a UNESCO World Heritage Site, the entrance fee was Rs 250 for foreigners, and Rs 10 for locals. Built in early 13th century, Qutub Minar is a red sandstone tower of 72.5 meter high and 14.32 m diameter at base.
Next, we had lunch at Rajiv Chowk before taking metro to Akshardham station. From the station, it is a short walk to Akshardham, yet there were rickshaw drivers offering to take us to Akshardham for Rs 5 each person.
Akshardham temple is a very large temple complex built to honor Bhagwan Swaminarayan, a spiritual teacher in India. The temple has extreme policy of not allowing any electronic devices, bags, umbrellas, outside food and drinks inside the complex (more details on visitor info here). Thus, no picture this time, sigh.
The temple is so full of carvings that I thought it took a long time to build. To my surprise, it only took 5 years to complete. The construction started in 2000, and the complex was open to public in 2005. There is water show after sunset, tickets are required.
On the third day with Gyaltsen, we went to Great India Place. It was basically a shopping mall near Noida Sector 18 metro station. It was a huge mall but surprisingly it was not crowded. I did a little of shopping there.
At night, I treated Gyaltsen for dinner to thank him for accompanying me for the past 3 days. I have 2 more days left in Delhi and I do not wish to disturb him from studying for his entrance exam to university.
I'm so thankful for the opportunity to explore Delhi with a local, which I otherwise don't dare to do on my own. This experience makes me vow to myself to be a good host in my own country if my overseas friends visit me.
---
This is Part 13 of 14 in my "India Trip in 2011" series. To read from the beginning of this trip, click here.
To see all articles I've written about this exotic country, visit my India page.