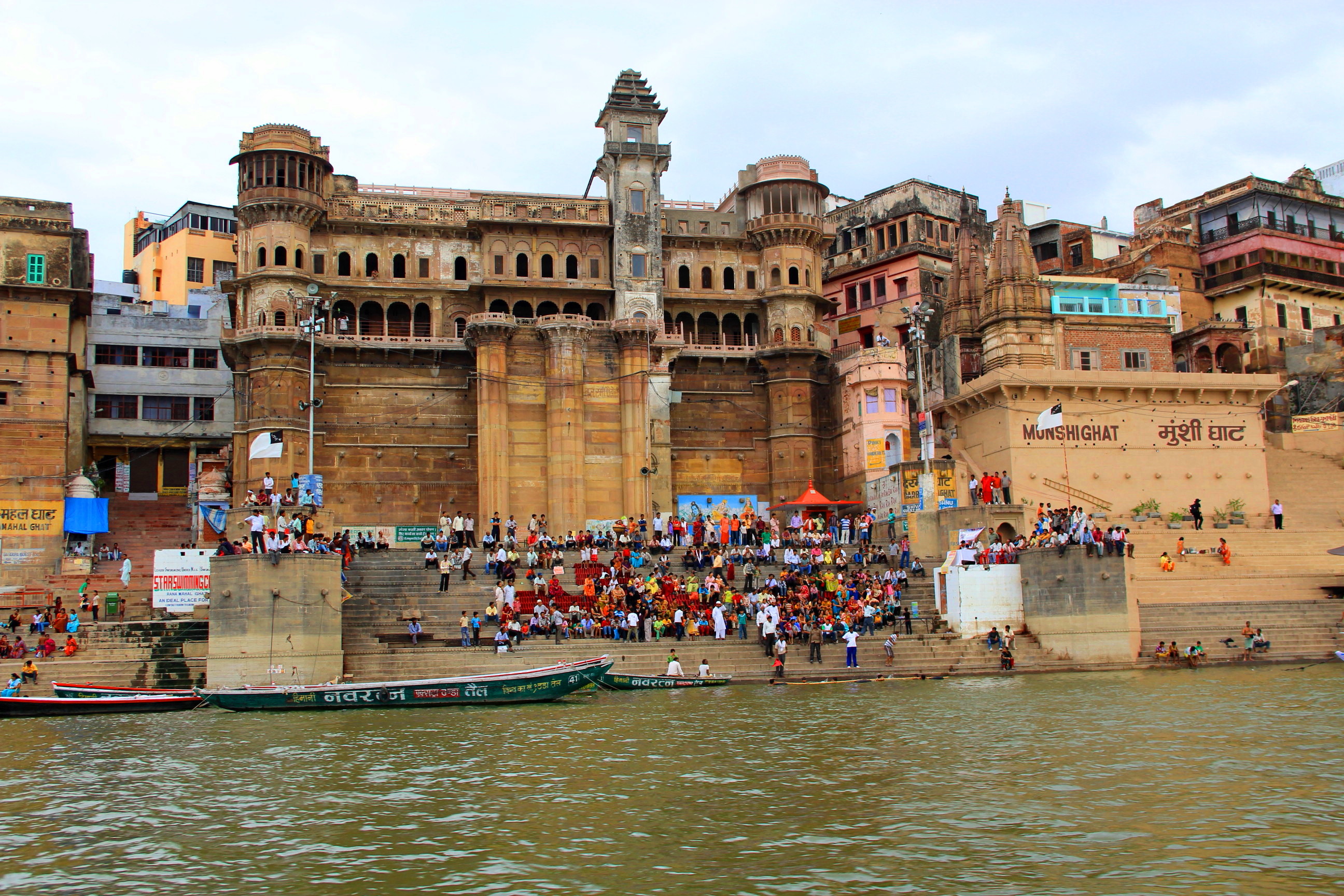 Varanasi was a chaotic leg of our trip, full of unexpected incidents and difficult people.
Firstly, our train from Agra to Varanasi arrived 7 hours late at Varanasi. The original arrival time was 10am, but it arrived at 5pm. There goes 1 day of our total 2 days in Varanasi.
Secondly, we didn't choose prepaid rickshaw (cost Rs 75 in 2011), but choose independent rickshaw instead to save Rs 5, he offered us Rs 70. We told him we wanted to find accommodation in Assi Ghat, and he brought us to MKP Guesthouse (we found out the next day that MKP Guesthouse is actually near Shivala Ghat and I felt cheated by the rickshaw driver). The rate of the room was Rs 350 per night, we felt it was reasonable so we took it.
Just after we expressed our interest to stay there, the guesthouse owner demanded full-payment. It was a foreign concept for us, usually we pay upon check-out. We responded that we do not anticipate about paying in full when we check in, so we don't have enough cash. The guesthouse owner said that his nephew can accompany us to the money changer. We complied with their request anyway.
The nephew was kind to bring us around and told us stories about Varanasi and the ghats. Ghats are those stairs leading down to the river. He also offered us a rickshaw tour to 5 places for Rs 300 for the next day. We bargained for Rs 250 and the deal was on.
On the next morning, we started the rickshaw tour at 9am from the guesthouse, after I gave my laundry to the guesthouse staff. We passed by Banaras University, to which the rickshaw driver claimed as the Oxford of the Asia.
We visited Shree Vishwanath Temple, inside Banaras University, which is dedicated for Shiva. The temple main building is covered in white paint, while other shorter structures are painted in light red.
We flew through Monkey Temple (Durga Mandir). We spent some time in Mother India temple (Bharat Mata Mandir), admiring the vast map of India made of marbles.
Our last destination was a silk shop where we bought some silk to support the locals. From the silk shop, we told the rickshaw driver to bring us to McD for lunch, he turned angry and said we have exceeded 4 hours and there is barely any time left.
We argued that we weren't told there was a time limit for the tour, and the nephew had agreed that the tour includes bringing us to lunch. He kept quiet, brought us to McD, and brought us back to our guesthouse.
In the afternoon, we walked along the riverfront. I started to notice there are so many ghats in Varanasi. The name of ghats are usually painted in bright color, on the building at the top of the stairs. The words are legible from the river. Some paintings of gods are also found on the walls.
The river is where people and cow take a dip, locals believe that the water is holy. It is also common for people to wash clothes in the river.
Another main activity in Ganges river is the cremation of dead people. Many boats for boat tours are parked along the river edge. Cows and dogs are roaming around or resting at the stairs or stairs landing. It is not uncommon to see sadhus around the ghats.
On our walk, we were approached by a few people offering boat rides for price of Rs 150-300 per hour. Eventually we succeeded in bargaining a Rs 100 boat tour. I really enjoy the boat tour and would recommend everyone who go there to take one.
At night, in the hotel, our constant battle with MKP guesthouse continued. I asked for my laundry and they said it would be ready the next day at 10am. I protested, the check out time is 10am, how can I do my packing, and I had to catch my flight at 11.40am. They said they would arrange the laundry to be delivered on 8am instead.
We then told them that we wanted to make order for breakfast, they said they would come to our room to take our order. One hour later, they still had not come! So we take initiatives to write down our order, go down to the lobby, and passed them the paper.
On the next morning, someone knocked on our door at 7.30am and asked us what breakfast we'd like to order. Didn't we just order the night before? Anyway we tried to cool down and order once again. We told them we're in a rush, and luckily they prepared our breakfast quite fast.
At 8am, I went down to ask for my laundry and they said it is on the way. Ugh, I was angry but I decided to keep my calm. I told them to tell me if it has arrived.
At 8.20am, I'm still waiting anxiously in the room. Then we decided to just bring down all our bags despite the laundry that hasn't arrived. When they saw me coming down the staircase to the lobby, they passed me my laundry. Well done, MKP Guesthouse!
When we return the keys, the staff gave us invoice for breakfast and laundry. As an engineer who is familiar with numbers and percentage, I was quick to notice something weird, the breakdown of invoice is like this: (hotel rate + food + laundry) * 12.5% – initial payment = the amount we must pay right now. They charge 12.5% tax to hotel rate, food and laundry. We told them we have paid hotel rate in full, they shouldn't charge us the tax anymore. They disgruntledly changed the invoice. We quickly paid and left.
It was raining heavily that morning. We walked to the main road and waited for rickshaw to pass. There was a shallow flood on the main road. After waiting for some time, no rickshaw passed by and we were very nervous about possibility of missing our flight.
Then we decided to walk back to the guesthouse, with ego kept hidden in the bottom of our heart, we asked them to help call a rickshaw. We asked for Rs 350 but they wouldn't go below Rs 400 due to the weather. We had no choice but to agree.
The rickshaw came 10 mins later, it was the same rickshaw that brought us on a tour the day before. He didn't look friendly, but we were still grateful that we could catch our flight. At the airport, he asked for extra Rs 20 for parking fee but we refused. He gave up, and gave his good wishes for our journey. What a bittersweet ending of our leg in Varanasi.
We waited at our boarding gate patiently. There was announcement that our flight is delayed but there was no announcement on the revised time. The TV at the boarding gate showed that it is boarding time for Kingfisher passengers, so we just relax on the seat. But a stewardess shouted "Spicejet! Spicejet!"
We were so confused, the TV is not showing the boarding of Spicejet. We asked her if Spicejet is boarding now, she said yes it is the final call now. We immediately rush to the plane. We couldn't believe we almost miss our flight!
Dear Varanasi, there are so many surprises at every corner of you. But I still want to go back to you, and still recommend others to visit you. Please promise me you will treat other tourists well. Til next time, Varanasi!
---
This is Part 12 of 14 in my "India Trip in 2011" series. To read from the beginning of this trip, click here.
To see all articles I've written about this exotic country, visit my India page.