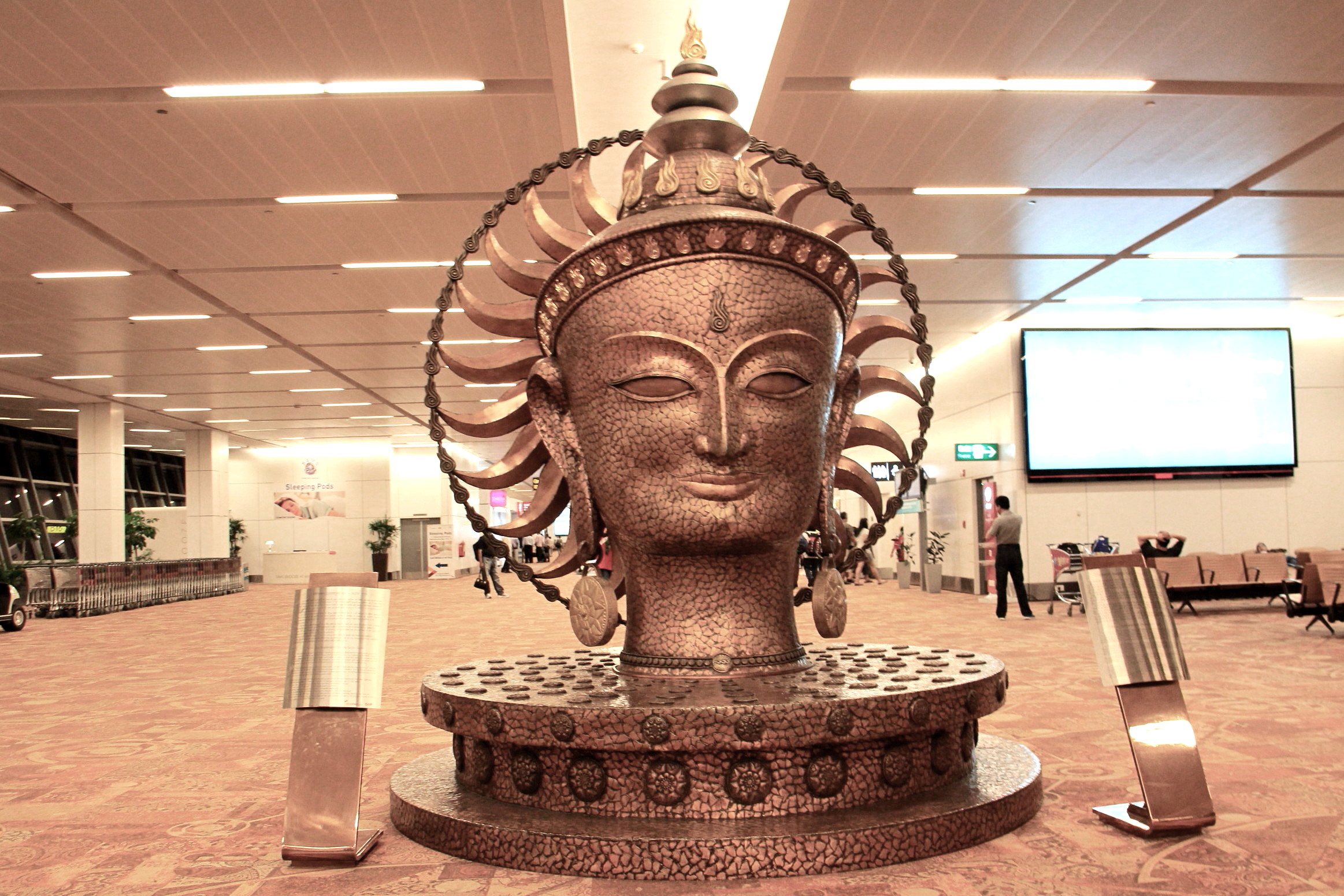 On my second last day in Delhi, I decided to visit Gandhi Memorial Museum on my own. However, it was an unfortunate day for me.
After coming out from Race Course station, I took the wrong turn and couldn't find the museum after walking for long time under the hot sun. I was almost dehydrated when I walked back to metro station. Then I bought water and continued my journey based on the direction given by metro staff.
At the museum, I tried to capture photos with my camera and realized that I left the battery in my hotel! Oh no, I was carrying the bulky camera under the sun for so long and now I couldn't use it. So I just make use of my phone to capture a couple of photos.
From the texts in the museum, I learned that Gandhi cared a lot for the poor and for India. Albert Einstein praised him too. I really admire him.
On my last day in Delhi, I didn't go out to the city. I spent my time in the hotel and cafes in Majnu ka Tilla. I left hotel at 5pm, with a taxi arranged by Tenzin. I boarded the plane at 9pm, leaving New Delhi for Kuala Lumpur. It was an emotional plane ride for me.
Here is an excerpt from my notes that I wrote by hand:
I'm halfway through my journey now. I couldn't believe 4 weeks have gone so fast! I'm writing this on the plane from New Delhi to Kuala Lumpur. The last time I sat on AirAsia plane was last month (May), and now I'm at the end of June! The plane hasn't started its engine yet, but I have terribly missed India!

Four weeks ago, everyone told me to have fun during my trip. I told myself: "I'm not sure if I will enjoy the trip. I don't even like the food, how can I enjoy my trip? Well, I'm just gonna do what I need to do (which is to teach Tibetan refugees) and then get out of the country and go to my next destination." But I've met so many incredible people, seen so many wonders of India, learnt so much about its culture and history, and experienced India at its worst. And for a moment, I thought I want to spend the rest of my life in India.

I didn't plan to do any traveling outside Delhi & McLeod Ganj because I didn't dare to travel alone. My purpose going to India was only to teach. I didn't even care to do sightseeing in Delhi. But I met and befriended someone who wanted to go to Agra to see Taj Mahal and she was planning to go alone. I thought, "Why not I join her? Together we can go to more cities" So we traveled together to Agra and Varanasi after volunteering period.

The Taj Mahal was beautiful beyond words or pictures. It was perfect!

Varanasi has beautiful Ganges river and colorful riverside temples and buildings.

I spent more time with Tibetan people compared to Indian people. And I can tell you that all Tibetan people are very open and friendly; they accept and treat you like one of their family members. They are also very kind and they will go the extra miles just to help you even if you are a stranger.

I am surely gonna miss India for the rest of my life. Next time if I have chance to visit India again, I'll make sure I immerse myself in its food =)
And here are the lessons I've learnt from this trip:
1. Hatred doesn't bring you anywhere. It only brings sufferings to your life. Forgiveness is the key to world peace. Tibet has greatly suffered under China. However, hatred towards China is useless and meaningless.
I once asked a Tibetan on his view towards China. He said he would love to visit China and he doesn't hate China people at all because it is the China government that created all the issues with Tibet, and the China govt may not have better solution than the current situation, so he won't blame anyone at all. He only has 1 wish in his life: to meet his family again.
2. Free universal education is possible, and education is the only way out of poverty. LHA plays a part in developing the future Tibetan-in-Exile community in Dharamsala by giving free English classes and computer classes.
I've witnessed the great impact of this education: there are some monks and Tibetan people who speak excellent English, possess excellent computer skills, and are working hard raising awareness of Tibet all around the world with the hope of creating better future for Tibet.
3. I've learnt to appreciate India more. The govt of India has been very kind in letting Tibetans people to stay in the country. For Tibetans who possess Tibet citizenship but not China citizenship, India govt provides them with Travel Document to let them travel around the world raising awareness of Tibetan culture. Indian people are very polite and helpful; there are some people who are kind of pushy, but most don't harm.
—–
It has been exactly 5 years now since I left India at the end of June 2011. It is a trip that I'm very proud of, even until today. Because I never think of visiting the country when I was young, let alone fell head over heels with it. I am not done yet with India. When I have enough resources in the future, I will go back to explore more of it. Till next time!
---
This is Part 14 of 14 in my "India Trip in 2011" series. To read from the beginning of this trip, click here.
To see all articles I've written about this exotic country, visit my India page.