I am a huge fan of local eating places, where you can get the nation's local cuisines, at a fraction of price compared to cafes or high-end restaurants. In Singapore, cheap local cuisines can be found at hawker centers. In Indonesia, it can be a warung, or simply rumah makan (means: eating place).
In Hong Kong, cha chaan teng fits the description, at least for me. So one of my food quests in HK is: to eat at many popular cha chaan tengs. My other food quests involve Michelin-starred street foods, cat cafe, and McDonald's Next; all of which I will write about in my HK posts.
Breakfast at Capital Cafe
Capital Cafe is just a short walk (about 500m) from Wan Chai MTR, making it very accessible to visit for a breakfast. To find exact location, you may type "Capital Cafe" or " 華星冰室 Capital Café" in Google Maps. Following recommendation from ChinChaiJiak, we ordered scrambled egg with black truffle and toasted french bun.
To be honest, my sister and I love their toasted french bun. The condensed milk is a perfect addition to the toasted bun. As someone who is very picky with bread and bun, I'm surprised that I like this. However, the scrambled egg with black truffle is just not a match for our tongue. PS, they have English menu, just ask about it if you can't read Chinese like me.
Lamma Island
Our next agenda was to take ferry to Lamma Island. As per Google Maps' suggestion, the easiest way for us to go to Ferry Pier from Wan Chai is to take bus from a bus stop called Old Wan Chai Police Station. Upon studying the bus routes at the bus stop, we realized there were many buses from the bus stop that goes to Ferry Pier.
We took the bus and alighted five stops later at Central Ferry Pier No 3, then walked to Central Ferry Pier No 4. We used our Octopus card to enter the ferry gate. The price of an adult one-way ferry ride was $17.1 at the time of our visit, but it has been revised recently.
Tips:
If you take ferry from Central Ferry Pier, there are 2 choices of destination in Lamma Island: Yung Shue Wan and Sok Kwu Wan. Ferries to Yung Shue Wan are more frequent (approx every 30 mins or more) compared to ferries to Sok Kwu Wan (every 1.5 hour or more). Technically, it is possible to take ferry to Yung Shue Wan, explore Lamma Island, walk to Sok Kwu Wan and take ferry from Sok Kwu Wan back to HK. We decided to take ferries to and from Yung Shue Wan due to the higher frequency. Check HKKF official website for latest schedule and price.
Another method to go to Lamma Island is to take ferry from Aberdeen Fishing Village. This ferry route is: Aberdeen -> Mo Tat Wan -> Sok Kwu Wan. Check Chuen Kee Ferry official website for latest schedule and price.

I highly recommend you to bring insects repellent, as we were bitten by mosquitoes when visiting the island.

This website (

http://www.lamma-island.com/) provides quite useful resources to visiting Lamma Island.
Once we alighted the ferry, along the jetty we saw a map of Lamma Island, marked with points of interest, as well as recommended sightseeing route.
We walked along Yung Shue Wan Main Street, passing Tai Yuen Village, Wang Long Village, towards Hung Shing Yeh beach.
There is no car in Lamma Island, the main transportation methods are: walking, bike, and motorized cart. Beware of motorized carts when walking, for they are surprisingly fast and the roads are pretty narrow.
The beach has plenty of white sands but not overly crowded on the weekday that we visited. Nobody was swimming, only some were playing with water, and three ladies sunbathing half-nakedly. There were some dining places at the beach.
From beach, we walked to Lamma Winds, through some uphill slopes. The wind turbine is open to public from 7am-6pm. Surrounding the turbine were information panels elaborating the history of this wind turbine, as well as feasibility and challenges of other renewable energy sources, such as solar panel, geothermal, biomass, hydropower and wind energy.
Tired from all the walking, we went back to Yung Shue Wan. We didn't do much shopping, except for the organic ice cream, it was awesome, unfortunately I don't remember the shop name.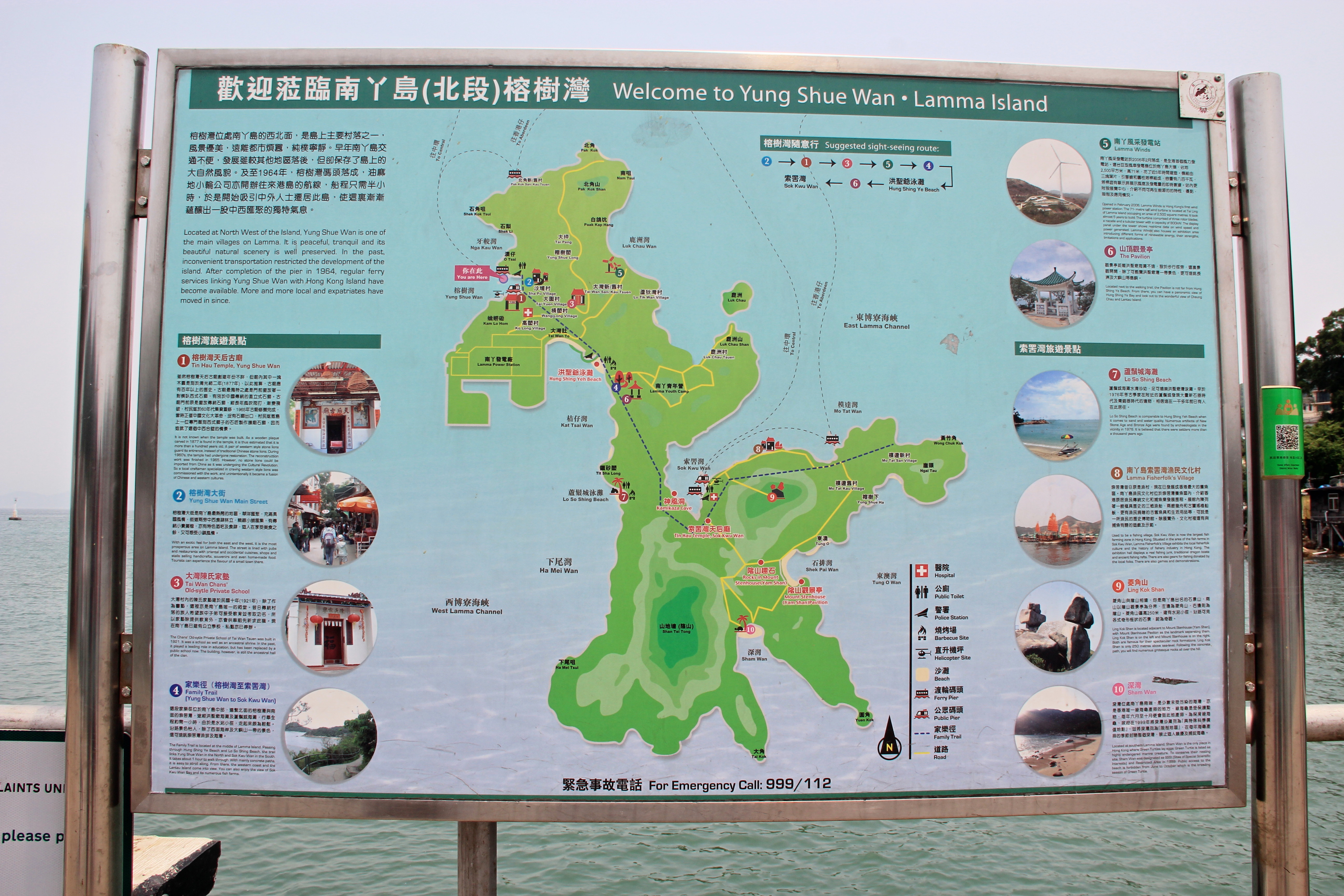 Lunch at Cat Store Cafe
With our empty stomach, we took ferry back to Central, took MTR to Causeway Bay, and walked to Cat Store Cafe (as recommended by ChinChaiJiak again).
The cafe is open for members only, so we signed up on the spot. Membership is free, and you get stamps if you spend certain amount.
My sister and I were pretty stoked because we love cats. All of the cats are so pretty, but sadly most of them were taking peaceful naps in the afternoon of our visit.
For the food, the cafe has quite affordable lunch sets from 12-2pm, but we visited after 2pm so we settled for tea sets. My sister had chicken pie and chocolate with marshmallow, while I had penne with smoked duck breast in tomato sauce and green tea iced coffee. I have no doubt that we will be back to this cafe if we go to HK again.
Flower Market
From Causeway Bay, we took MTR to Prince Edward station, after which we walked to Flower Market Road with the help of Google Maps as usual.
The road is filled with flower shops for all kind of occasion, be it graduation, birthday, or simply for house decoration. I was so excited, those flowers were so beautiful.
I gotta be honest here, I have a soft spot for flowers. I didn't buy any flowers though, just being there makes me happy. They even sell rainbow roses, how cool is that?
Yuen Po Bird Street Bird Garden
As we walked further to the east, we arrived at Yuen Po Street Bird Garden. Honestly, I found it overrated, or perhaps I wasn't that into birds.
It was a market with sellers selling birds and bird pet equipment. The main highlight would be the colorful parrots.
Ladies' Market
It was almost evening time, so we walked from Yuen Po Bird Street Bird Garden to Ladies' Market at Tung Choi St, Mongkok.
Along the way, we passed by Kam Wah Cafe (at Bute Street) so we decided to stop by and try their pineapple bun (polo bun) and egg tarts. At first glance, the polo bun looked unassuming, kind of boring and dry. But as I ate it, I kept on eating. I like the crust. For the egg tart, my sister thinks it's quite good.
From Kam Wah, we walked to 3 Potatoes, which is another Michelin starred street food. As we did not have enough space for the signature baked potato, we opted for cheese fries, and it didn't disappoint.
Temple Street Night Market
To burn the calories, we walked to Ladies' Market, followed by Temple Street Night Market, and eventually visited the famous Mido Cafe (at Temple Street).
The thing about Mido Cafe is, the food is so expensive for my budget. And there is a minimum required spending of $20 per person. We were actually planning to drink only, but a cup of milk tea cost $17, so we ordered 2 drinks and 1 toast.
Another turn-off for me was, there was no toilet in the cafe and my bladder was quite full. The staff pointed to me one building to go for public toilet but when I arrived there, I didn't see any toilet. I gave up trying to find toilet. We hurriedly made our way back to hotel, by taking MTR from Yau Ma Tei to Sai Ying Pun.
---
This is Part 5 of 10 in my "Hong Kong Trip in 2016" series. Read other parts of this series:
To see all articles I've written about this country, visit my Hong Kong page.
If you like my work, you can buy me a coffee! Your support will help me to keep going!