There's one similarity that I notice in every cruise trips that I've been on: there are too many activities on a cruise and you simply can't do everything. If you want to experience as much activities as possible, you need to plan your itinerary properly, otherwise, you might missed out on certain activities.
But you can't plan the itinerary before you're on board, because cruises only distribute the daily schedule when you're on board. So, what you can do before boarding is to determine what kind of activities you want to take part in. When you're on board, you can plan the sequence of the activities.
In this article, I'll try to share as much info as I have regarding activities on the World Dream Cruise to Nowhere. Hopefully by the end of this article, you'll know what you want to take part in.
World Dream Cruise to Nowhere (2021) Series
Part 1: Reservation, ART Test, Boarding
Part 2: Balcony Stateroom
Part 3: All Inclusive Dining
Part 4: Activities and Shows
Part 5: Tips for FOMO Travelers
What are the activities in World Dream?
Activities
Need to pay?
Booking required?
Swimming
Free
Yes, at pool Deck 16 MID
Jacuzzi
Free
Yes, at pool Deck 16 MID
Waterslides
Free
No
Rope Course & Zipline
Free
No
Rock Climbing Wall
Free
No
Mini Golf
Free
Yes, at Deck 18 AFT
Table Tennis
Free
Yes, at Deck 18 AFT
Basketball
Free
Yes, at Deck 18 AFT
Gym
Free
Yes, at Crystal Life Spa
Fitness/Dance Classes
Depends
(see Dream Daily)
Depends
(see Dream Daily)
Misc Classes
Depends
(see Dream Daily)
Depends
(see Dream Daily)
Casino
Charges apply
No
Bingo
Charges apply
No
VR
Charges apply
No
Arcade
Charges apply
No
Spa
Charges apply
Yes, at Crystal Life Spa
What are the shows in World Dream? And how to book them?
Shows
Need to pay?
Booking required?
Vision
(magic show)
Free
Yes, thru Dream App
Faith/Twice as Nice
(music show)
Free
Yes, thru Dream App
Live Music at Sea
Free
No
Cinema at Sea
Free
No
Adventure Laser Display
(on last day)
Free
No
Dream Boys
Charges apply
Yes, at Esc Experience Lab
(Deck 17 AFT)
Tips on booking activities and shows
Some activities and shows require advance booking, while others are based on first come first served basis (which means you need to queue before the activities/show start).
The most popular activities that always get fully booked are jacuzzi, swimming pool, mini golf, table tennis and shows. To ensure you get a slot in jacuzzi, pool, golf and table tennis, do turn up at the respective booking counters early in the morning, after your breakfast.
Getting a jacuzzi slot is extremely difficult. If you don't get a jacuzzi slot, you can bet on your luck by booking a pool slot, then if the person using jacuzzi is done for the day, you can jump in. Alternatively, you can pay for Crystal Life Spa access (SGD 20) to enjoy steam room, sauna and hot bath which is almost similar to jacuzzi except that it's indoor.
Booking for free shows can be done via Dream App. The slots are not released all at once, instead, limited slots are released every hour, making it quite difficult to snatch a slot if you do not have fast fingers. If you don't get a slot via the Dream App but you're very keen to watch the show, here's a secret: queue at the studio 15-20 mins before the show; if there are guests that don't turn up when the show starts, they'll let you in.
If you hate the idea of having to make booking for most of the activities, then you can probably consider booking Palace Suite or above, because Palace customers can book activities via a special lane, they don't have to queue at reservation counter or constantly checking the Dream App to register for activities.
Swimming
Non-Palace customers like us can swim at the Main Pool (Deck 16 MID). Reservation must be made in advance at the towel counter beside the main pool. Each reservation is valid for 1 hour only. Towel is provided for free. However, there's no locker, so you need to put your stuffs on the sun lounge. We decided not to bring our phones to prevent them being stolen. But we still need to bring room key and tracey token with us at all times.
To be honest, I feel that the pool is quite small (and not clean). Once is definitely enough. For us, we couldn't get a jacuzzi slot because it's fully booked when we wanted to book it. So what we did was book the pool slot and bet our luck that people who booked jacuzzi during the same timeslot as us would finish their dip in less than 1 hour, and we could use the jacuzzi when they're done. Our bet paid off.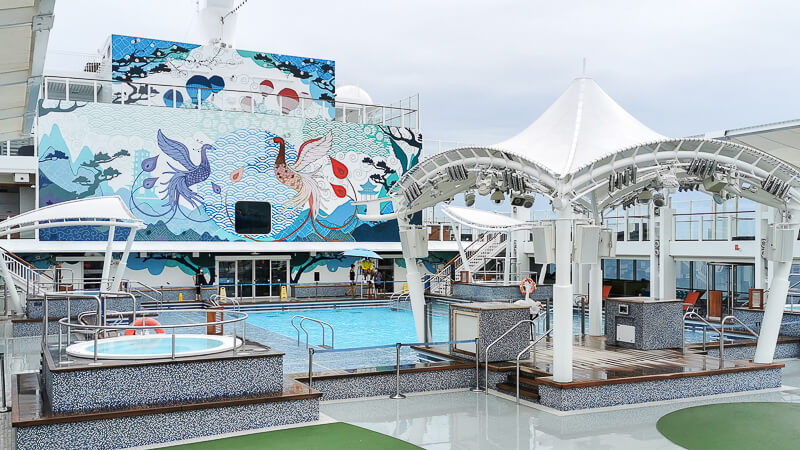 Jacuzzi
There are 4 jacuzzi surrounding the main pool (Deck 16 MID), and there are 2 jacuzzi at Zouk Beach Club (Deck 17 AFT). Jacuzzi is a very popular activities that always get fully booked early. It is a hot water jacuzzi so it's best enjoyed in the morning or late afternoon or evening. Some of the jacuzzi are sheltered and some are not, so it really depends on your luck which one you'll get.
If you manage to snatch a slot, you'll have the jacuzzi for yourselves and no other groups are allowed to join in your jacuzzi during this corona period. That explains why jacuzzi has a very high demand.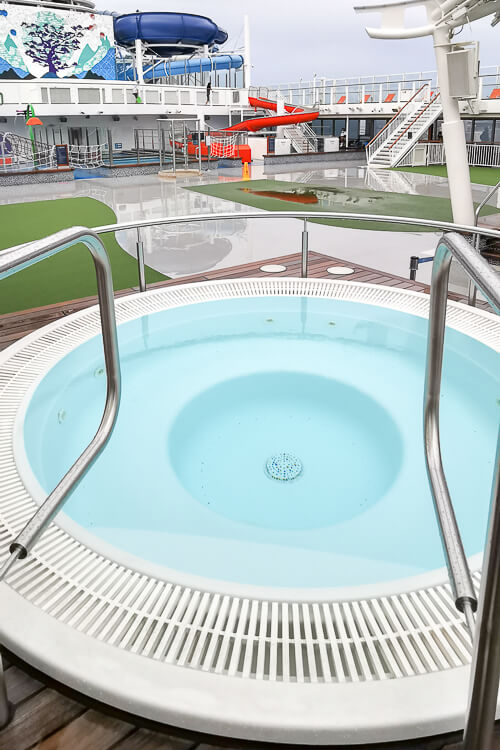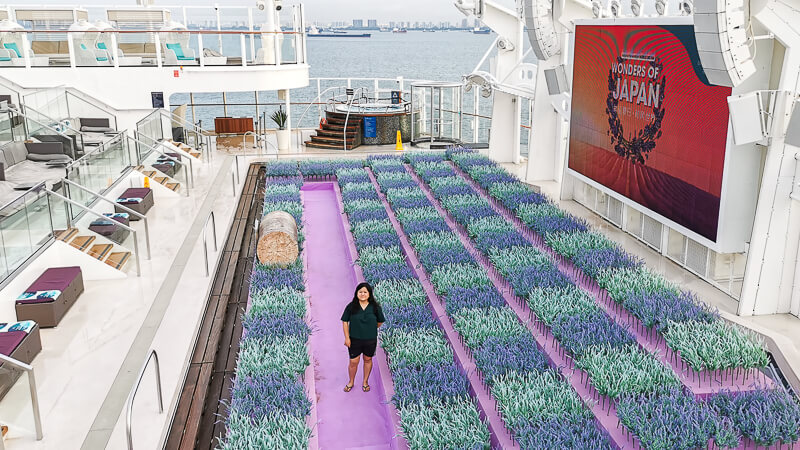 Waterslides
There are 2 clusters of waterslides, let's call it the kid's slide and adult's slides.
The kid's slide is the orange color slide, and it's located at Deck 16 MID, just beside the main pool. Beside kid's slides, there is also a children pool.
The adult's slides are located at Deck 17 AFT, and it's called Waterslide Park. There are 5 slides with different difficulties, starting from the easiest at No 1, to the scariest at No 5. It's recommended that you take the slides in ascending order, starting from No 1 and ending at No 5.
Personally I only took No 1, 2 and 3. I did not dare to take No 4 and 5 because both of them are very steep. No 5 even had a small stretch in the beginning where you'll experience almost free fall. To be honest, I feel pain at my back from the friction with the slide's joints, I'm not sure if it's normal but it definitely discouraged me from going on unlimited slides.
I highly recommend that you try these slides. No reservation is required, just wear your swimsuit and climb the staircase from Deck 16 to Deck 17. When you're halfway at the stairs, there is a rack for you to hang your mask, watch, glass, and whatever accessories that aren't allowed on the slides. Since we need to bring key room and tracey token with you all the time, we just put them on sun lounge by the main pool. There's no other way, there's no locker for slides users.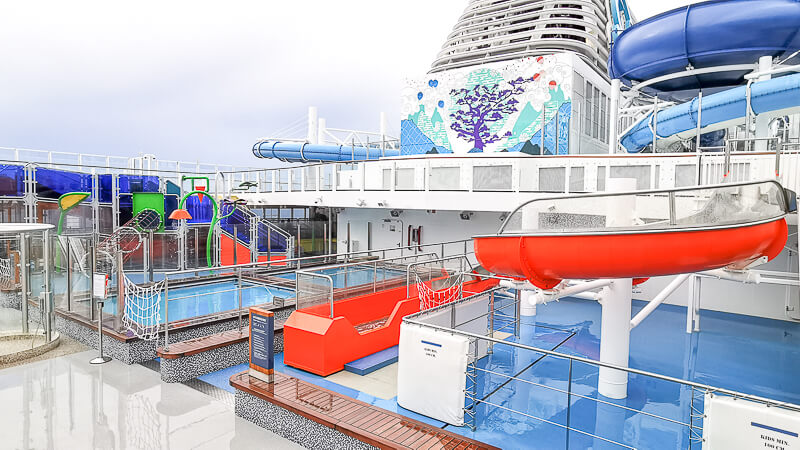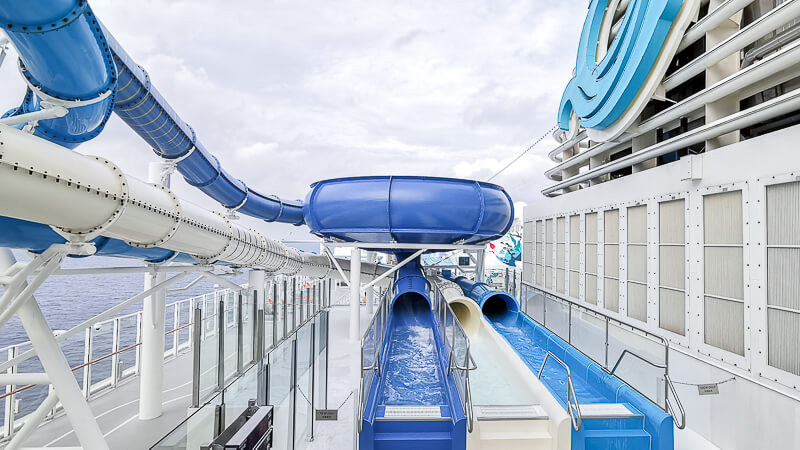 Rope Course & Zipline
This is the most challenging as well as the most rewarding activity I've done throughout this cruise trip. Rope Course is located at Deck 18 AFT. No reservation is required but you need to join the long queue. From my observation, it is least crowded after 4pm. Of course don't wait until 4pm on your last evening, because it might rain! You need to wear your own shoes for this activity. There is a small locker for you to keep your room key, token, and accessories, no fee is required for usage of this locker.
There are 2 tiers in this rope course, one is closer to the ground (let's call it the lower one), one is above the lower one (let's call it the higher one). No queue/harness system is required for the lower one, and it's less fun. I skipped the lower one and went straight to the higher one. And, yes, you need to wear mask throughout the entire course!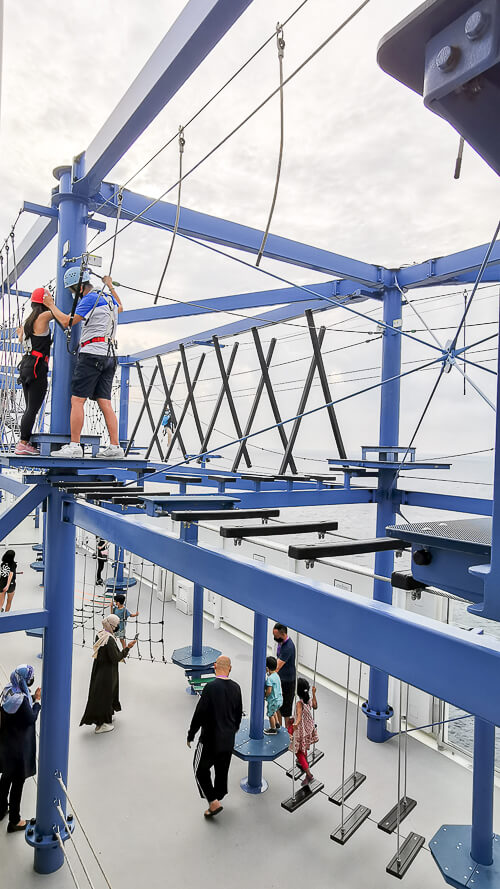 At the start of the course, we were briefed by the crew on how to lock and unlock the harness hook. Then, we're off on our own. There are plenty of combination of routes you can take, but most people take the outer edge route. If the inner route (diagonal route) looks easier for you, then you should go for it. For me, I took the outer route.
The rope course is HARD! I am scared of height, and having to balance my body on a shaky rope platform at height terrifies me, but I'm willing to fight through the terror just to get to zipline starting point. You can't go straight to zipline starting point, you MUST go through the rope course.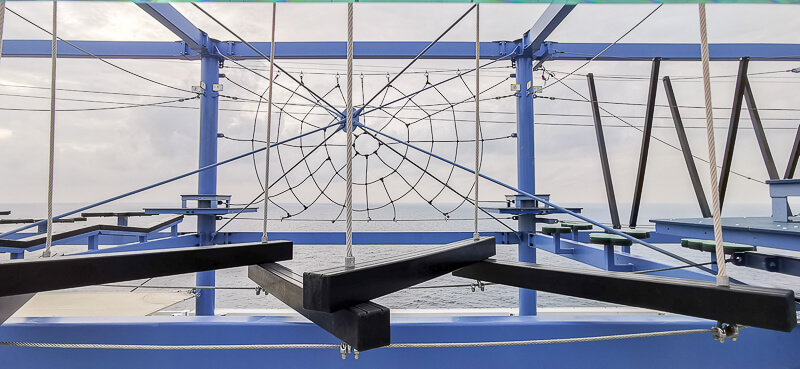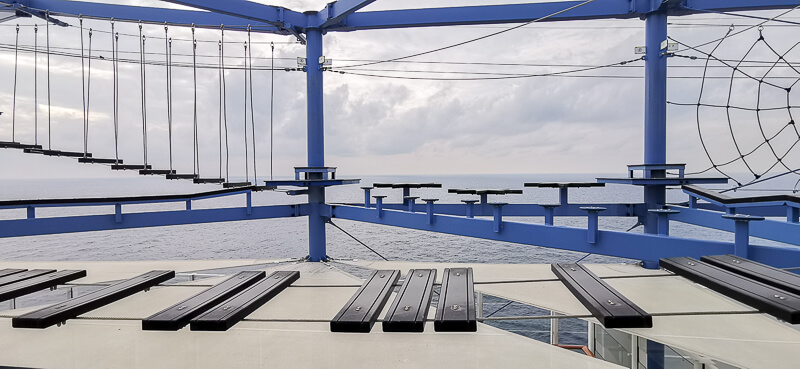 I thought the shaky platform was the worst part of this entire course, but I was wrong. At the end of shaky platform, before the zipline, there is a rope wall that we have to scale horizontally! The ropes are not tensed, so you need to exert a lot of strength to support your body. Furthermore, there is no belay system! You're just relying on your own arm and leg strength. And to make it worse, it's not a flat rope wall, there is a solid steel plate in the middle of the wall which you need to climb over to get to the other side! Who's the genius that designed this course??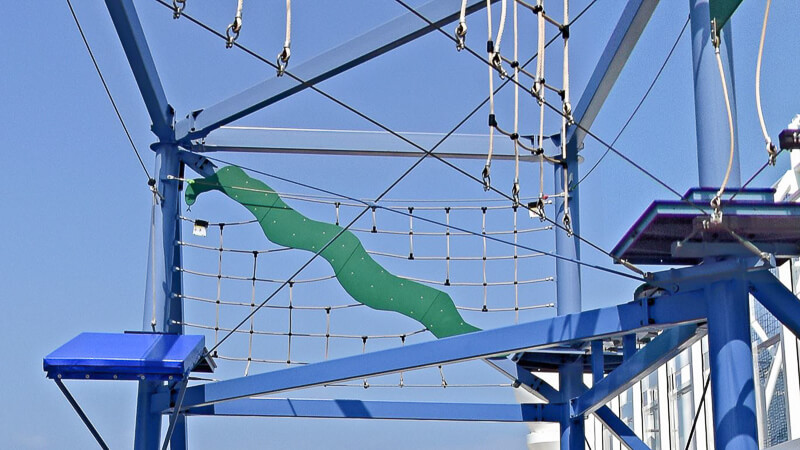 If your arms and legs are not strong enough and you let go of the rope, you'll be hanging in the air and people behind you will be stuck because they can't overtake you. So much pressure was building up inside of me. I told the zipline staff (who's standing at the other end of the rope wall) that I'm very scared and I don't think I could do it. He told me not to worry and he would help me. I made the leap of faith to scale the wall and he climbed the rope wall towards me and grabbed my harness over the big steel plate.
In a few minutes, I'm over the freaky rope course, phew! And then, I'm on the zipline, woohoo! I highly recommend this activity to be in your itinerary!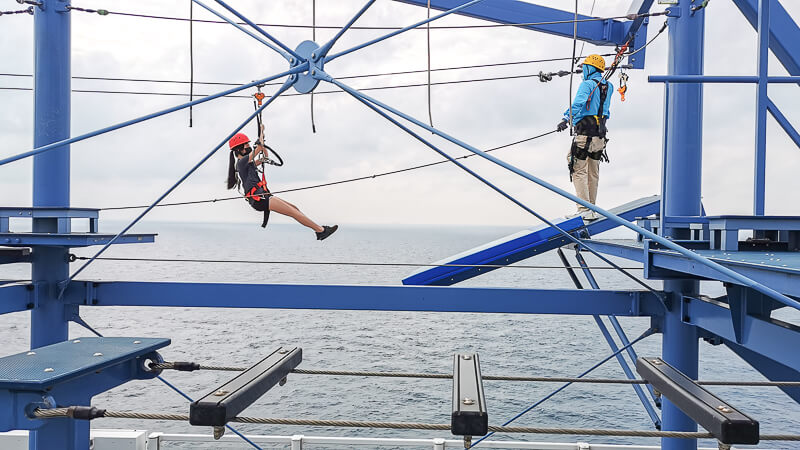 Rock Climbing Wall
The rock climbing wall is located at Deck 18 AFT, just next to Rope Course. No reservation is required. They provide special rock climbing shoes but you need your own socks. There is a place for you to put belongings while you're climbing the wall, so you don't need to leave your belonging on the sun lounge while queueing.
There are 4 belay systems, but it doesn't mean that 4 people will get to climb at the same time. When we queued, only 1 person was allowed to climb at one time (not sure why they didn't open the entire 4 lines). Because of this, the waiting was incredibly long. When we started queueing, there were less than 10 people in front of us. After q-ing for 1 hour, it's still not our turn yet, and suddenly rain came. So the activity was stopped for the day, and we wasted 1 hour for nothing.
If you're not a hard core rock climber, I think queueing for this activity is not worth your time, especially if only 1 person is allowed to climb at one time.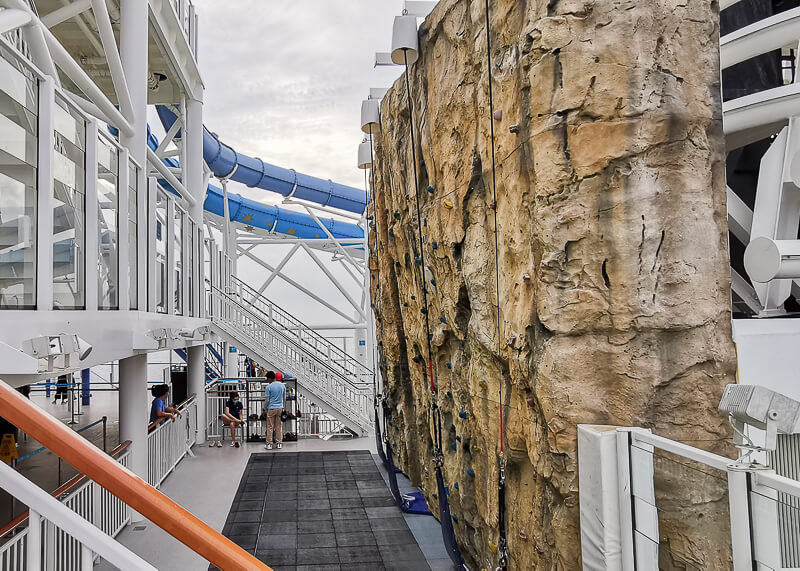 Mini Golf
Mini Golf is an activity that falls in the "low supply, high demand" camp. There is basically just 1 mini golf course in the entire cruise, and only 1 group is allowed to play at any time. So, obviously it's hard to get a slot if you try to book it not on the first day.
Reservation can be done at the counter near rope course & rock climbing. We didn't get a slot when we tried to book on the second day. We didn't know there's a golf course, so we didn't register early. If you're keen, do book early.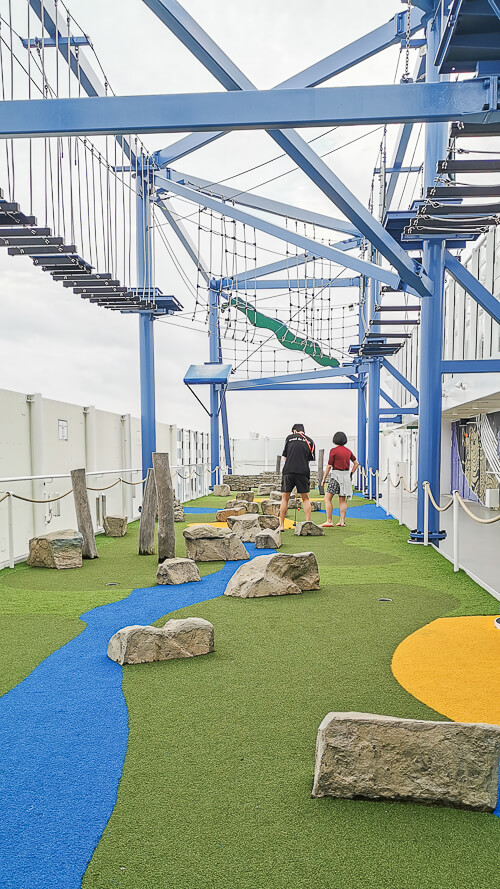 Table Tennis
Table tennis is located at Deck 18 AFT near rope course and rock climbing. Booking can be done at the counter near rope course.
Table tennis falls in the "high supply, high demand" camp. There are several tables and each reservation slot is limited to 30 mins only. So, it's quite easy to get a slot for table tennis. Rest assured, rackets and balls are provided. We tried to book a slot on Day 2, and the earliest slot available was Day 3, so we took it.
Basketball/Volleyball
To play basketball/volleyball, you need to make reservation for SportsPlex. SportsPlex is located at Deck 19 AFT and reservation can be done at Deck 18 AFT. Ball sports are not my forte, so we didn't venture into SportsPlex. From my observation, the sportsplex is always occupied, so you probably need to make a booking early to get a reservation slot.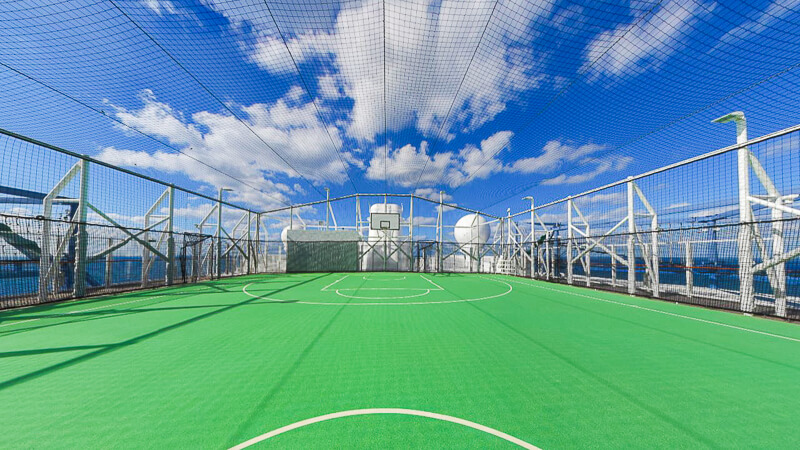 Gym
The gym is called Crystal Life Fitness. It is located at Deck 15 FWD. Reservation is necessary and can be done at Crystal Life Spa (also Deck 15 FWD) or via phone. Each reservation is limited to 1.5 hours of usage.
The gym has spectacular view of the ocean. If you're a jogger or runner, the gym is definitely a better place to run compared to the outdoor jogging track which is too short and too crowded.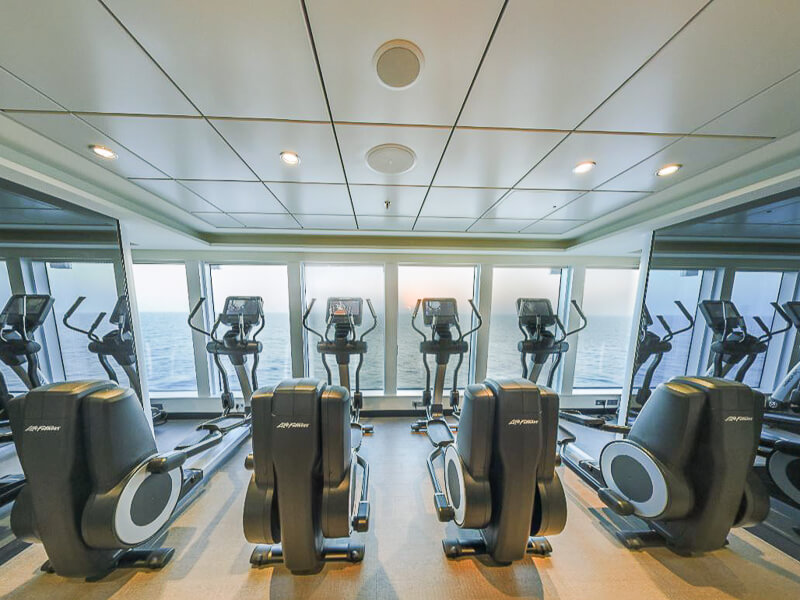 Bridge Viewing Room
We stumbled upon Bridge Viewing Room by accident. We finished our dinner and decided to wander around the ship, then we walked into this room with a model of the ship.
On a normal day, if you visit this room, you can see what's inside the Captain's room. However, when we visited at night on Day 1, and the curtain between this room and Captain's room was rolled down, hence we couldn't see the room.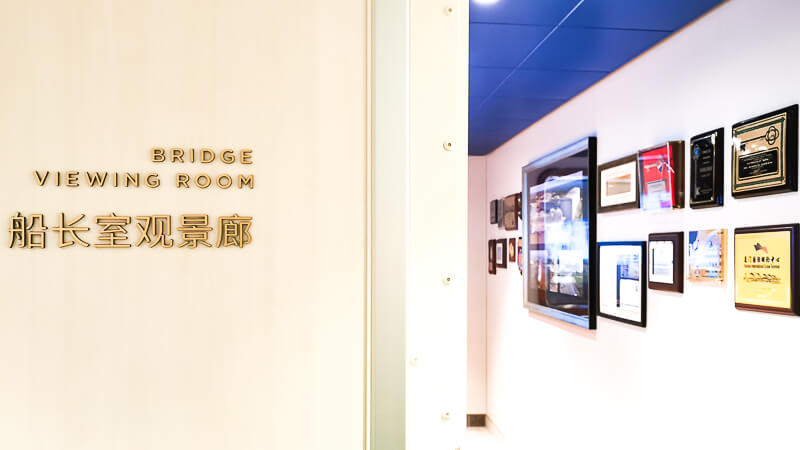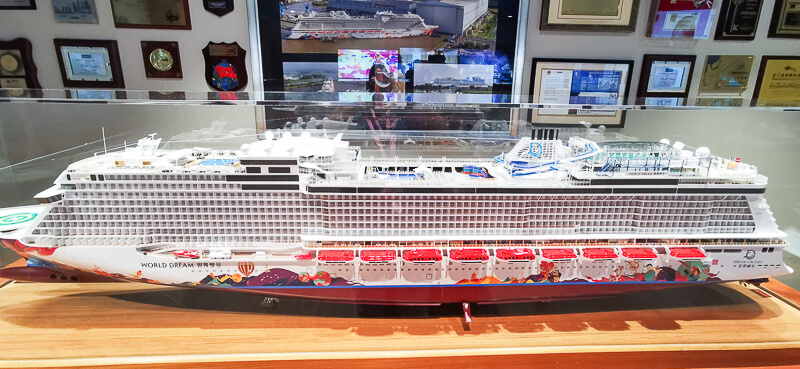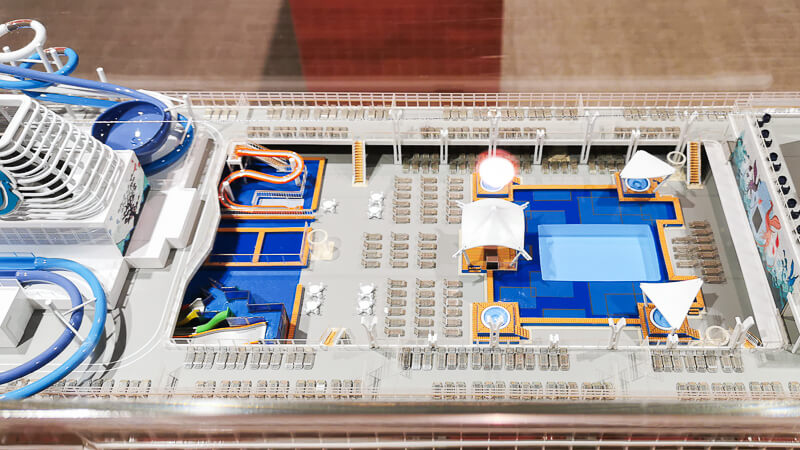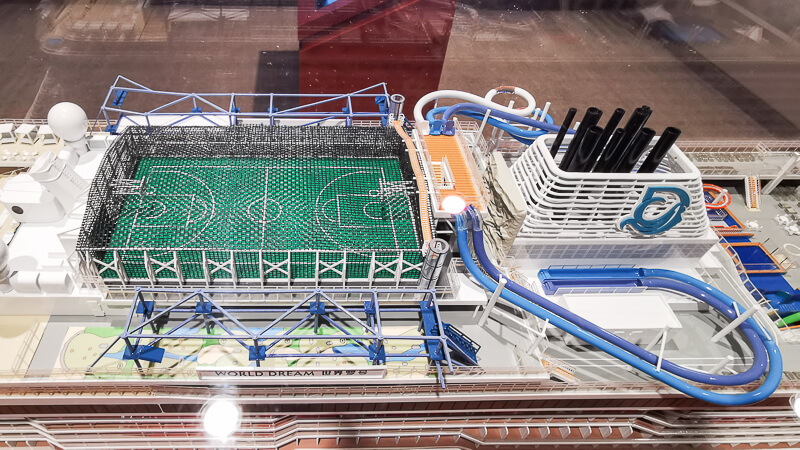 Casino
It isn't a Dream Cruise if there is no mention of casino, right? While casinos on mainland Singapore charges SGD 150 for citizens and permanent residents, the casino on the cruise is free to enter, so that probably explains why casino on Dream Cruise is a huge hit. During my trip, the casino is open around 45 mins after departure and close around 1.5 hour before arrival at Singapore.
The main part of casino is located at Deck 6, 7 and 8, which consists of the usual slot machines, card games, table games as well as arcade-like games such as coin dozers. I don't know how to play card or table games, so I spent a few dollars playing coin dozer, and sadly, I didn't make money from it.
Bingo
Everyday, there are Bingo games held at Deck 6 MID. The grand prize for Bingo increases everyday, so if you want to win the highest amount of prize, the best time to play is at the last game. The game is pretty fast-paced, the host mentions so many numbers in a short span of time, so you need to have sharp ears, fast eyes and fast fingers.
I'm not a gambler, I will only take risk when I know the result is purely based on luck & skill, and result is not easily fabricated by the house. After watching the Bingo games, I noticed that the numbers are generated by computer, not by a physical machine that draws randomly-numbered balls. There is a small chance that the numbers being called is not random, so I decided not to partake in the game even though the reward is very attractive. The reward for the final game is SGD 62,888, and nobody won this prize.
VR
Virtual Reality is located at Esc EXPERIENCE LAB. You can get free VR tickets if you purchase Dream Boys show. I didn't tried any VR games, probably because I was too focused on water activities, rope course, food and shows. It is something I'd really like to try in the future if I'm going on a cruise again. The price is not cheap, but I think it's worth trying at least once, since I've never tried a VR before.
Shows at Zodiac Theatre
During my time, the main shows at Zodiac Theatre were Vision (magic show), Faith (music/dance show) and Twice as Nice (music show), and Tribute to Teresa Teng. Booking must be done via Dream App.
We managed to watch Vision, Faith and Twice as Nice. But we didn't manage to watch Teresa Teng because there was always empty slot in the Dream app, and we turned up at the theatre too late, there was no more empty seats.
I feel that there is sort of discrimination for non-Palace customers because we don't get to sit at the center-front section of the theatre. The center section is reserved for Palace customers. I guess that's a way to lure you to book Palace rooms for your next cruise.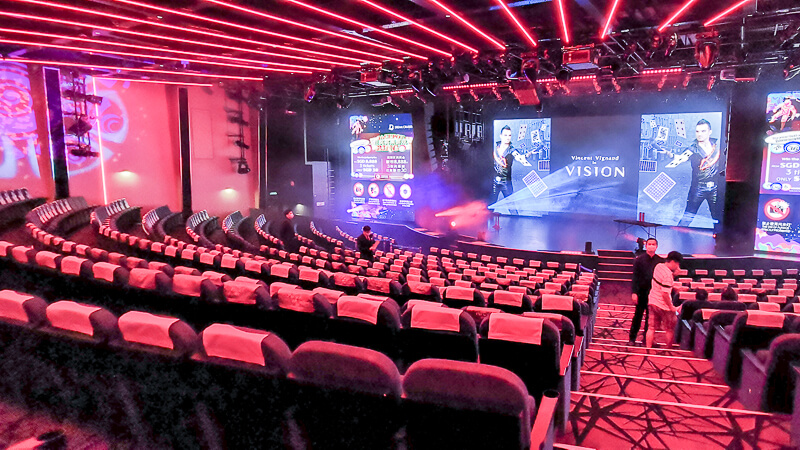 Before the show, the staffs would sell lucky draw coupons in the theatre. I didn't buy because they were not cheap and I am just a risk-adverse person. But I could tell that these coupons were quite a hot commodity.
The first show that we watched was Vision. I quite enjoy this magic show, I think the way Vincent engage the audience is sometimes hilarious.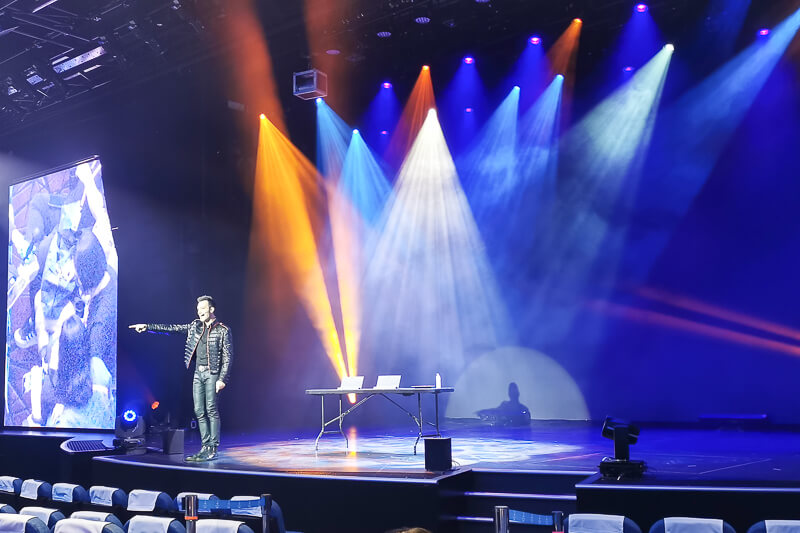 The second show that we watched was Faith. Because the show time was quite late at night (10pm+), I was worn out by the time I sank into the seat. I couldn't enjoy the show probably due to my exhaustion.
The third show that we watched was Twice as Nice. It's a music performance by a couple from America, who can sing in various languages. They did a good job by singing familiar tunes and even a Chinese song.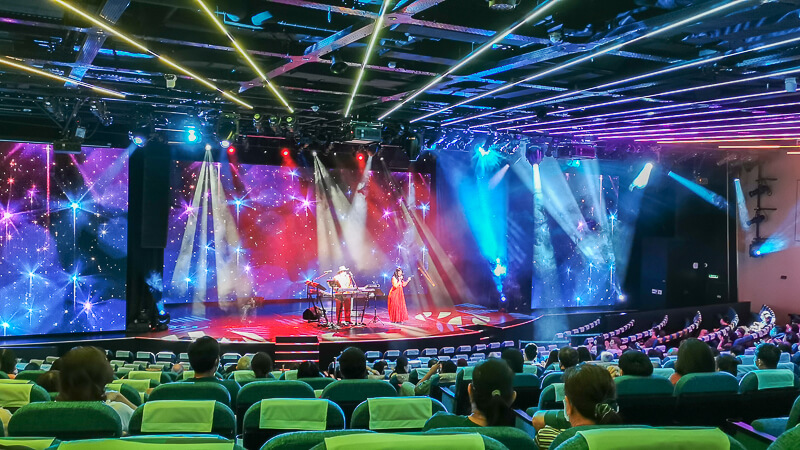 Live Music at Sea
Live Music at Sea is basically small-scale music performance conducted at Tributes (Deck 8) or Palm Court (Deck 19). The schedule can be found in the Dream Daily. No reservation is allowed, keen cruise-goers must queue in front of the venue before the performance starts.
We didn't manage to watch these performance because we either arrived at the venue too late (it was already full and we weren't allowed to enter), or we were too exhausted and decided not to watch them. The shows are mostly conducted at night, when our batteries are almost flat. If you're a night owl, you'll definitely enjoy live music performance at night.
Cinema at Sea
During the cruise, several movies are played at Lobby (Deck 6 MID) and Zouk Beach Club (Deck 17 AFT). Schedule and venue can be found in Dream Daily. No reservation is required. We didn't watch them because it's just not something we're interested to do. Furthermore, it's an open cinema, not enclosed, so it doesn't give the same vibe as the real cinema.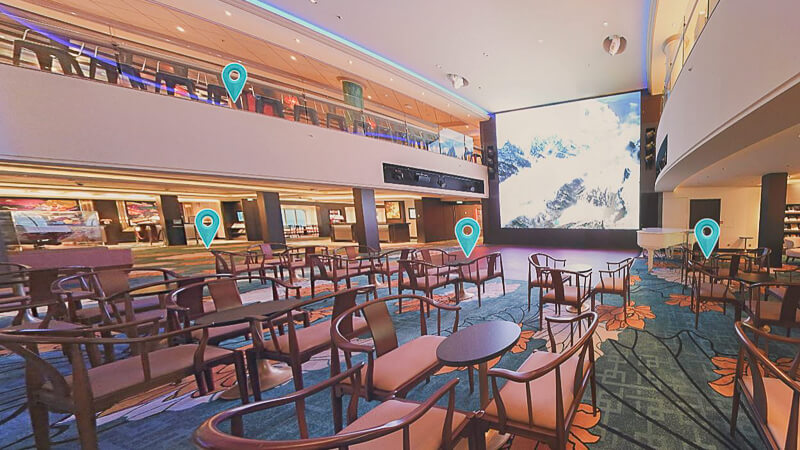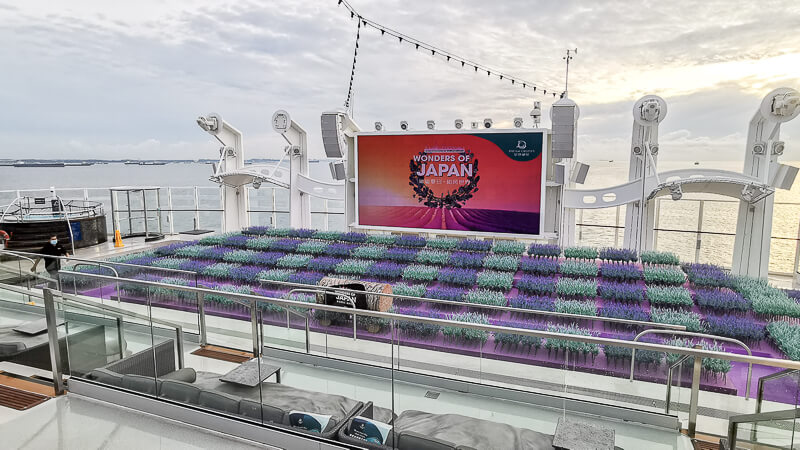 Adventure Laser Display
On the last day, there are laser displays at the main pool deck. They're short performances, about 5-minute long, at 10pm, 10.30pm and 11pm. Unfortunately I was too exhausted to watch these. Luckily, I can watch it on YouTube, thanks to people who uploaded their videos of this laser show.
Dream Boys
Dream Boys is a very popular show featuring hot boys, as the title suggests. Ticket is required to watch the show, and it is not cheap! During my time, it costs SGD 60 per person, and it comes with 2 free VR tickets. Many people recommends the show, but we couldn't justify spending SGD 60 per person for a 45-minute show plus 2 VR games, so we didn't watch it. We just have different priorities.
Conclusion
You can't do everything on a cruise, you have to pick your priorities. For us, our priorities are water activities, physical activities, watching shows, sipping drinks, and eating food. For you, it might be different.
Do take time to shortlist the activities that you want to do, so you don't have to scratch your head deciding which activities to book when you're on board.
If you want to see what's inside the ship, try this Virtual Tour of the ship.
Next: Part 5: Tips for FOMO Travelers
Want to be the first to know whenever I post new articles and videos? Join my Telegram Channel and you'll get new post alerts sent directly to your phone.