If you're going to spend 3 nights in the middle of the sea, a balcony definitely makes the experience more enjoyable. That's the reason we chose Dream Cruise over Royal Caribbean when choosing which cruise to take to go to nowhere. Furthermore, DC's balcony stateroom is cheaper (during promotion) than interior windowless room in RC!
In the unlikely-but-possible event that there is a corona positive person in the ship and we had to remain in our room for more than 12 hours, I wouldn't want to be in an interior windowless room. Since all the rooms in DC comes with balcony (they don't sell interior rooms during corona), it makes perfect sense for us to choose DC over RC.
In this article, I'll share what I think about Balcony Stateroom in the World Dream ship.
World Dream Cruise to Nowhere (2021) Series
Part 1: Reservation, ART Test, Boarding
Part 2: Balcony Stateroom
Part 3: All Inclusive Dining
Part 4: Activities and Shows
Part 5: Tips for FOMO Travelers
Option to Upgrade
About a week after we made reservation, we received email from DC saying that we could bid for upgrade to Palace Suite. The bid will close 7 days before sailing and winners will be notified of the outcome 3 days before sailing.
As budget travelers, we were trying to keep our expenses as low as possible, hence we skipped the bidding exercise.
Issue with Room Door
On the first day, after the long process of ART test, immigration, check-in and boarding, we finally reached our cabin at around 3.15pm. Our plan was to quickly put our things in the cabin and went for late lunch. However, we had difficulties opening the door!
We scanned our cards maybe 20x but it wouldn't open. Frustrated, we asked the housekeeper, and she called the main housekeeper to open the door for us. The main housekeeper said that our cards have issue and recommended we go to Reception to change the card.
We then went to eat lunch at Lido because the Dream Dining Room (DDR) is already closed at 3.30pm while Lido will be closing at 4pm. It was a very rush first day. Fortunately we had eaten an early lunch around 11am before going to the cruise.
After lunch, we went to Reception and had our cards re-programmed. We asked the Reception girl to come with us to the room, in case the newly-programmed cards still don't work. Well, the cards still didn't work. The Reception girl had to ask Security team to come and re-program the lock. We couldn't go anywhere when they fixed the door (it took them about 30 mins to fix it). It was quite a waste of our time, but at least it got fixed and we could now start our holiday! And we definitely won't let this incident affect our mood for the entire trip.
Balcony
Now that the stressful stuffs are dealt with, now let's focus on the brighter side of the trip. This is my first time cruising with a balcony room (in my previous cruise trip, I stayed in an interior room), and I would say that I love love having a balcony. It's the perfect place to look into the horizon and feeling the peace, in the comfort of our own place (without having to wear a mask).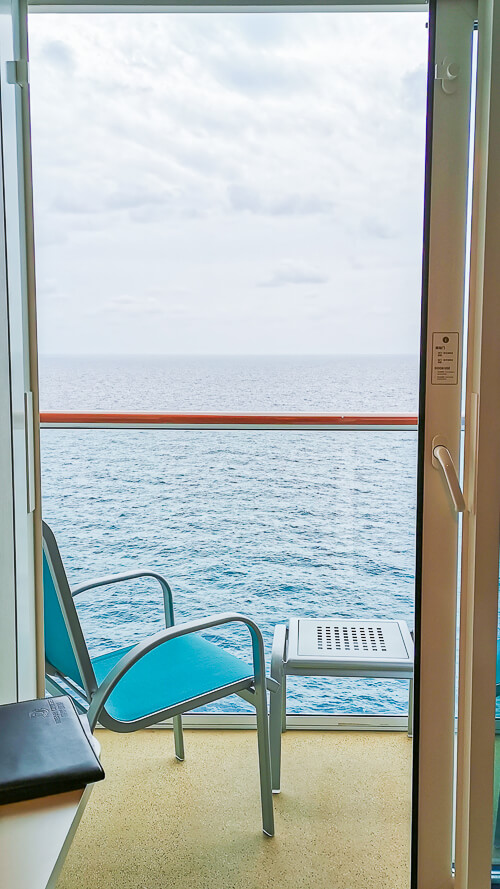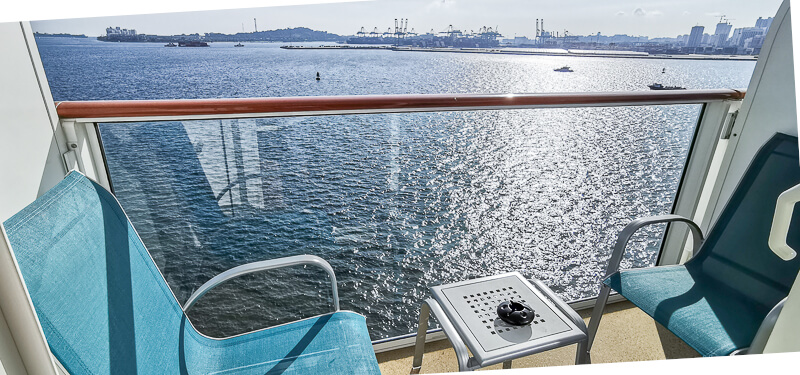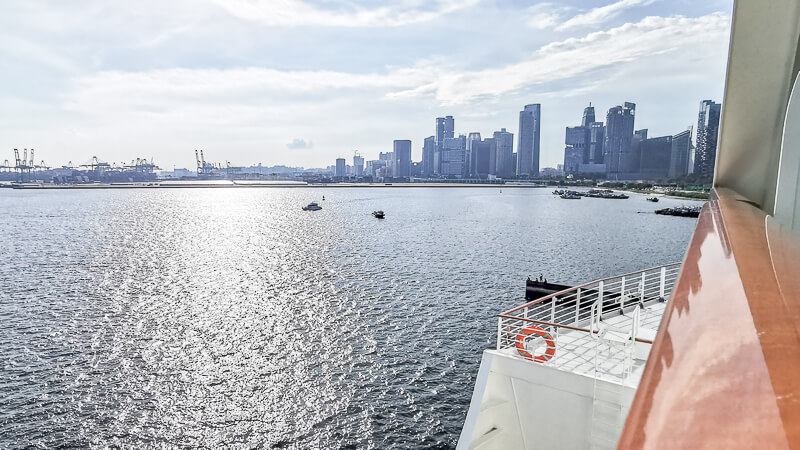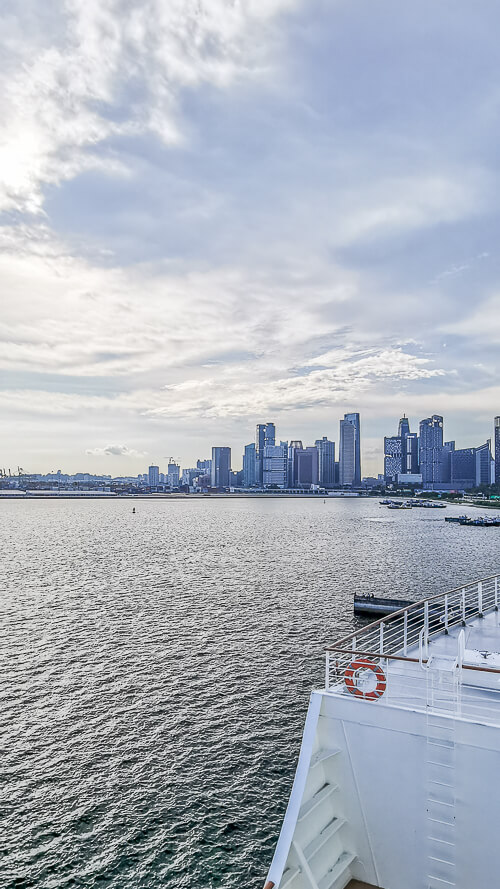 Unlike apartment balcony, the cruise balcony doesn't provide much privacy. It's very easy to overhear the conversation of neighbors (left, right, above and below). One possible cause is that the balcony partition between each cabin is a removable type, and there are gaps around the partition that enables one to peek into his neighbor's balcony if one wants to.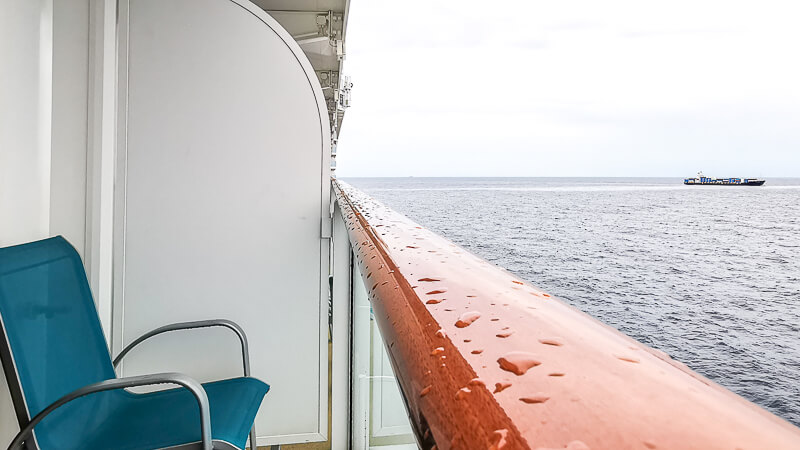 Another thing I didn't quite like about the balcony is that it is also a place that smokers go for a puff. Some time, I could smell a hint of smoke, but it was not persistent (thank God). Despite the partition with gap issue and smoke issue, I'd still choose a balcony over interior room any time.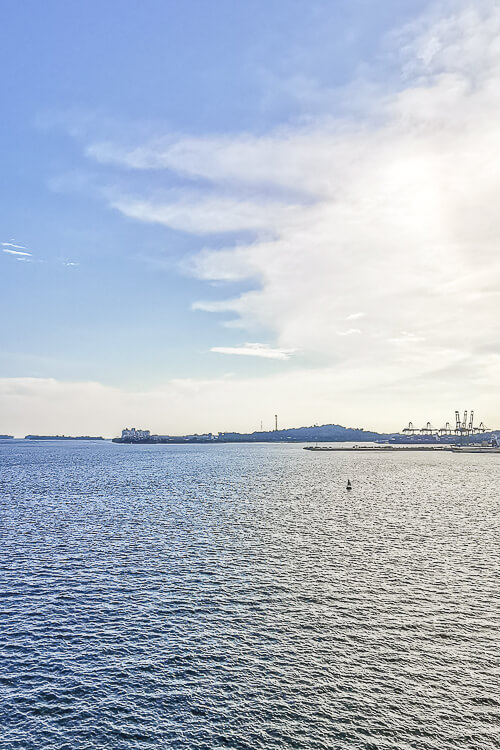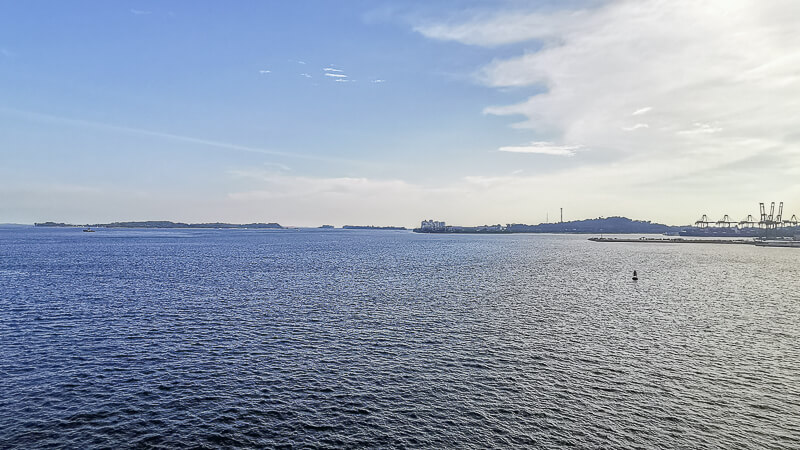 Stateroom
The size of balcony stateroom is 20sqm. It comes with a bathroom, a queen-sized bed (which feels like 2 single beds placed side by side, because the middle part is a bit hard), a sofa bed, and a narrow desk.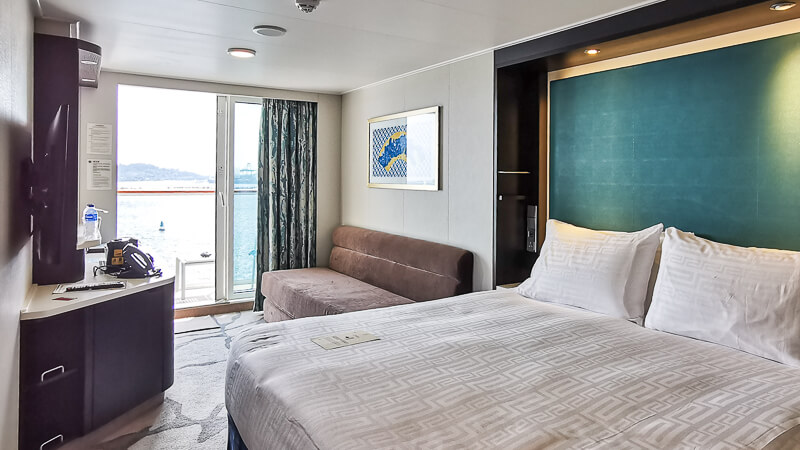 We have no complaint about the bed as we have very comfortable sleep every night throughout the entire trip. There are 4 pillows on the bed, 2 soft and 2 hard. There is also an extra pillow in the wardrobe. The blanket are quite comfortable, not too thick and not too thin. Beside the bed, there are power sockets for you to charge and play with your phone while lying down.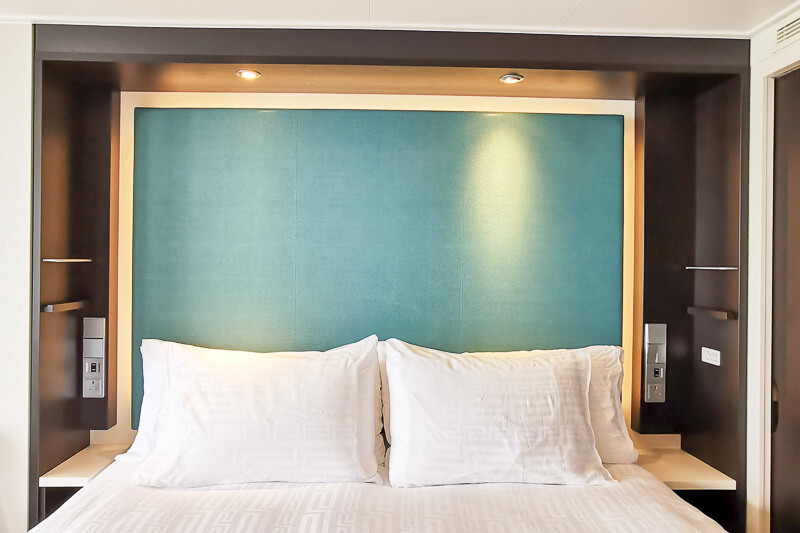 The desk comes with a small chair, 2 power sockets and a big mirror. The majority of the desk is occupied by telephone, minibar and menu book. Rubbish bin and hair dryer is just below the desk.
The sofa bed is prone to dust accumulation. The good thing is, our housekeeper diligently vacuum it everyday.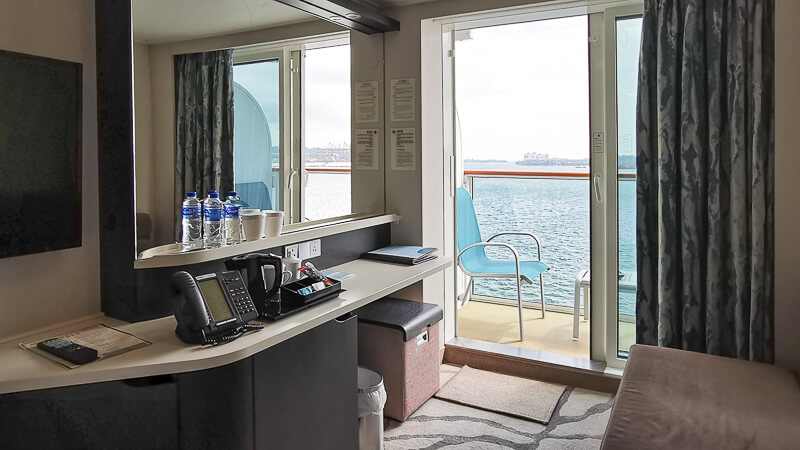 On our first day, there were 2 free disposable face masks on the desk. However, they were not replenished on Day 2, 3 and 4. So, do remember to bring your own extra face masks!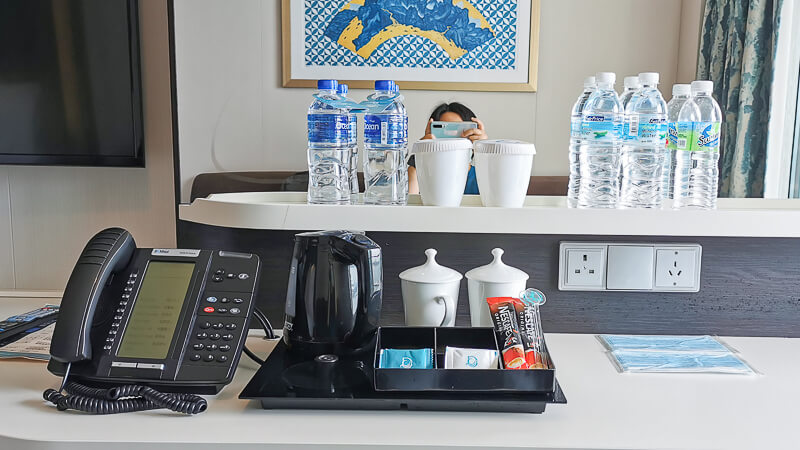 Beside the bed, there is a wardrobe, inside of which you can find safe, extra pillow, bath robes, slippers as well as cloth hangers. I forgot to take photo of it as I was too distracted by the balcony.
Minibar
There are two bottles of mineral water on the desk. Housekeeper replenishes 2 bottles everyday for free. If you need more mineral water than what's given, you need to pay $2 per bottle. If you don't want to pay, the other alternatives are tap water from the bathroom (DC claims it's safe to drink) or tap water from dining places.
There are 2 packs of Nescafe instant coffee as well as tea, sugar and creamer. No Nespresso coffee machine unless you're staying in Palace Suite and above. There's also a fridge with nothing in it.
One thing to note about about Dream Cruise is that Dream Cruise doesn't allow customers to bring their own alcohol on board, unlike Royal Caribbean. You can, however, buy drink from the bar/restaurant and bring it to the room.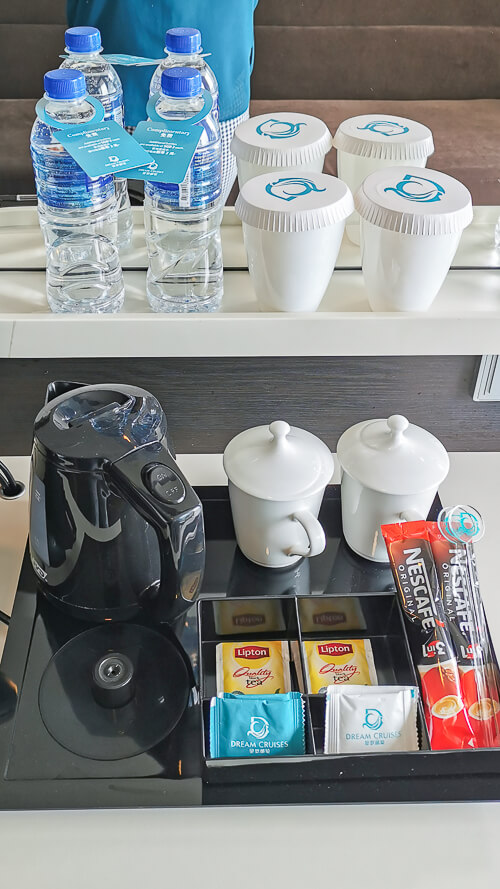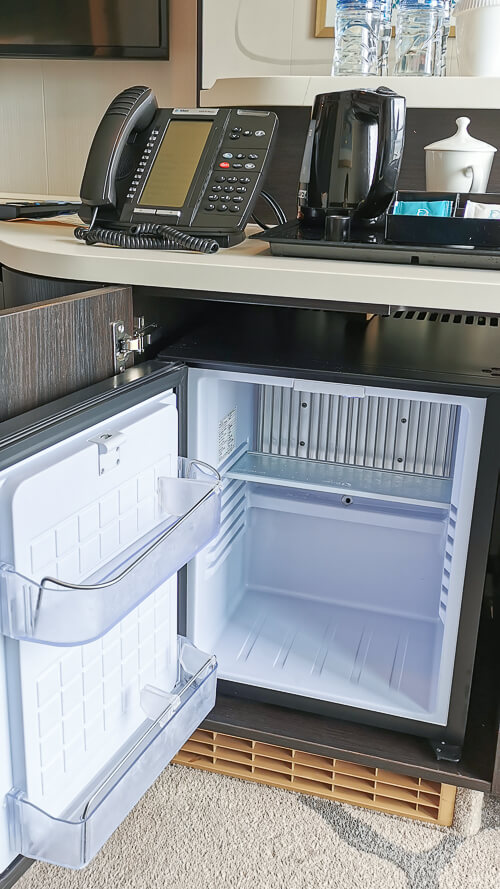 Bathroom
To be honest, I like the bathroom. The finishes are clean and elegant. Even thought it's compact, there is enough room to move around.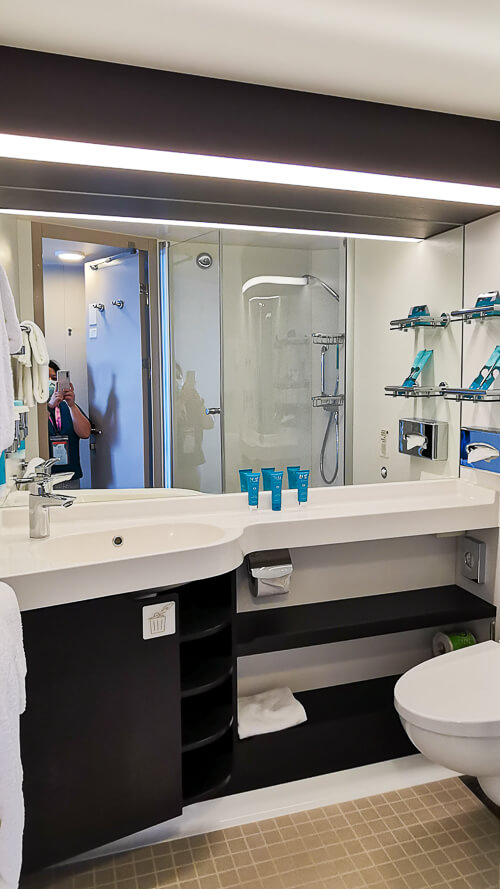 The shower comes with adjustable shower head, a built-in soap dispenser and a small 2-tier rack to put your shower stuffs.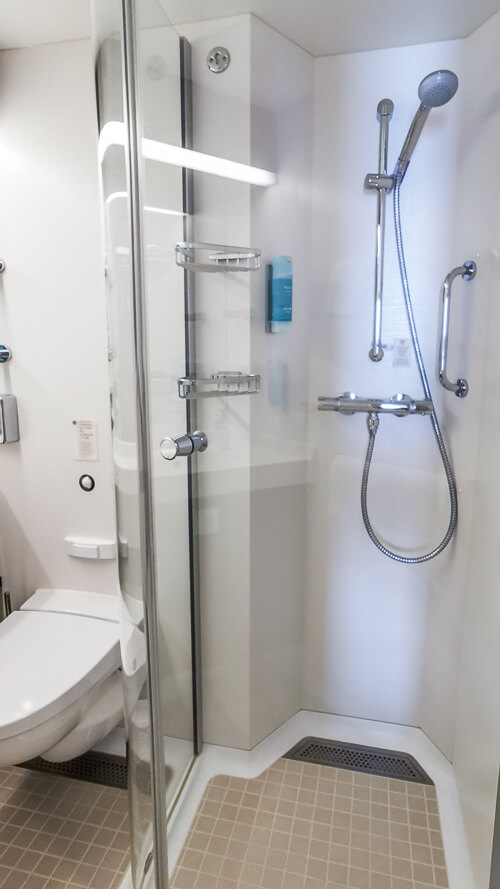 The bathroom amenities that they provide are toothbrush & toothpaste, soap in a dispenser, shampoo, body lotion. I forgot to bring my comb. Thankfully, it is possible to request for comb and shaving kits from housekeeping, just be prepared to wait for 15 to 30 mins.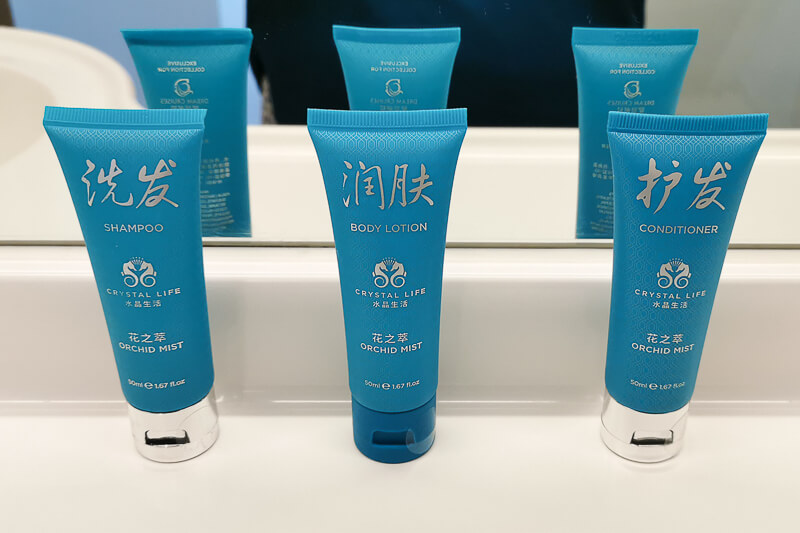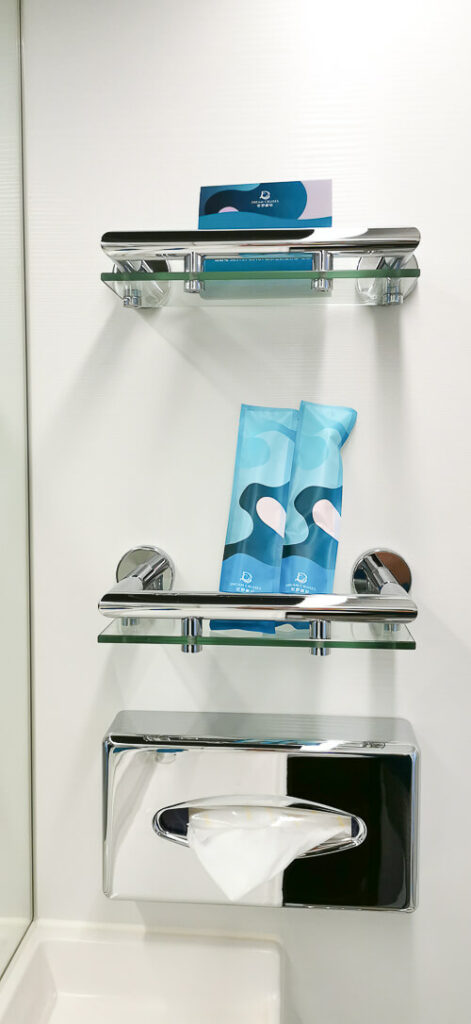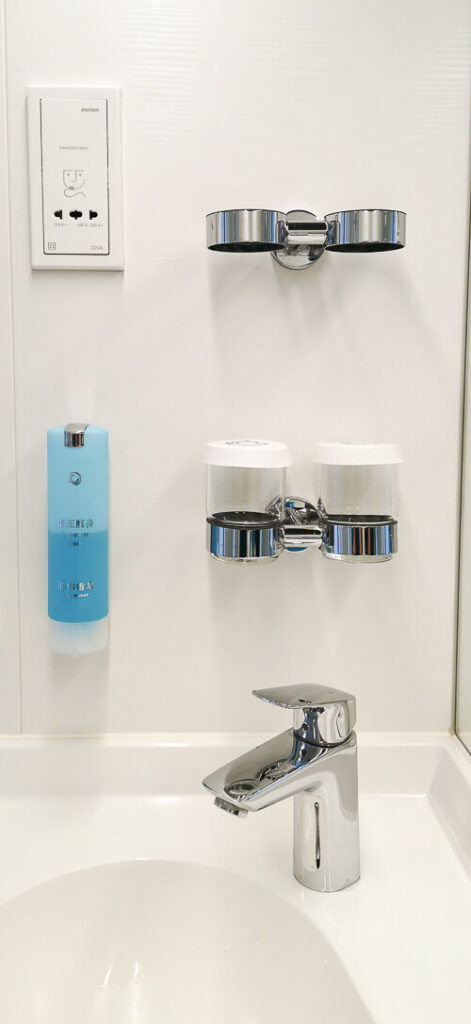 The trash bin is located under the sink. I find it quite troublesome to access because when I want to throw rubbish, most of the time my hands are full and probably dirty, but I still have to manually open the cabinet door to access the bin. It'll be nice if they install a push-to-open system; it'll be more hygienic this way too.
The housekeeper is not stingy at all when replenishing the amenities. We get new amenities every day (shampoo, conditioner, toothbrush).
Housekeeping
We had only pleasant experience with our housekeeper, Santo. He always cleaned our room thoroughly and was always friendly when we crossed path.
Just one minor issue though, he might have thrown away all of our Cruise Daily (the newspaper that has information about cruise facilities and activities), thinking that we don't need them anymore since we put them on the desk. It's okay, I'll just have to dig deeper into my rusty brain when I want to write future article about activities.
Conclusion
Balcony Stateroom in Dream Cruise is not a perfect room but it's a good value for money. It is still quite a new ship so everything in the room is still in good shape.
Should you book a Balcony Stateroom? Well if you want to keep accommodation expenses as low as possible and spend your moolah on other things that matter more, then this room would be the best choice. If you have the budget to go for more expensive room, by all means, treat yourself to Balcony Deluxe Stateroom or Palace Suite.
For me, I have no regret at all choosing Balcony Stateroom. One day, when I can afford to spend more, I may want to try their Palace Suite. But, until then, Balcony Stateroom is good.
Next:
Want to be the first to know whenever I post new articles and videos? Join my Telegram Channel and you'll get new post alerts sent directly to your phone.