There are 2 types of people on a cruise. The first one doesn't mind paying extra for specialty restaurants. The second one doesn't want to spend a dime on food because, "Isn't food included in the trip? Why pay extra?"
Ladies and gentlemen, I belong to the second group.
In this article, I'll share my experience eating in complimentary restaurants as well as tips on how to get the best bang for your bucks time.
World Dream Cruise to Nowhere (2021) Series
Part 1: Reservation, ART Test, Boarding
Part 2: Balcony Stateroom
Part 3: All Inclusive Dining
Part 4: Activities and Shows
Part 5: Tips for FOMO Travelers
Where can I eat for free?
There are 4 places you can eat for free in World Dream. They are:
Dream Dining Room – Upper Deck (Chinese)
Dream Dining Room – Lower Deck (Western)
The Lido (International Buffet)
The Lido Outdoor Snack Corner
Only The Lido is Halal, the rest are not.
At the time of my cruise, we are only allowed to eat at 1 restaurant for free in a certain meal period; if we eat at 2 different places in the same meal period, a nominal fee (SGD 15) will be charged. This rule doesn't apply to the Snack Corner.
For example: if I eat breakfast at Lido (the buffet), I can't have another breakfast at Dream Dining Room, but I can have snacks at Lido Outdoor Snack Corner during breakfast period.
The dine-in regulation on the cruise follows Singapore's dining regulation. If the rule in Singapore only allows groups of 2 to dine-in, then the same will be applied on the cruise.
Dream Dining Room – Upper Deck (Chinese)
From the reviews I've read and watched online, it seems like there is a consensus that the Chinese Dream Dining Room serves pretty decent food compared to other complimentary restaurants. Therefore, I told hubby that we should spend most of our time eating at Chinese DDR and forget about other places.
Dinner at Chinese DDR
We had our first dinner and our first breakfast at Chinese DDR. On our first dinner, we went to DDR quite late (about 7pm) and the restaurant was already full. They offered us a slot at 7.45pm and we said ok, then they gave us a piece of paper that stated "7.45pm" and asked us to come back at 7.45pm. This is quite a good system actually, we don't have to queue, so we can use our time for something more productive.
When we got seated, the server asked if we want everything in the menu. Of course we said yes, except the bean sprout. A while later, they served the appetizer, soup and main course. But they didn't serve us any rice even though the menu has rice in it. But it's okay, we don't want to waste calories on rice anyway.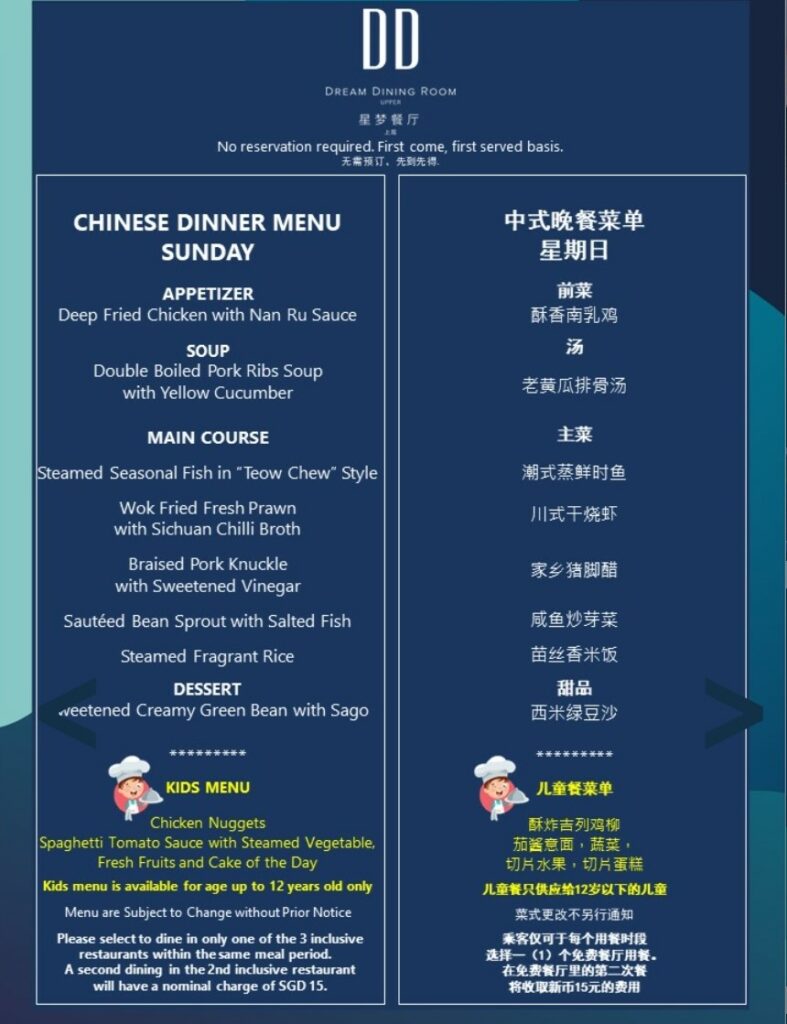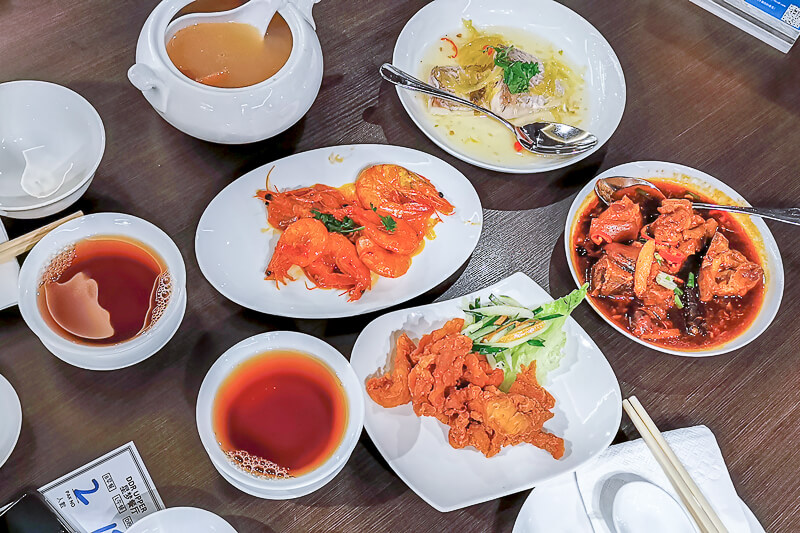 Verdict for Dinner at Chinese DDR: Only the pork rib soup is memorable. The deep fried chicken, steamed fish, prawn in sichuan broth, braised pork knuckle and green bean sago are forgettable.
Breakfast at Chinese DDR
The next day, we had breakfast at Chinese DDR. It was open quite early for breakfast, at 7am. Afraid that restaurant is full again, 10 minutes after we woke up, hubby quickly went there to queue for a slot. It turned out that the restaurant was not full at all, so there was no need to rush down to take the q number.
We had our breakfast at about 7.45am. To be honest, the breakfast menu sounded very yummy. Bao, dimsum, noodle and congee.. basically all my favorite breakfast items! Of course, we had to order everything on the menu.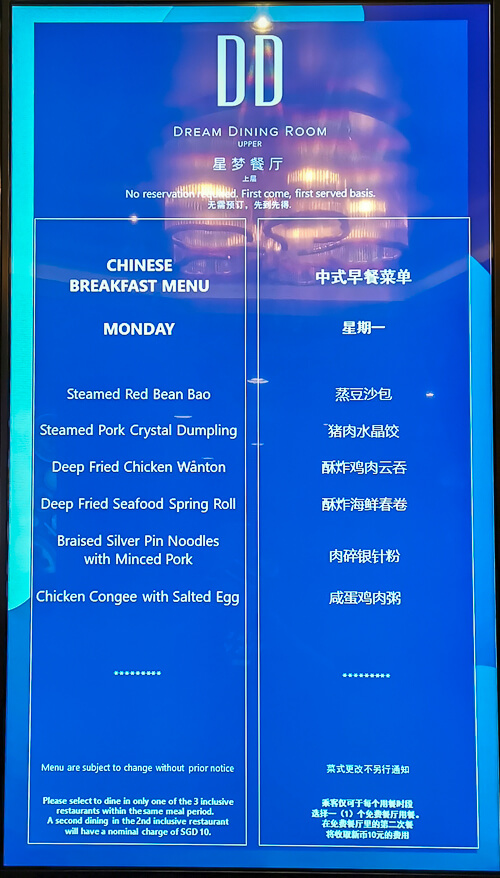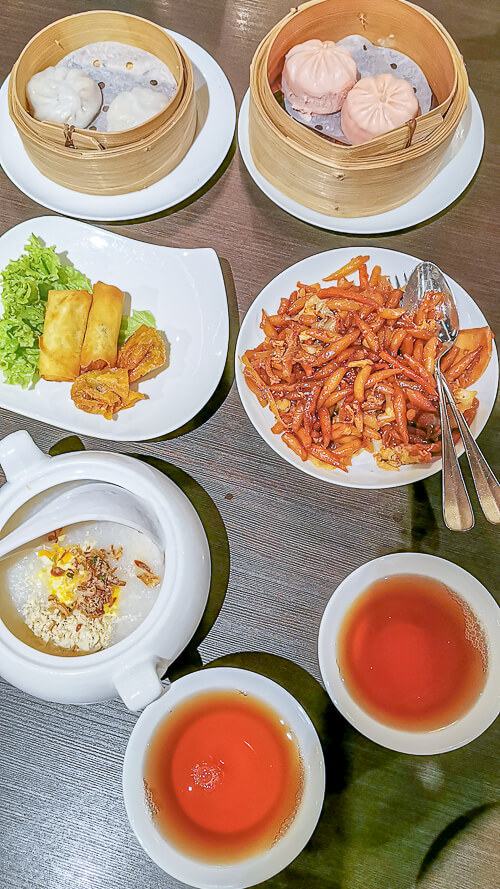 Verdict for Breakfast at Chinese DDR: Bao, spring roll and wanton are forgettable. Pork dumpling gave me trauma. I usually love mee taimak and congee at hawker centers, but over here, both of them as bland as the Chinese tea. Luckily soya sauce saved the congee, but the mee tai mak was not rescuable.
At this point, we were not sure what is edible anymore. Maybe I had too high expectation of Chinese DDR? I was too scared to step my feet on Chinese DDR again, yet I dreaded the food at other places because of the reviews I had read & watched.
But life must go on. We decided to brave it out and step out of our comfort zone and try the food at Western DDR and Lido.
Dream Dining Room – Lower Deck (Western)
We had our second dinner, second breakfast and third lunch at Western DDR.
Dinner at Western DDR
Dinner on Day 2 is our first foray into Western DDR. Similar to Chinese DDR, the Western DDR was quite popular during dinner time. When we went there, it was already full, so we had to take a queue number and come back again at our allocated slot.
Pro-Tip: They do allow people to enter 10 mins earlier than the allocated time, so do come early.
Another Pro-Tip: Early birds get the worm. If you go early, you may be able to score one of those rare window seats!
Similar to Chinese DDR, we can choose our preferred food from the menu, or we can ask them to serve everything in the menu. There were 3 choices of main course: pan fried fish fillet, honey glazed chicken and slow cooked pork collar. We asked one of the staff for recommendation and were told that the chicken and pork are great. So we went with that.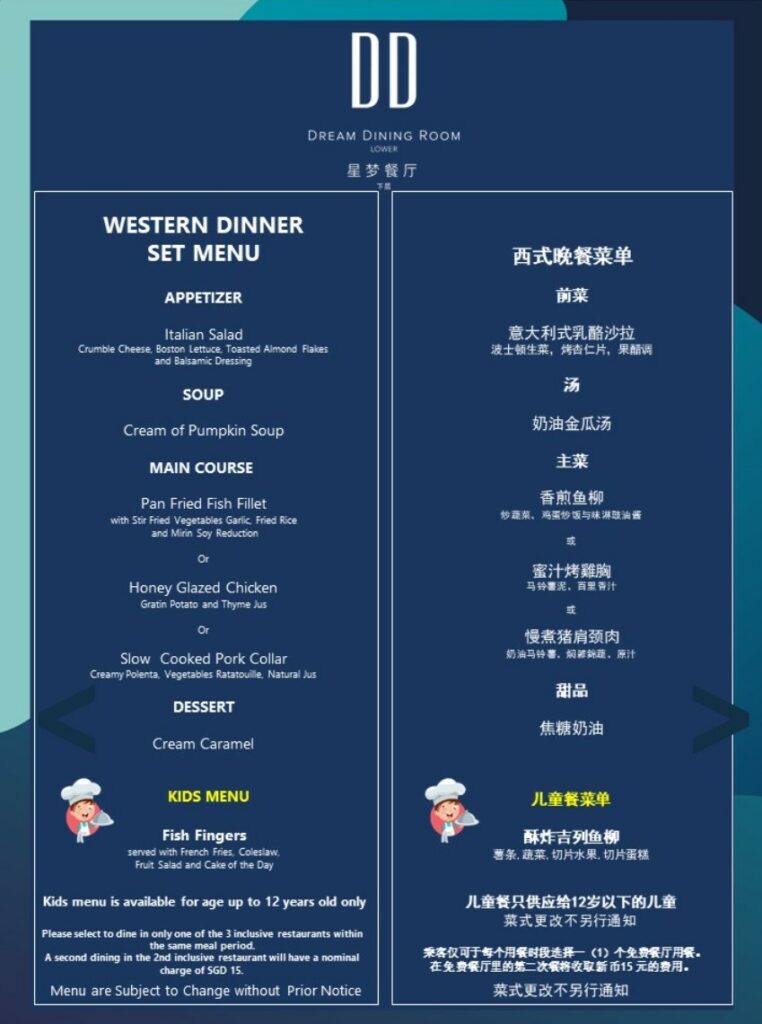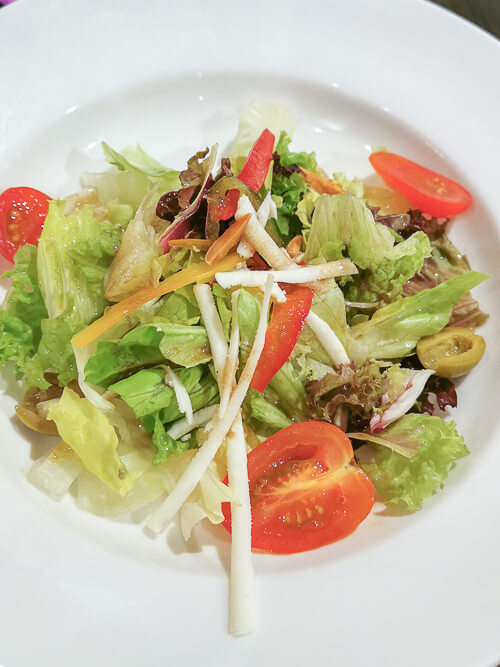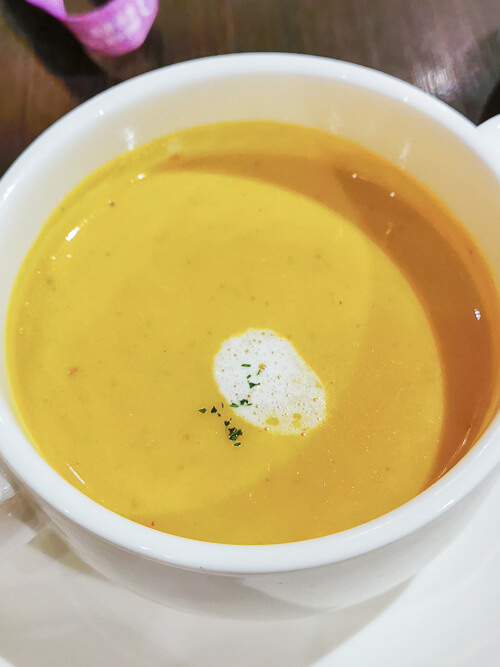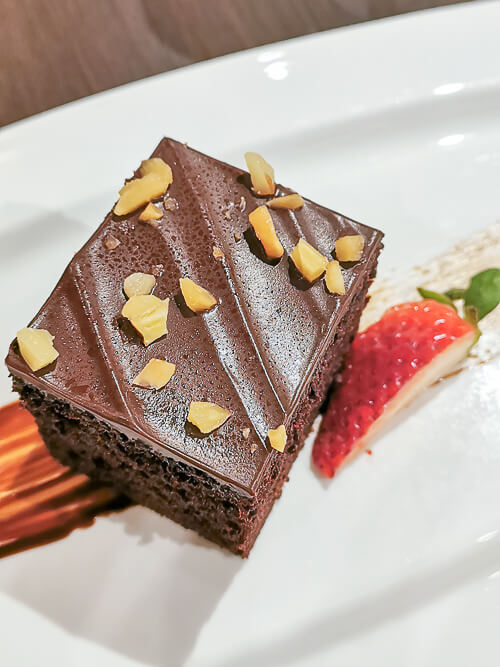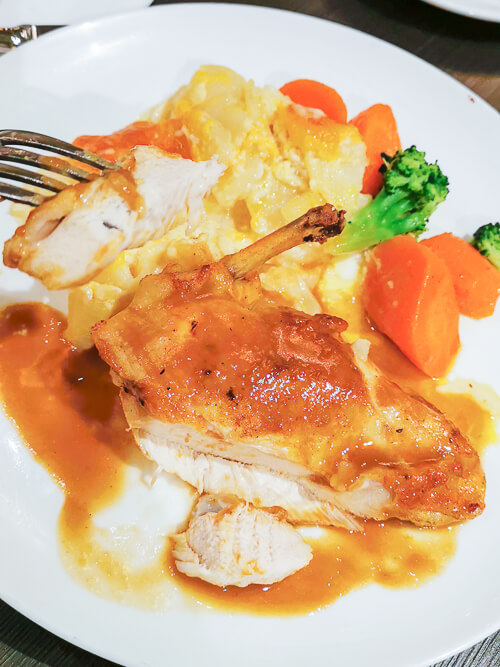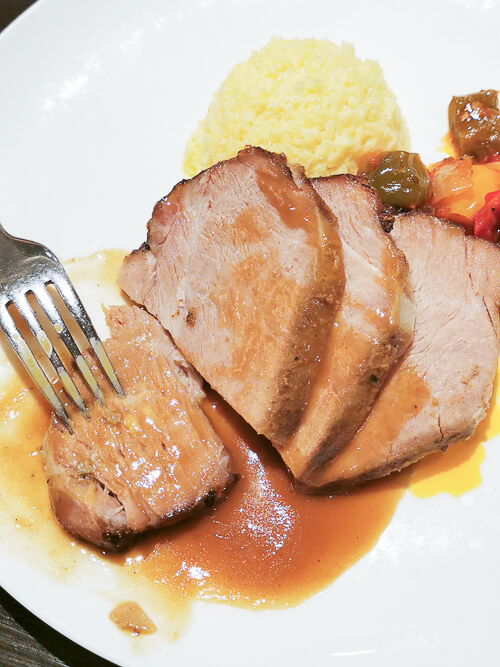 Verdict for Dinner at Western DDR: Exceed expectation! Salad was alright. Pumpkin soup was amazing. Chicken was so tender I almost couldn't believe my luck. Pork was not my favorite but hubby said it was alright. Chocolate cake was not bad.
We definitely didn't expect to be wowed by this dinner. We decided to come back again the next day for breakfast on Day 3.
Breakfast at Western DDR
We knew that the breakfast menu at Western DDR is quite boring (scrambled eggs, pancake, waffle, baked beans, etc) but we just wanted to try for the sake of having a variety.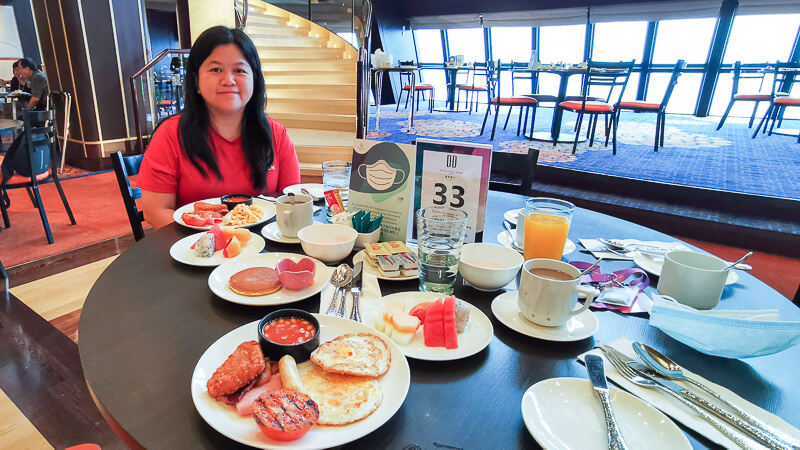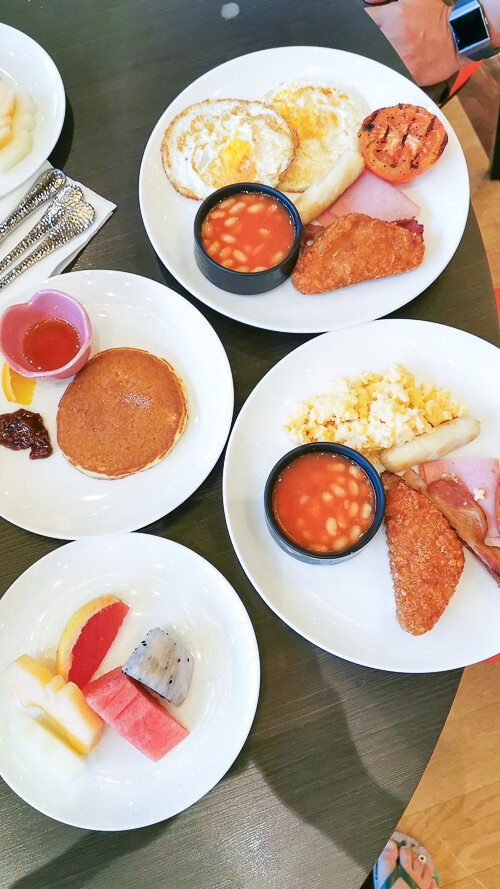 Verdict for Breakfast at Western DDR: Nothing remarkable about the items in the menu. But, we do love the buttery bread which the servers keep in a bread basket and offer customers from time to time.
Lunch at Western DDR
For lunch on Day 3, we went to Western DDR again (3rd time in a row). The options for main course during lunch were fish, burger or meatball. We asked the same staff again for recommendation of main course and he said the meatball is great. So, both of us just ordered meatball. It came with a small portion of kimchi rice.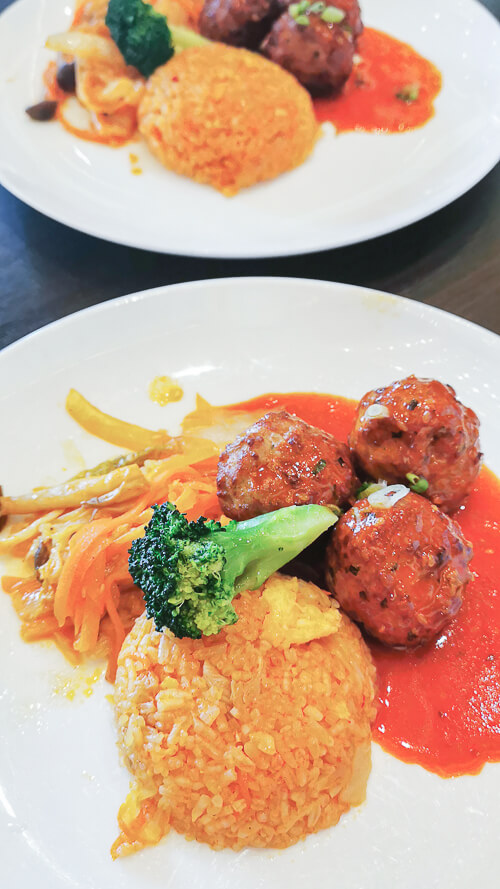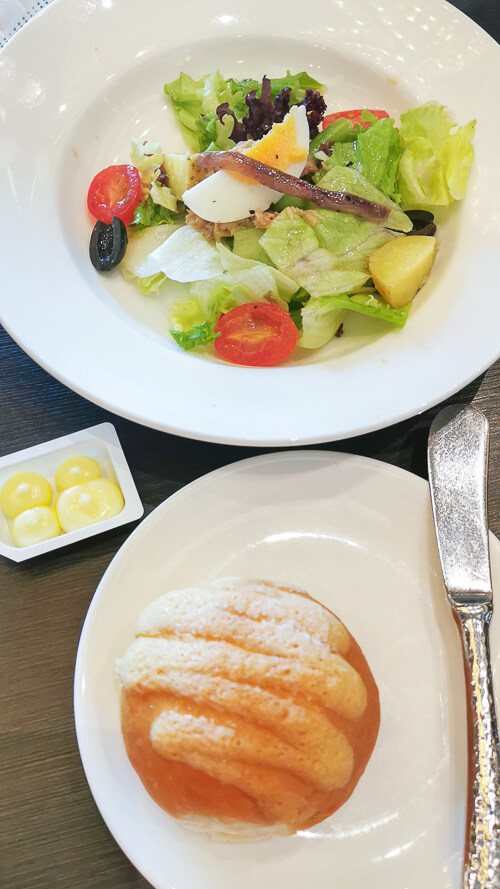 Verdict for Lunch at Western DDR: Amazing! Following a staff recommendation never fails! We even asked for another serving of the meatball and ate until too full.
Pro-Tip: Ask the right staff for recommendation and you'll have a great time. But you need to find the right staff who will tell the truth.
The Lido (International Buffet)
We ate at Lido for 4 times: lunch on Day 1 & 2, dinner on Day 3 and breakfast on Day 4. Let me just cut to the chase: in my opinion, lunch was standard, meanwhile, breakfast and dinner were surprisingly quite good!
Pro Tip: Do keep a lookout on special items that are not repeated at every counter, because these items are limited in quantity, such as: crème brulle, bao.
Lunch at The Lido
I had lunch twice at The Lido and I found them to be really standard.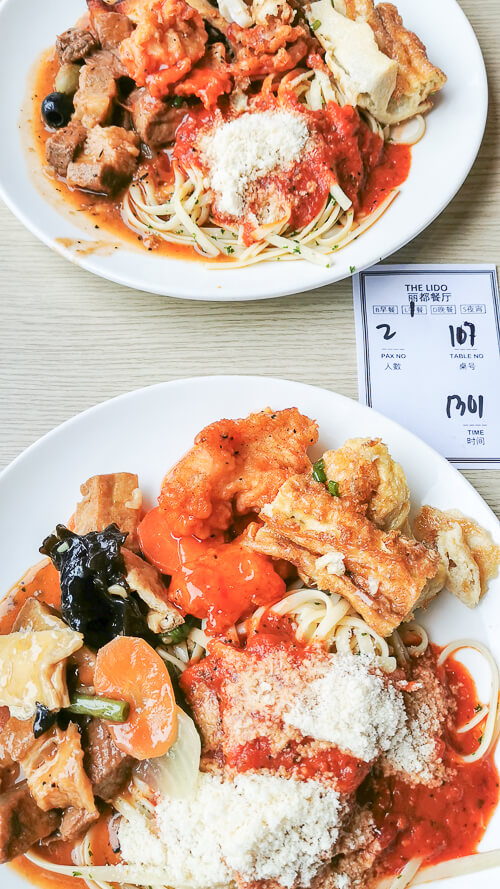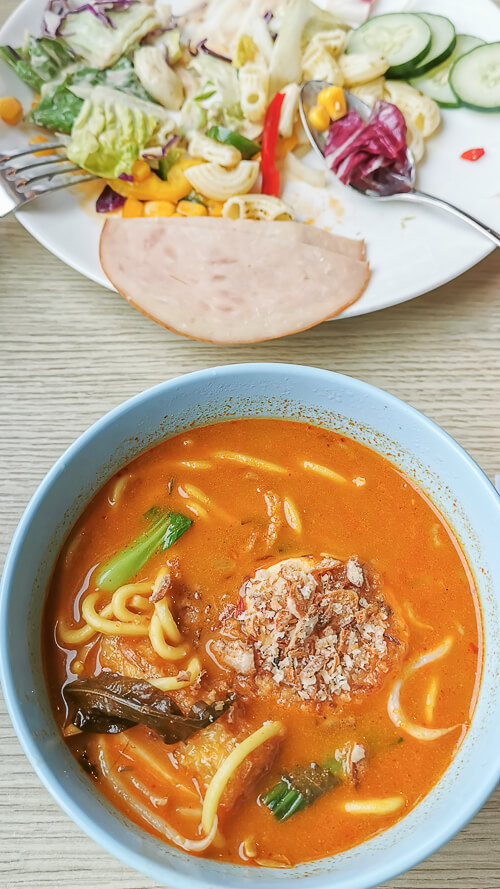 Dinner at The Lido
Dinner at The Lido was definitely much better than lunch. During my cruise, the theme was Japan. So, during dinner at The Lido, they served sushi and ramen. I wonder why they don't serve Jap food during lunch too.
The sushi and ramen are enjoyable if you are not fussy. They also served a chicken rice (chicken and gravy are amazing, but rice is mushy).
Pro-Tip: don't bother asking for window seat for dinner, you can practically see nothing outside at night.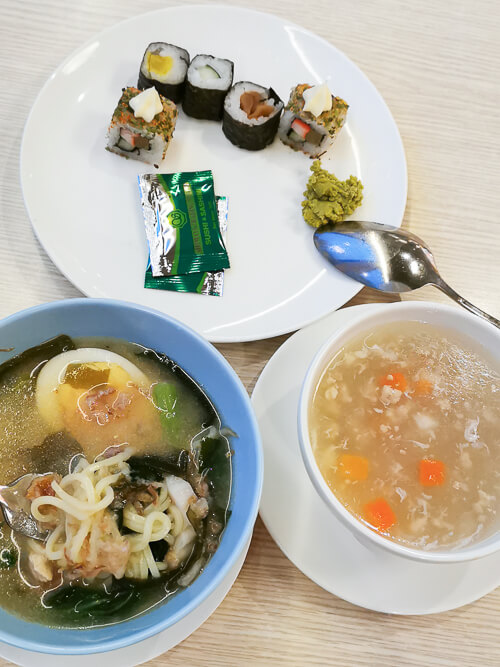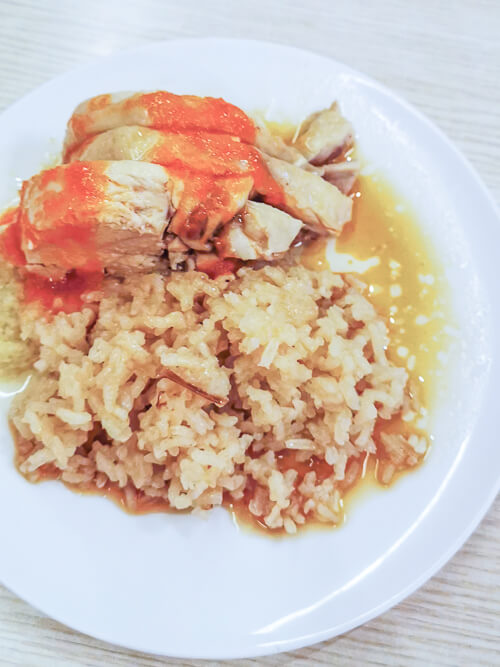 Breakfast at The Lido
The breakfast at Lido is surprisingly quite good in my opinion. The congee at Lido is much much better than the congee in Chinese DDR. The nasi lemak is quite good.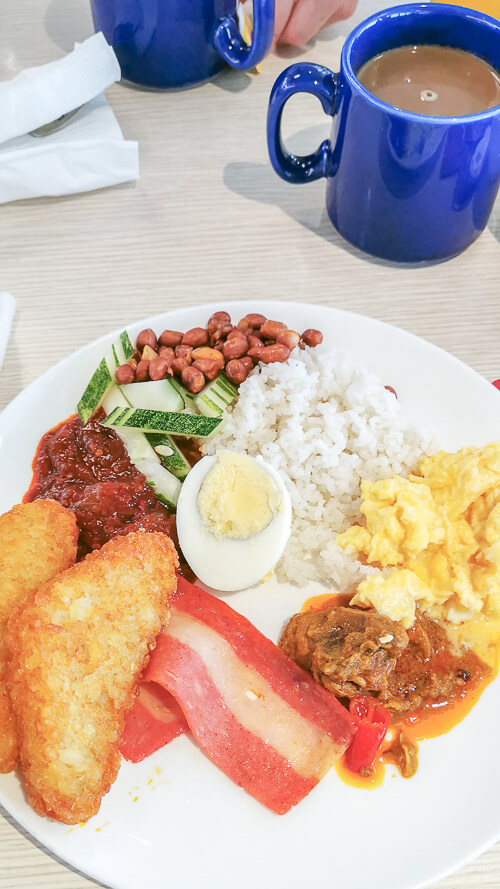 I love a good breakfast by the window. However, they rolled down the curtain during breakfast to avoid morning sun. I took the below photo at the unoccupied section, so curtain was up.
We had our final breakfast at Lido, by the time we finished eating, the ship has already docked and we got to see Marina Bay Sands from the window.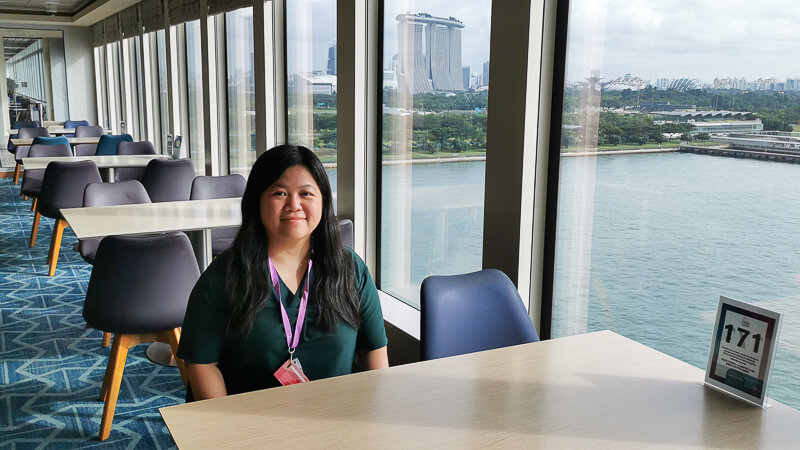 Lido Outdoor Snack Corner
The snack corner is the place to go when you want to have a place to sit and to snack for free. It is located just outside The Lido. There are not many choices of food and drinks, but it's certainly enough for snack time.
For food, we encountered fried beehoon, french fries, sausage, samosa. For drinks, it's similar to The Lido, they have coffee, tea, water and juices.
The good thing about this snack corner is that, there is no limit of how many times you can visit in a day. It's open 24/7, so if you wake up hungry in the middle of the night, you can still find free food.
Conclusion
Every restaurants have its pros and cons. For a well-rounded experience, you can consider going to different restaurant for each meal.
For 4D3N, you have 3 breakfast, 3 lunch and 3 dinner. Since there are 3 restaurants, you can get 9 combinations and you won't eat the same meal in the same restaurant twice if you don't want to.
For 3D2N, you'll have to make compromise and choose the restaurant that's likely to give you the best meal. If I may give you a recommendation, here it is:
Day 1 Dinner: The Lido
Day 2 Breakfast: The Lido
Day 2 Lunch: Western DDR
Day 2 Dinner: Western DDR
Day 3 Breakfast: Chinese DDR or The Lido
By the way, don't expect too much from the coffee at all-inclusive restaurants. To be honest, the 3-in-1 Nescafe in the cabin tastes better.
If you can afford specialty restaurants, by all means go for it. Better yet, if you can afford staying in The Palace, you can say goodbye to all-inclusive restaurants in this article, because you'll get free meal at specialty restaurants and The Palace restaurant.
Have any suggestions or comments about the food in Dream Cruise complimentary restaurants? Let me know in the comment!
Next:
Want to be the first to know whenever I post new articles and videos? Join my Telegram Channel and you'll get new post alerts sent directly to your phone.