People go on a cruise for myriads of reasons. Some want to escape the routine, some just want to chill and do nothing, others (me included) want to collect as many experiences as possible.
This post is dedicated to all the FOMO (kiasu) travelers out there who are planning for their cruise to nowhere on the World Dream, who want to make the best out of their cruise trip.
World Dream Cruise to Nowhere (2021) Series
Part 1: Reservation, ART Test, Boarding
Part 2: Balcony Stateroom
Part 3: All Inclusive Dining
Part 4: Activities and Shows
Part 5: Tips for FOMO Travelers
Book directly vs book via OTA
The first step you need to do before booking is to decide whether you want to book directly on Dream Cruise's website or book via OTA (online travel agency).
The advantage of booking through OTA is that you may be able to use promo code to offset your cost, so you'll save more compared to booking directly with the cruise operator. The disadvantage of booking through OTA is that it may (or may not) be difficult to make changes because you need to deal with OTA, not Dream Cruise.
If you don't think you'll make any changes, then it may be better to book via OTA to save money. Otherwise, if you foresee there will be changes, then it's better to pay a bit more and book directly from DC's website.
Download Dream App
Do download Dream App before your departure. This is the one of the most important apps during the entire trip. The purpose of Dream App include:
booking of shows
subscribing to wi-fi packages
viewing of menu at Dream Dining Room, both Upper and Lower (very useful, but the text may be too small, so you need to screenshot the menu, then open your phone gallery and zoom in the photo)
viewing of Dream Daily aka the daily schedule (not particularly useful because the text is too small and you can't zoom in via the app, I prefer to see the actual hardcopy of Dream Daily
settling your bill at the end of your cruise, so that you don't have to queue at the reception to make payment
You can't access the app when you're outside the cruise. You can only access it by connecting to the wi-fi of the cruise. The app is not perfect. On my third day of cruise, something weird happen, I couldn't book shows at all. I need to log out and log in again in order to make it work again.
Wi-fi package vs data roaming
Before the cruise, I did contemplate whether it's better to activate our data roaming or to subscribe to cruise's wifi package. Moneywise, data roaming is cheaper than wifi packages. Singtel's data roaming for Indonesia & Malaysia is only $5 each for 7 days, while Dream Cruise's cheapest wifi package costs $27.
In the end, I decided to take the wifi package because when the ship is at nowhere, there is no phone signal, so data roaming is practically useless most of the time. If you want to stay connected, forget data roaming and get the wifi package instead.
First thing to do on board: book activities
The popular activities (such as jacuzzi, swimming pool, gym and mini golf) get fully booked quite early. If these are in your must-do list, then I recommend booking them as early as possible once you are on board.
Activities
Need to pay?
Booking required?
Swimming
Free
Yes, at pool Deck 16 MID
Jacuzzi
Free
Yes, at pool Deck 16 MID
Waterslides
Free
No
Rope Course & Zipline
Free
No
Rock Climbing Wall
Free
No
Mini Golf
Free
Yes, at Deck 18 AFT
Table Tennis
Free
Yes, at Deck 18 AFT
Basketball
Free
Yes, at Deck 18 AFT
Gym
Free
Yes, at Crystal Life Spa
Fitness/Dance Classes
Depends
(see Dream Daily)
Depends
(see Dream Daily)
Misc Classes
Depends
(see Dream Daily)
Depends
(see Dream Daily)
Casino
Charges apply
No
Bingo
Charges apply
No
VR
Charges apply
No
Arcade
Charges apply
No
Spa
Charges apply
Yes, at Crystal Life Spa
You can read my part 4 article where I reviewed some of the activities that I took part in.
Booking shows
Booking for shows can be done via Dream App. However, the slots are released every hour, so you need to constantly check the app for available slots.
In the unlucky circumstances where you can't get a slot even though you check the app multiple times an hour, then your last resort would be to queue at the show's venue 15 mins before the show starts. If there are empty seats because people who booked the show didn't turn up, they'll let you in.
Jacuzzi alternatives
In my opinion, jacuzzi is one of the most popular activities on Dream Cruise. I couldn't get a jacuzzi slot throughout the entire trip because I went to registration counter too late every day.
If you can't get a jacuzzi slot and you want to experience jacuzzi, here's the first workaround. You can book a swimming pool slot (each slot is 1 hour). During your swimming slot, if you notice any group in jacuzzi is done for the day, you can jump in. But there's no guarantee that they will finish using jacuzzi earlier, so it really depends on your luck.
The second alternative is to pay for Crystal Life Spa access (SGD 20) to enjoy steam room, sauna and hot bath which is almost similar to jacuzzi except that it's indoor.
Paying less for VR games
During my trip, VR games cost SGD 30 for 2 games. However, they have early bird sales early in the morning at 9.15am to 10.15am where they sell 2 VR games for SGD 22 only. The timing and price may be different in your cruise, do check your Dream Daily for the actual price and time of sales.
Buy cheap afternoon tea
On my first day, I happened to pass by a group of staff at Deck 6 MID (near Reception) selling discounted afternoon tea. They said that the price would increase the next day, so it's cheaper to buy on the first day.
Is the drink package worth it?
If you don't buy the drink package, you can only get 2 complimentary mineral water each day, unlimited tap water, hot and chilled drinks from the inclusive restaurants.
But, just don't get your expectation too high. The coffee served in every inclusive restaurant is so diluted it doesn't taste like coffee.. If you are fussy with your drinks and you don't want mediocre quality of beverage, then the drink package may be the way to go.
Pro-tip: If you're getting the drink package, make sure you sign up for DreamElite membership to get discounted price (the membership is free to join).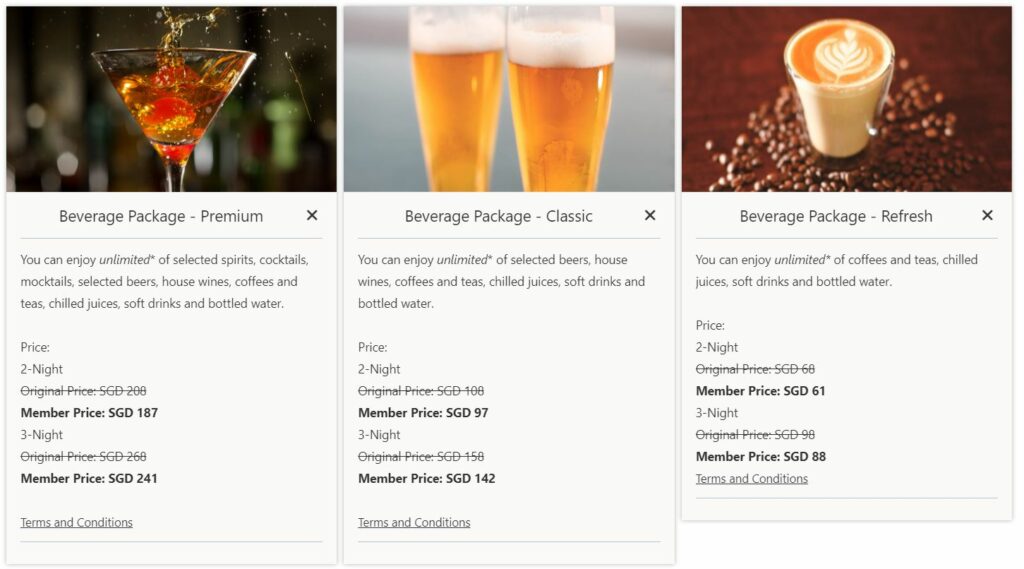 If you have more tips, please share in the comment!
Want to be the first to know whenever I post new articles and videos? Join my Telegram Channel and you'll get new post alerts sent directly to your phone.