We woke up very early in the morning because we wanted to catch the 2nd train from Keelung at 5.33am, so that we could catch the first HSR in Taipei. We got up at 4.40am, washed our face and packed our luggage in rush, called the receptionist to help us book cab and eventually checked out from our hotel E-Coast Star Hotel at 5.00am. We took the cab to Keelung train station, which is probably about 5-7 mins cab drive. We rushed to the ticket machine and bought our tickets for normal train. Surprisingly, we could make it for the 1st train, at 5.15am. I was so relieved! 
We arrived in Taipei station at 6.00am. We then walked to HSR station. We witnessed the opening of HSR ticket counter. People were already queuing even before ticket counter was opened. We then bought our HSR ticket to Taichung, leaving Taipei at 6.36am. We bought reserved seat tickets. Since we have spare time, we went to toilet as well as bought breakfast from convenient store inside HSR station. We then departed from Taipei to Taichung. We had our breakfast in the train.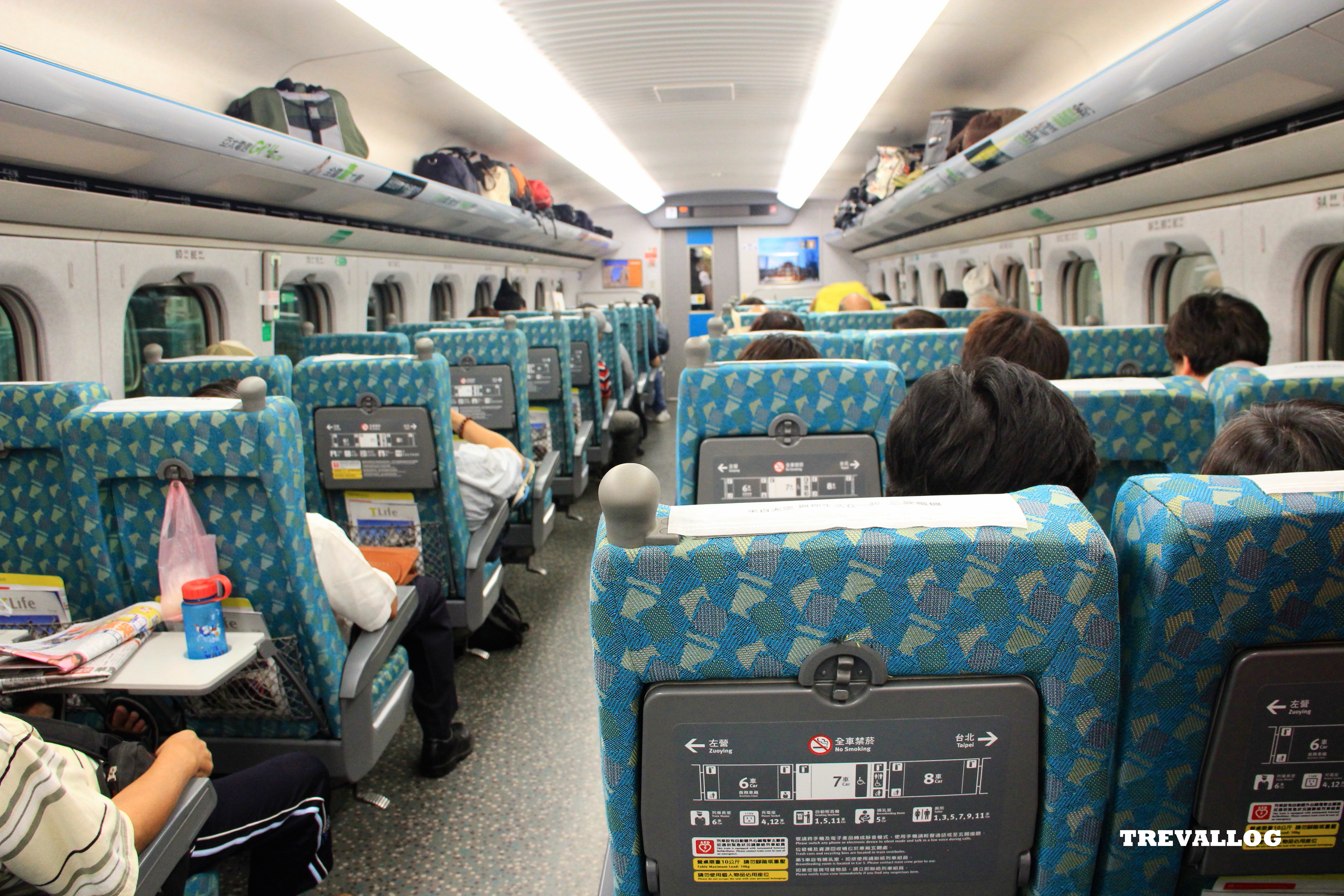 Upon arrival in Taichung at 07.28, we ran in madness to find Nantou bus station because we wanted to catch 7.35am bus to Puli. We followed the signange pointing to bus, and walked down to the basement and went to gate 5. There was already a long queue for Nantou bus but we are confused what is the destination for this long line. We asked nantou bus counter, the lady told us the direct bus to Cingjing is at 8.45, we didn't want to wait for 1 hour, so we decided to buy ticket to Puli. After that, we queued at Puli destination but it was a long queue; a few buses came but we didn't get to the front of the queue, until 8.10am. We took 8.10am bus and arrived at Puli around 9.10am. At Puli station, we bought ticket to Cingjing, leaving at 9.35am. This bus is the same bus that leaves Taichung HSR at 8.45am. The bus was already full when it arrived at Puli, I was so scared that we couldn't get on this bus and had to wait another hour. It was very stressful situation because we thought we have made a mistake by not taking direct bus from Taichung HSR at 8.45am. Fortunately we were allowed to get on the bus, but we had to stand for whole journey. I told myself: it's better than waiting for another hour. So I sucked it in for an hour journey to Cingjing. The view along the way was magnificent though. (see tips at the end of the post regarding taking Nantou Bus to Cingjing)
After the bus arrived at Wushe, before Cingjing, we told the bus driver to drop us at our hotel location. The driver then dropped us around 10.30am. We were lost and couldn't figure out where our hotel is. We stood at the road side and tried to search in Google maps. Fortunately a taxi driver stopped by and asked where we wanted to go, we told him our hotel name and he pointed us to the direction. We followed the direction and eventually arrived at our hotel, Shan Shui-Yuan Vege Guest House, around 10.40am. Yay we made it to Cingjing before noon! So glad that we made it in the morning.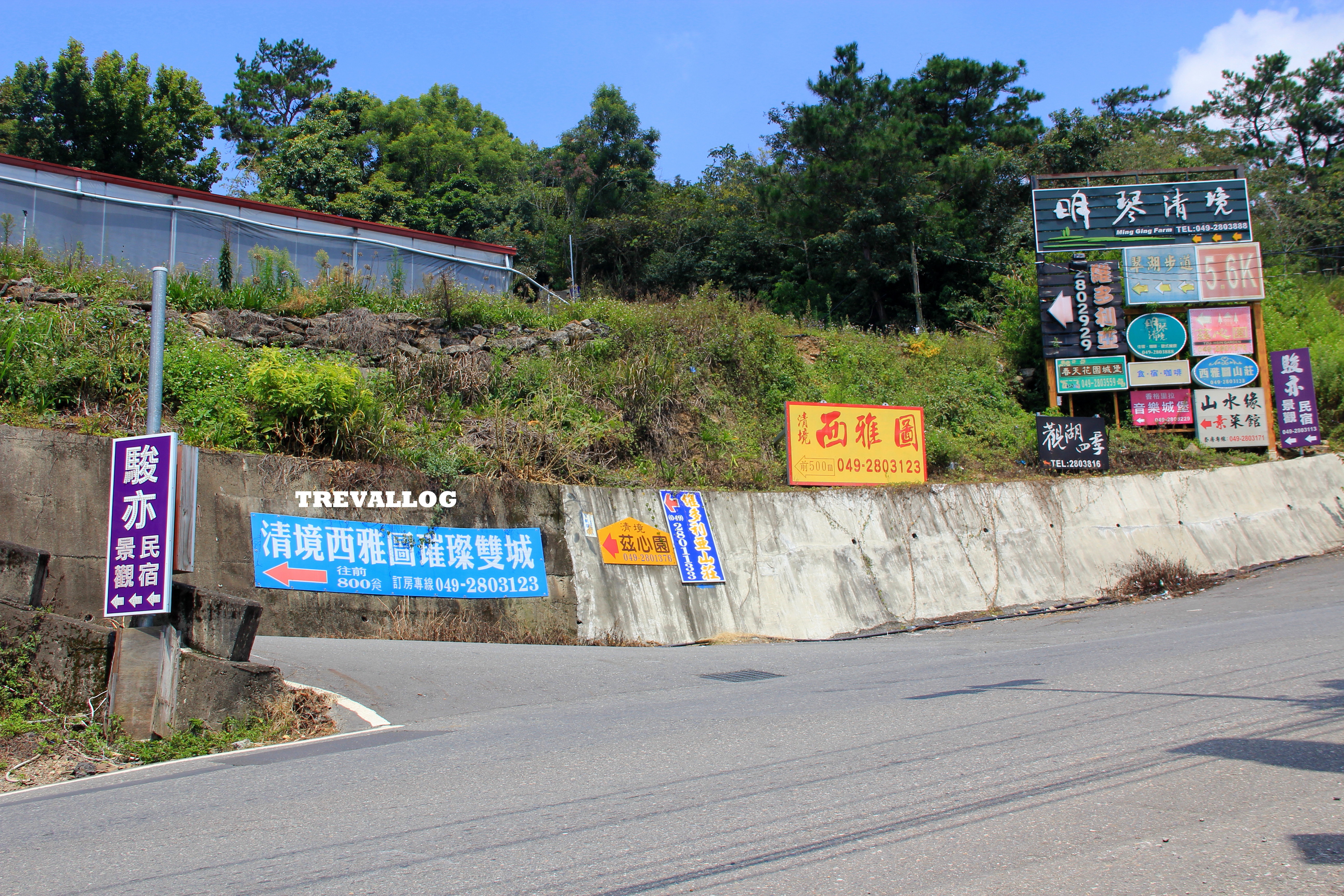 We checked in hotel but were told that the room is not ready yet until afternoon. So we settled the paperwork, stored our luggage with the hotel, and asked receptionist about how to get around and where to go. She explained that we could call a transport company and they would pick us at any location within about 5-15 mins. and they can bring us to anywhere in Cingjing, for a fee of TWD 50/person. We thought it was great price. We then decided to call the pick-up service to go to Little Swiss Garden (see tips at the end of post regarding pick-up service). At the entrance, there is a restaurant (Carton King) and a 7-11 store. Constrained by budget, we chose to buy "bento" from 7-11. The cashier heated it up and we could eat at one of the tables outside 7-11. And, there was a live performance going on. It was such a great lunch, with such a nice weather (cool weather) and such a nice atmosphere. I didn't want to leave!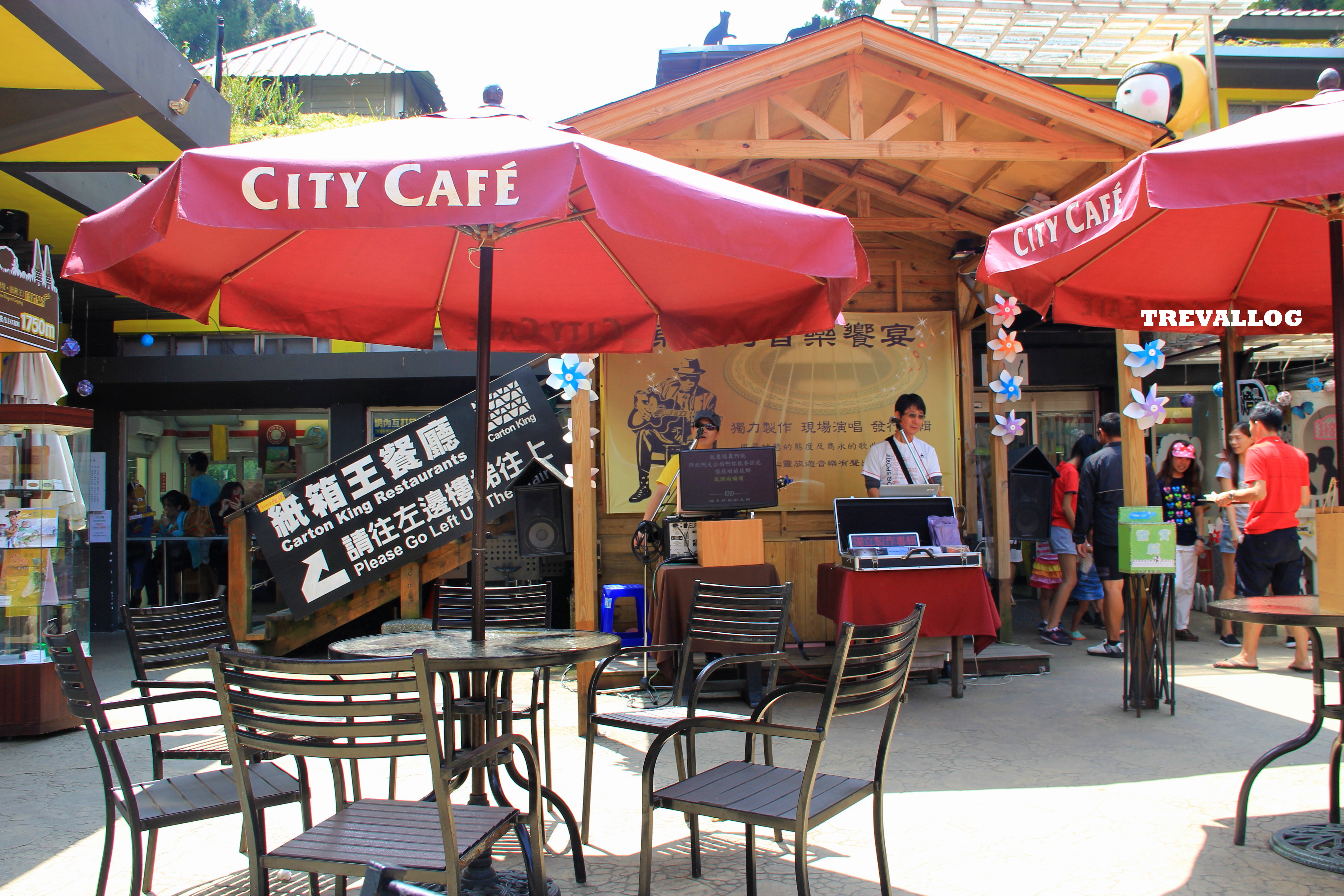 Eventually we had to lift our lazy asses and buy tickets from Little Swiss Garden counter. Caution: You want to get a chop on your hand, to allow you for re-entry. The garden has well-manicured lawns and flowers. It was so neat, it was hard to find dead flowers.There is a pond in the middle that has water performance, watch out for performance timing in the brochure. We saw the performance, it was simple, there was nothing much. I was awe-struck by the beautiful flowers. The cool weather made it nice to hang around. I've been to 2 Disneylands before, and I'm definitely dreaming of a huge flower garden in a Disney-like park. Little Swiss Garden is a small garden, yet it's such a perfectly-maintained garden. It is worth to visit this little garden.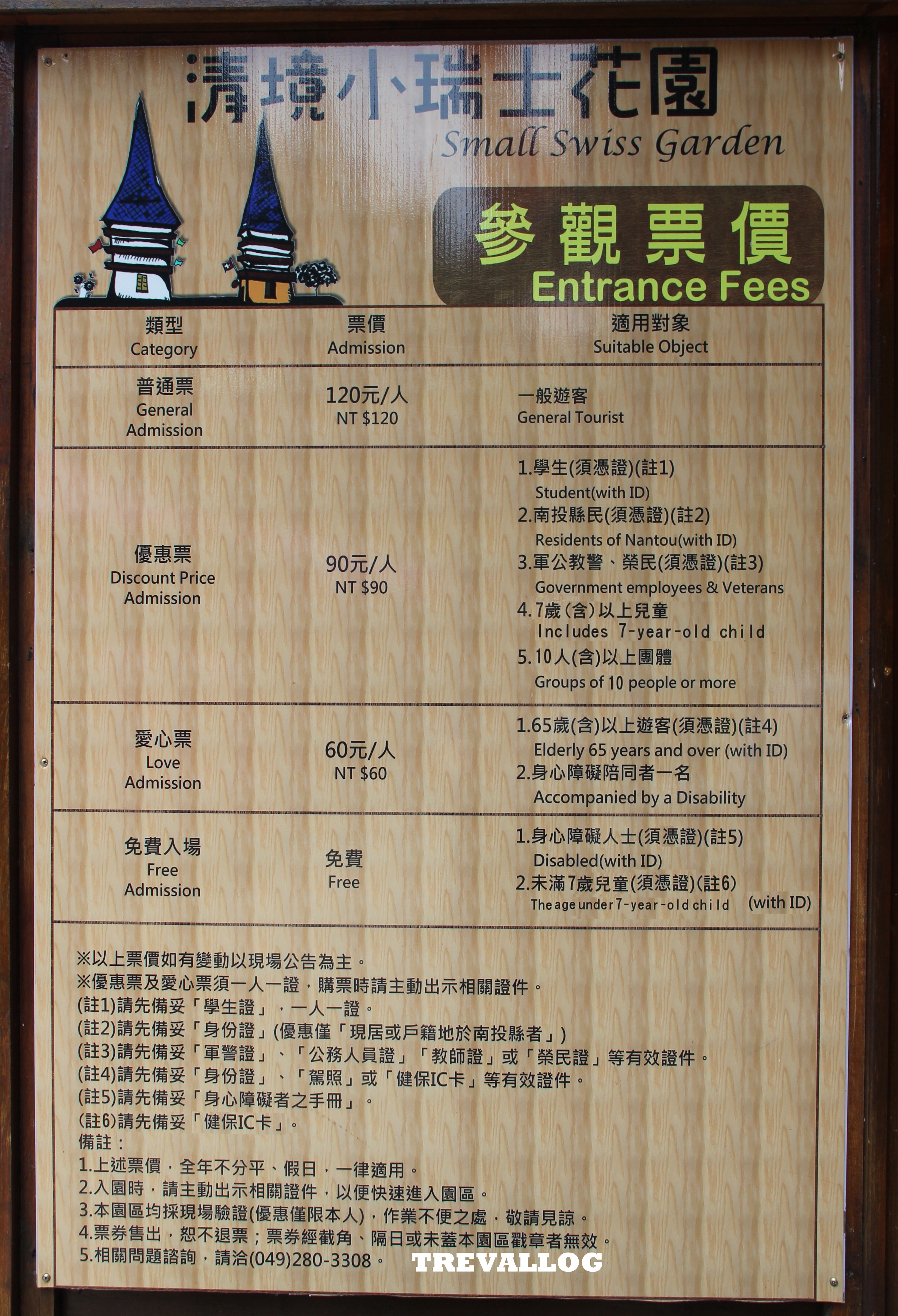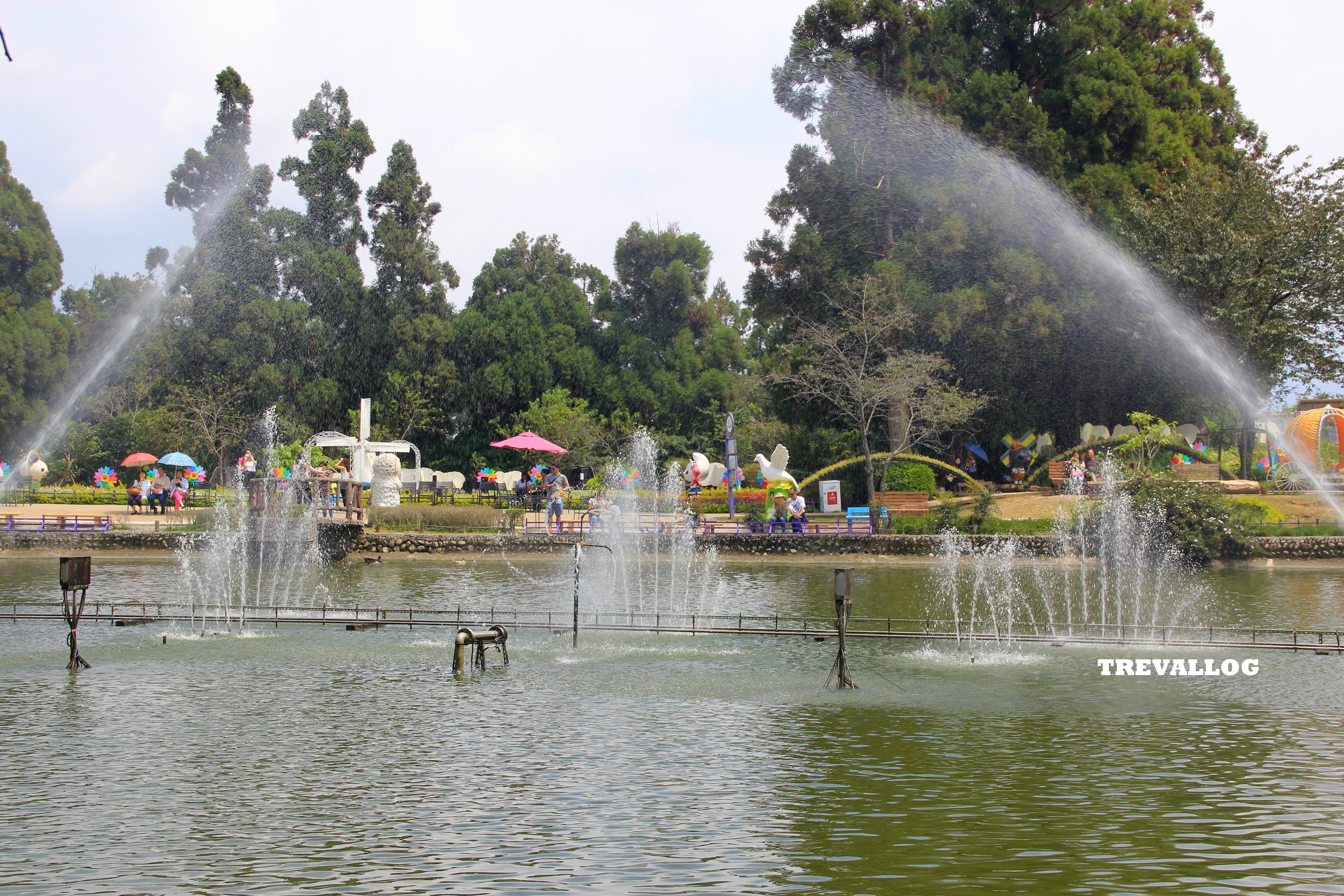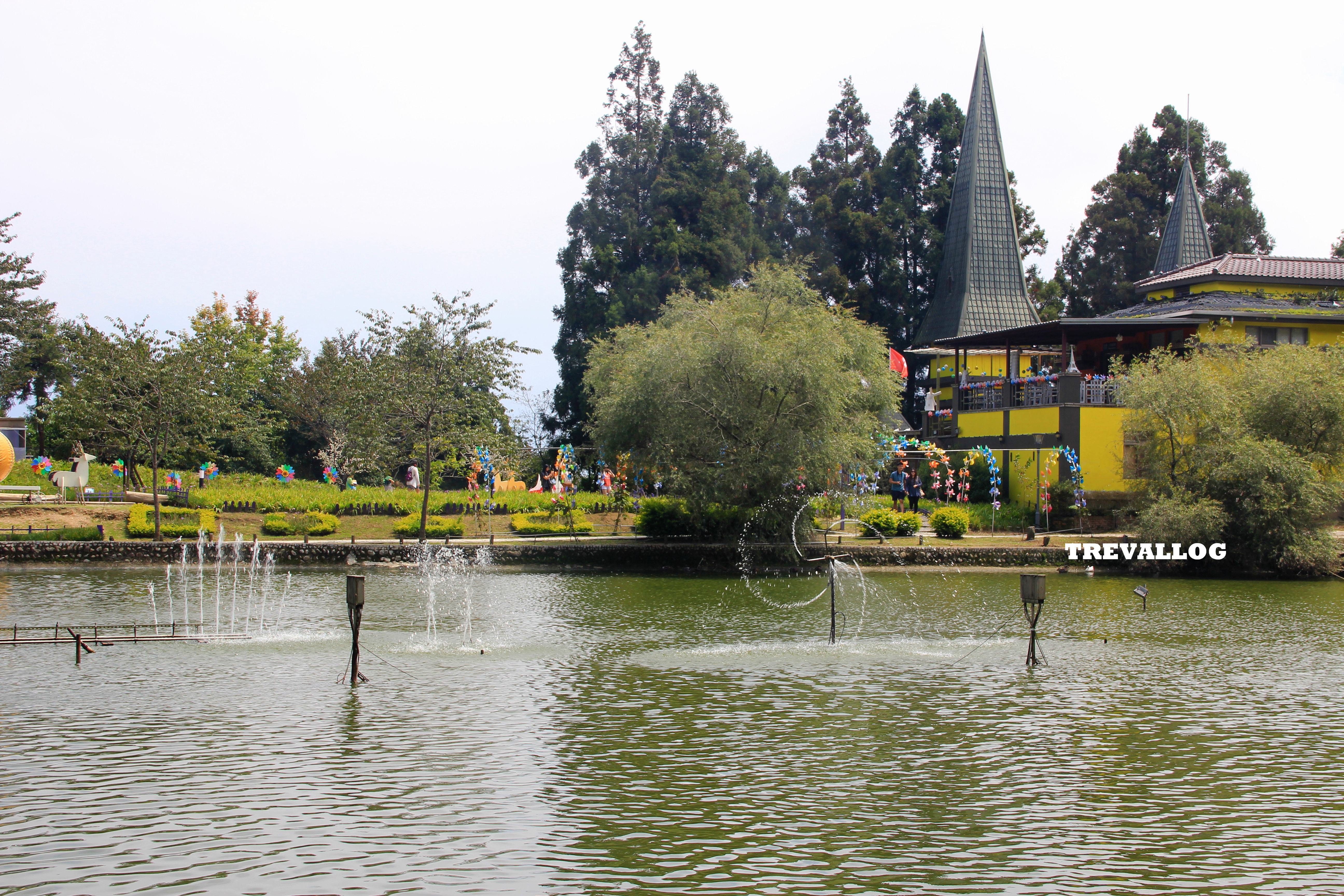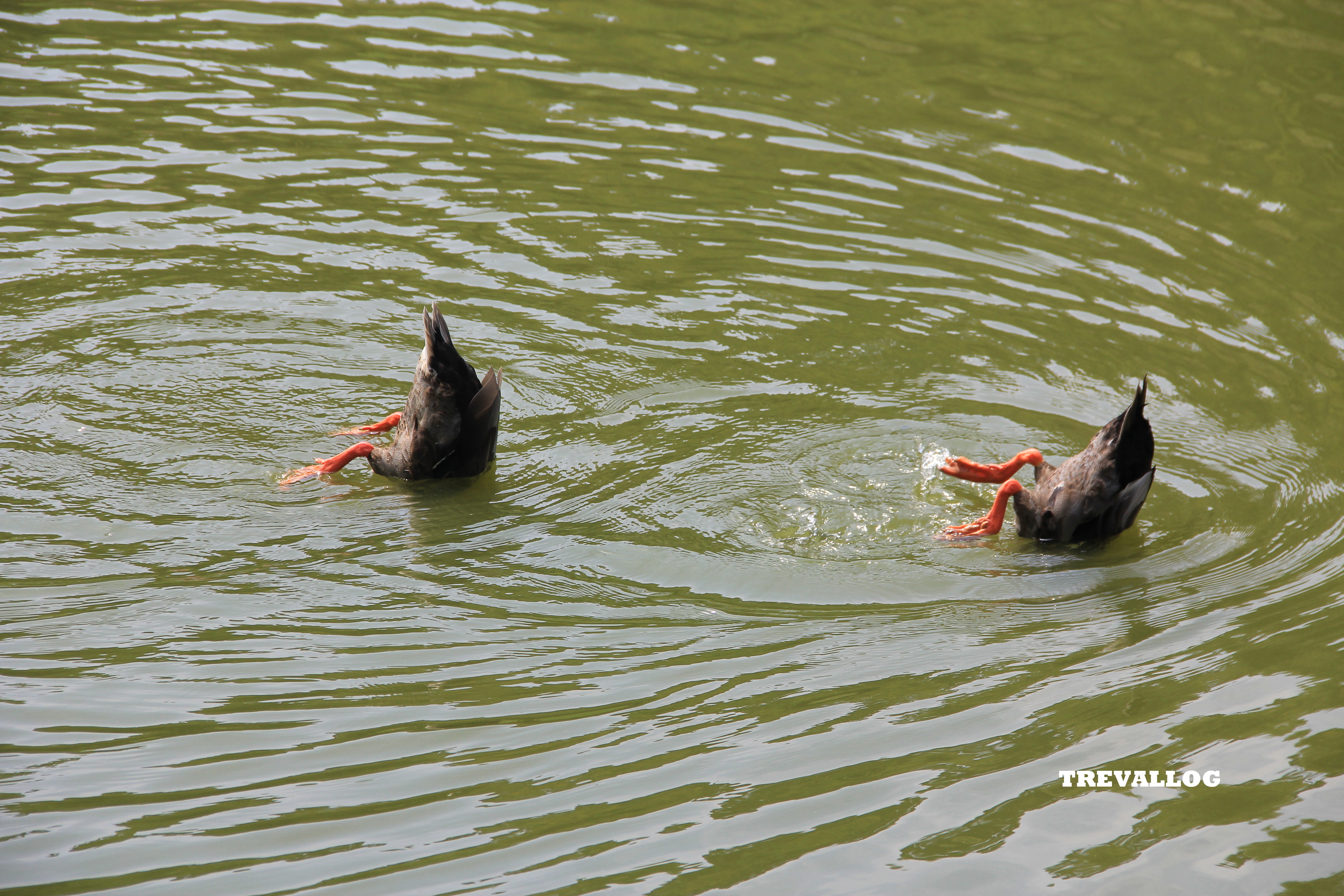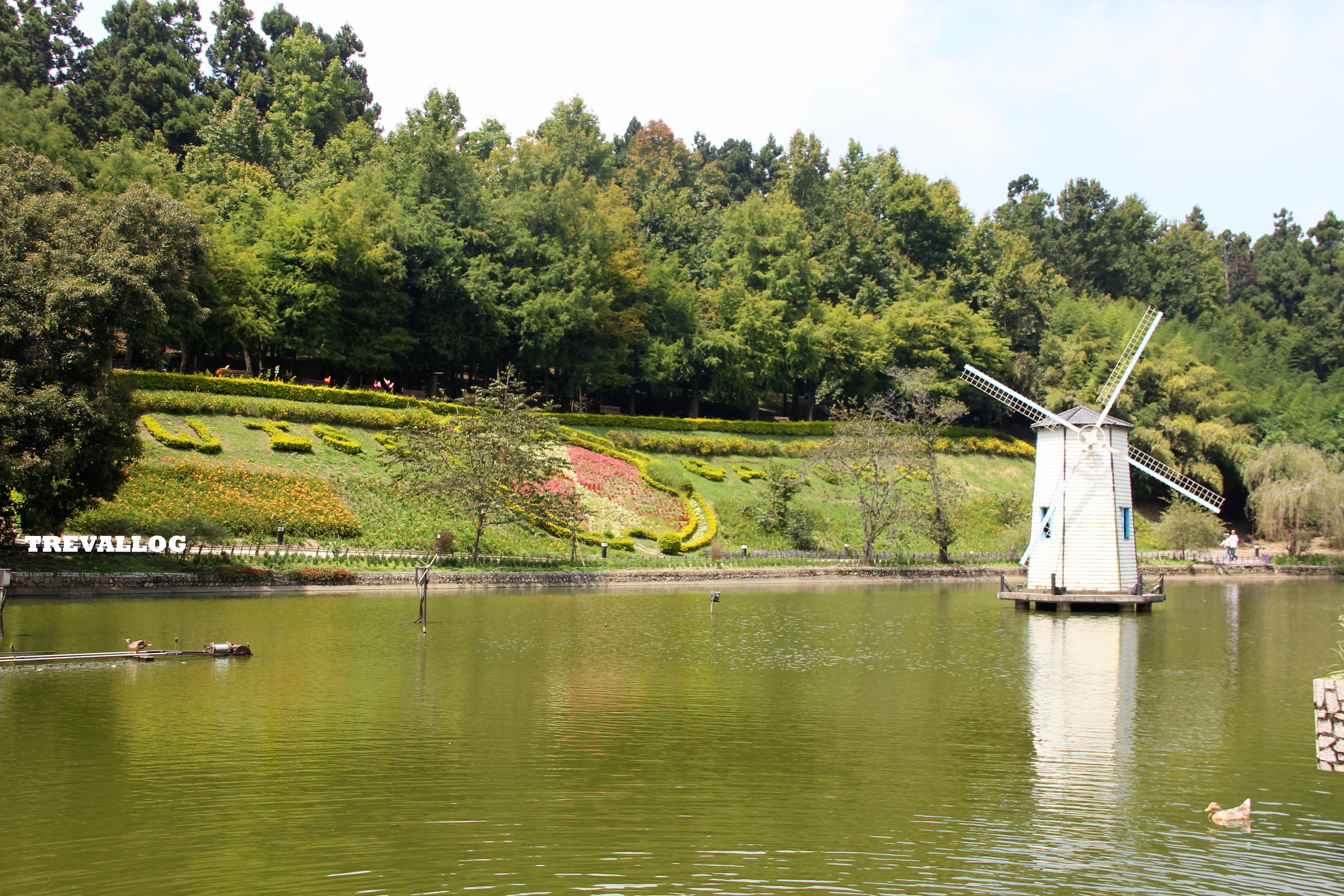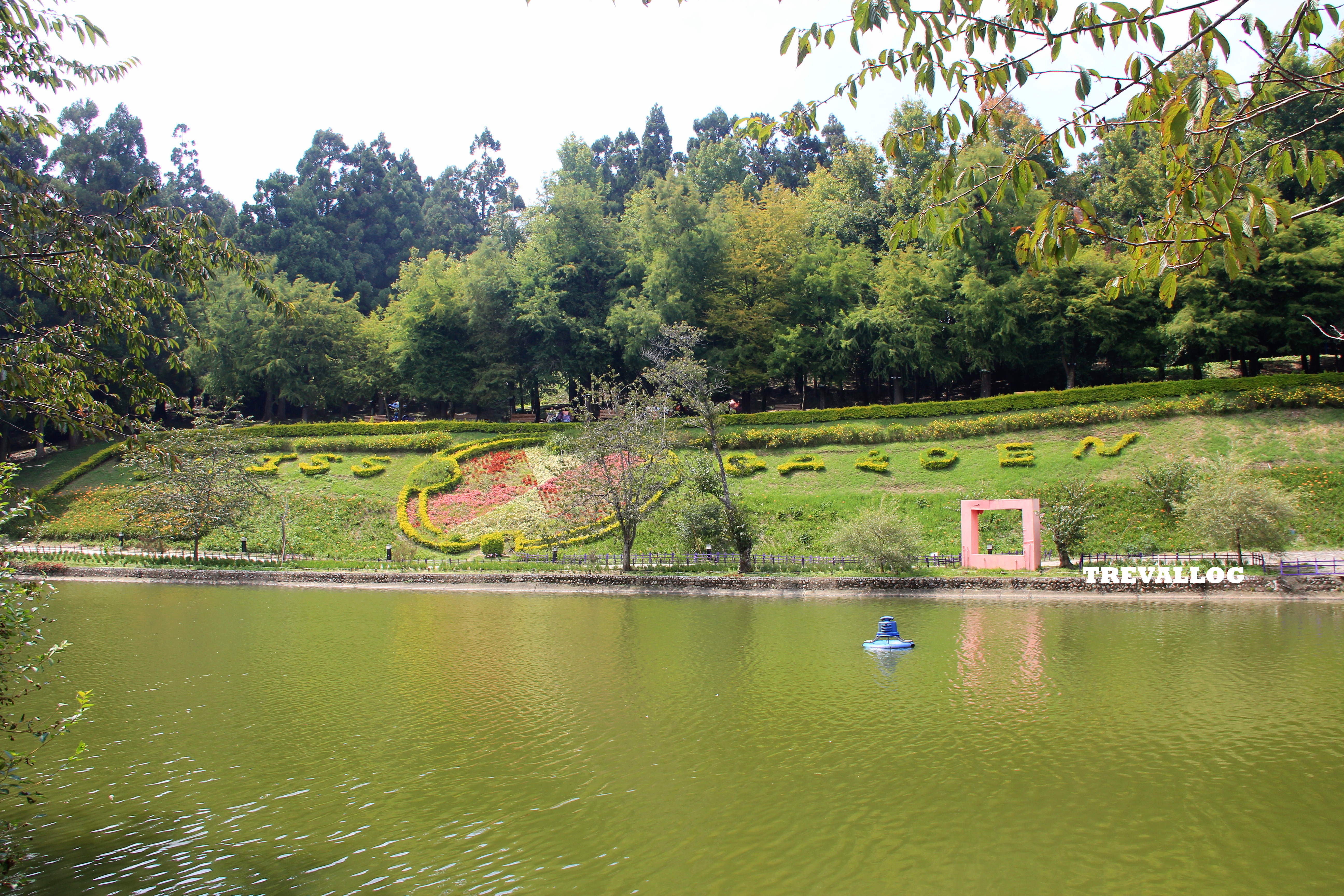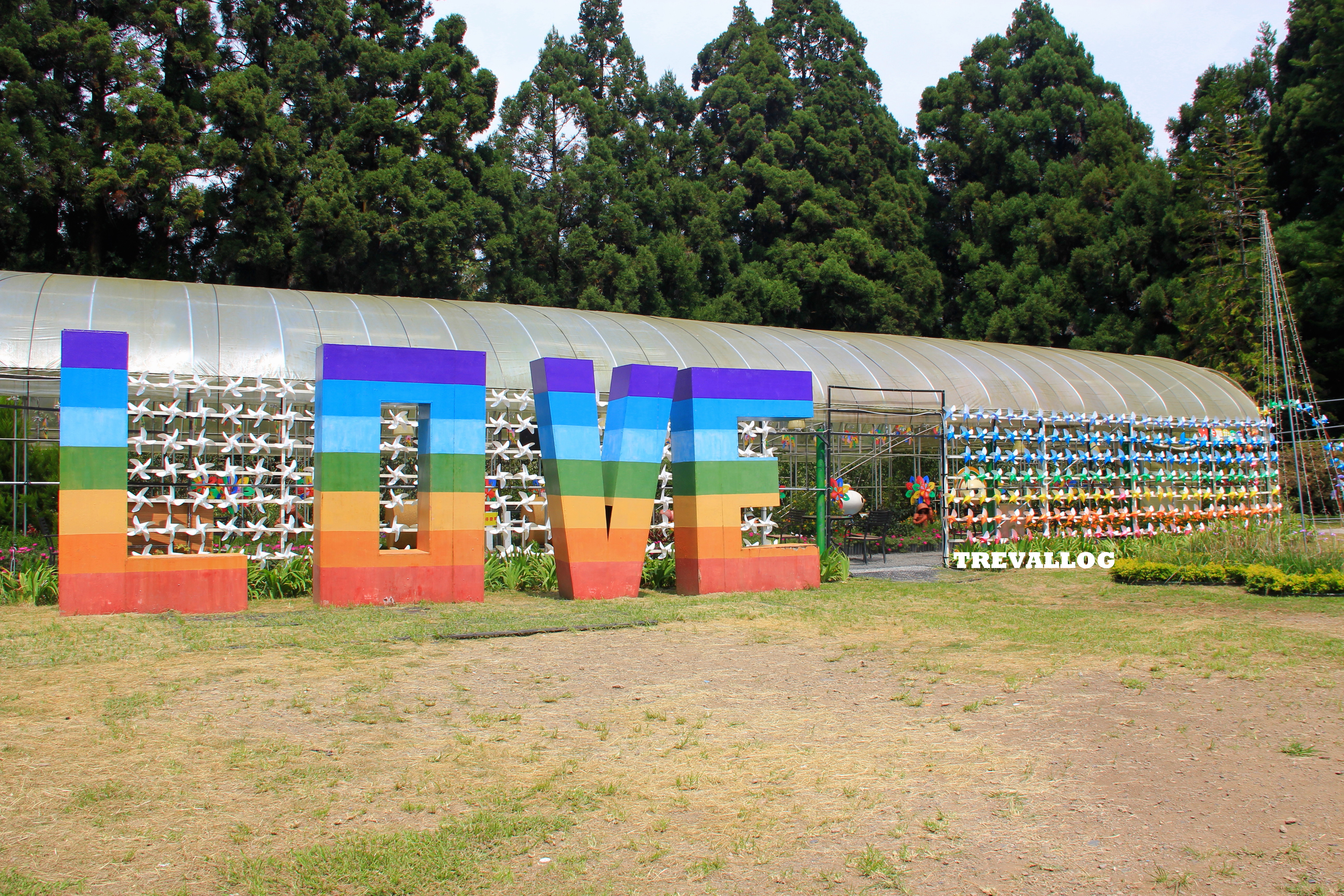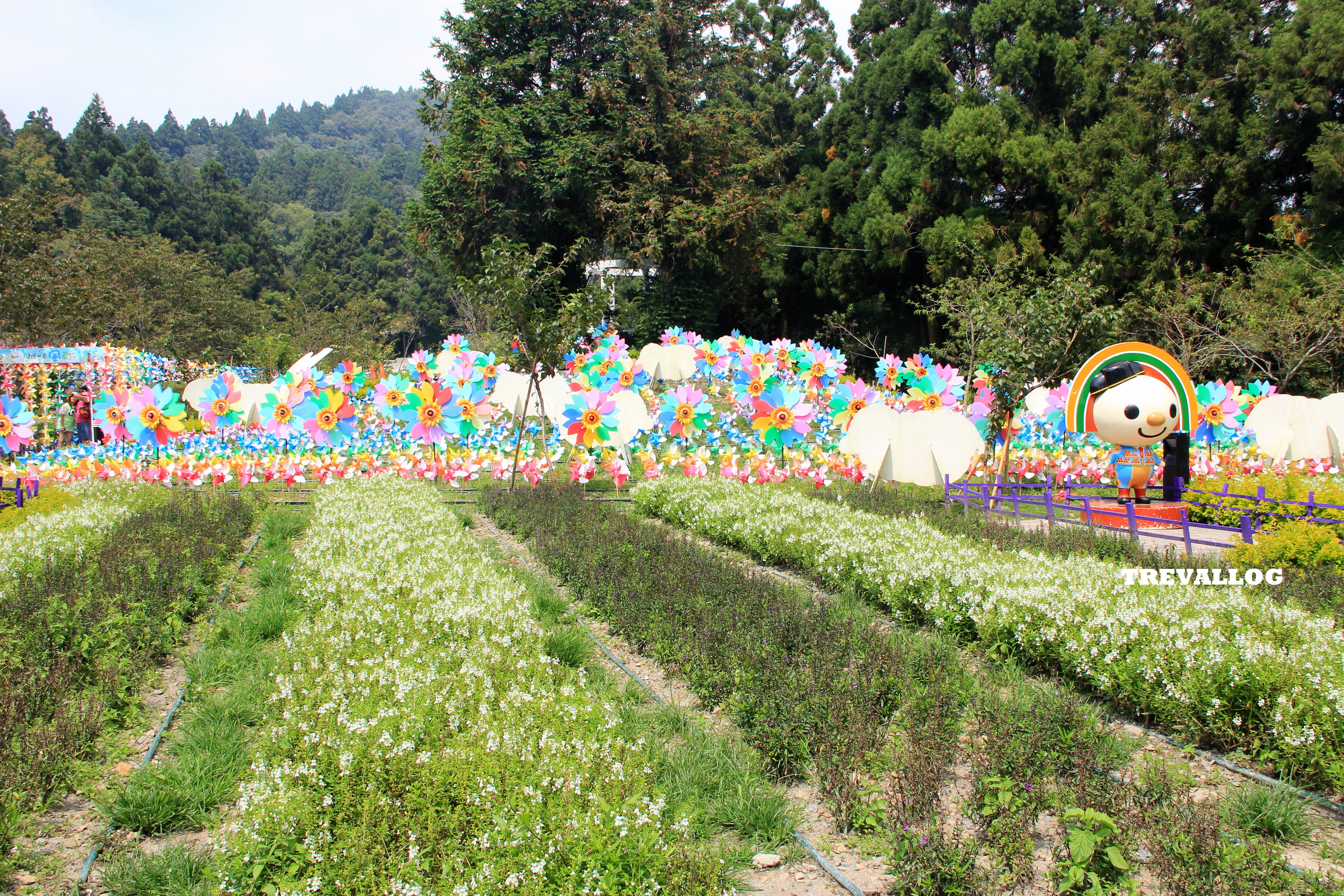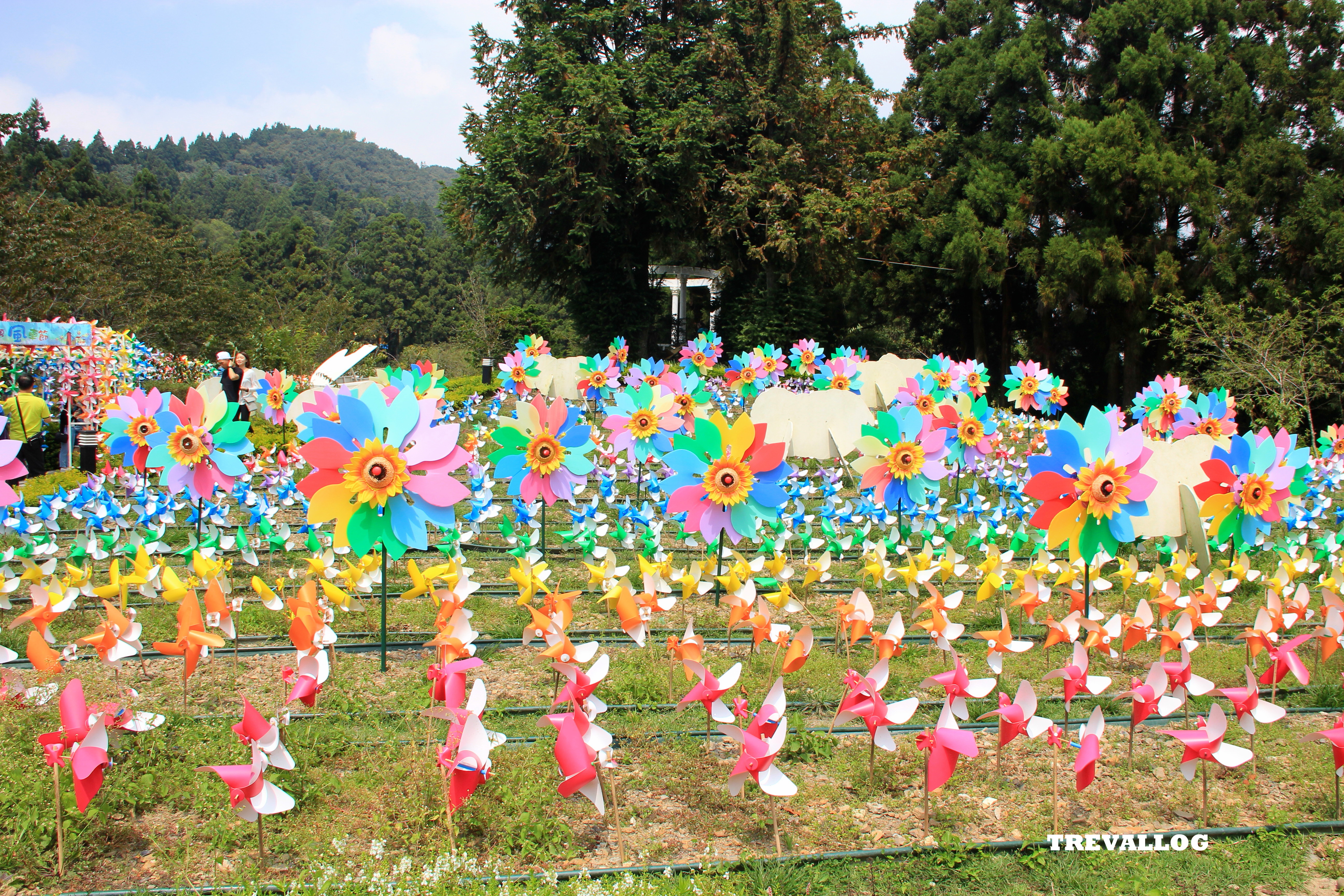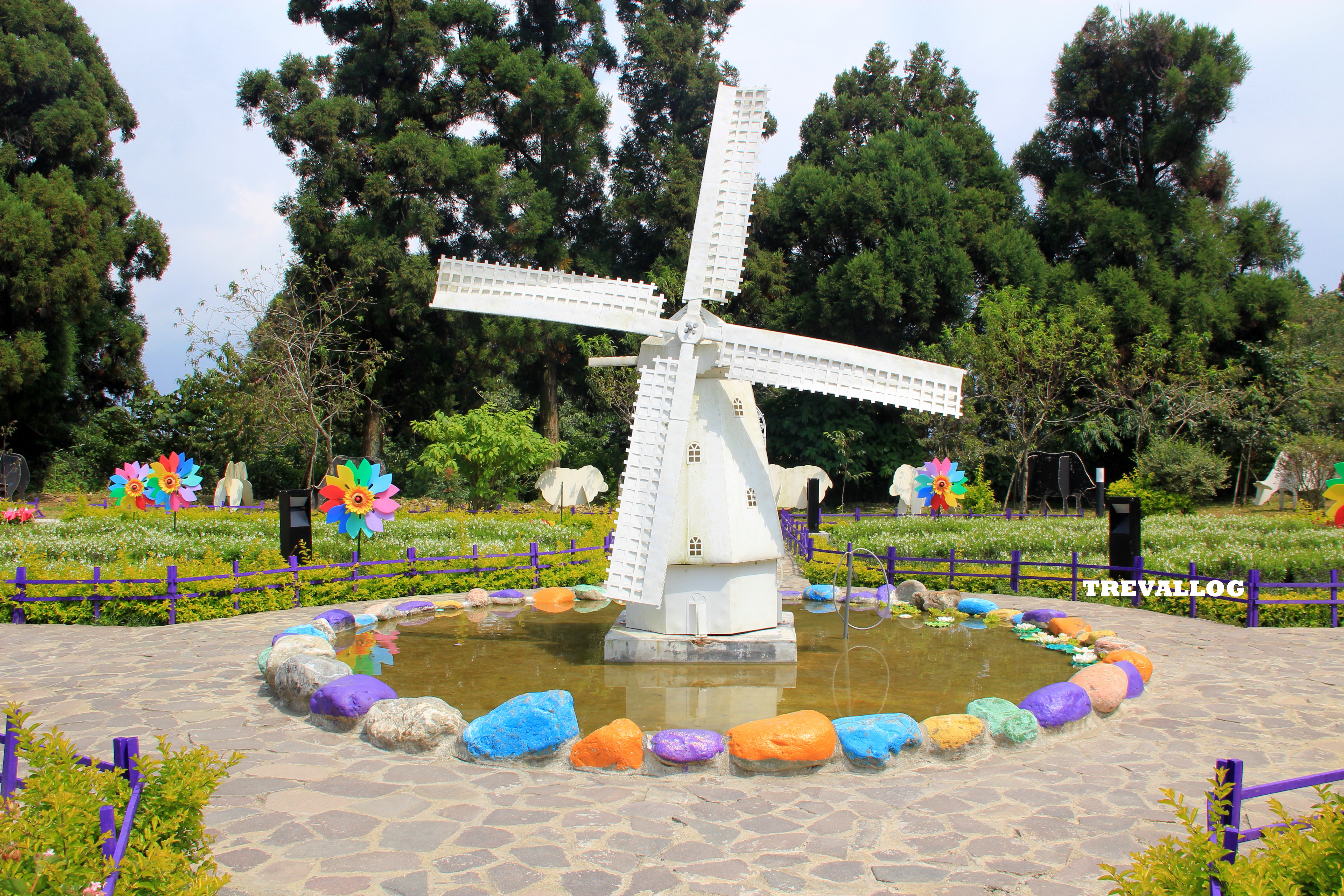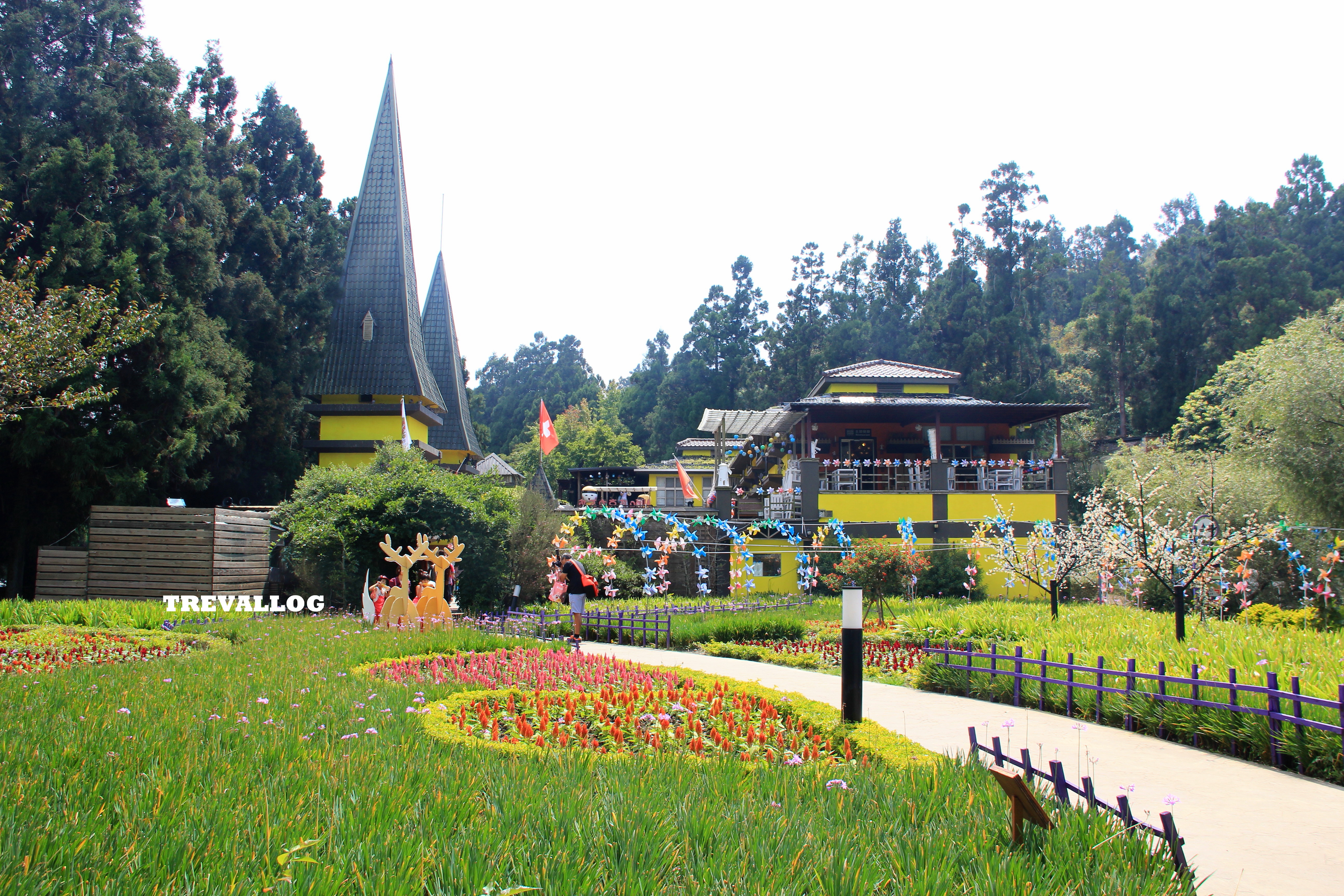 Time was ticking and we had to rush to Green Green Grasslands (some refers it to Cingjing Farm), for sheep performance at 2.30pm. We exited the swiss garden, walked to bus station across the road. There was already a queue for Nantou shuttle bus (only available on weekends and holidays) to go to Green Green Grasslands. We joined the queue and paid TWD 20/person for the bus. At Green Green Grasslands, we bought ticket at entrance and go in directly to the sheep show area. Caution again: You want to get a chop on your hand, to allow you for re-entry. It was quite a long walk to the stage. Once at the stage, you want to scatter to find spot that is suitable for your height. The show was started with introduction of the shepherd. Then the shepherd guided the sheep up the hill and back down to the cage near stage. He then shaved the sheep. After that, there was some other comedy performance and then that's it. And the end of the show, visitors got to ride the horses for a few minutes by paying certain fees to the counter. Visitor also got to touch and feed all the sheep. It was my first time touching and feeding them, it was amazing. After that, we walked to horse show location to watch horse show. The show mainly presented a few horsemen and women doing acrobatic moves while riding the horse round the stage.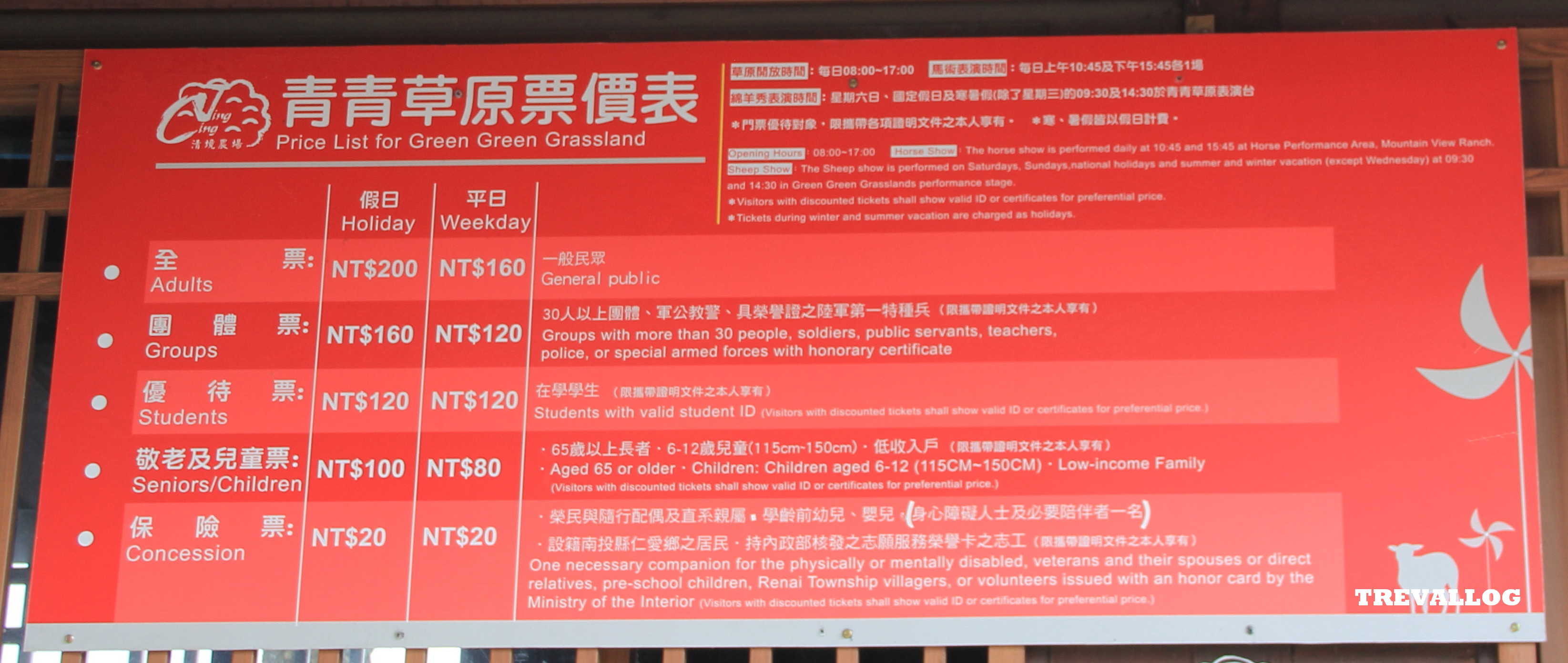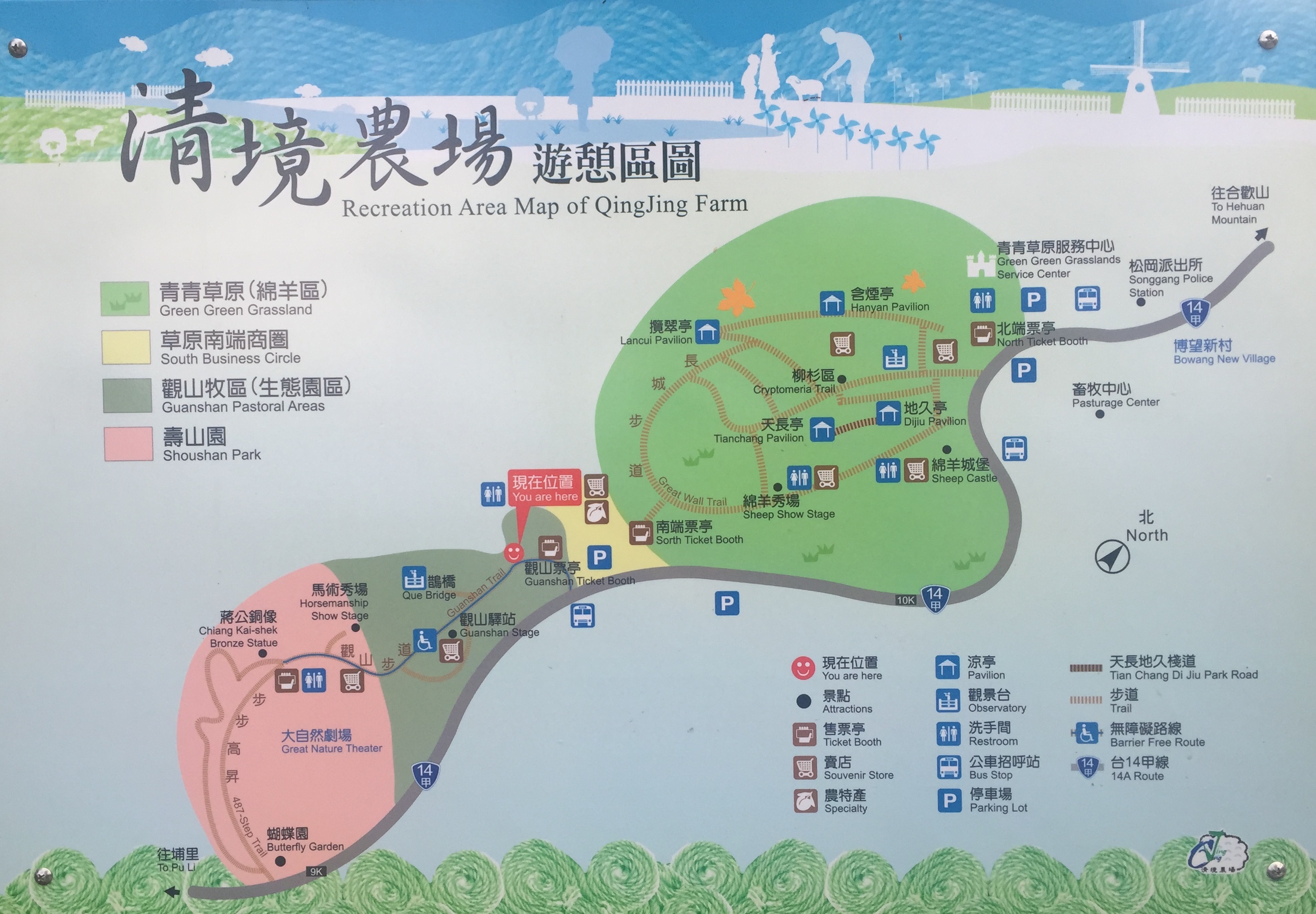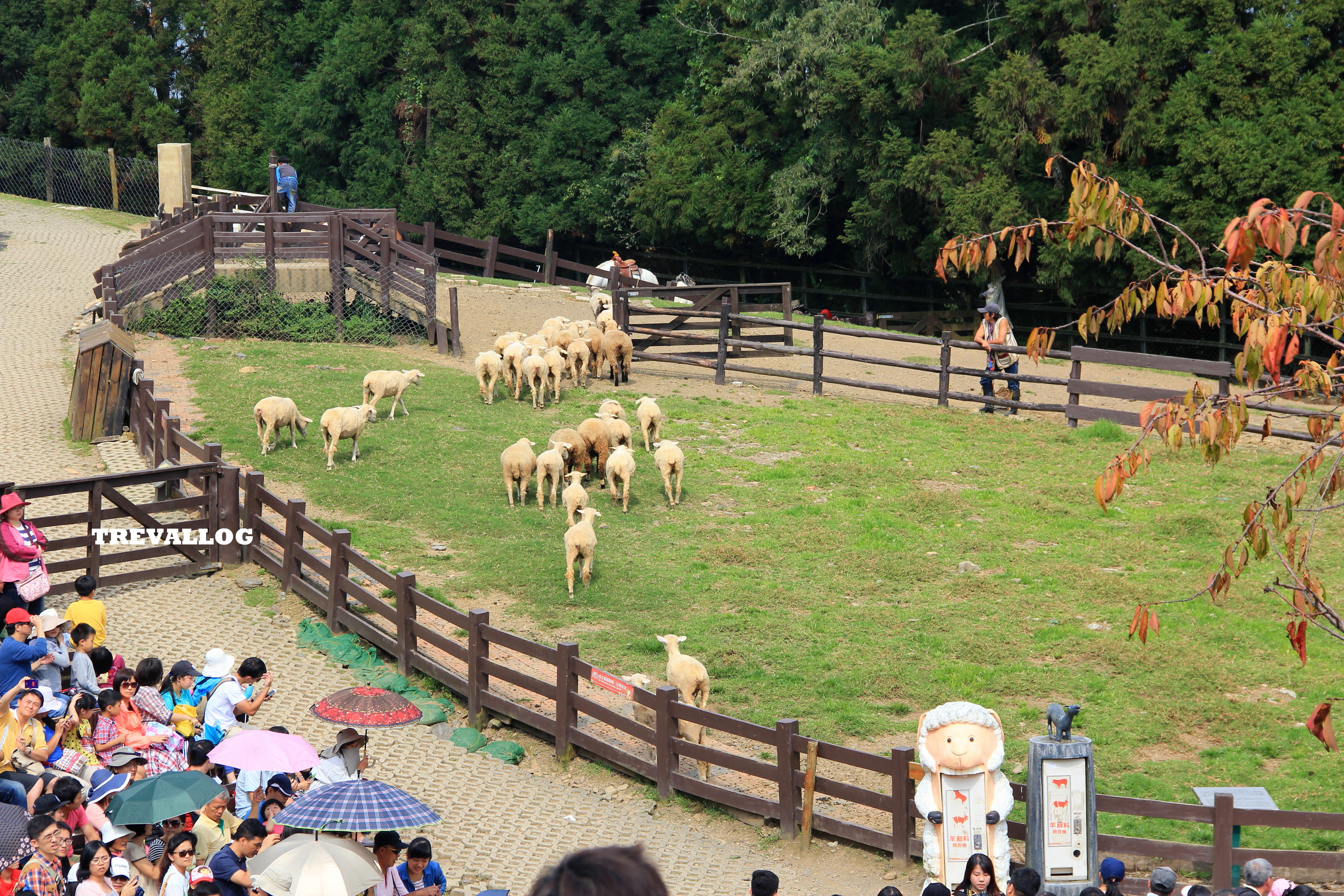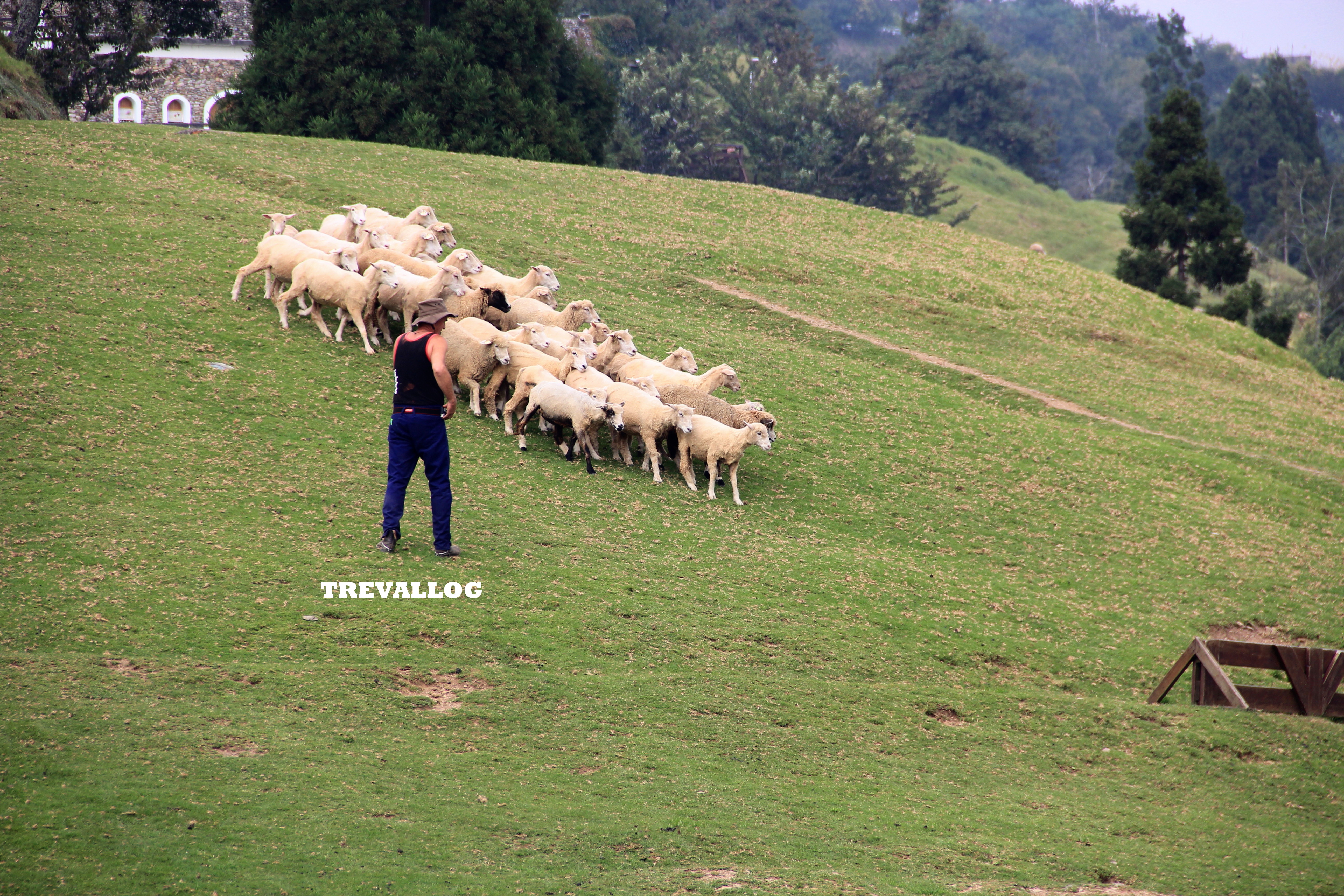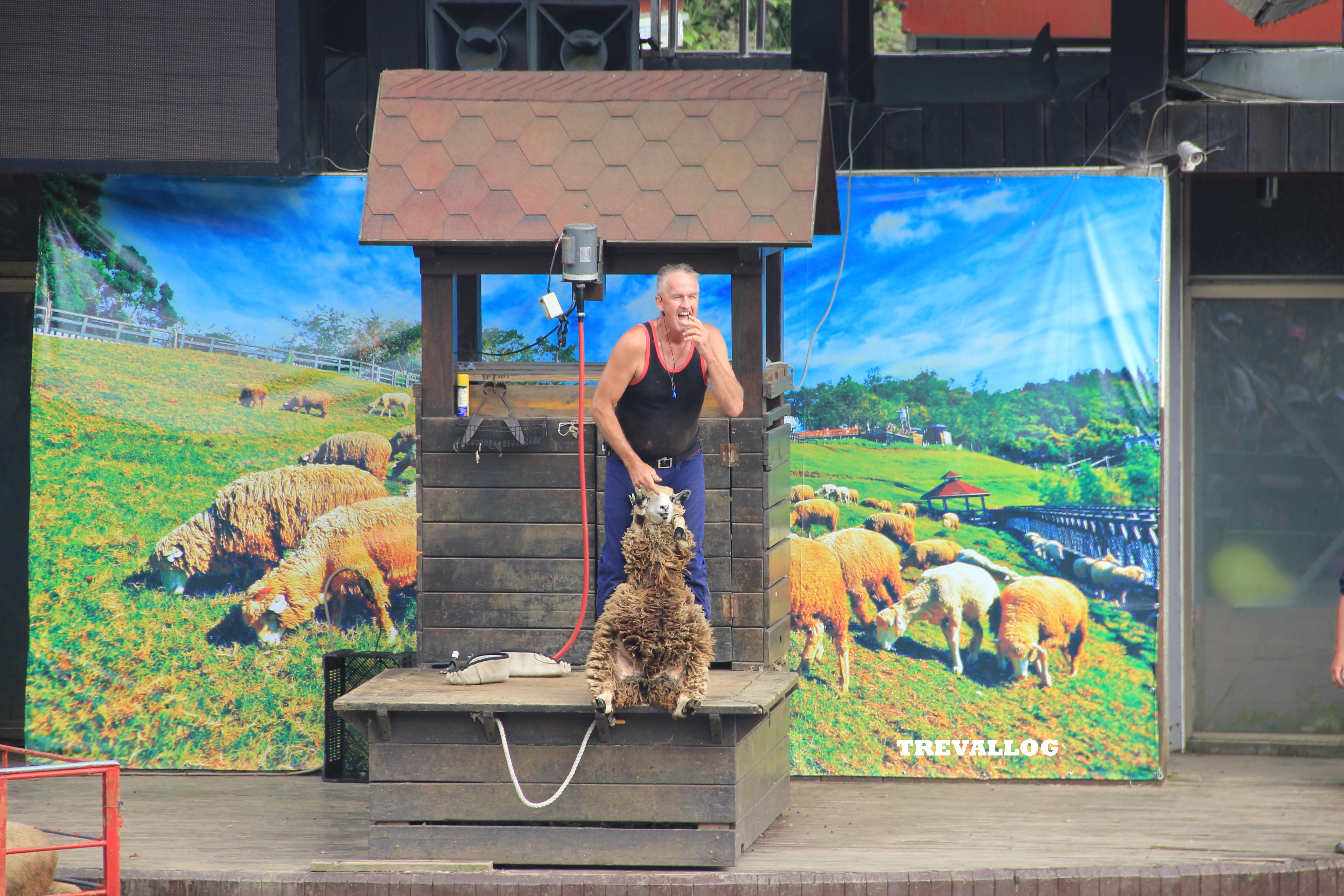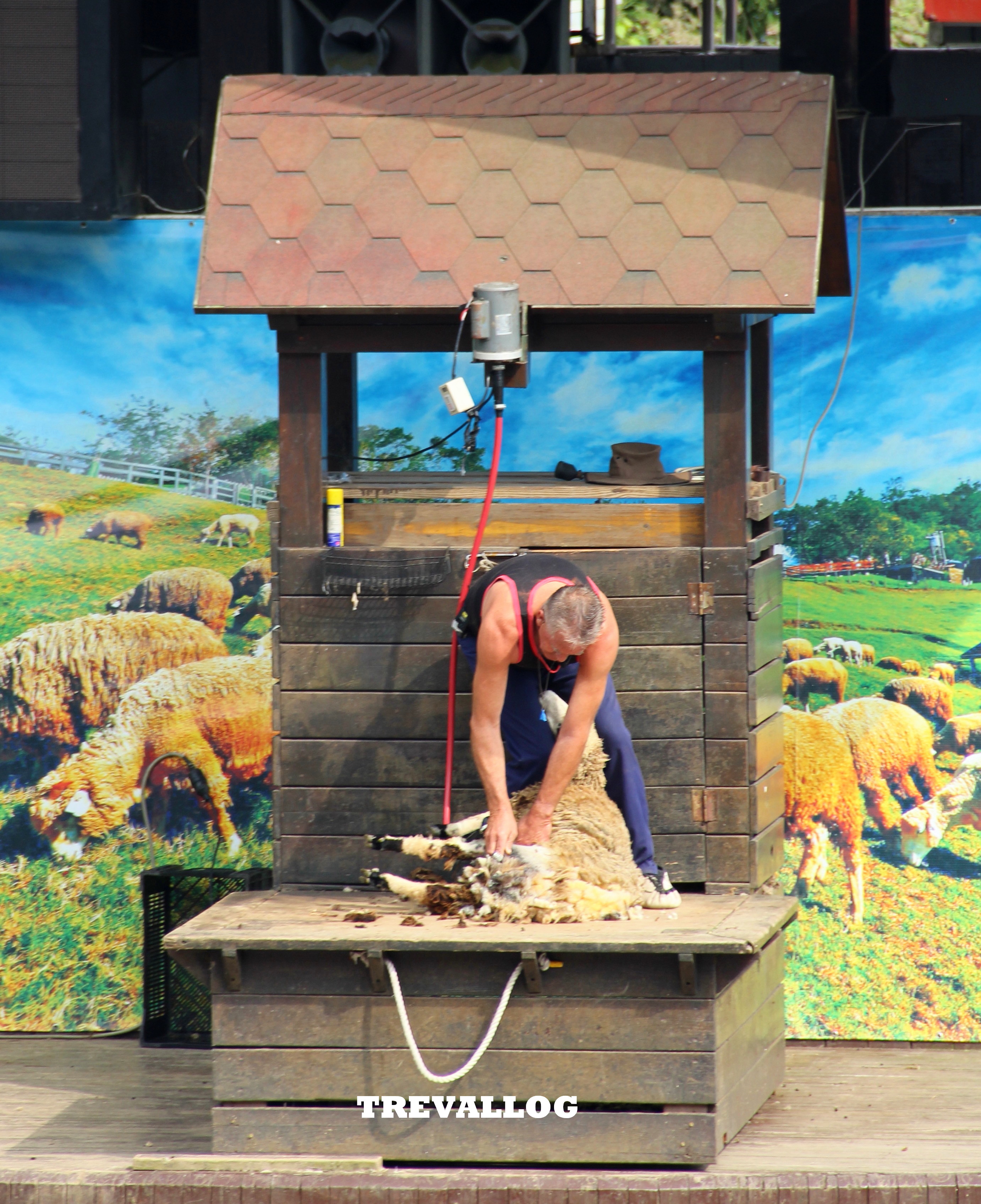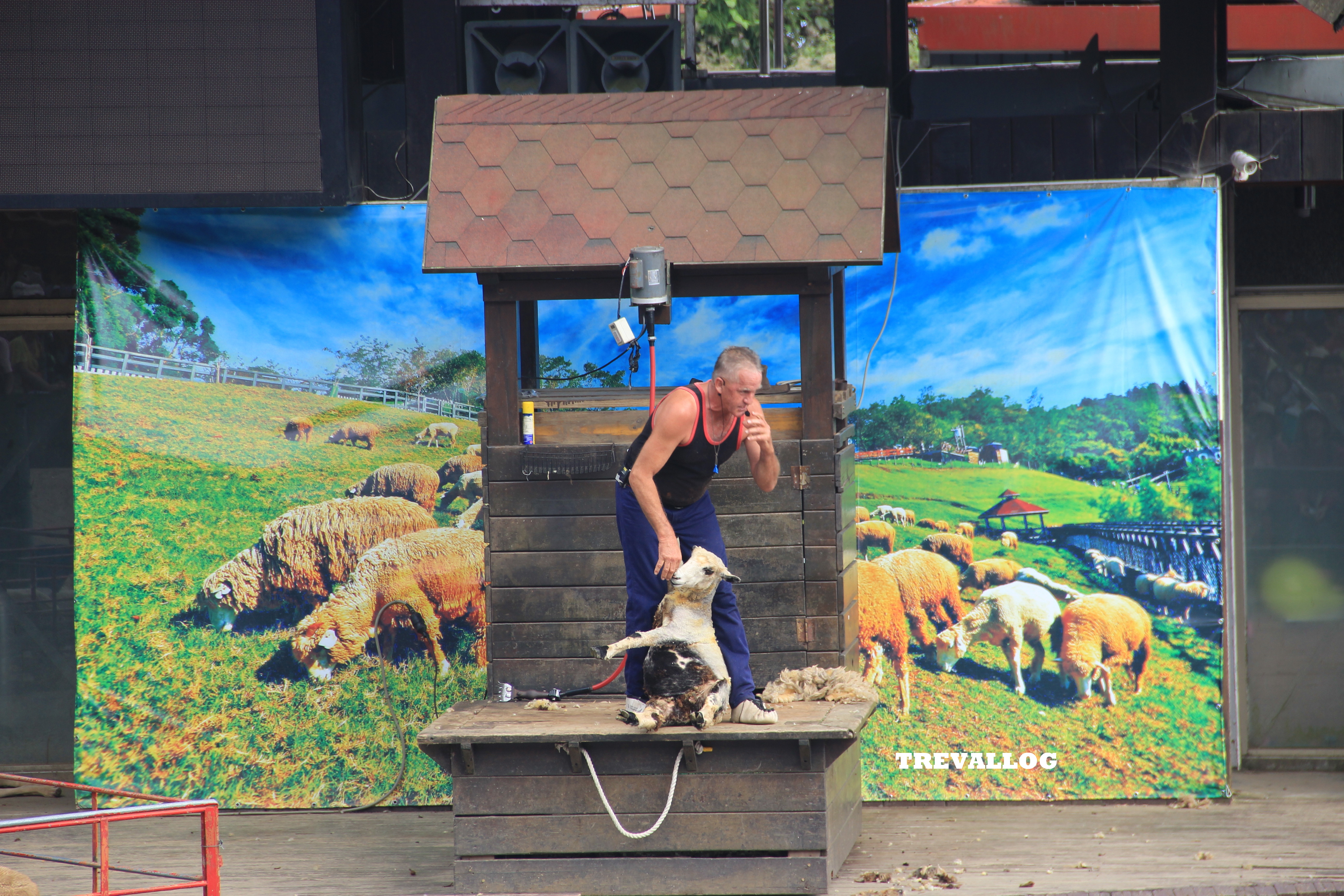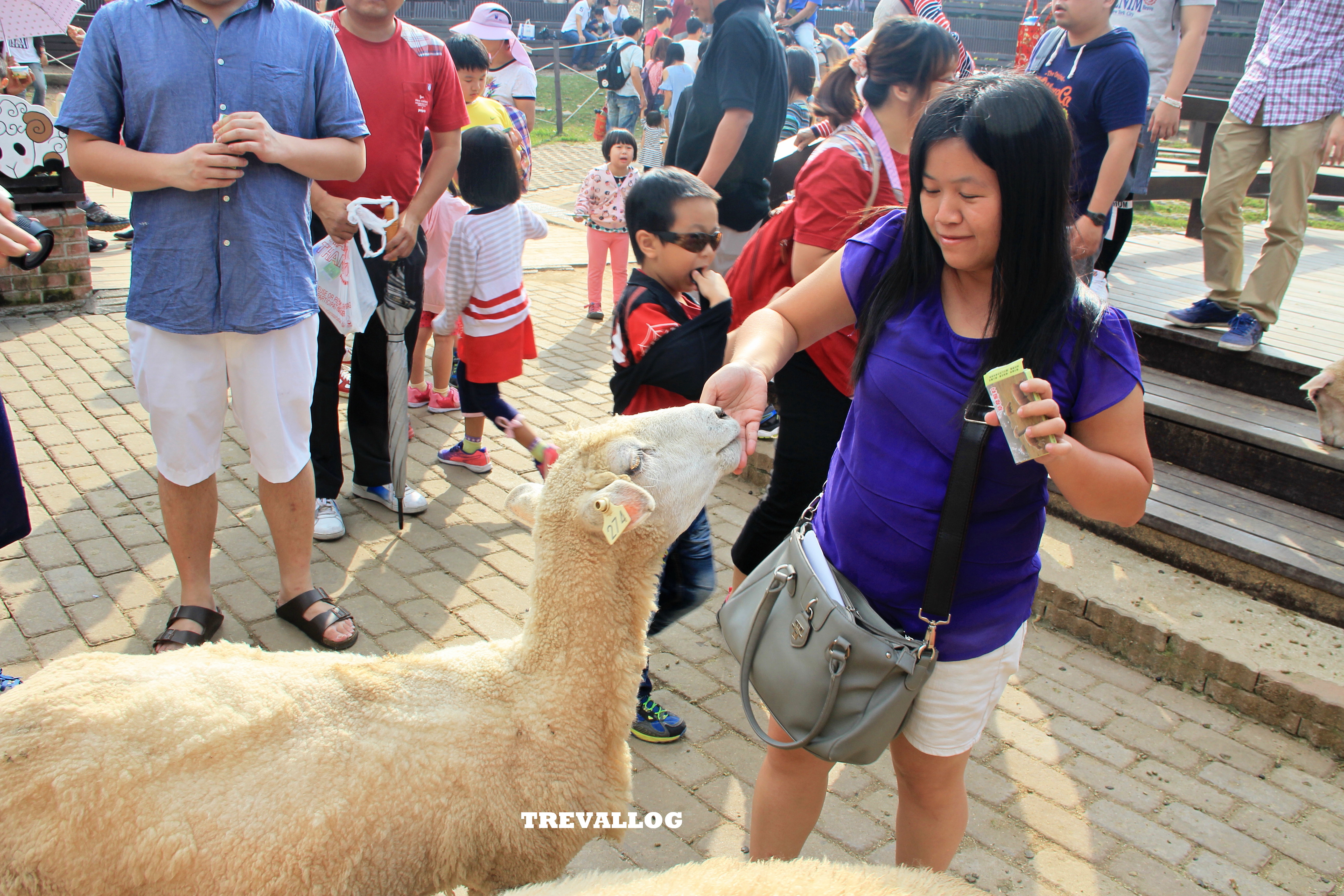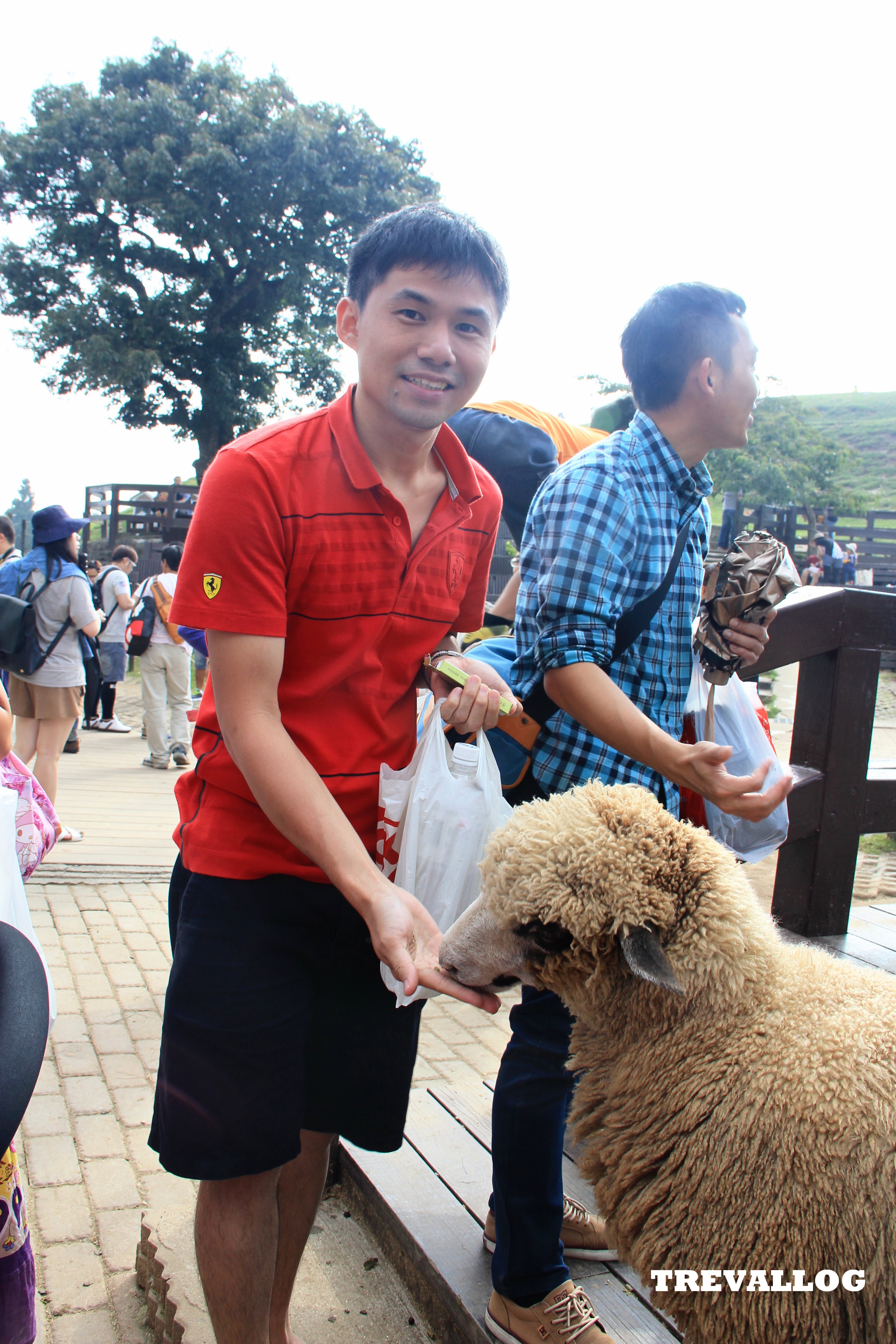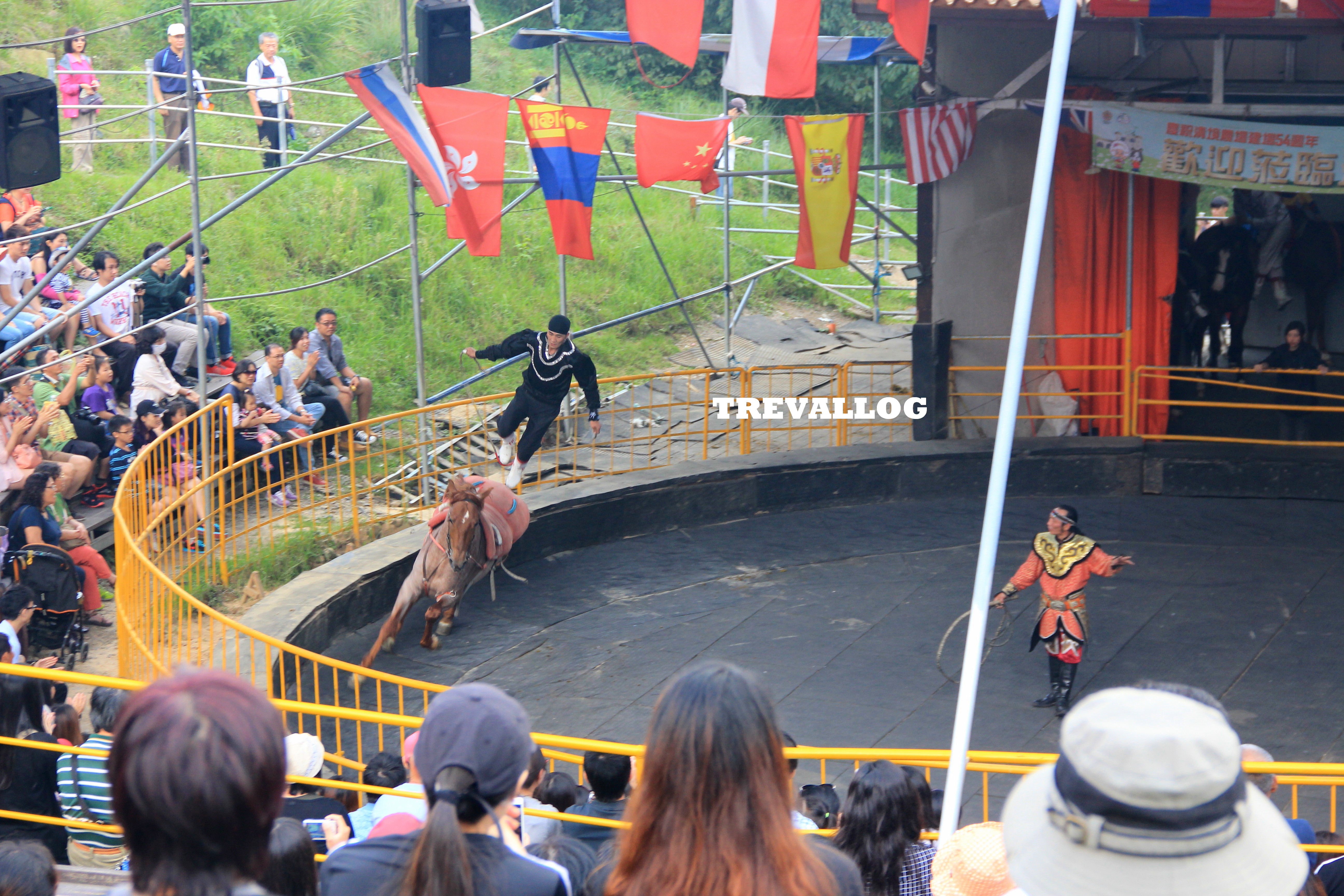 After the shows, we explored the farm and took photos. After that, we took shuttle bus back to the bus stop near Little Swiss Garden. Feeling tired, we had early dinner at 7-11 at little swiss garden, re-enter little swiss garden, watched night water performance (which was exactly the same as the one in the day), called the pick-up transport, and went back hotel to have early rest.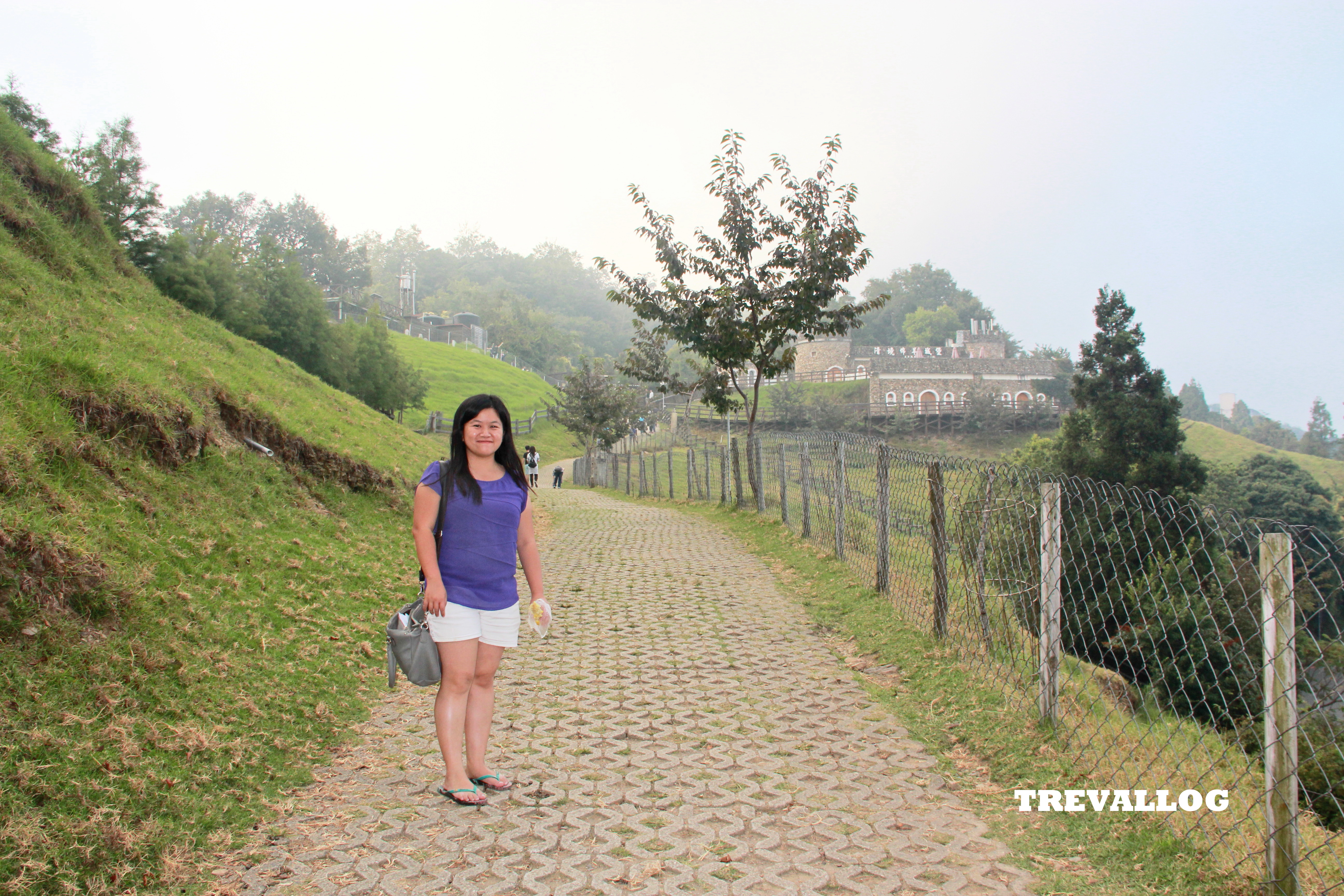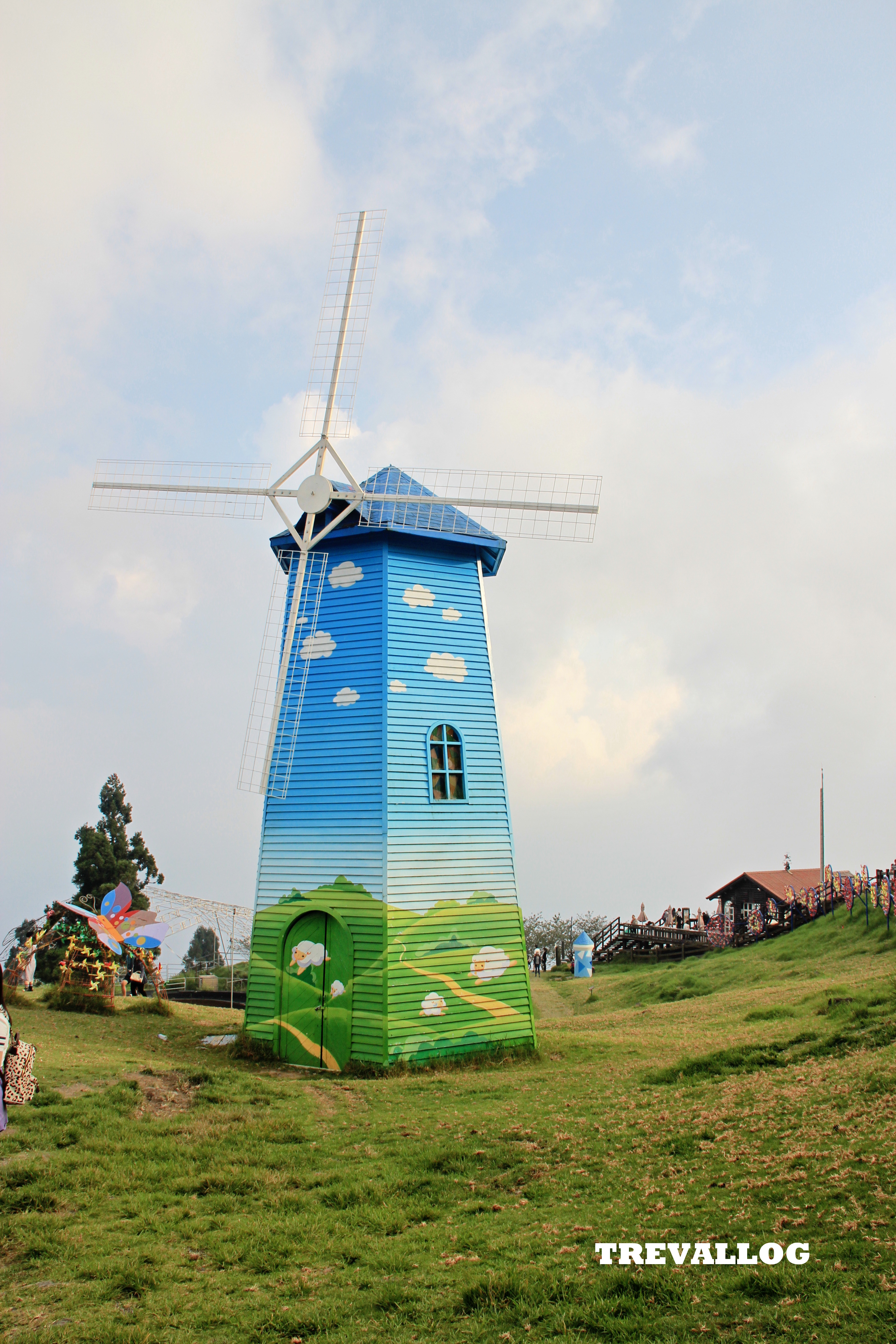 TIPS
I couldn't find map for Taiwan local trains. The only way for me to plan for local train transportation is to go to their official websites, which are quite informative and interactive. You may visit http://www.railway.gov.tw/en/index.aspx or http://twtraffic.tra.gov.tw/twrail/English/e_index.aspx# 
The official website for Taiwan HSR (High Speed Rail) can be found here: http://www5.thsrc.com.tw/en/index.asp Currently in 2015, there are 11 stations in operation, see the yellow locations in the map below. In my opinion, pre-booking is not necessary as there are many trains in a day.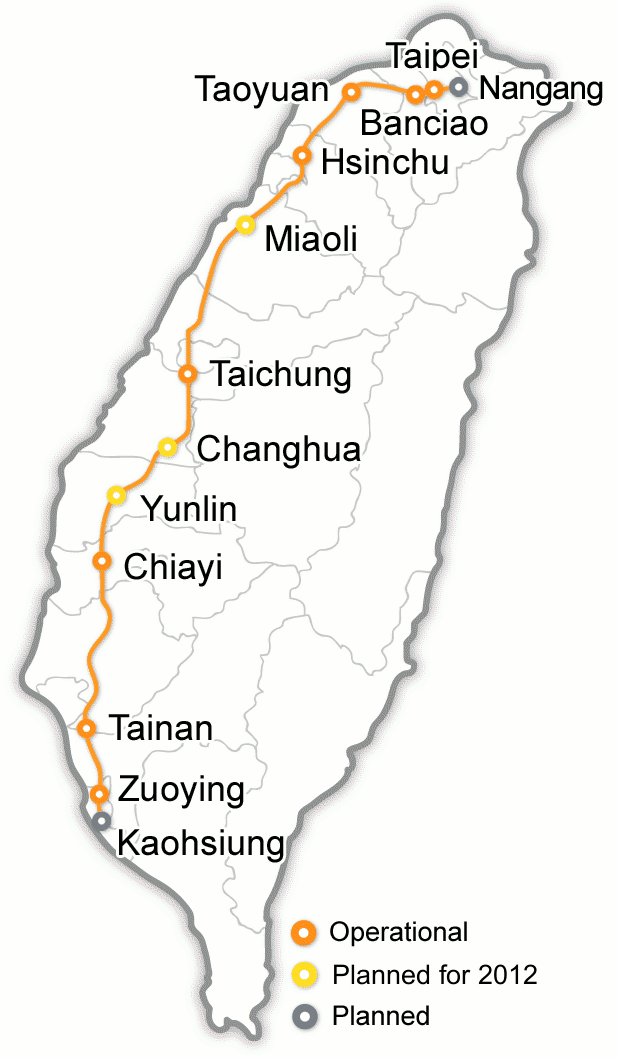 To go to Cingjing from Taichung HSR, I highly recommend you to take Nantou bus from Taichung HSR (avoid transit at Puli), because the seats are on first-come-first-served basis. Hence, when Nantou bus stops at Puli, people who join the bus in Puli will have to stand on the way to Cingjing. Also, if you transit at Puli, there's nothing much to be done, except probably visit the nearby KFC. Puli is the middle point between Taichung, Cingjing & Sun Moon Lake. Nantou bus will stop at many stops on the way to Cingjing. Therefore, you may ask your hotel what the nearest bus stop name is, and then inform your Nantou bus driver where you want to stop or your hotel name, the driver will announce to you when it's your stop.The bus also stop at Little Swiss Garden and Green Green Grassland. To check the timetable and price, you may visit their website at http://www.ntbus.com.tw/en-index.html To get a sense of direction, below is map showing location of Tai Chung, Puli, Cingjing, and Sun Moon Lake.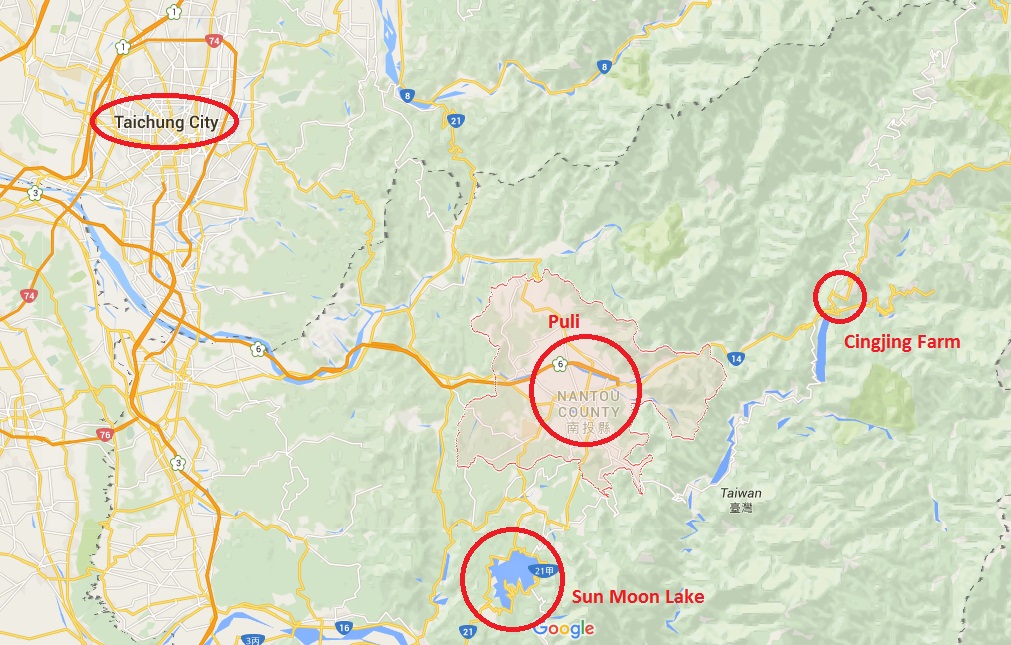 The map of Cingjing with additional translation that I added: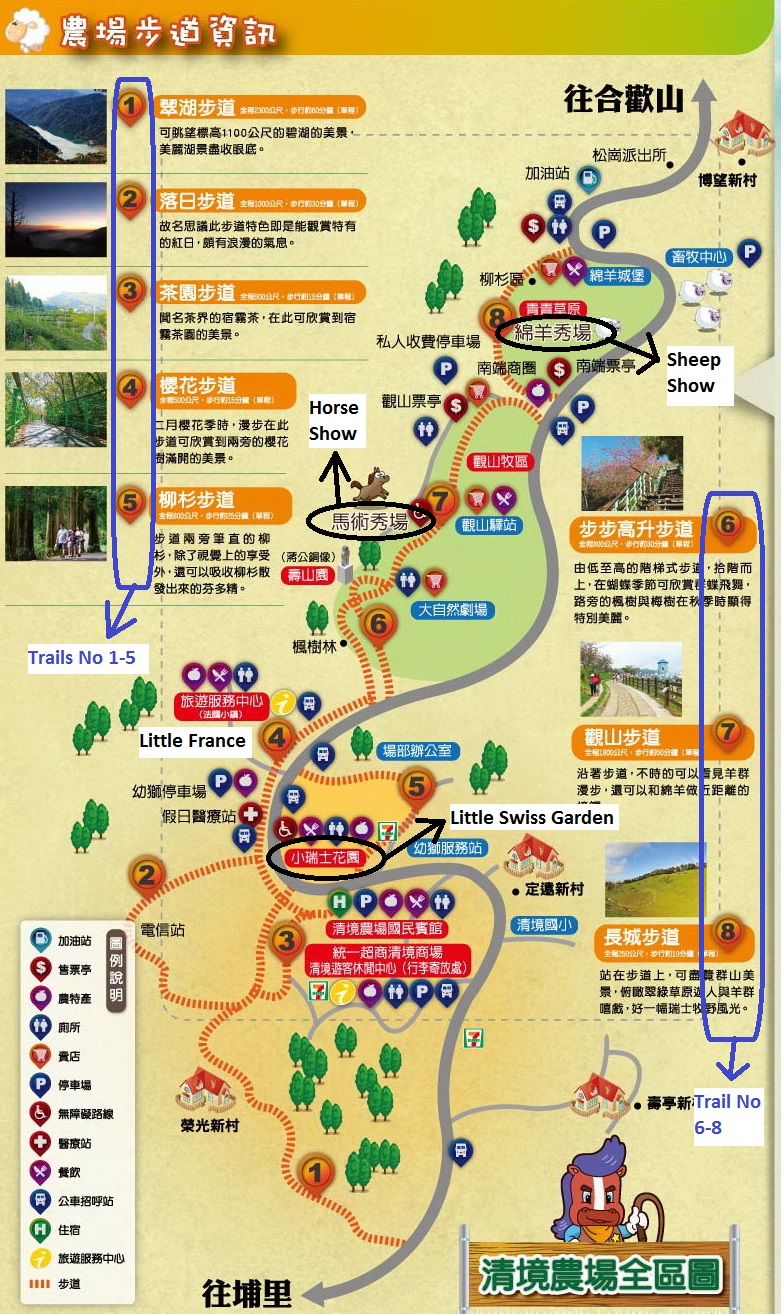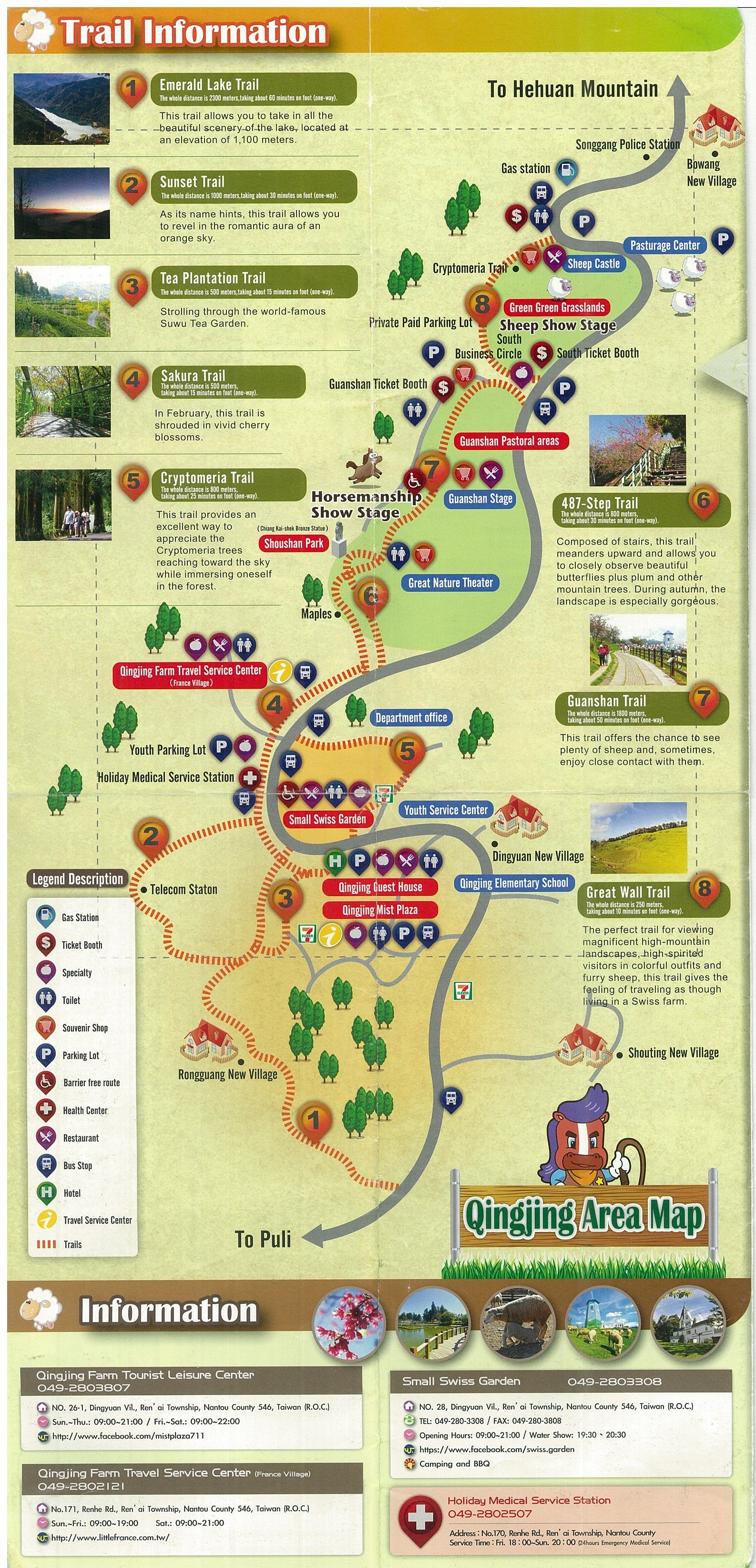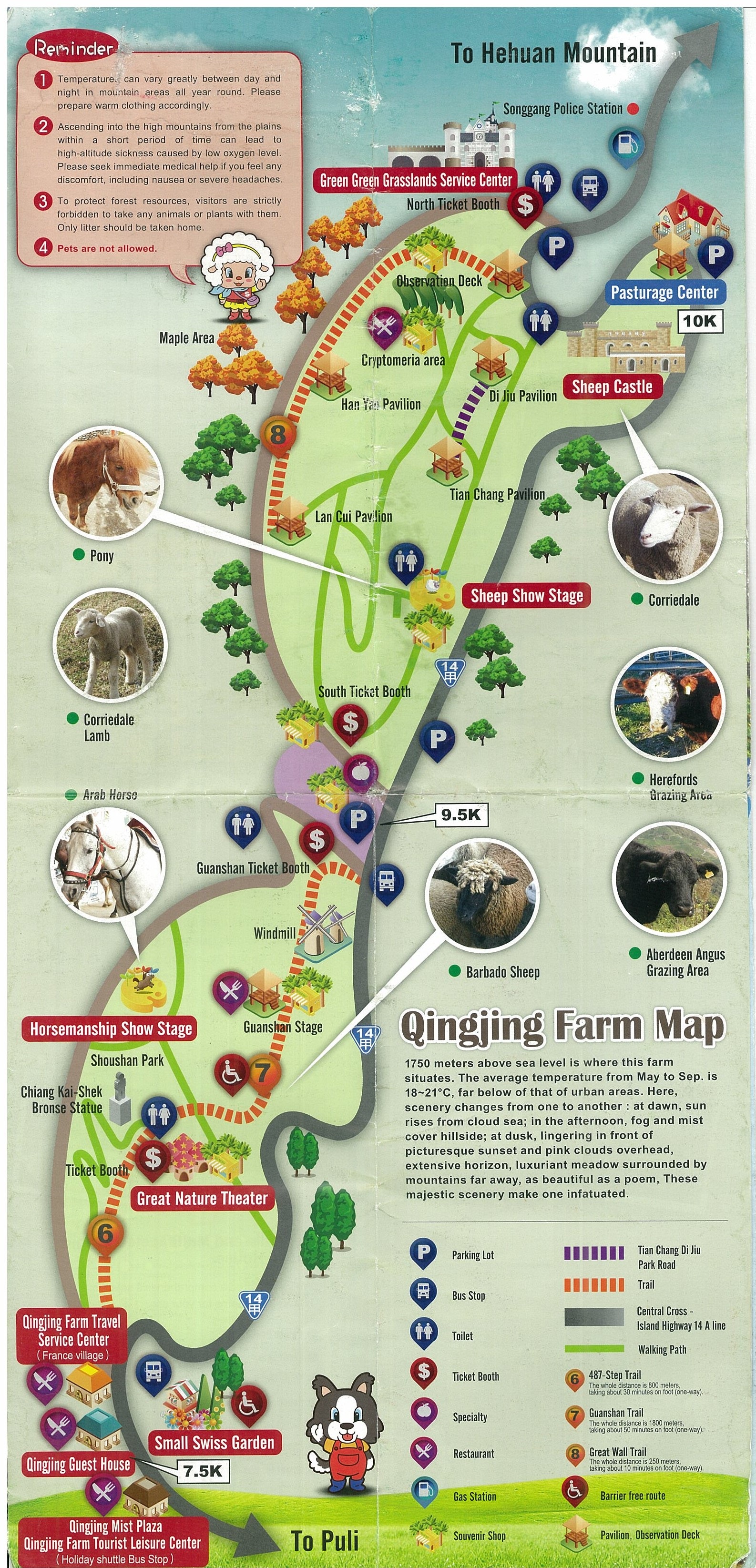 The easiest way to get around Cingjing is by calling the pick-up service. They charge a flat price of TWD 50/person, and they will pick you from anywhere in Cingjing and send you to your destination. This is the phone number of the pick-up service.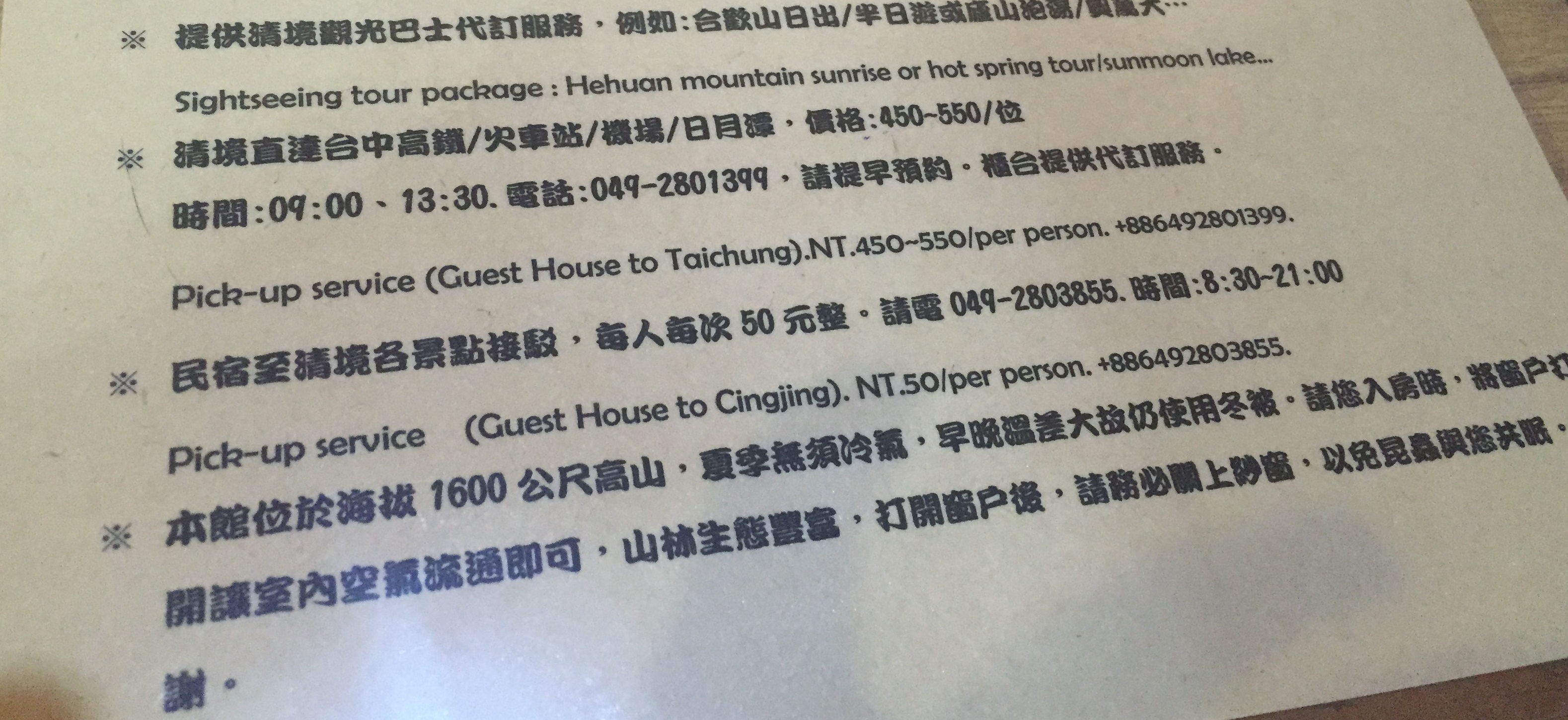 Disclosure: Some of the links in this post are affiliate links. If you make any purchase through my links, I will receive a small commission, at no extra cost to you. Thank you for your support 🙂