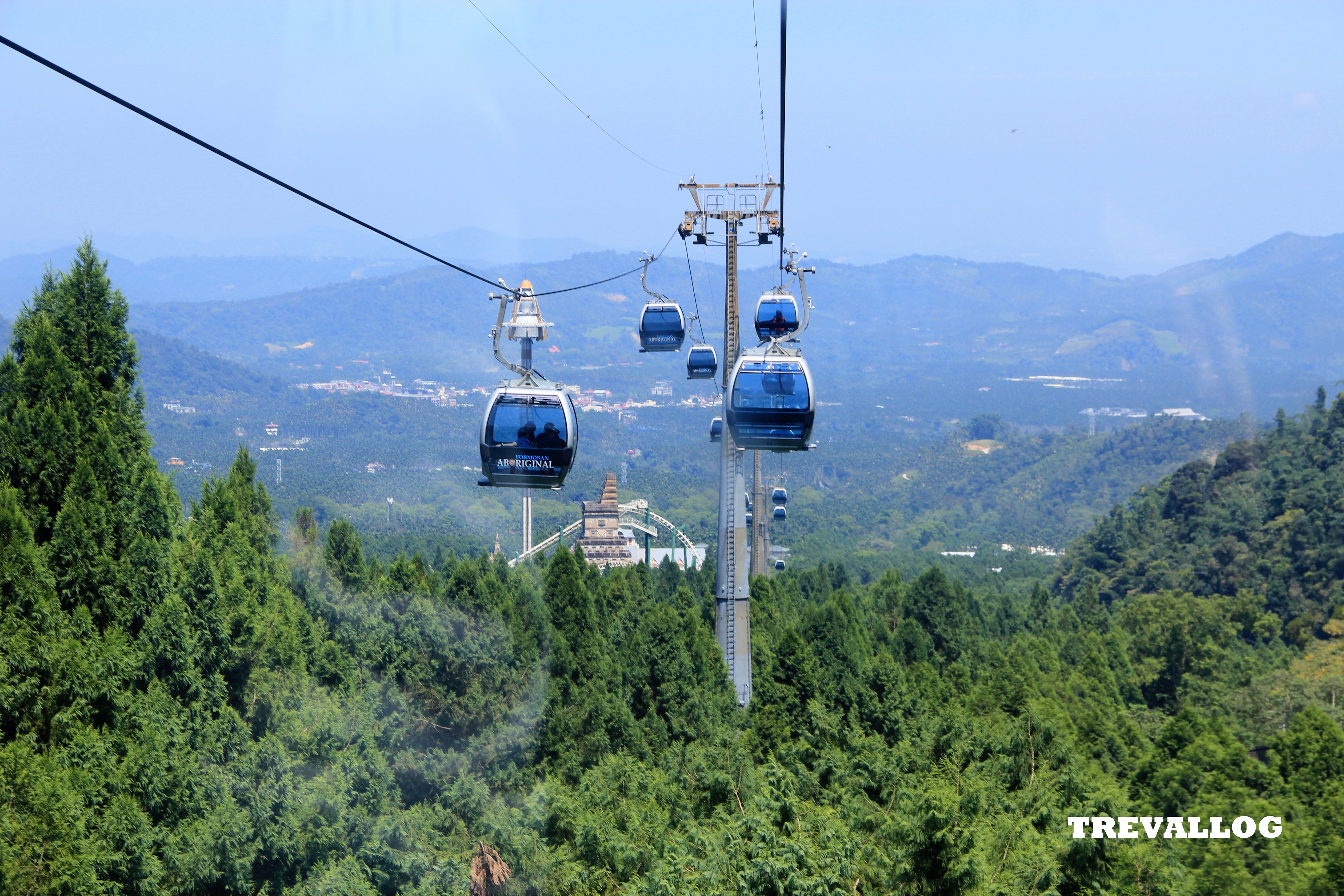 On the 5th day, we had a hearty breakfast. Our guest house owner bought us glutinous rice with soya milk. It was great and filled our tummy to the fullest.
We then packed our stuffs and the owner's friend drove us with our luggage to Shuishe. We stored our luggage for free at the information center. After that, we walked to the pier and boarded the ferry to Ita Thao. The ferry stopped at Xuanguang first, but we didn't have time to explore this station.
From Ita Thao Pier, we walked to ropeway station. We followed the signage but got lost somehow. We found the station in the end and took the ropeway to Formosan Aboriginal Culture Village (some refers it to Ita Thao Village). After we arrived at the village, we took skyline to the Amusement Isle.
[Apology for the water spot on my camera lens, I didn't realize this on the day, hence all my photos has some kind of blurry spot at middle right, sorry about that :'( ]
Tips: The shuttle boat (also called ferry) goes around 3 piers only (Shuishe, Syuangang and Ita Thao). It's better that you hold on to the timetable so that you can plan your journey. You may find the timetable from the ferry pier. You may consider buying package for the tickets.
We got our Ferry, Ropeway, and Formosan village tickets from our guesthouse landlord because it is cheaper, I suggest that you buy the package from your guesthouse if they have, or from Nantou bus website.
Ropeway is open from 10.30-16.00 (weekday) and 10.00-16.30 (holiday), and ticket counter is open 30 mins before operation hours. Price can be found in Ropeway website, do also check website for any closure/maintenance dates. You may consider buying package for the tickets.
For opening hour, price ticket, and maps of Formosan Village, check it from their official website. It's best explored during off-peak weekday period. Beware of your departure timing because the skyline and ropeway operation ends earlier than Formosan Village closing hour. If you miss the ropeway, you may use bus or taxi. You may consider buying package for the entrance tickets.
From the Formosan Village entrance, there are two ways to explore the Village. The first option (which I recommend) is to start from the entrance and slowly walk down through all the villages (rather than take skyline cable car). You'll end at the Amusement Isle. From there, you can take skyline back to Ropeway station, and then take rope way to Ita Thao Pier.
The second option (which was what I did, but I don't recommend you to do) is to take skyline to amusement isle first. From there, you'll walked up to villages and end at Ropeway Station. Taking this route means you will face uphill trails and it can be demoralizing.
In the amusement isle, we basically enjoyed almost all of the available attractions, namely: UFO, Mayan Adventure, European Palace Garden, Caribbean Splash, and Gold Mine Adventure.
Did I mention it was Monday and we didn't have long queues? That's how we can enjoyed almost all of the rides!
We had lunch at Maya Restaurant. After lunch, we then walked the uphill trails through all the villages until we reach the ropeway station. Then we took skyline back to amusement isle again (Aladdin pavilion) because we wanted to watch Illumination (ballet show from Japan), but we were late for 10 mins so we missed it.
Tired after spending hours at Formosan Aboriginal Culture Village, we went to Ita Thao visitor centre to ask for more information how to get to temples and to get the shuttle bus timetable.
Then, we waited at bus stop in front of visitor centre for Yes Bus. The bus came on time, we took it to Wen Wu Temple.
The round-the-lake bus timetable can be found at Govt's website or Nantou website. For the fare, you may ask the driver if you only take a few legs of the bus. If you use the bus whole day, do consider purchasing one-day pass at TWD 80.
At Wen Wu, it rained on and off. After we took photos and did a brief exploration, we waited at the bus station and took bus back to Suishe.
At Shuishe, we quickly collected our luggage and bought some food and drinks. After that, we bought bus ticket to go to Taichung HSR and queued at the only line. We then boarded the bus, enjoyed some bread on the bus, and enjoyed our ride directly to Taichung HSR. There, we rushed going to HSR ticket counter to buy ticket for Taipei-bound HSR train.
On the HSR train, we frantically contacted our Taipei friends to set the time to meet in Taipei. Once we arrived at Taipei station, we took MRT to Ximen and met Ab. Ab guided us in Ximending area to our hotel, Go Sleep Hotel Xining.
It was on top of some busy apartments. After checking in, we went to a restaurant for dinner. We met Ruby also at the restaurant and had dinner together. The dinner was our thank you to Ab for bringing us around on day 1. And also for celebrating my meetup with Ruby after our last meetup about 4 years ago! Gosh, time flies. So we treated everyone, yay.
After dinner, Ruby and her friend drove us to Rao He Night Market. She treated us with all the snacks that we chose.
We were already so full from the earlier dinner but couldn't miss the chance to eat from Taipei night market, so we keep on eating: grilled corn, dessert, etc.
From night market, they drove us to a canal with bridge (I'm not sure what the place is called), and even to Taipei 101. It was already midnight and I was half asleep but Ruby was still so energetic.
Then they drove us back to hotel and we called it a day. It was great fun to meet friends in their hometown, and we were blessed to have called them friends.
---
This is Part 6 of my "Taiwan Trip in 2015" series. Read other posts in this series in chronological order:
Part 2: Taipei and Jiufen – Badouzi, Buyanting, Gold Waterfall, Shuinandong / Yin Yang Sea, Gold Museum (Jinguashi), Jiufen Old Street
Part 4: Keelung-Taipei-Taichung-Puli-Cingjing , Little Swiss Garden, Green Grassland (Cingjing Farm)
Part 6: Ita Thao Village, Sun Moon Lake-Taichung-Taipei, Ximending, Rao He Night Market
Part 7: Exploring Beitou in Taipei
To see all articles I've written about Taiwan, visit my Taiwan page.
---
Disclosure: Some of the links in this post are affiliate links. If you make any purchase through my links, I will receive a small commission, at no extra cost to you. Thank you for your support 🙂