Marhaba Lounge at Terminal 1 is one of the three available contract lounges (the other two are SATS and Plaza Premium Lounge).
This is my first visit to Marhaba Lounge ever. So, here's my first impression and review of Marhaba Lounge at T1.
Lounge Access Eligibility
Marhaba Lounge is available for Business Class passengers of the following airlines:
Air China
Air France
Fiji Airways
Finnair
Japan Airlines
KLM
Myanmar National Airlines
Xiamen Air
In addition, Marhaba Lounge also accepts Priority Pass, LoungeKey, DragonPass and Diners Card, at the time of writing.
If you are not business class passengers of the above airlines, and you do not hold any of the above passes, you can still access Marhaba Lounge by purchasing a paid access via Loungebuddy.
Want to get free lounge access? Read: Which Singapore Credit Cards Have Free Lounge Access
During our admission, we had to present our lounge card as well as boarding passes during check-in. Our visit was on a weekend's afternoon and it was not a busy period. The check-in process was really smooth and fast.
Opening Hours
Marhaba Lounge at T1 is open daily from 6am to 1am.
To check the latest opening hours, I use PP's website here. I found the official website to be pretty unhelpful because it doesn't provide any information about Singapore's Marhaba lounges at the time of writing.
If you're departing during the time when Marhaba's not operating, and you're using Priority Pass or equivalent, your options would be SATS Premier Lounge at Terminal 1 (open 24/7), Plaza Premium Lounge at Terminal 1 (open 24/7), or other lounges in Terminal 2 and 3.
How to get there
After clearing the immigration, turn right and follow the signs to Marhaba Lounge (refer to the following photos). The logo of Marhaba is quite small, it's quite easy to make mistake.
We made the mistake of turning left because the first sign that we saw after immigration pointed us to the left direction, and we didn't check whether Marhaba's logo was in the sign. Lesson learned: follow the sign that has Marhaba's red logo.
The sign will bring you up to the third level. After reaching Level 3, turn right and you will see Marhaba Lounge.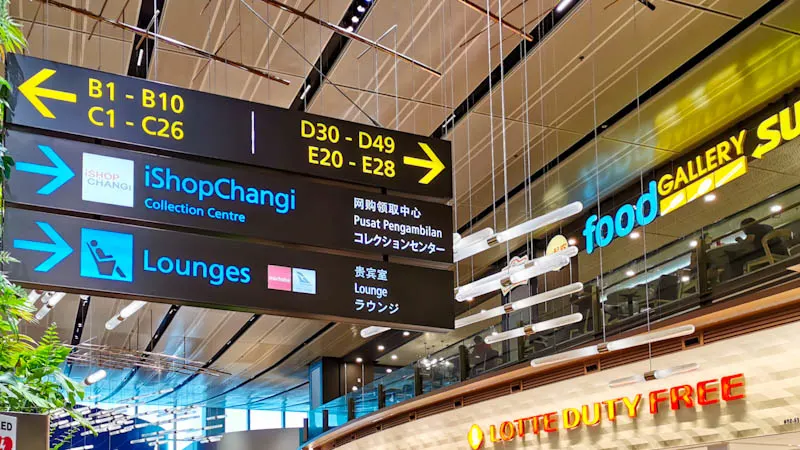 Have any questions about traveling in Singapore? Join All About Singapore Travel FB group, I'll be there to answer your questions!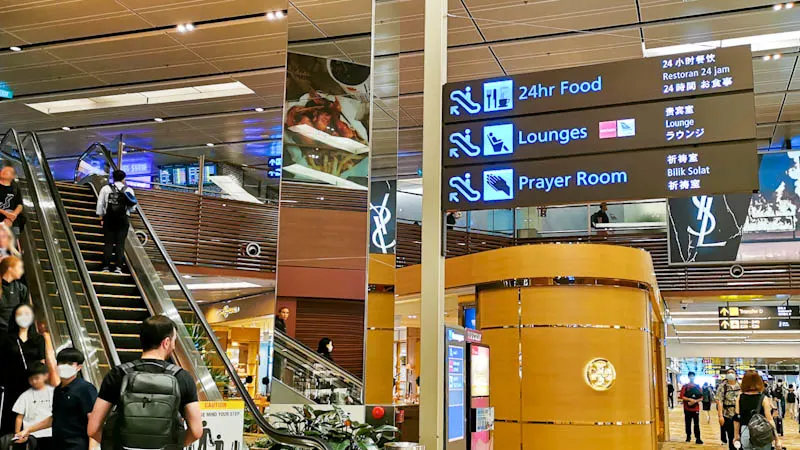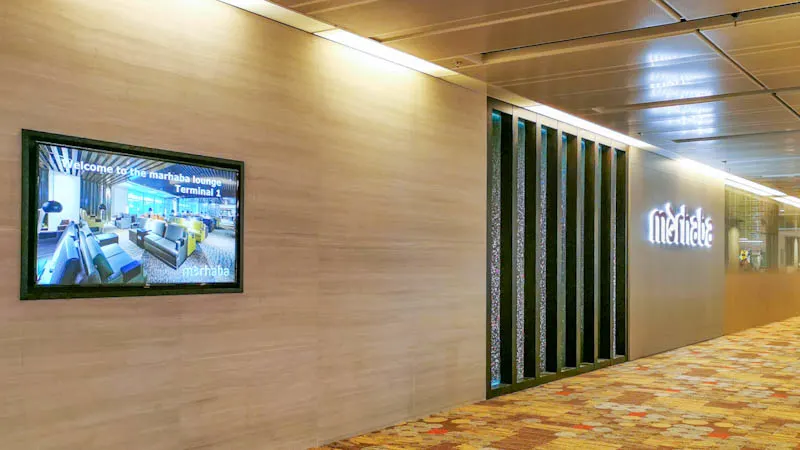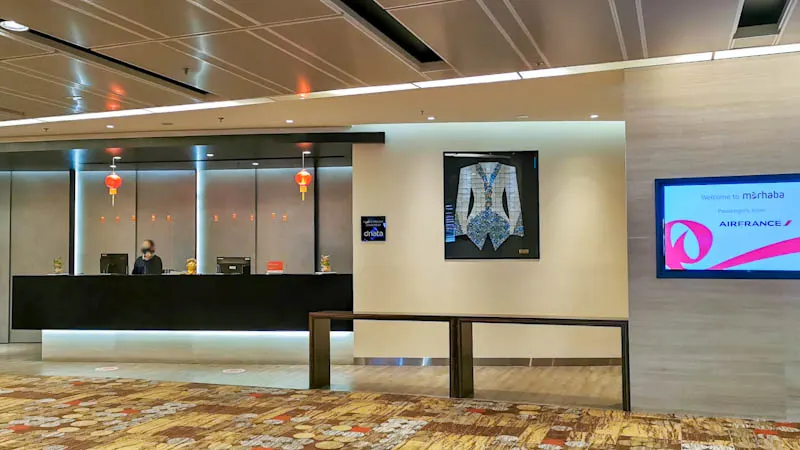 Seating
Despite having a narrow layout, Marhaba Lounge truly makes use of its space well. There were plenty of seats available during my visit. It was definitely a stark contrast to SATS which was always too crowded.
For easy reference, let me try to categorise the layout into 4 different sections. The first section, right behind the receptionist counter, is the dining area.
There are individual square dining tables, as well as dining tables by the sofa bench. There are some (but not many) many power outlets under the sofa bench. So, this place is more suited for dining only.
There is also a high table next to food counter (not pictured), which is perfect for people who prefer to eat while using their laptop.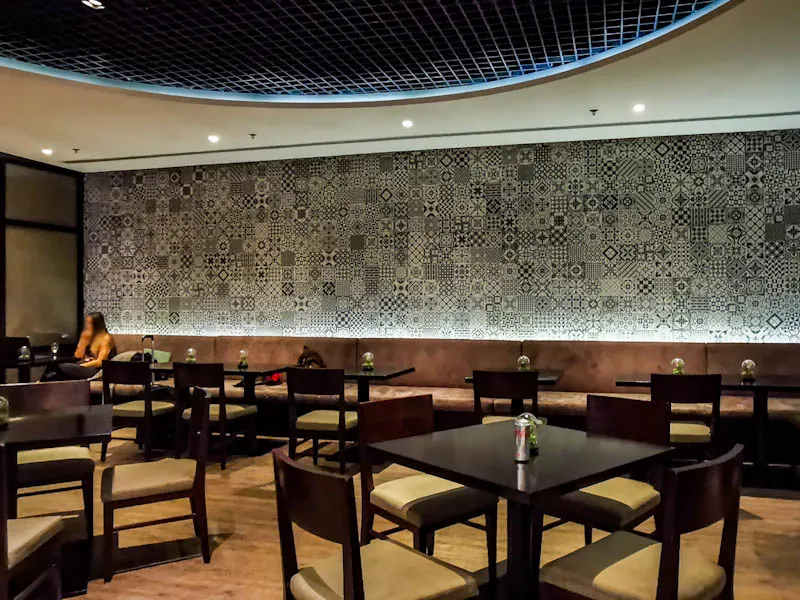 The second section (pictured below) has high tables with plenty of power outlets on one side, and armchairs with side table and power outlets on the other side. These seats get the most direct access to the alcohol section.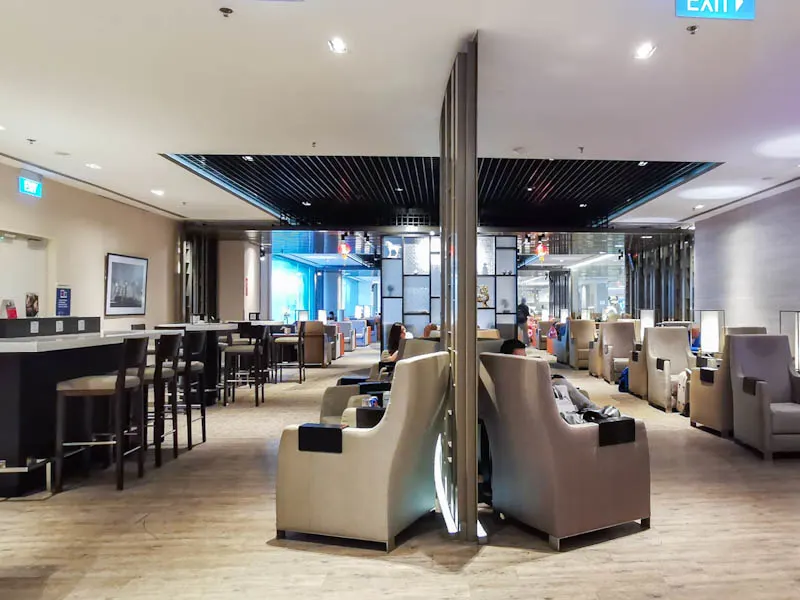 The third section (pictured below) has plenty of armchairs with side table and power outlets. The glass wall on one side is overlooking a small garden and the viewing mall at Public Area (Land-side). On the other side, the glass wall offers a view of the F&B stalls located on Level 3 of Transit Area (Air-side).
Even though the armchairs look good in photos, the truth is, they're not as clean as they look. There are patches of spilled drinks and stains on some chairs.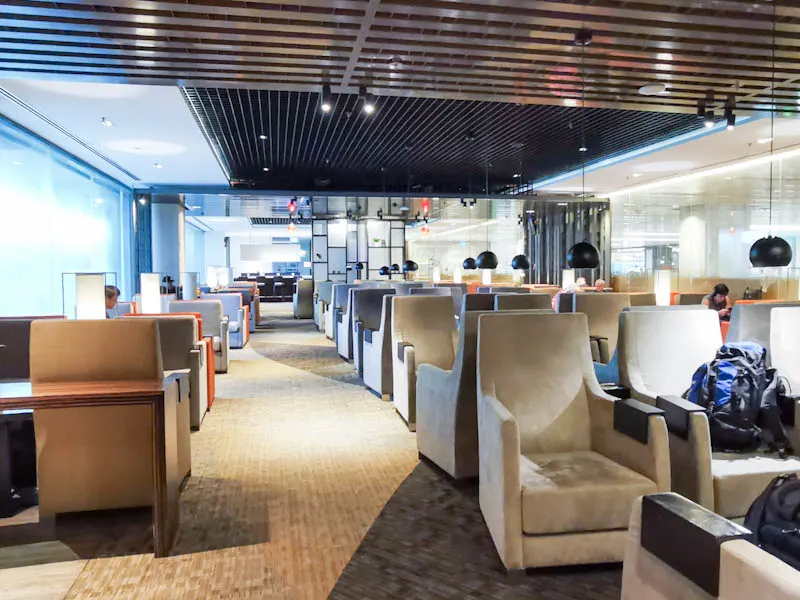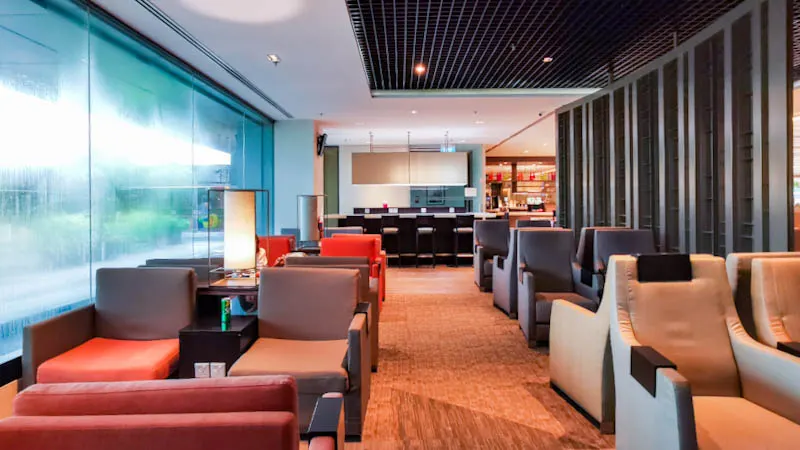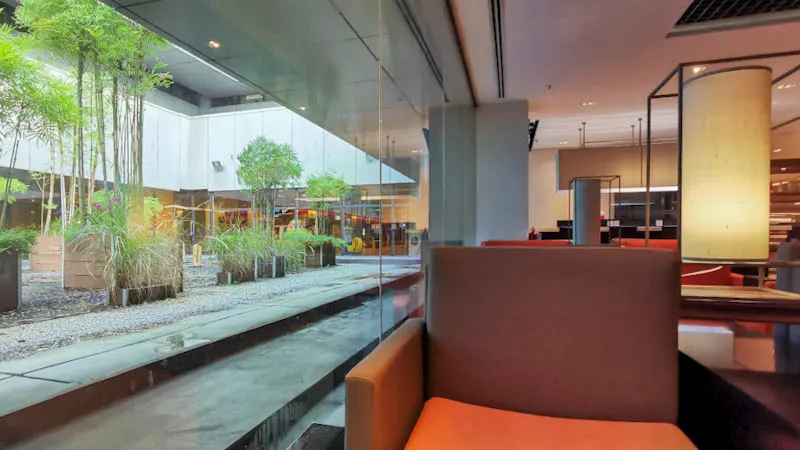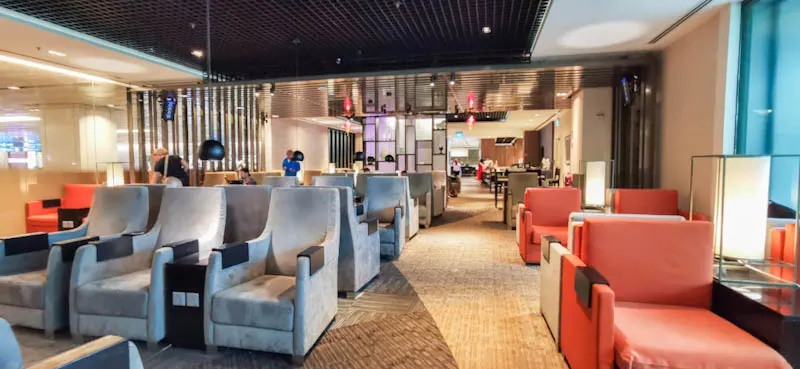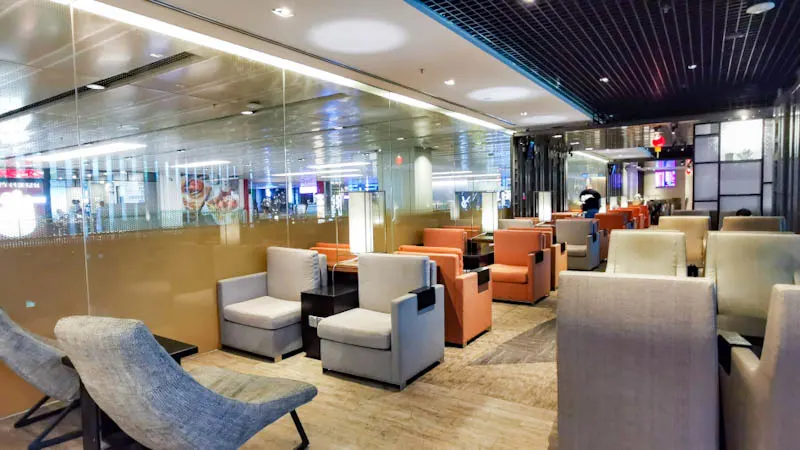 The forth section (pictured below) is the furthest from the entrance and has two high tables with plenty of sockets, and a small drink counter (which was not in use during my visit). Apparently, this looked like the least popular section. I guess it's best suited for people who need to do work which requires high concentration.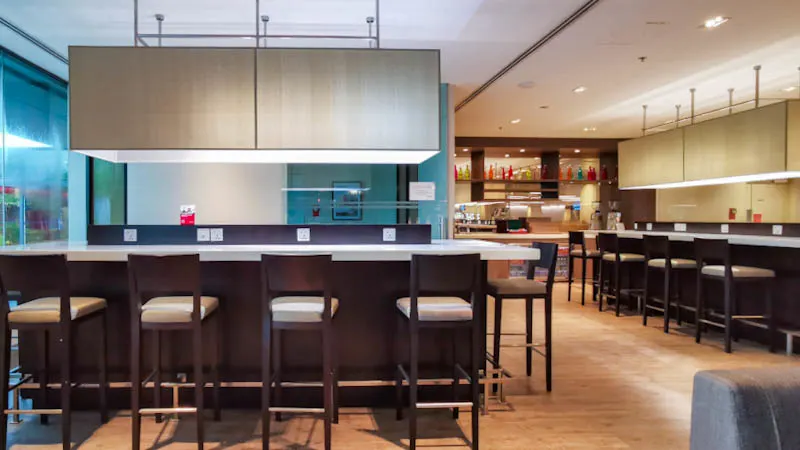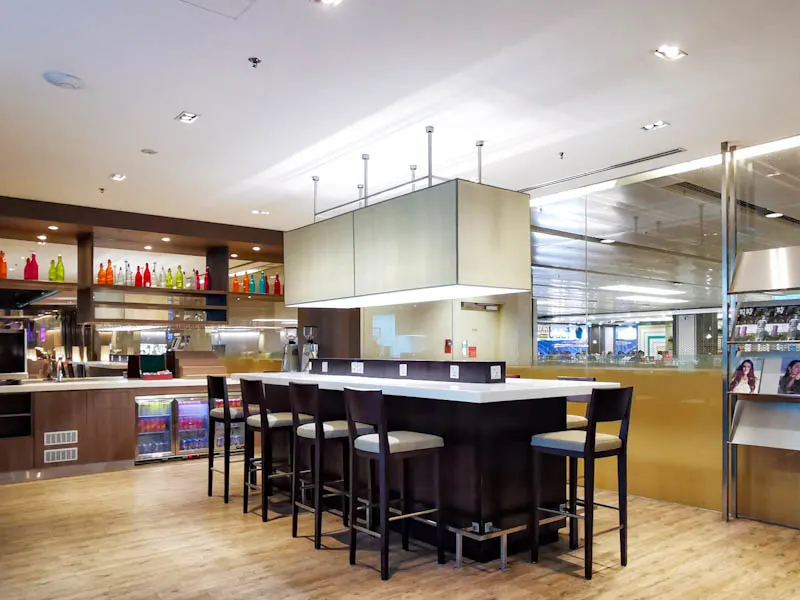 Food
The food selection is not too bad in terms of variety. But, in terms of taste, some are good, and some have rooms for improvement.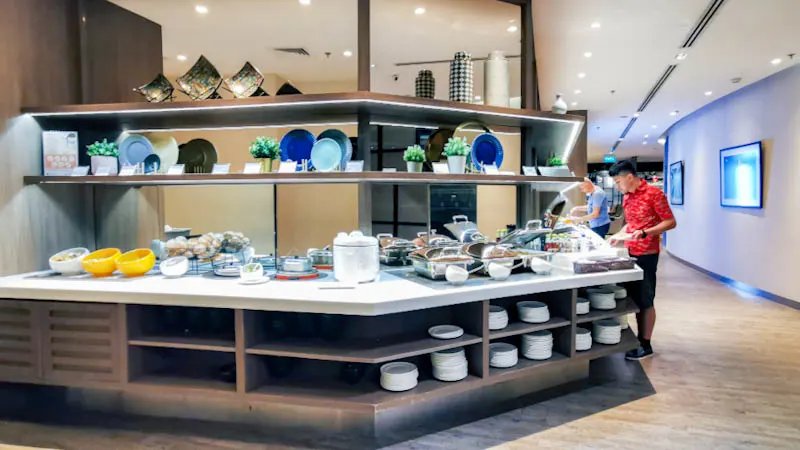 At the cold section, there were 3 bowls of cold salad: Thai chicken salad, macaroni & bell pepper vinaigrette dressing, and edamame bean salad. They tasted okay, no complaints.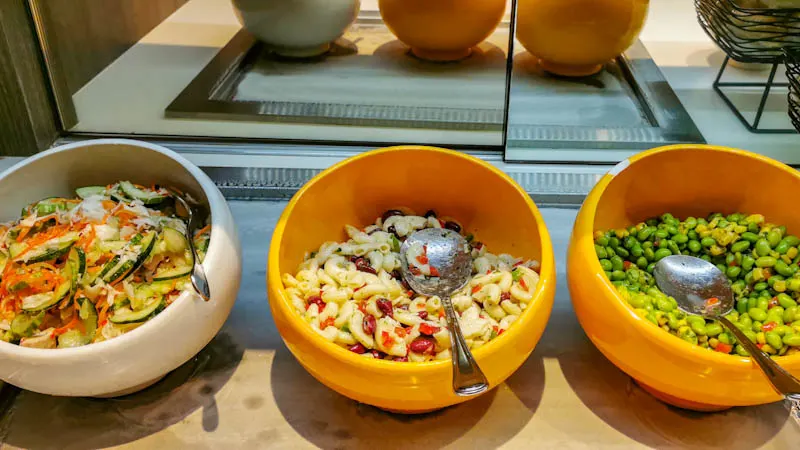 Next to the salad was the cream of mushroom soup with bread and butter. Taste was okay too.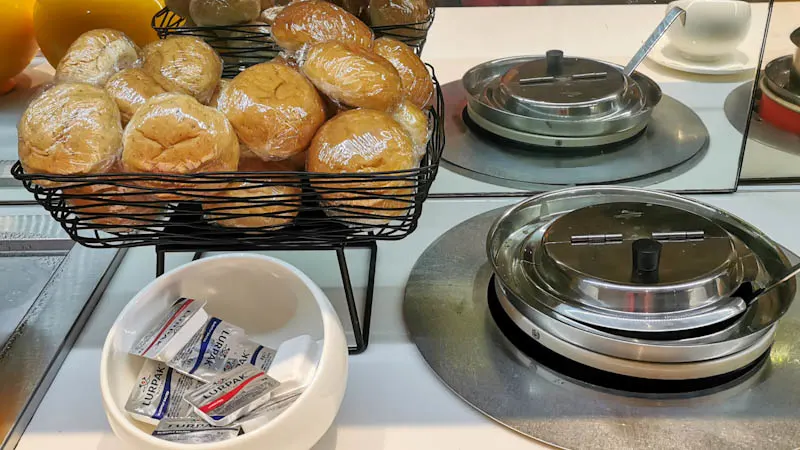 Next to mushroom soup was Japanese clear soup and spring onion. As a soup lover and mushroom lover, I enjoyed Japanese clear soup because they were quite generous with the ingredients.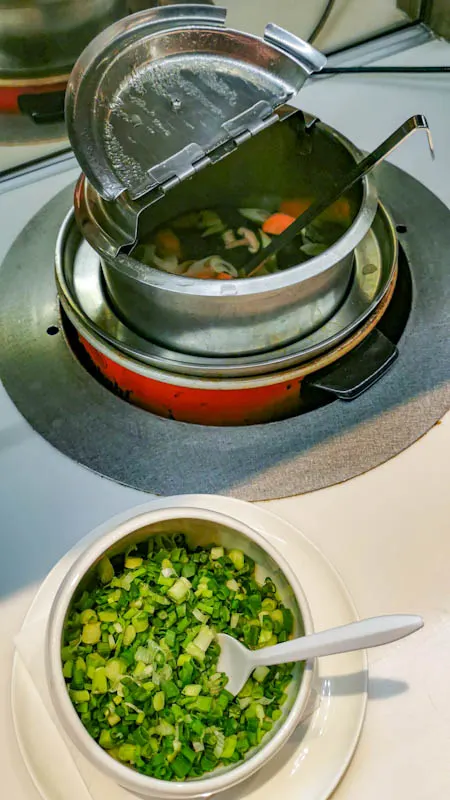 For the mains, they have Japanese beef curry, sweet & sour fish, and chicken rendang. I love the chicken rendang, not so much the other two.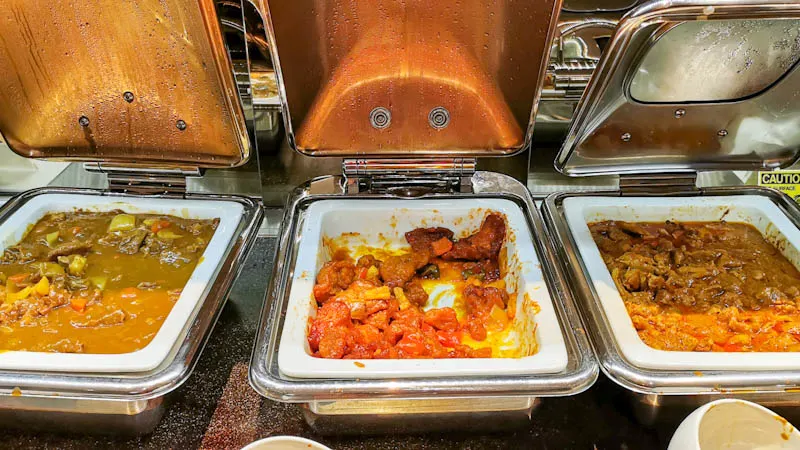 There were also Aglio Olio Pasta and Paneer Mutter Masala. I'm not a paneer person so I can't judge. For the pasta, it was alright, but some of the pasta has turned hard and thus became inedible.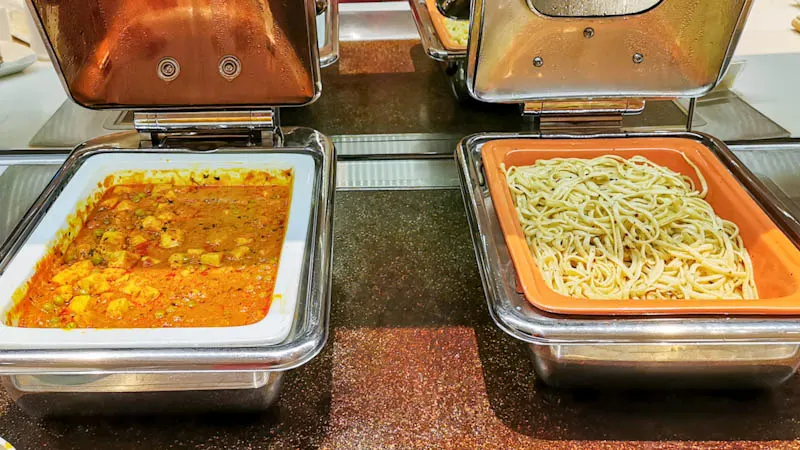 The funny thing is, they ran out of forks when we visited! Hence we had to use plastic forks instead.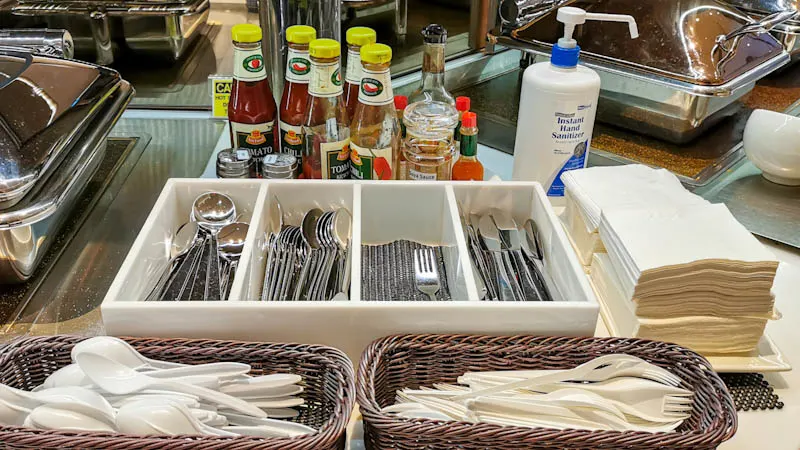 The sandwiches were not my favourites.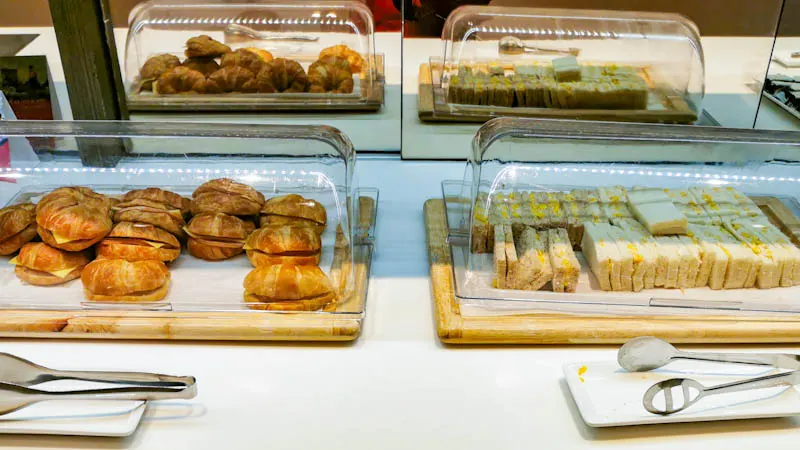 They served three kinds of cakes. I didn't try so I couldn't judge, but my hubby said it was just okay.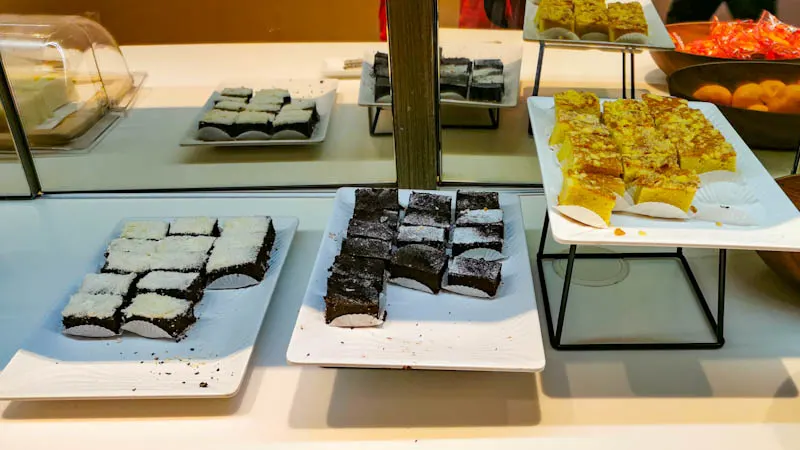 Then, there was a fruit section serving apple, oranges and cut fruits.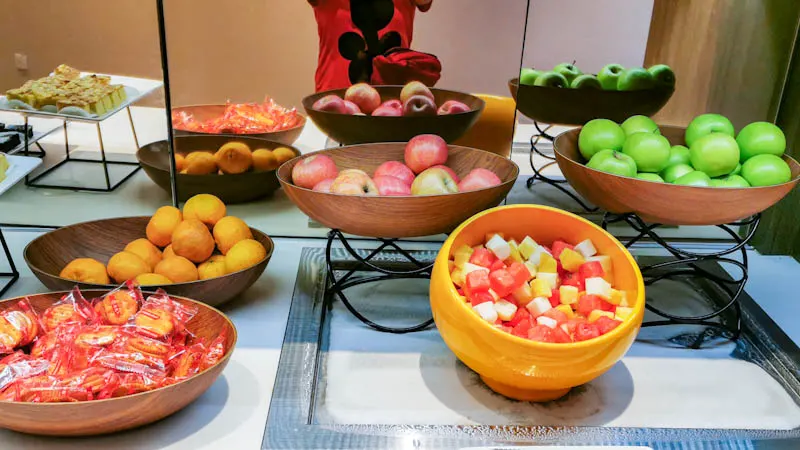 Drink
In the chiller, there were Coke, Sprite, Schweppes, Tiger Beer, Asahi Beer, fruit juices, tomato juice and milk.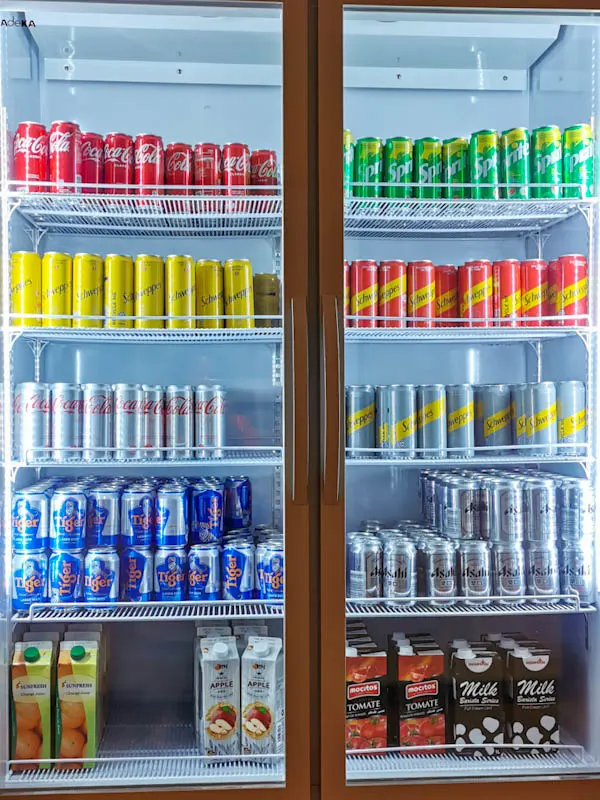 On the drink counter, there were a coffee machine, tea section and alcohol section.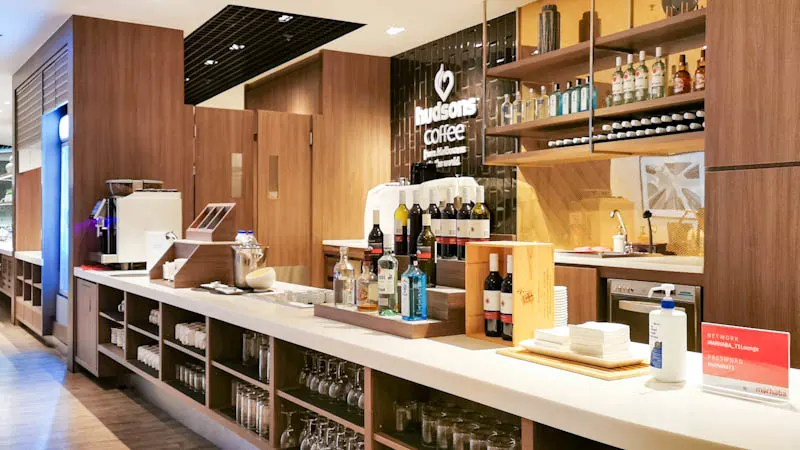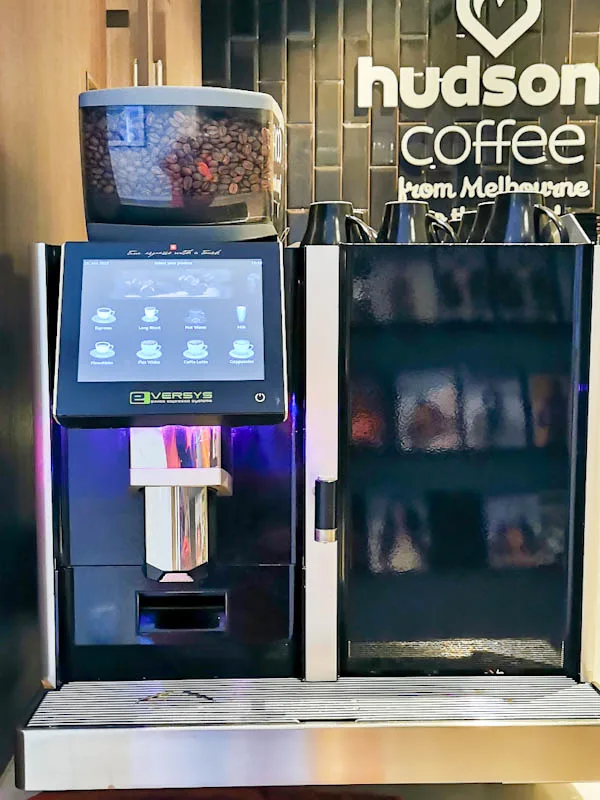 The coffee machine served espresso, long black, hot water, milk, macchiato, flat white, caffe latte and cappuccino.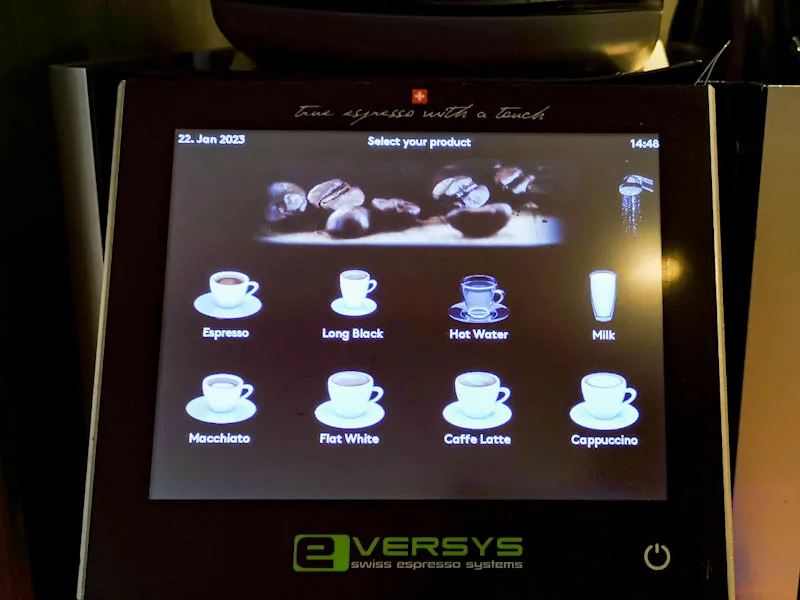 The tea section offered various Dilmah teabags.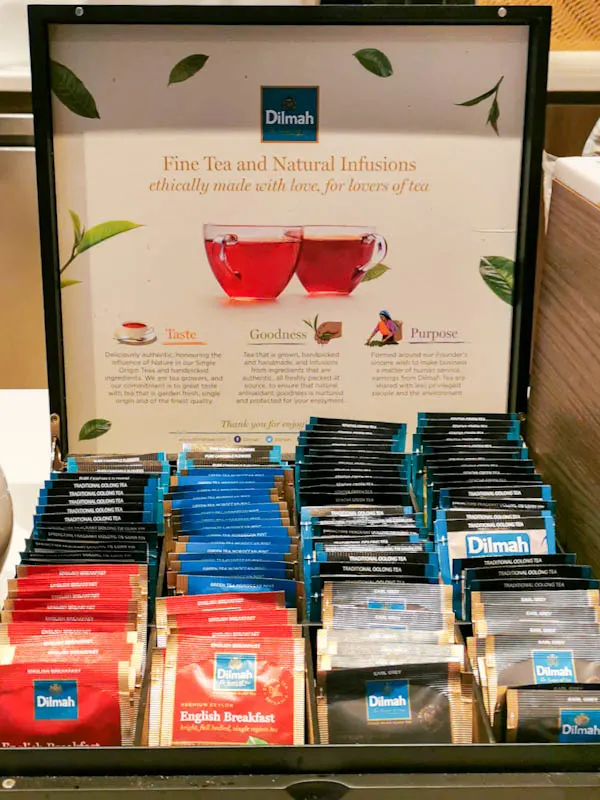 At the alcohol section, there were red wines, white wines, Absolut Vodka, Chivas, and Gin. There were also lemons if you need them.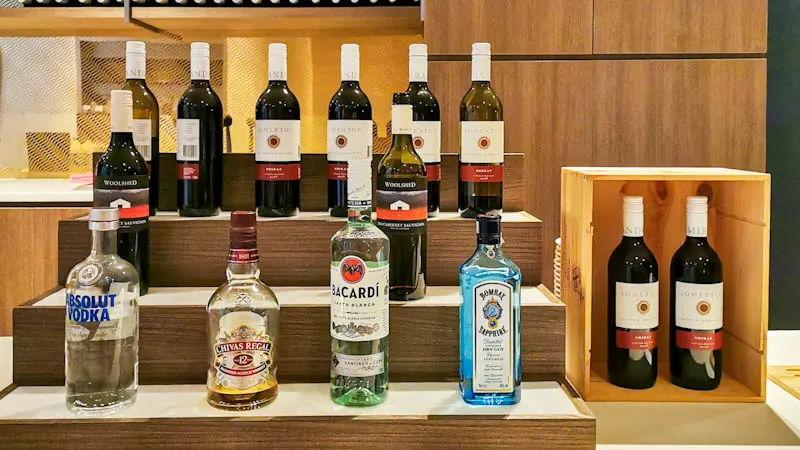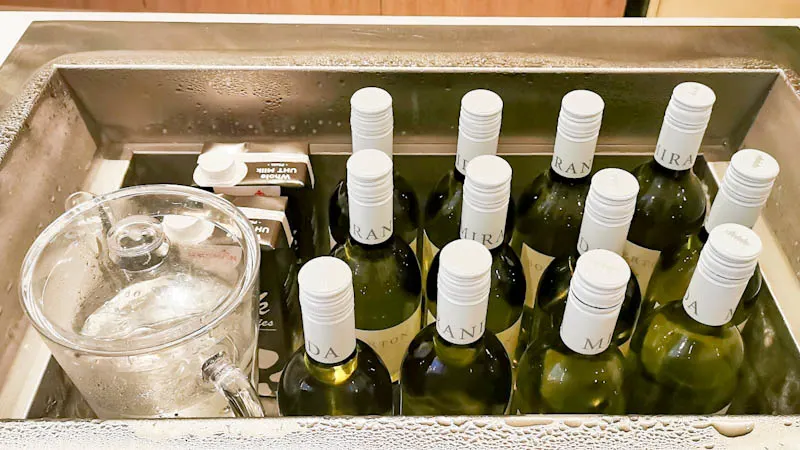 There was another drink counter at the section further from the entrance. I didn't see anyone using it. The coffee machine only served limited types of drinks. There were tea and chiller storing canned drinks.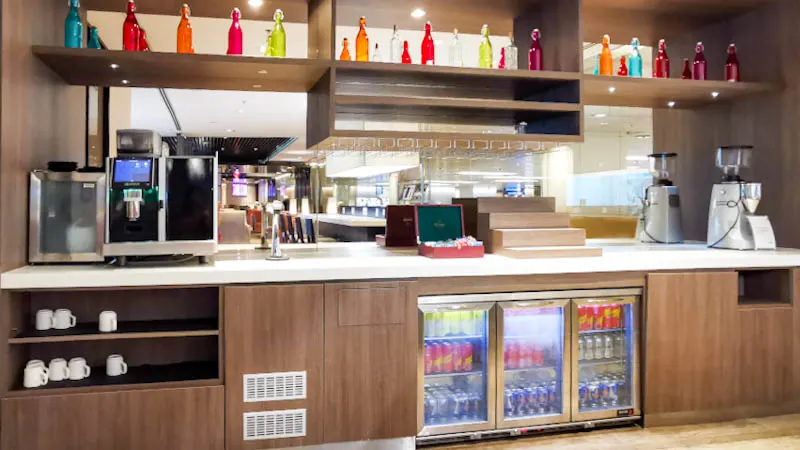 Shower Room & Toilet
After experiencing the wonderful shower experience at Changi Lounge, I wasn't keen on showering anywhere else, to be honest. Much less at Marhaba Lounge.
At Marhaba Lounge, the shower and toilet are combined. So, it's almost impossible to expect a sparkling clean shower room.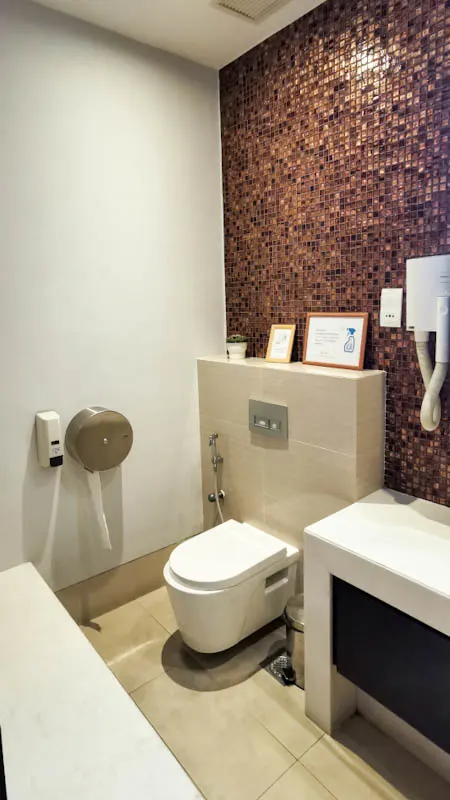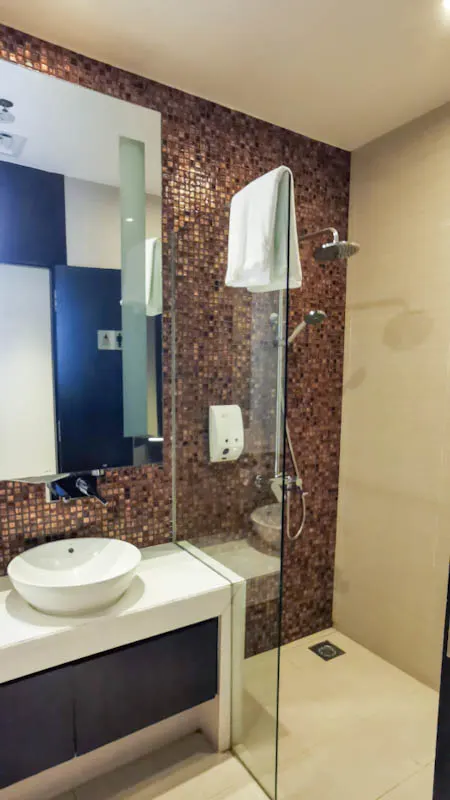 Final Thoughts
I really like the fact that Marhaba Lounge is a quiet lounge with not much crowd.
But I do think they seriously need to clean or change their armchairs because those chairs looked unkempt.
Also, the lounge is quite dimmed. They may look bright in my photos because I have brightened them up, so that you can have a clearer picture of the interior.
If you like my work, you can buy me a coffee! Your support will help me to keep going!