SATS Premier Lounge at Terminal 3 Singapore is one of the 3 contract lounges in T3. The other two are Marhaba Lounge and Ambassador Transit Lounge.
We visited during dinner hours. It was so crowded and it's almost impossible to find a seat. We had to wait a while for people to leave before we secured our table. Anyway, here's our first impressions.
Lounge Access
SATS Premier Lounge at T3 can be accessed:
Via lounge memberships such as:

Priority Pass
LoungeKey
DragonPass

Via credit cards that give SATS Premier Lounge access, such as Diners card
By paying:
Opening Hours
SATS Premier Lounge at T3 is open 24 hours daily.
How to get there
SATS Premier Lounge at T3 is located at Level 3, right between SIA Silverkris Lounge and SIA Gold Class Lounge.
To get to SATS Premier Lounge at T3, from immigration, turn left and walk for about 1 minute. You will see an escalator and elevator on your right, between electronic store (Electronics Computers by Sprint-Cass) and cosmetic store (Cosmetics & Perfumes by Shilla).
Take the escalator/elevator up and you will arrive at SIA Gold Class Lounge. Turn left and walk towards SATS Premier Lounge.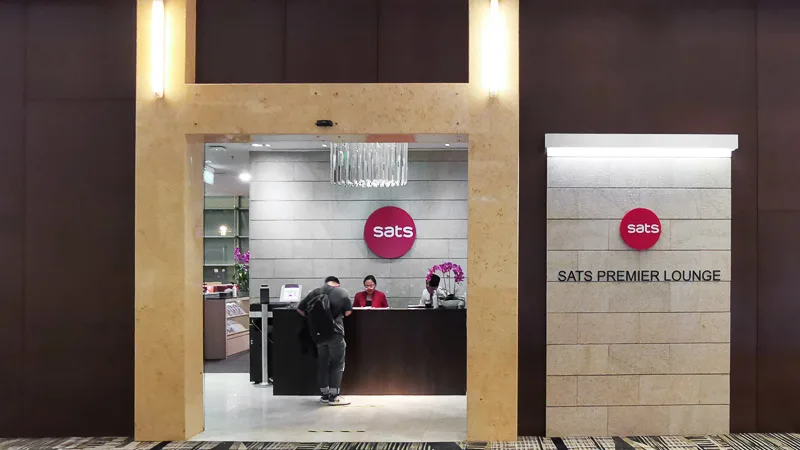 Have any questions about traveling in Singapore? Join All About Singapore Travel FB group, I'll be there to answer your questions!
Seating
SATS Premier Lounge at T3 is quite a big lounge with plenty of seats. However, it is also quite popular so finding a seat proved to be a challenging for us. We eventually secured a dining table near the buffet area.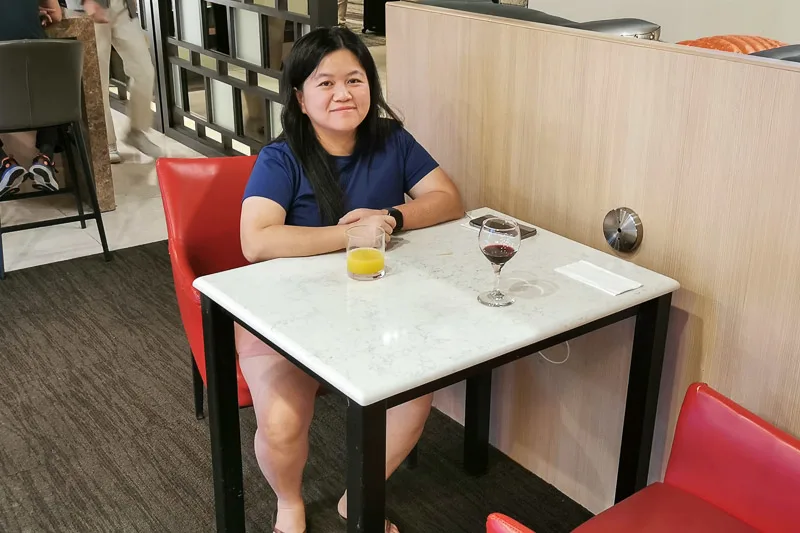 Right at the buffet area, there is an island with several tall chairs. Then, there are square dining tables for 2 that we were seated on, lining up the wooden partition.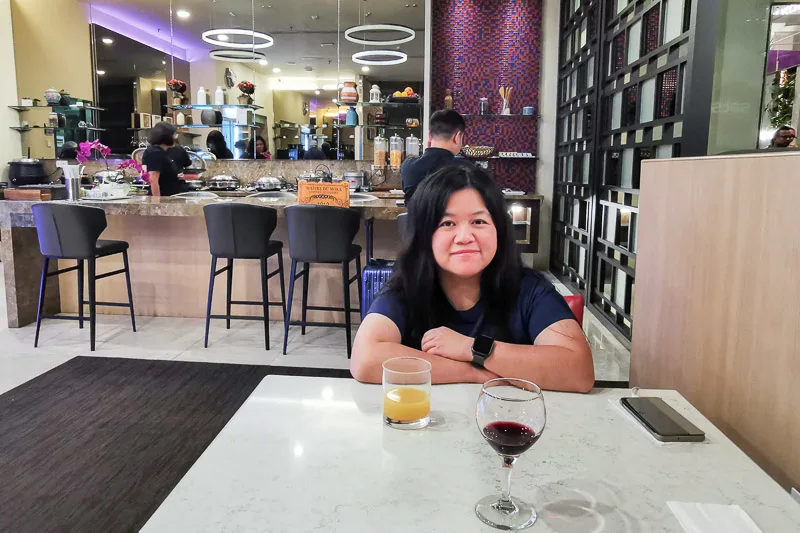 On the other side of the wooden partition are high-back arm chairs with side tables and power outlets.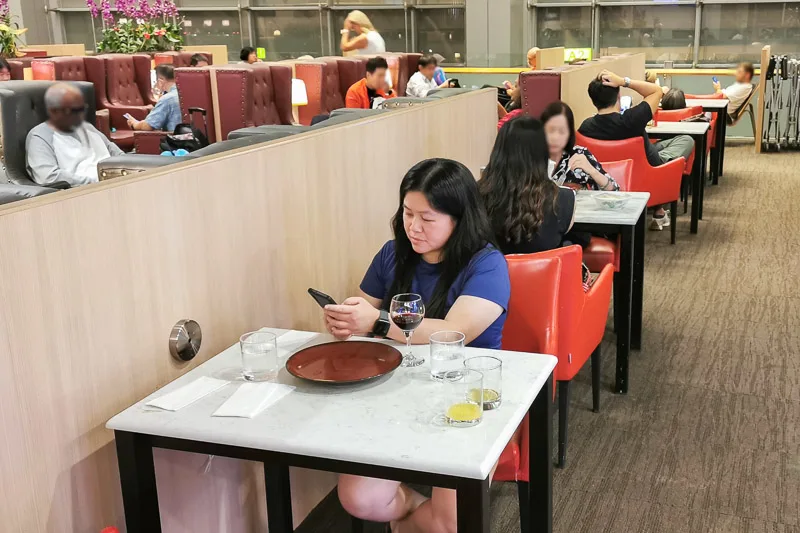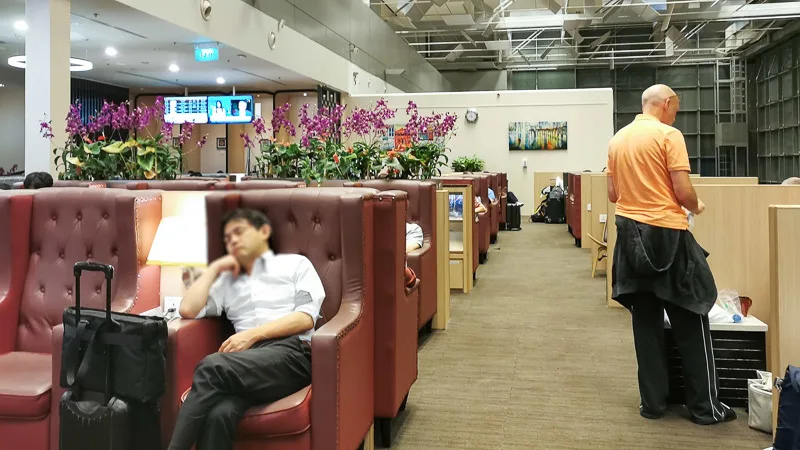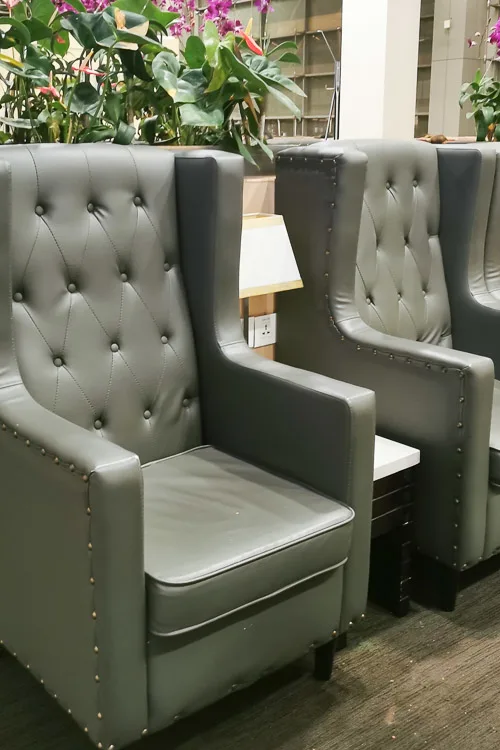 Further inside the lounge, there are a few productivity cubicles with upright bench and work desk.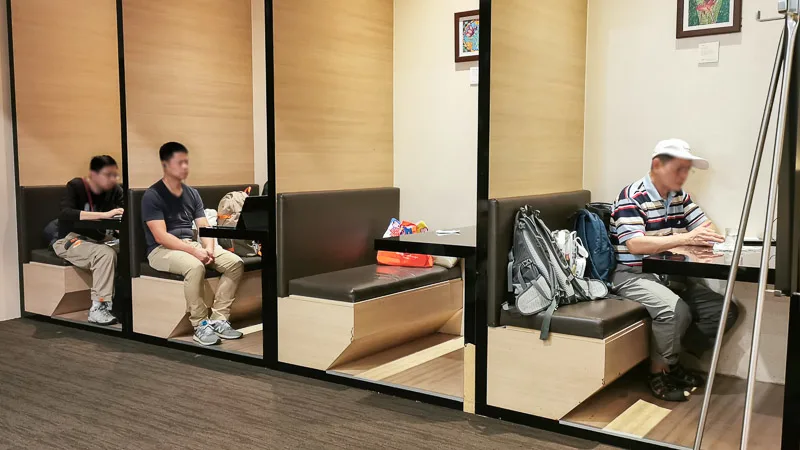 There's also a sort-of-private section with comfy armchairs and dimmed lighting. The section was empty and a sign that says "reserved" was put at the doorway, as if to prevent people from entering and using this section. It's unclear to me who this section is reserved for.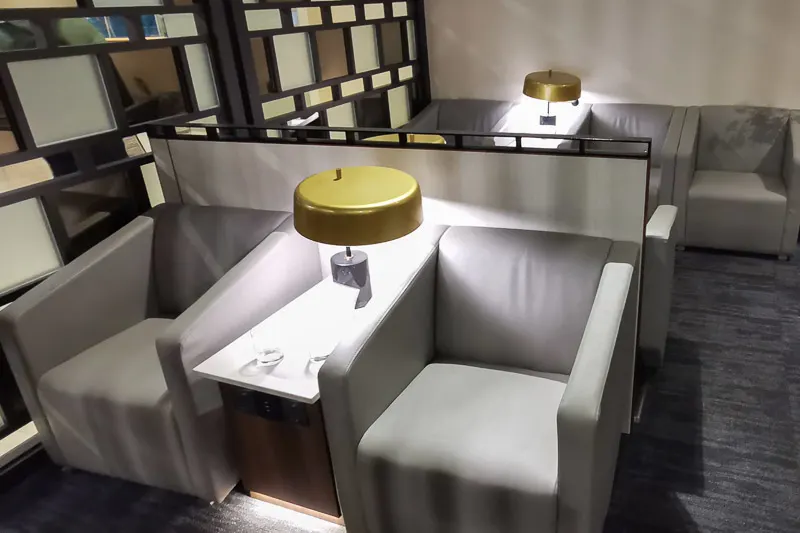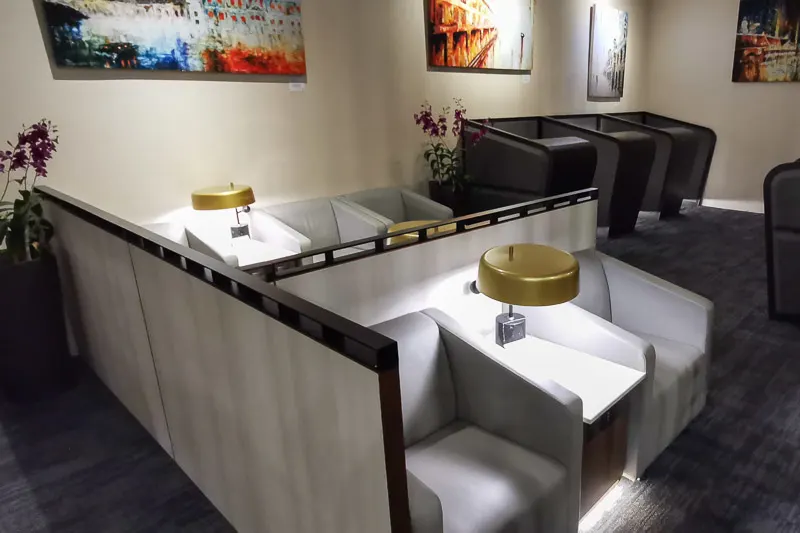 Food
The most prominent feature of the food offering in SATS Premier Lounge at T3 is definitely the DIY Laksa Station. Here, you can find bowls of laksa noodle and its ingredients wrapped with plastic and arranged on the glass shelf.
There is a list of instructions on how to make your own laksa.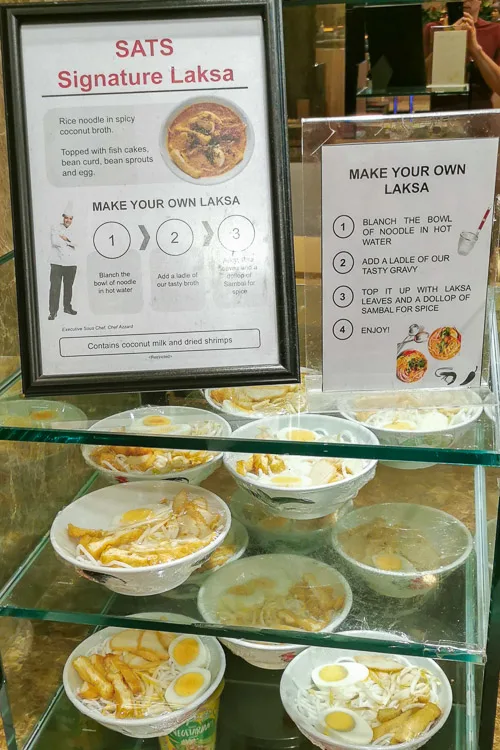 There are two pots. The first is hot water used to blanch the noodle and ingredients. The second is the laksa soup. Of course, a laksa isn't complete without sambal chili and laksa leaf.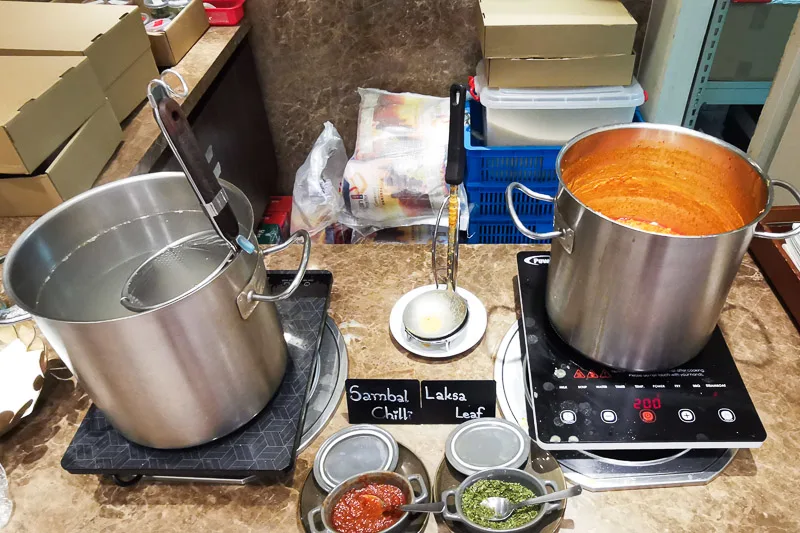 At the hot food buffet area, there were Braised Carrot & Cabbage, Mashed Potato, Lontong, Fish Curry, Fried Ee-fu Noodle, Chicken Fricassee, Chicken Grilled Yakiniku, Hainanese Chix Roll, Chana Masala, Sultana Pulao, Chicken Congee and Soup.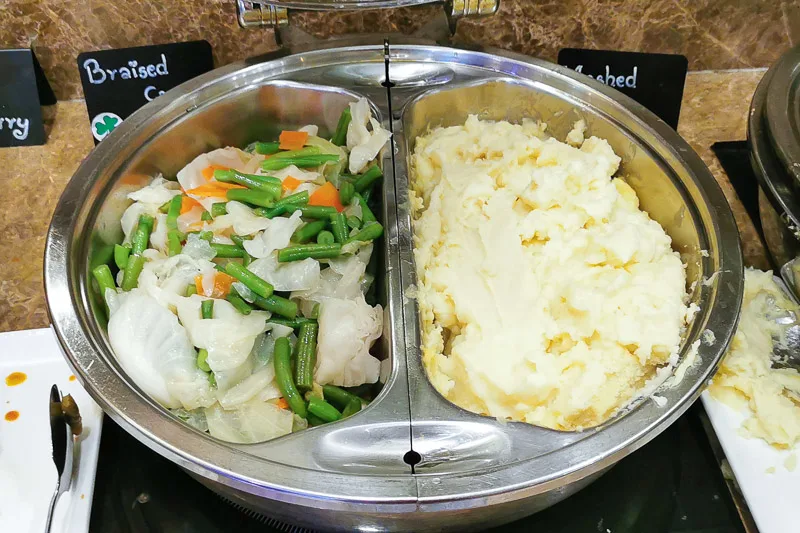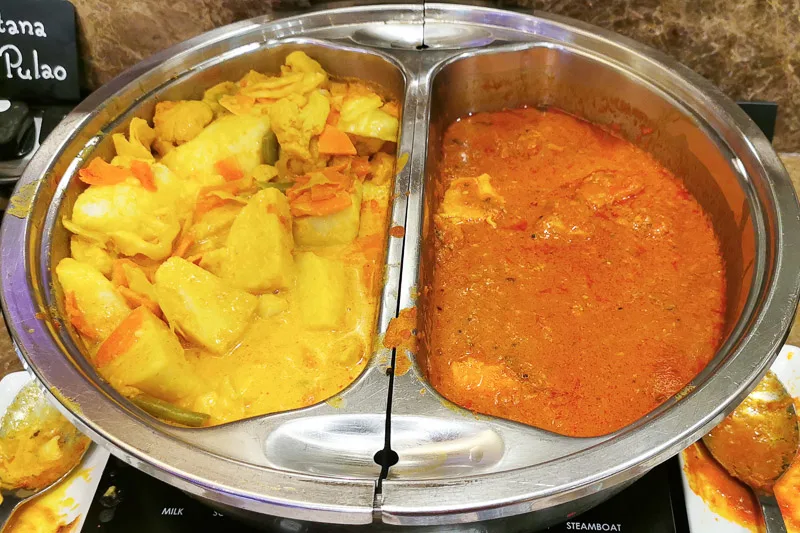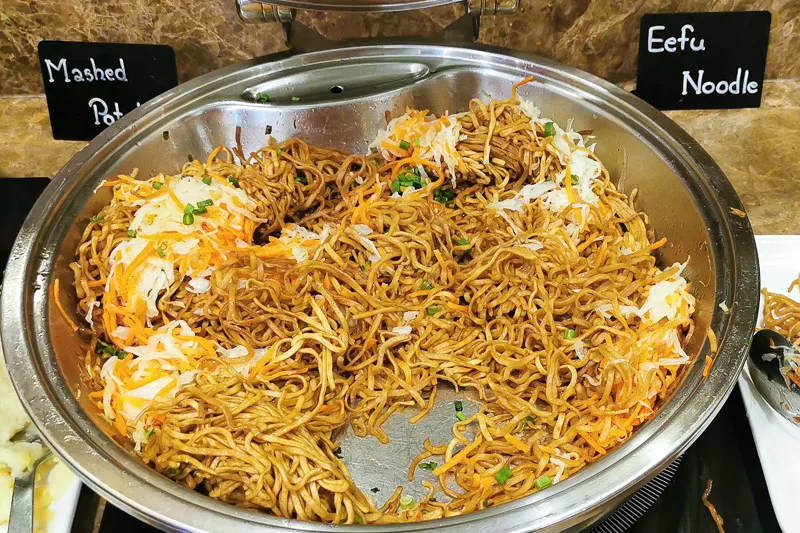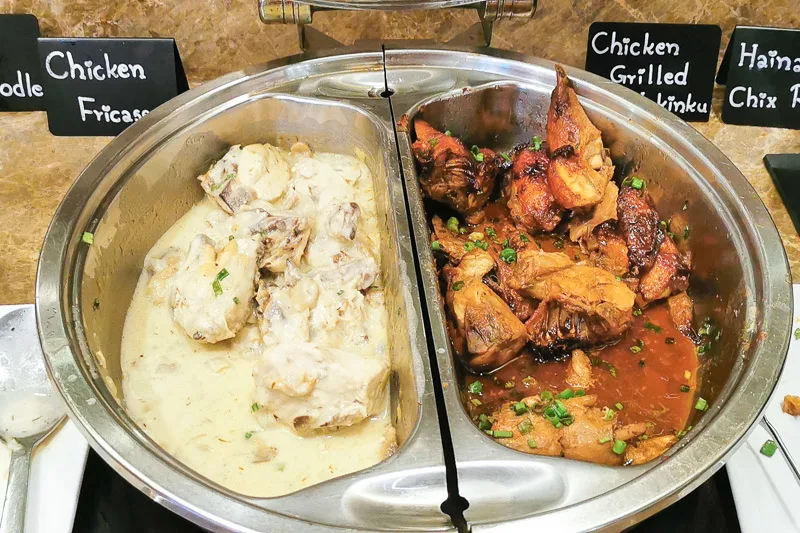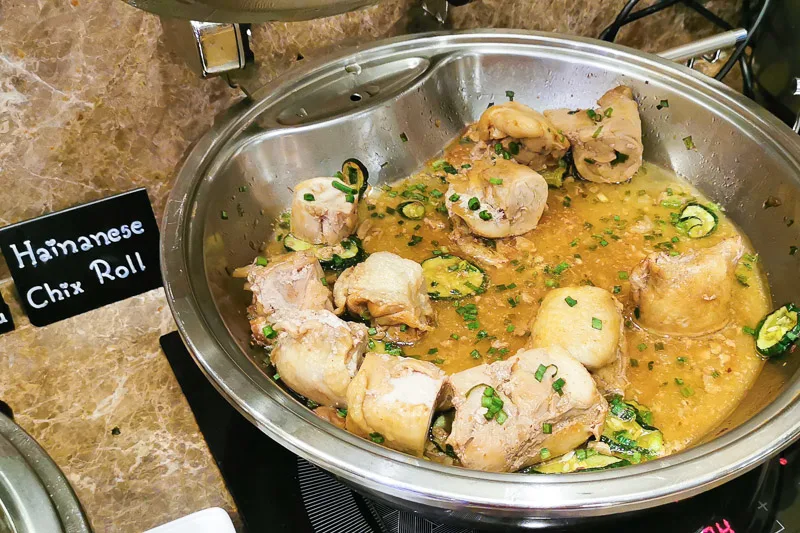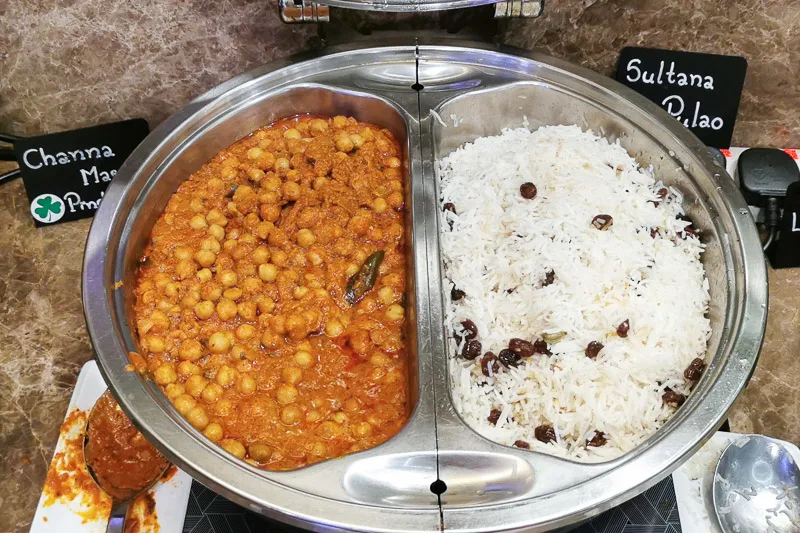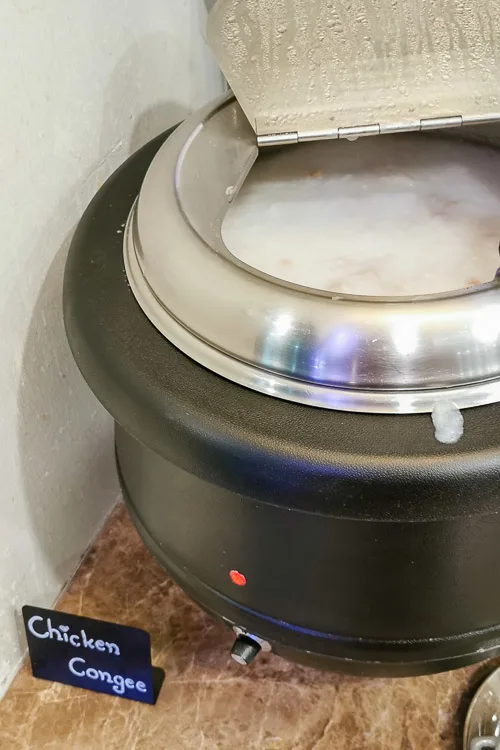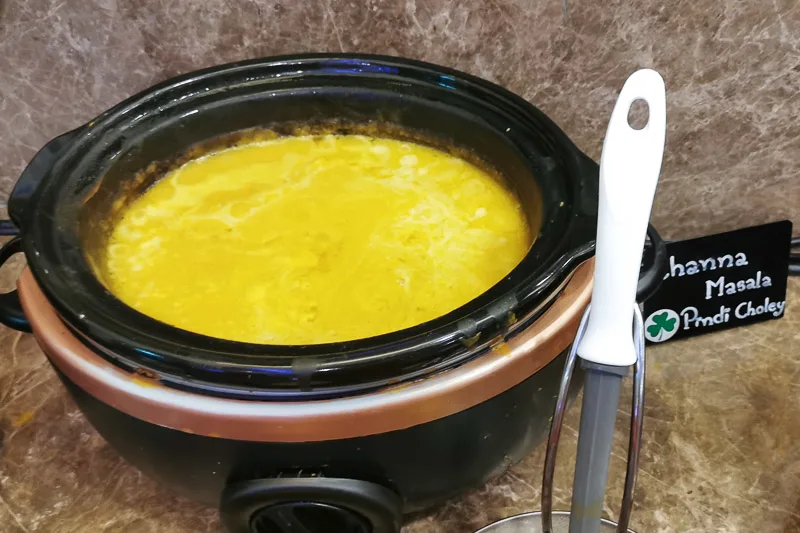 At the salad bar, there were potato salad, green vegetables, cucumber, cherry tomato, corn kennels, beans, diced fruits, chicken ham, parmesan cheese as well as Caesar salad dressing.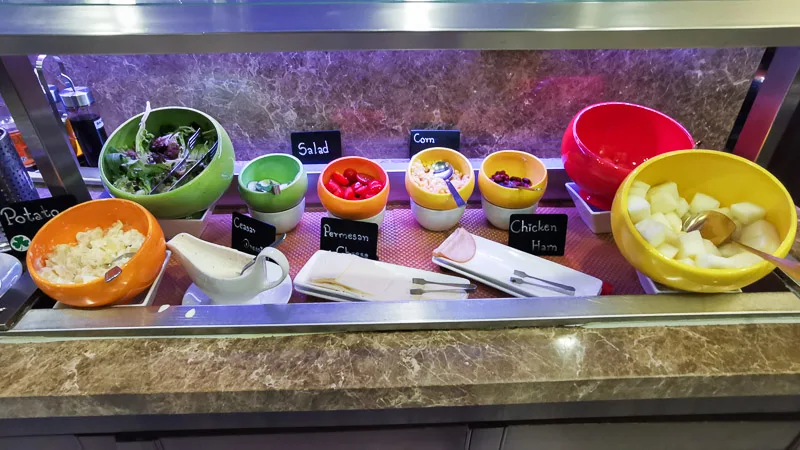 The bakery section has an oven toaster, white sliced breads, wholemeal sliced bread, mini croissants that were out of stock, blueberry muffin and butter.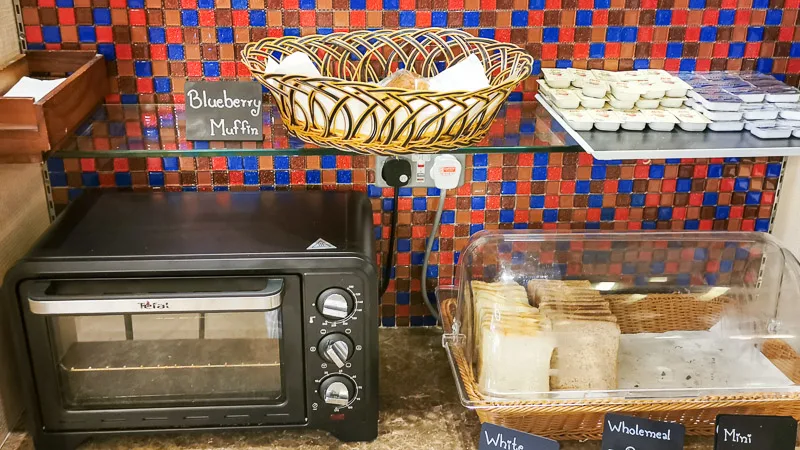 There were also cereals (granola, cornflakes and koko crunch), mixed nuts, as well as steamed rice.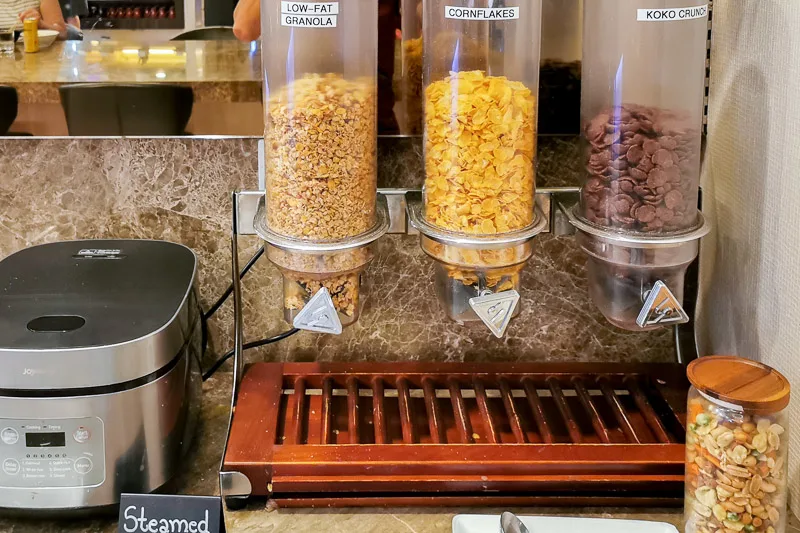 Drink
At the hot drink section, there is a coffee machine that processes coffee beans, as well as selection of Dilmah teas.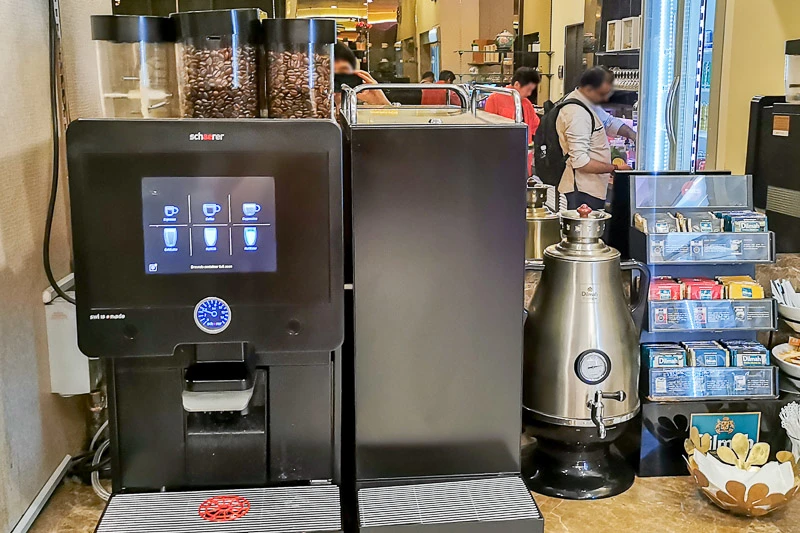 At the cold drink section, you can find drinking water, infused water, alcoholic drinks as well as soft drinks.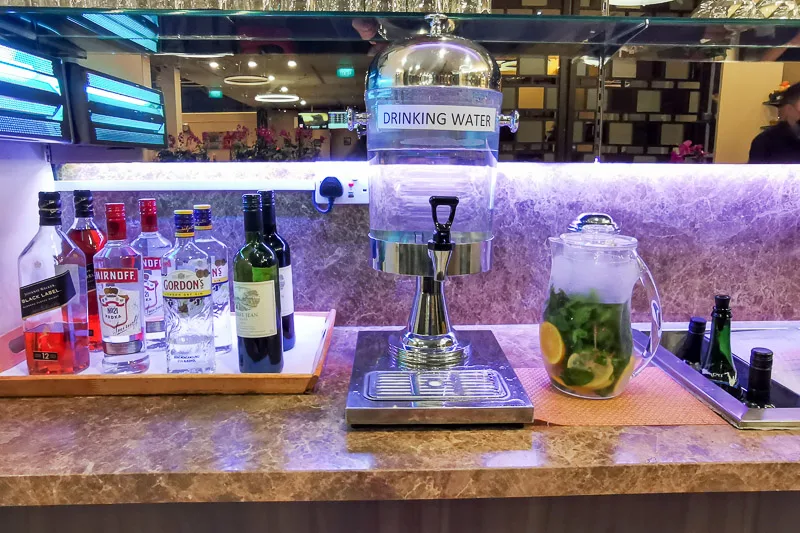 At the liquor corner, there were Johnnie Walker Black Label, Smirnoff Vodka, and Beefeater London Dry Gin.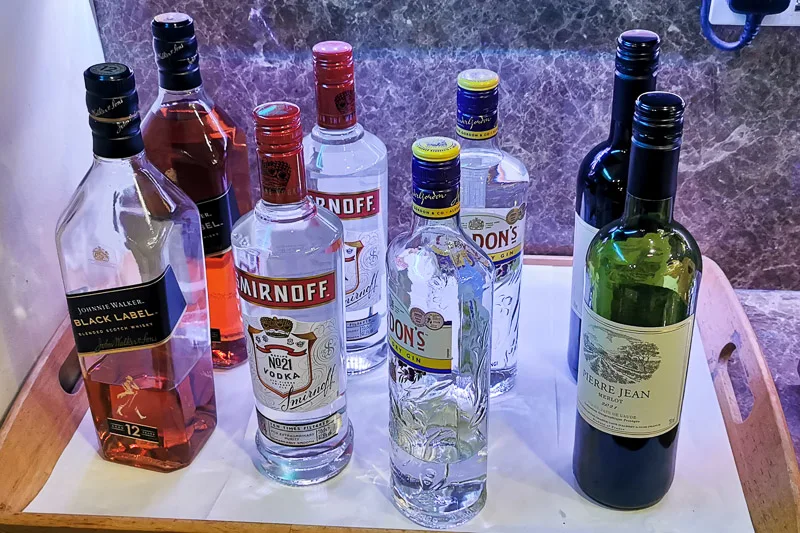 The selection of wines consisted of Pierre Jean Merlot and Pol Remy Brut.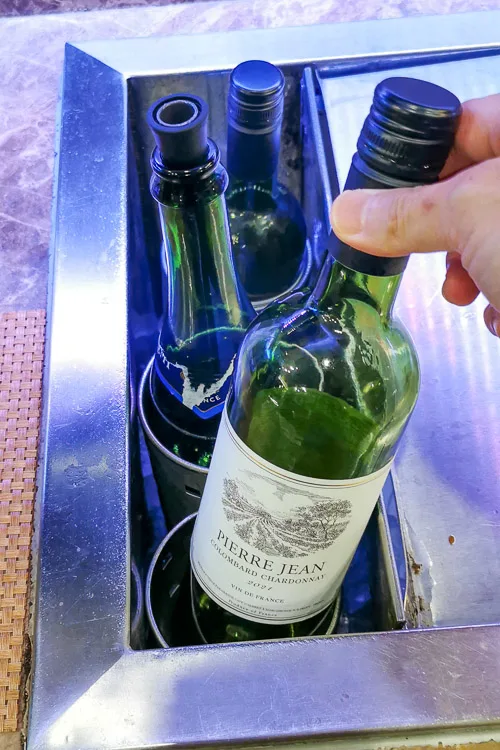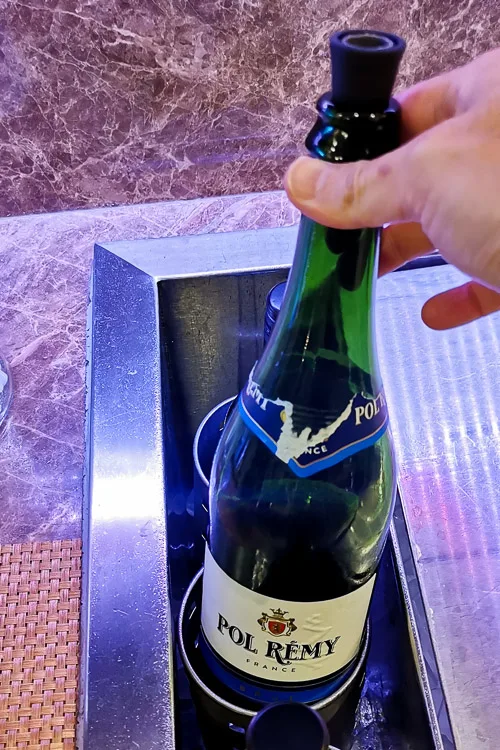 In the fridge, there were Tiger Beers, Sprite, Schweppes, Coca Cola, fruit juices and milk.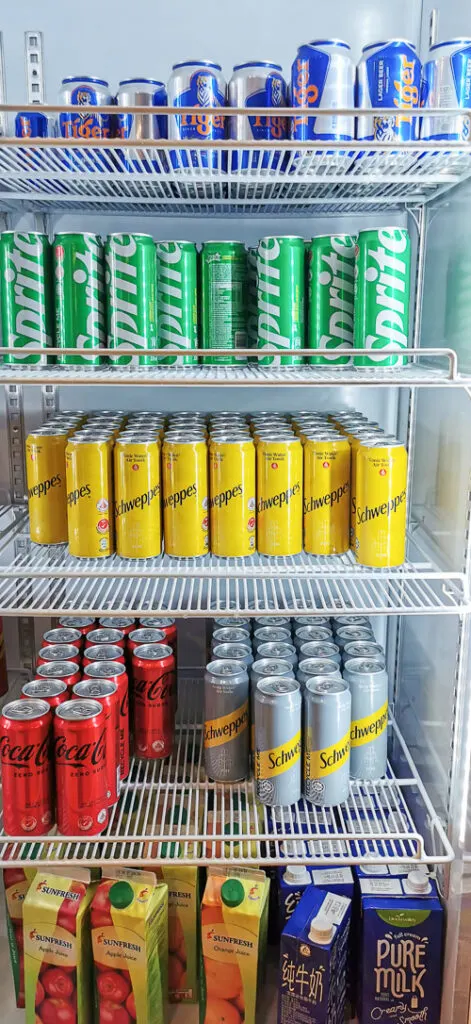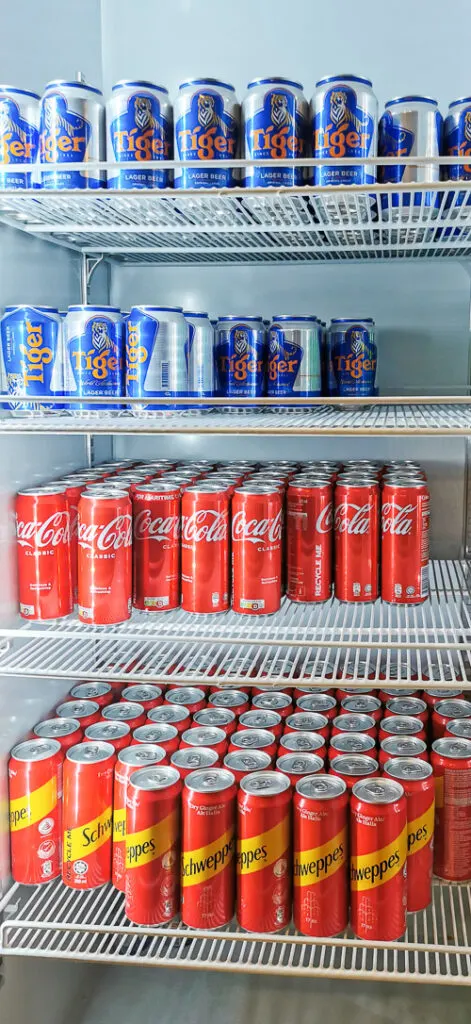 Shower & Toilet
There are very limited shower rooms and toilet at SATS Premier Lounge at T3. I didn't count their number but it's limited enough that there are long lines for both and the cleanliness is less than what I desired.
And I absolutely dislike lounges that offer the same toilet for both male and female. If you're a hygiene-freak, you may consider using the public toilet outside the lounge.
My hubby managed to enter the shower once the crowd gets lesser. Here are the interior of the shower.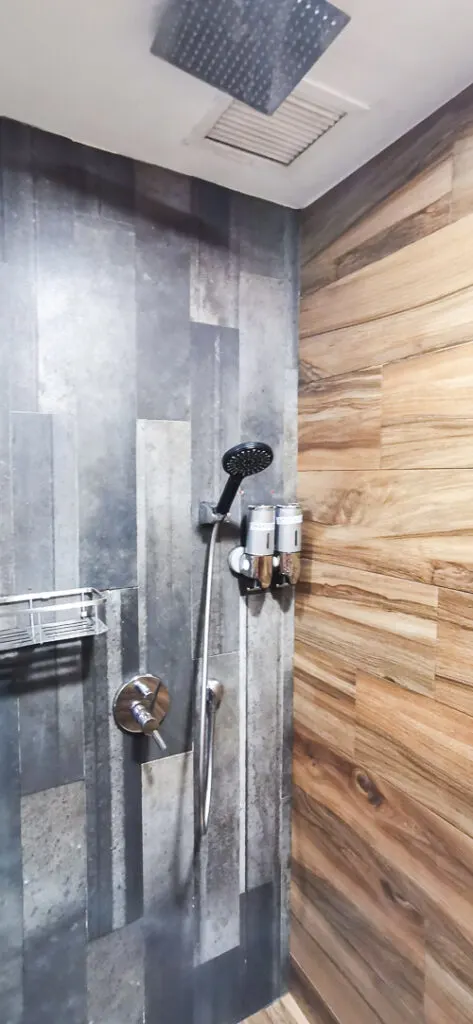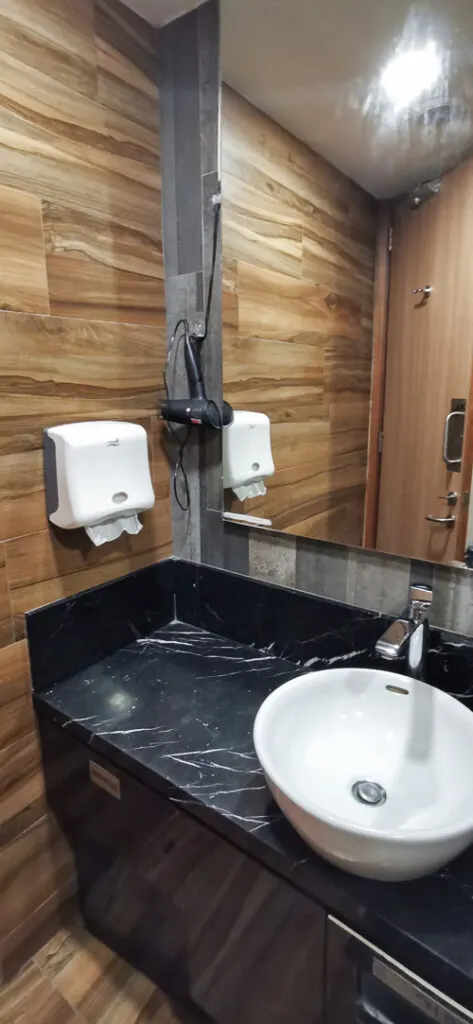 Final Thoughts
I love the DIY laksa station as well as the variety of food being offered. I also appreciate that they have free flow alcoholic drinks (albeit not too many variety).
However, I'm quite turned off by the large amount of crowd in the lounge during my visit.
If I really have to choose between the 3 contract lounges in Changi Airport Terminal 3, SATS and Marhaba are tied at the top.
If you like my work, you can buy me a coffee! Your support will help me to keep going!