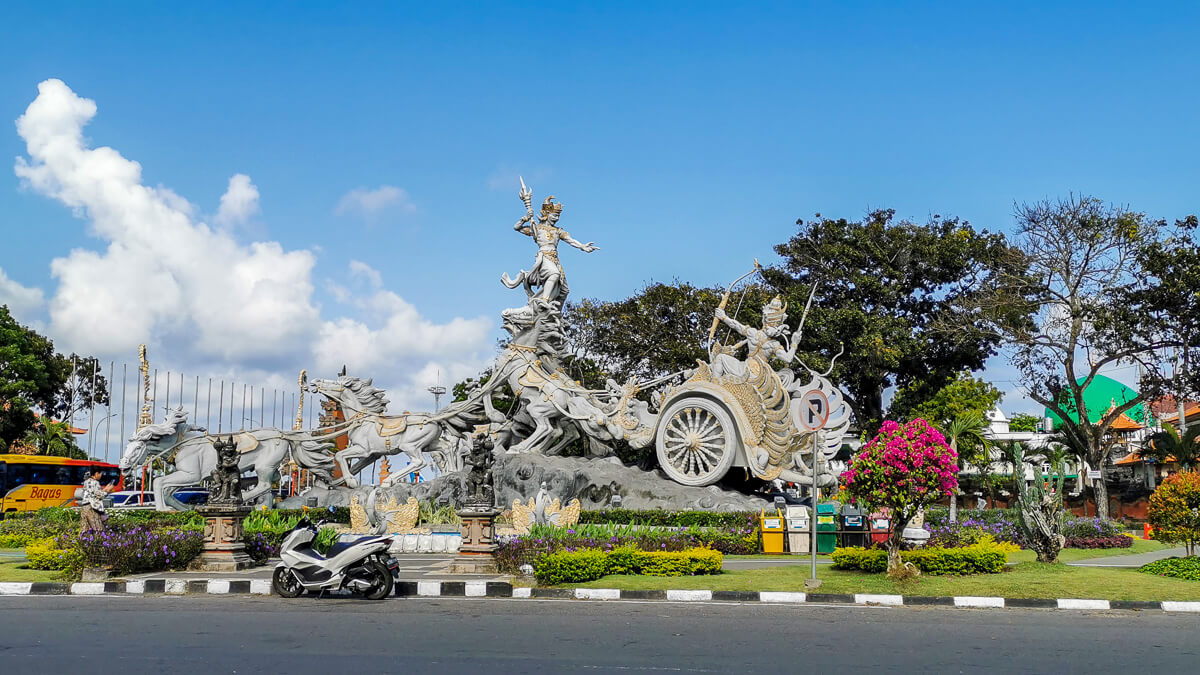 We totally didn't see it coming. After all, I speak Indonesian language. I was born in Indonesia and lived there until I was 17 years old. I knew the requirement of buying a SIM card. I knew how much a SIM card costs.
How on earth did I fall for that?
---
The Beginning
This incident happened during my fourth visit to Bali in September 2019. Prior to this trip, I had traveled to Bali for 3 times. Once in 2009 during my university days, in 2013 for Bali Marathon and in 2016 with my girlfriends. Obviously, I'm a seasoned traveler in Bali, right?
My hubby, on the other hand, had never visited Bali before. I was so looking forward to this trip, to show him how incredible Bali is.
I had created an itinerary that's adventurous, yet relaxing at the same time. We were going to stay in Ubud for the first 2 nights of our trip, then moved to Seminyak for our final night.
I chose Ubud because it is nearer to Mount Batur, which we planned to hike in the early morning of our second day.
I wasn't a fan of Bali airport. I had a frustrating experience trying to find taxi from Bali airport in 2016, where the official airport taxi counter quoted me an unreasonable fare to get from airport to our hotel.
Therefore, for this trip, I decided that I didn't want to deal with the hassle of getting taxi from the airport taxi counter. Grab and Gojek were banned in Bali airport, and I didn't want to walk out of the airport to the main road just to flag a taxi or Grab or Gojek.
The easiest solution for me was to book a private airport transfer through Klook. Furthermore, the price was quite reasonable in my opinion. Not cheaper than direct booking with taxi driver, but Klook is quite well-known and trustworthy so we decided to go this route.
---
The Arrival
The long awaited trip was finally here. Our 5am flight from Singapore to Bali was a smooth one. Even though we didn't have our usual 8 hours sleep that day, we were so pumped and excited.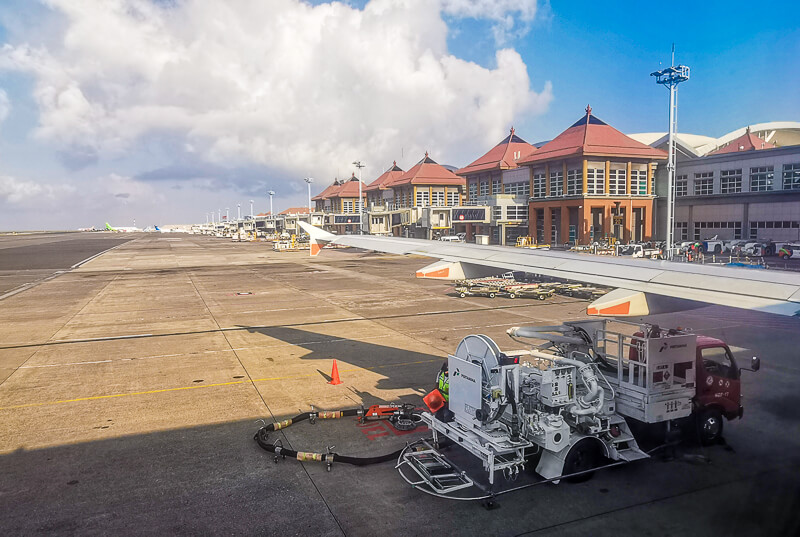 We landed in Denpasar at about 7.40am. After spending another 30 minutes going through the immigration, we finally got out of the arrival building.
Outside, there were so many people holding signs of their guest's name. After looking for a couple of seconds, we didn't see our names, but we saw somebody holding a Klook sign.
We hurried towards that guy and asked him, "Airport transfer?" He asked for our names before going through his paper searching for our names in the list.
Once he found it, he motioned to us to follow another guy, which is supposed to be our driver for the day. We followed our driver to the carpark where he parked his car.
After helping us load our luggage onto the car, we were off to our guesthouse in Ubud, or so we thought.
---
The First Day in Bali
Less than 5 minutes into the drive, we were already having small talks with our driver in Indonesian language. He asked us whether we had purchased a SIM card.
We thought he wanted to know whether we had purchased SIM card from Klook, we said no we didn't. He asked why. We replied, "Because Klook is only selling XL SIM card. We prefer to get one from Telkomsel, not XL."
For the record, our conversation is all in Indonesian. But because most of my readers don't understand Indonesian, I'm going to write the conversation in English.
"There is a shop that sells Telkomsel SIM card nearby. Do you want to visit?" he asked.
"Oh, is it on the way? If it is, then yeah sure. If it's not on the way, then nevermind."
"Yes, yes, it is on the way."
Not long after we exited the airport, our driver pulled off in front of a phone shop called Sim Card ACC Cell. It is located just across the road from Satrio Gatotkaca Park.
I was so awed with the Satrio Gatotkaca statue that I decided to snap several pictures of the statue first, before entering the shop.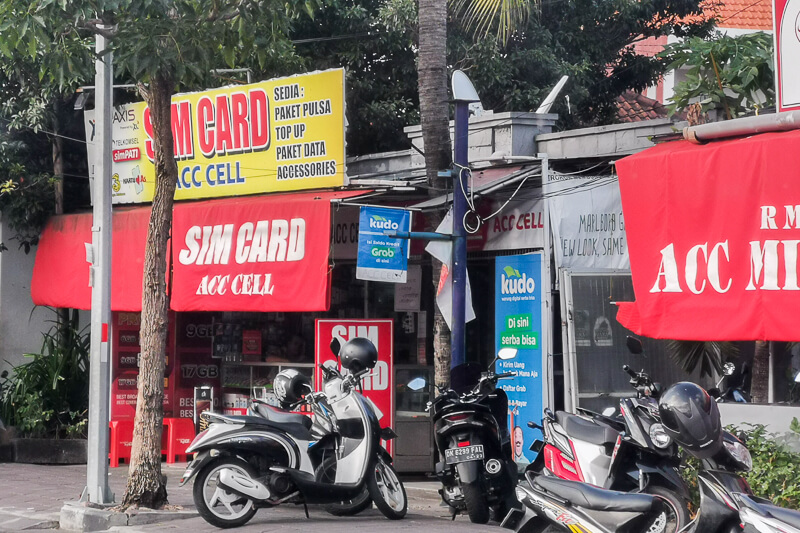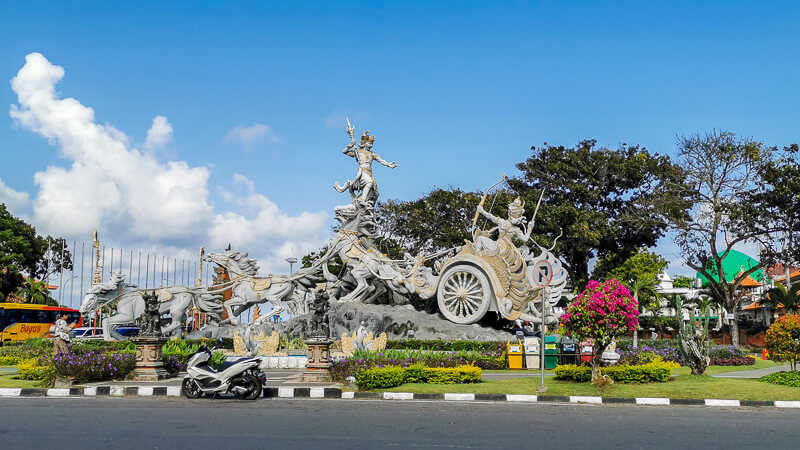 At the shop, I told the shop attendant that I was looking for a new SIM card from Telkomsel. He offered me a 6-GB data SIM card for IDR 250,000 (about SGD 25). It was too expensive for our 4-day trip!
I told him I didn't want a pre-loaded card. I just wanted a kartu perdana, which is an empty new SIM card. He said he don't have such card. So, we left.
In the car, we told our driver that we didn't buy because it was too expensive for our short stay. Then, our driver asked whether we wanted to try another shop nearer to Ubud that's owned by his friend. He said that shops near airport are usually more expensive than shops at non-touristy places.
He sounded really genuine and polite, so we agreed with his suggestions. After all, if we were not okay with the price, we could just walk away.
During the 45 minutes drive from the first phone shop to the driver's friend's shop, we talked a lot with our driver. He shared about the Nyepi festival where everything is on pause in Bali, including hotel and airport.
He shared that Klook is quite a big company in Bali with hundreds or thousands of drivers. And that he doesn't even know all of his colleagues.
We talked about interracial and interfaith marriages in Bali and how couples decide which religion to pass on to the children.
His name tag was hanging from the rear view mirror. It was easy to spot his name. However, it was not as easy to remember his name because it was quite long.
He asked whether we had already booked an airport transfer for our last day. We said we hadn't.
"If you want, I can bring you from your hotel to the airport on your last day."
"Oh. How much is it?"
"Same as Klook."
Hubby and I looked at each other and discussed in my mother tongue so that the driver won't understand.
We concluded that there's really no benefit of booking with him directly if we were to pay the same price as Klook. Meanwhile, if we book with Klook, we get to earn Klook points and credit card points.
"Erm, we can't decide yet."
"Oh, you already had a booking?"
"Yes, we had."
Thank God we managed to get away from this awkward situation.
He said that his friend's shop is located in Gianyar, which is before Ubud. When we arrived, the street really looked like it was a non-touristy place, so I was confident we'd get a good price.
There was no other customer in the shop when we arrived, so we got their full attention. I asked for Telkomsel kartu perdana again, but he offered us a pre-loaded Simpati 6-GB SIM for IDR 150,000.
It was so much cheaper than the first shop we went to, but still expensive for our short stay. I bargained to IDR 100,000. They agreed and asked for my passport.
He took a photo of my passport using his phone camera, then did some registration using his phone to activate the card.
"It's done. Activation will take between 30 minutes to 1 hour. After that, you'll be able to use your card. Here you go," he passed me the card.
"Thank you!" We paid him IDR 100,000 and left.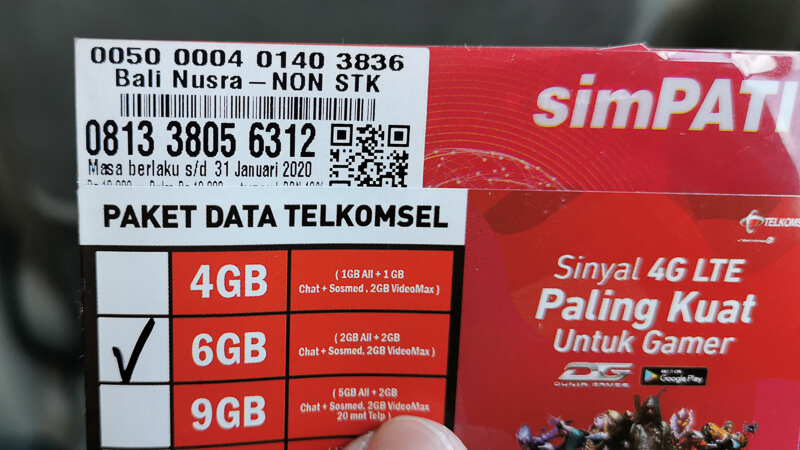 On the drive to our hotel, there was not much conversation with our driver. I had the feeling that he sped up. That's good, I can't wait to check-in to our guesthouse and start exploring, I thought.
About 10 to 15 minutes later, we arrived at our guesthouse. We gave our driver a tip. He was surprised and asked, "What is this?" "It's for the toll," we said. That's the Indonesian way of saying it's your tip.
After checking in, we went to a Warung Babi Guling Ibu Oka 3, a delicious bigul (babi guling, aka suckling pig) restaurant near our guesthouse.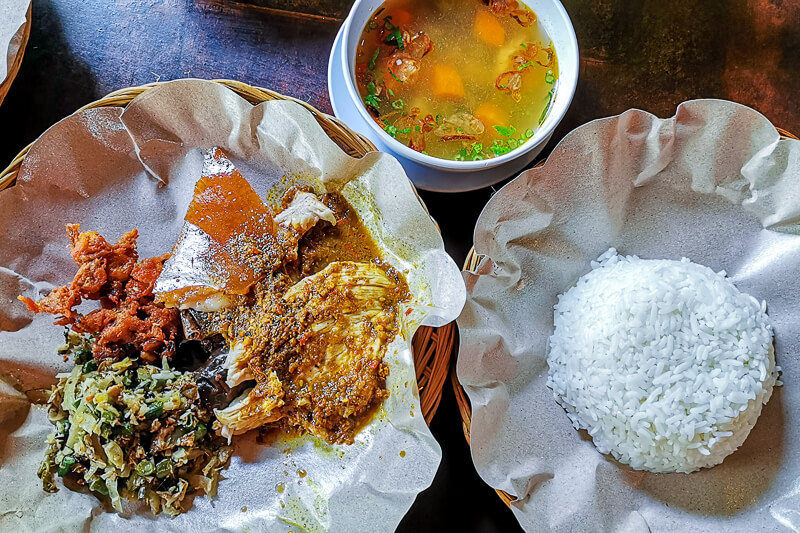 By the time we finished our meal, it was already 2 hours since we left the phone shop where we purchased our SIM card.
We tried to turn on the internet, but strangely, there was no connection. There wasn't even a Telkomsel signal. It was as if the card wasn't activated at all.
I used my Singapore SIM card to make a call to this Telkomsel number, but it couldn't get through. We also used the Telkomsel number to call our Singapore numbers, but failed. What could be happening?
Years ago when I visited Jakarta and purchased a new SIM card, I was also told to wait a couple of hours before the card is activated. I waited and my card was activated successfully. So, I thought it'll be the same with this Bali number.
Furthermore, we don't have the contact number of our driver, so we couldn't call him to clarify with his friend.
---
The Days After
Hours turns into days. During our entire 4 days trip, the number was always inactive! We tried so many methods to activate the number ourselves.
I asked my sister to get her hubby to activate my card because they sell SIM cards in my hometown and they're familiar with the procedures. It didn't work.
On our third day, I borrowed the phone of our day trip's driver to call Telkomsel customer center and ask them to help us activate this number. I even gave her my Family Card number because that's the requirement to activate a SIM card in Indonesia. She said she can't activate the card for me because perhaps my Family Card is expired or something's wrong with the card.
I used the Live Chat on Telkomsel's website to seek help, but it was fruitless.
We went to a phone shop in Kuta and asked for opinion about our issue. The shop assistant was very kind. He helped to activate our number using this phone. Again, it didn't work. He said, maybe we got scammed.
SCAMMED?
We re-lived our first day, trying to find any red flags that we could've missed.
I guess there were a couple of red flags that we didn't notice because it was the first day of our trip. We were too excited and too confident that we let our guard down. Here are the possible red flags:
Our driver brought us to 2 different phone shops, even thought we've told him we would get SIM card ourselves in Ubud. Logically, the faster he sends us to our guesthouse, the faster he can drive other customers and earn more money.
Our driver tried so hard to upsell. He wanted to provide airport transfer for our last day, at the same price as Klook. If he's genuine, he should've offered a cheaper price, no?
The driver's friend's told us to wait between 30 mins to 1 hour for the card to be activated. We should've waited at the shop and not left.
Our driver drove so fast from the second phone shop to our guesthouse.
---
In Retrospect
Today, 9 months after the incident, I'm finally over it. I'm finally able to see it through a clear glass without frustration or anger.
It is because I finally realized how privileged I am. I'm able to travel several times a year. I have about 3 weeks worth of paid leave a year. I have freedom on where to go and when to go traveling, my boss always approve my leave request. (Of course, this is before the worldwide travel restrictions which happen in 2020)
I'm privileged that I have a job which pays me more than what I need for my essential expenses, so I get to save every month. Maybe, our driver doesn't earn enough to cover his expenses, so he had to resort to upselling (or scamming).
Looking back, IDR 100,000 is really not a big deal. It's equivalent to SGD 10. It can buy 3 plates of chicken rice, or 2 bowls of my favorite fish soup in Singapore. In Bali, it can buy 2 delicious plates of Babi Guling.
If my money can give them happiness, then I have nothing to complain.
When I go to Bali again in the future, I'll probably by a roaming package using my current mobile number, or I'll buy an empty SIM Card from a minimart or supermarket and wait until the number is activated before I make payment.